Planning to serve something bubbly during your holiday get-together? A great bottle of Champagne is never snubbed, but sparkling cocktails are a fun break from the traditional flute-and-effervescent libation.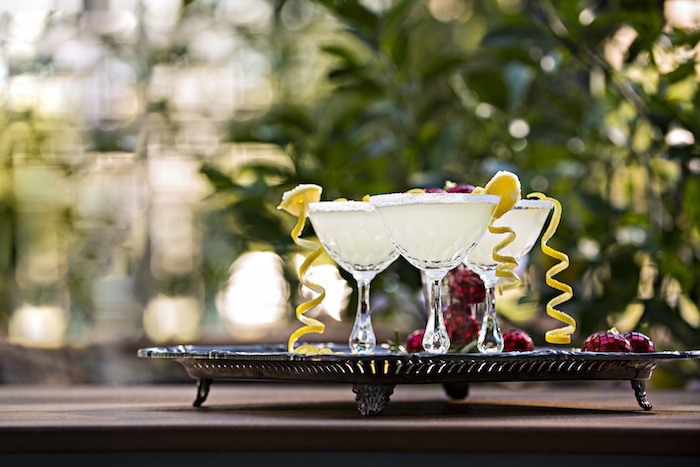 GINGERED LIMON SPUMANTI (pictured)
When to serve it: When you're wearing your fancy pants.
Where to order it: Osteria Mazzantini, 2200 Post Oak Blvd., 713-993-9898
Comment: Osteria Mazzantini's Kimberly Paul can teach you how to make a six-foot lemon peel curl. Well, maybe not six feet, but she did produce some of the longest, curliest citrus rinds I've ever seen when we set up the photo shoot of this drink. This is an easy-to-prepare cocktail to keep in mind when you're hosting a large gathering and want to have cocktails ready to serve upon your guests' arrival.
 1 oz. limoncello (click here for Kimberly's easy limoncello recipe)
½ oz. Canton Ginger Liqueur
Prosecco
METHOD: Sugar the rim of a Champagne flute or coupe glass. Pour the limoncello and ginger liqueur into the sugared glass and then top off with Prosecco. Garnish with a lemon wheel or curl of lemon peel.
THE FURLOUGH
When to serve it: Let's not mince words: The Furlough is a great drink to serve friends who actually enjoy heated political debates. The Rush Limbaugh and Hillary Clinton of your party challenge each other and the other guests sit back and watch the performance unfold. But you know those two old college pals live for this moment, and soon the subject matter will evolve to the rescue dog she just adopted and his recent participation in a 5K.
Where to order it: Gratifi Kitchen + Bar, 302 Fairview, 832-203-5950
Comment: Gratifi promoted their Furlough cocktail on social media platforms during this fall's government shutdown, but they are happy to recreate it upon request: Molasses, whisky, lemon simple syrup and Angostura bitters are shaken together with ice and strained into brandy snifters. Top with Cava or Champagne and add the optional maraschino cherry garnish.
TEXAS FIZZ
When to serve it: Hosting your landman buddies and oil tycoons this holiday season? Even if your New Year's Eve guests don't include wildcatters, this pink drink will be well received by loud and proud natives.
Where to order it: Brasserie 19, 1962 W. Gray, 713-524-1919
Comment: The original Texas Fizz didn't call for the topper of Champagne; instead, soda water was used. In 1936, savvy Parisian bartenders began substituting bubbly for soda water to make the Texas Fizz more appealing to high-end consumers. Rich taste and enthusiastic spending made it attractive to wealthy travelers – namely Texans – who had made their fortune back home in the oil patch.
Read about all seven sparkling-wine cocktails in the December 2013-January 2014 issue of My Table magazine, now on newsstands or available digitally December 1. 
Photo by Kevin McGowan.