As craft beer has become increasingly available in Houston, places that fill growlers – large refillable beer jugs – have begun to pop up. Growlers are useful when you want to take home a beer that is only available on tap, when you want to hang onto a beer for awhile that may otherwise sell out or when you just want to take a sizable quantity of beer to a party. Growlers, which are reusable, can also be more economical as well as kinder to the environment than buying several individual bottles.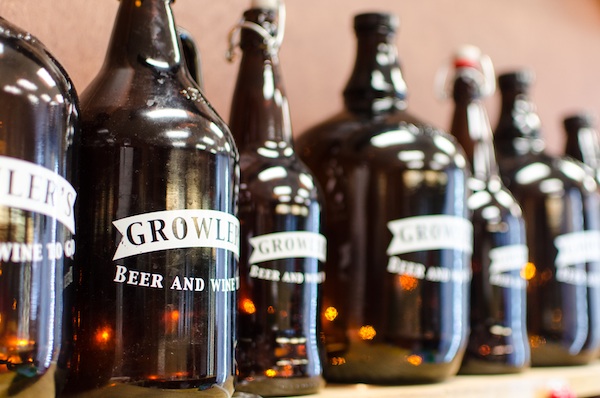 Filling a growler is not like drawing a glass of beer from a tap, however. There are special considerations involved because you're not planning to drink the beer immediately.
I hadn't given the process much thought until Kevin Floyd of The Hay Merchant suggested that perhaps not all growlers are created equal. My Table magazine recently talked with Floyd as well as Johnny Orr of Premium Draught and Doug Bunze of Growler's Beer & Wine Co. to get a range of perspectives regarding growler refills. All three agree on the basic concerns, although each retailer has a slightly different take on how to best accomplish the goals.
"You're trying to package the beer in such as way as to maintain the integrity of the product," explained Floyd. "We're trying to duplicate the kind of process that breweries use on the bottling line. The three things that destroy beer are light, oxygen and bacteria." You also want to protect the beer from temperature extremes, of course.
PROTECTION FROM LIGHT
Orr notes that "beer is in kegs, so it is not exposed to light until it runs through a tap." So, how does one protect beer once it's been poured?
Most glass growlers are brown, and there's a reason for that. "To combat light, you need a dark container," says Floyd. "We collect growlers here at The Hay Merchant and you'll see on the wall there are some clear glass ones. That's really not good! Beer is susceptible to degradation from ultraviolet radiation, so you need to protect it from that."
Orr also stands behind the logic of using dark glass growlers. "We've noted anecdotally that beer put into an amber bottle lasts longer than beer in a clear bottle. It stores longer and tastes better once it is opened. Even better than amber glass would be something completely shielded [from light] such as ceramic or stainless steel."
As far as what growlers The Hay Merchant will fill, Floyd says, "We'll fill glass growlers and stainless steel. The only reason we don't carry stainless steel ones is because they are expensive. We'd have to buy hundreds of them, and we wouldn't sell them very quickly."
Premium Draught does sell stainless steel growlers, and Orr is bullish on their prospects. "As people begin to believe in the superior quality of draught beer, they'll invest in different hardware for their personal use." Stainless steel growlers range in price from $20 to $40, but they'll last a very long time and not shatter if you happen to drop one. If you're not ready to make that kind of commitment, a $6 deposit at Premium Draught gets you an unfilled brown glass 32- or 64-ounce growler.
PROTECTION FROM BACTERIA
The most important consideration with growler fills? "The cleanliness of the bottle and the equipment is of the utmost importance," says Orr of Premium Draft. "That is what the beer comes in contact with, and you have to avoid cross-contamination, just like with any other food product."
A brand-new or even a "clean" growler can still some harbor bacteria inside, so responsible businesses that do growler fills begin by sanitizing.
Read more about filling and storing growlers in the February-March 2014 issue of My Table magazine, now on newsstands or available digitally February 1.