If you're a serial steak snob chasing the medium-rare dragon Monday through Sunday, have a chew on this meaty round-up. But please understand, fellow carnivores: These aren't steakhouses. These are steak nights at local bars. Nope, no one believes a cheap steak sold once a week at a dive bar compares to an $8-per-ounce filet fired at Houston's finest restaurants. Nevertheless, our steak-night high five are tasty bargains and worth adding to your rotation.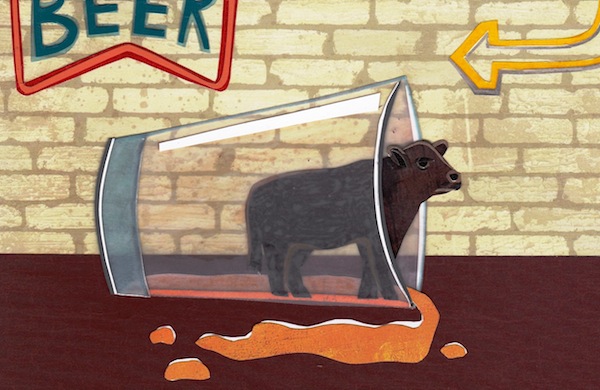 UNDER THE VOLCANO
2349 Bissonnet at Morningside, 713-526-5282, @volcanohouston
WHEN Mondays
THE DEAL $17 let's you choose a ribeye or New York strip plus mashed potatoes and a salad (photo below)
The sticky-sweet bouquet of waxleaf ligustrums near the entrance was no match for the billowing aroma of grilled meat. After grabbing a seat on the patio and consulting my waitress, Digna, I opted for the ribeye over the leaner New York strip offering. Digna immediately returned with a salad. My emotions bounced from confusion to hurt, until I realized that – oh, yes – this was part of the dinner deal. The small pyramid of leaves that arrived with crumbly cheese and drizzled with toasted sesame raspberry vinaigrette was a decent opening act for the 16-oz. steak that its blue stoneware plate could barely contain. The underpowered marinade really let the fatty goodness of the ribeye take center stage, and the garlic mashed potatoes (who are they kidding, these are whipped silky smooth) serve as a humble sponge for sopping up salty steak drippings.
GLITTER KARAOKE
2621 Milam just south of McGowen, 713-526-4900, glitterkaraoke.com
WHEN Wednesdays
THE DEAL $12 buys a ribeye, rotating veggies, house salad and a roll
Fresh out of ideas for a weeknight first date? Glitter Karaoke has an accomplished one-two punch of dinner and entertainment, bringing you Houston's most underrated Wednesday outing. If the sizzling hot ribeye and rotating veggies don't pump some life and cholesterol into your hump day, then the entertainment surely will. It won't be the best steak of your life, but for $12, you're not risking too much. And remember: That stage isn't just for watching. Impress strangers and friends alike with your skills on the mic (or lack there of). Keep in mind that the crowd varies from youthful happy-hour 20-somethings to buzzed coworkers celebrating the birthday of a colleague.
THE STAG'S HEAD PUB
2128 Portsmouth bet. S. Shepherd & Greenbriar, 713-533-1199, stagsheadpub.com
WHEN Wednesdays
THE DEAL $15 for a ribeye, asparagus and half a loaded baked potato or mashed potatoes (photo below)
My waitress and I had this connection from the moment I settled onto the barstool. "Medium rare," I said with confidence, and the order was placed, setting forth a chain of events that led to a memorable Wednesday evening. My steak arrived not 15 minutes later, served on a raft of surprisingly perfect al dente asparagus with a blizzard of fresh-ground black pepper and kosher salt. Though the thin-cut steak got lost somewhere between gristly and marbled the flavor was acceptable, and it paired well with my Fullers ESB and loaded baked potato half.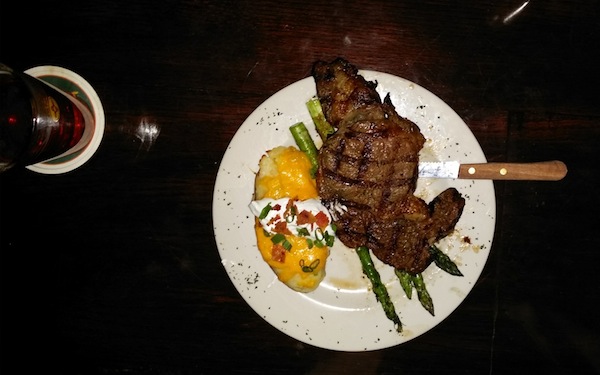 THE MEZZANINE LOUNGE
2200 Southwest Fwy. #150 at Greenbriar, 713-528-6399, mezzaninelounge.com
WHEN Wednesdays & Sundays
THE DEAL $14 for the holy trinity (a ribeye, potato and a pint)
Some folks line up here for the seasonal crawfish, some find it a great spot for NBA playoffs and some actually go to watch the Astros. But let me tell you, the Mezz is your one-way ticket to over-marinated bar-food heaven with their all-inclusive steak and sides promotion every Wednesday and Sunday. Serving a glistening ribeye with sea salt-crusted baby potatoes, the Mezz takes it one step further by throwing in a local draught beer to wash it all down. And, if you're in dire need of a fix late at night, the kitchen is open until 2 am.
TRIPLE CROWN SPORTS BAR
13711 Westheimer bet. Eldridge & Highway 6, 281-870-9610, triplecrownsportsbar.com
WHEN Tuesdays 6 pm until they run out
THE DEAL $12 for a ribeye, potato and salad
The only thing better than the North American maple-lined shuffleboard tables at TC are the $12 ribeyes served up on Tuesday. Most folks know Triple Crown as the premier shuffleboard bar in town, but TC's made-to-order 12-oz. ribeye crosses the line from bar food to a quality dinner. The lean well-seasoned beef is best with cheap beer and engaging Tuesday night trivia. The steaks come with a serving of potatoes and a starter salad to ensure that you get a smidge of roughage with the protein.
* Illustration by Cindy Vattathil
This article appears in the June-July 2014 issue of My Table magazine, now on newsstands or available digitally June 1.