I'm at the point in life where I'm excited by establishments that are older than I am. The fact that a restaurant in my community has made it this far — has been around longer than I have, that gets me a little giddy. Today, January 18, 2013, one of Houston's best-loved Italian restaurants, Damian's Cucina Italiana, turns 30.
This past November, Goode Company celebrated 35 years of selling Houstonians barbecue. In December, The Golden Room — now called Khun Kay Thai Cafe — celebrated 30 years of business; the Pappas Group has been opening restaurants since 1976, making them 37 years old this year. Tony's has been a landmark in Houston for 45 years, and Brennan's of Houston has been open for 46 years. We've recently touched on the subject of kids who join the family restaurant business — there are several restaurant families in Houston, including the Cordua family, the Verma family and the Zimmermans — just to name a few. Come to think of it, Houston was founded by a family business of sorts. Two brothers, real estate investors from New York, John Kirby Allen and Augustus Chapman Allen.
But getting back to Damian's. It could be said that if you know one or two Mandolas, you'll eventually know dozens of Mandolas. They are deeply rooted in Houston, specifically in the restaurant industry. I could tell you what role maybe 100 of the Mandolas serve in the hospitality world, but it is pretty complicated — click the image below (it appeared in the Oct-Nov 2010 edition of My Table) to see for yourself. I recently was researching a story for the magazine and reached out to my sweet friend Michael Mandola to ask him to help me confirm some Mandola family facts. It wasn't easy — he had to double-check some things himself.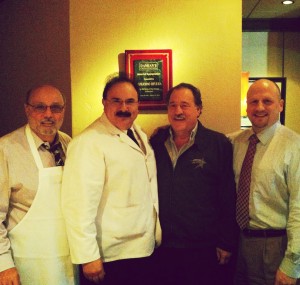 We ate lunch with three of the Mandola clan yesterday, on the eve of the 30-year celebration. Bubba Butera (left in photo below), his cousin Frankie B. Mandola (third from left) and Frankie's son Johnny B. Mandola (right) recounted the early days of the restaurant. Over decadent lobster bisque — served in a bread bowl — I discovered that Houston celebrity-chef Bryan Caswell started out behind the bar at Damian's many years ago. I also learned that Mrs. White, who still owns the land that Damian's rests on, has been a regular customer for years. Before it was an Italian restaurant, 3011 Smith Street was a wholesale flower shop, and before that a house that the White family owned.
Thirty years in business makes Damian's just 11 months older than myself. Armando Rivera (second from left in photo), who has been serving patrons at Damian's since the very first day, recounted day one: "I served a four-top at this table right here," he said, touching the back of a chair next to our table. "We had a two deuces against this wall over here. We had eight people on our first night. Damian handpainted a big sign and leaned it against the building. In the beginning, he had all the employees park their cars in front of the restaurant, so it would look like we were busy."
Frankie and Bubba bought the business from restaurant namesake and cousin Damian Mandola 21 years ago, and Johnny came on as GM last year. The three of them are offering three courses for $30 today through the end of the month to celebrate 30 years of Damian's. That's a mouthful.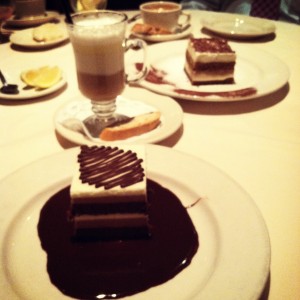 During the entree course (I asked Frankie to order for me, and he was right: I did enjoy the pork chop and mashed potatoes) we talked about the joy and the challenges of serving on various Houston Livestock Show & Rodeo committees and the interesting people that Bubba meets when serving food at the rodeo. For dessert, I asked for coffee and something chocolate. What I got was the famous infusione di cioccolato — layers upon layers of chocolate — and caffe Damian (cappuccino with amaretto, Frangelico and Bailey's Irish Cream). 
As if I didn't feel warm and fuzzy enough after a hearty lunch with hearty Italian Houstonians, I pushed myself out through the doors onto Smith Street feeling really good about family businesses and even more proud to be in one myself. It isn't easy working with your family, and it is even harder working for a family member. The hours are usually longer, the tension can be stronger, and it can be very hard to separate your professional work from your personal life. On the other hand, it can strengthen the family bond, and you are always on guard to honor your family name.
My baby brother Sam turns 20 next month, which means My Table is heading into its 20th year. That's right, my mom started a little rinky-dink foodie newsletter when she had an infant son and 10-year-old daughter. I'm not sure that she ever imagined that I would leave my passion for fashion and public relations to join our family business, but I'm glad that I did. Now my brother works in the distribution side of the business, my grandmother and aunt both pitch in, too, with renewal mailings. My new step-sister is working with me on a cover story for an upcoming issue, so our own family business is continuing to grow.
Congratulations to the Mandolas of Damian's Cucina Italiana — along with all the other family-owned and -operated restaurants in Houston. It isn't an easy industry to begin with, and it isn't always easy working with family — but you're making it happen. Here's to another 30 years.
---
Damian's Cucina Italiana 3011 Smith Street 713-522-0439 Damians.com
Photos by Taylor Byrne Dodge