New Year's Eve
1252 Tapas Bar
All three locations (The Woodlands, Vintage Park and Uptown Park) are offering guests both an early 6 pm seating (if you have a party to go to or just want to get home early) and a 9 pm seating. The 9 pm seating is kind of like going to a club, except you can sit in a nice restaurant with good food instead of a dark corner. The purchase of a bottle of either Dom Perignon ($225) or Ruinart Blanc de Blanc ($100) reserves your table and party favors. One bottle snags a table for four people; two bottles are required for five to nine guests and three bottles for 10 to 15. (I recommend everyone bring cash to pick up their portion of the tab. It's simply easier that way.) A DJ will be spinning live tunes from 10 pm to 2 am and a la carte food offerings are available until 11:45 pm.
Not interested in forking out for a bottle? The bar area will be open for walk-ins on a first come, first-serve basis.
Rainbow Lodge
The coziest lodge in Houston is offering both a New Year's Eve dinner service (which includes 4 courses for $75) and New Year's Day brunch (with brunch beginning at 10:30 am). If you're wondering whether or not the 99 cent mimosas will be present on New Year's Day — the answer is yes. Check out the dinner menu here, and the brunch offerings here. For reservations, call 713-861-8666.
Katsuya by S+ARCK
Katsuya is overtly giving a nod to the club scene with its New Year's Eve homage to the legendary Manhattan club Studio 54. Reservations for their $95 prix fixe dinner are available at 7:00, 9:00 and 11:00 pm. All guests, regardless of seating time, will receive a complimentary Grey Goose vodka cocktail, bottomless hot sake and a Champagne toast at the end of dinner. (That is a really nice perk for people who want to dine early!)
The regular menu will also be available, but considering the dessert from the multi-course menu—a chocolate sampler with Valrhona Guanaja chocolate; a macaron, chocolate crème brulee and flourless chocolate cake—why would you pass that up? Other fun stuff includes a midnight Champange toast, party favors and a photo booth. Call 713-590-2800 to make reservations.
Au Petit Paris
In a sophisticated mood? Visit the little cottage that houses Au Petit Paris for a romantic, five-course dinner at a very reasonable $56.95 per person. They're looking out for you, starting out with hot duck consommé and blackeyed peas (traditionally served on New Year's Eve and New Year's Day for luck).  Move on from there to choices ranging from burgundy escargot to crab and shrimp risotto. There are a considerable number of choices but for entrées we'd lean towards the duck magret and the beef cheeks. Finish out with a dessert such as the Tahiti Omelette — layers of almond biscuit and vanilla rum ice cream with caramel meringue and fruit coulis — or choose a Love Cake — dark chocolate Sacher torte with ganache and English cream. Call 713-524-7070 for reservations.
Killen's Steakhouse
Nothing says "it's been a good year" like a sizzling steak dinner. Killen's is ready to fulfill your indulgence. They're putting on a four-course dinner for $80 per person (plus tax and tip). Even if you're not in Pearland, everyone who has ever talked to me about Killen's says it's worth the trip, and I agree. (With that being said, we are greatly looking forward to Ronnie's in-town joint steakhouse venture with Ricky Craig of Hubcap Grill.) The beef option included in the menu price is a center-cut filet, but you can trade up to various other cuts for an additional fee. For example, upgrade to the six-ounce Nueske Ranch bacon-wrapped filet for an additional $10, or go all-out for the whopping 32 ounce dry-aged kobe bone-in ribeye for an additional $65. There are chicken, pasta and seafood entrée options as well. Call 281-485-0844 to snag your reservation.
Reef
Ever seen a former Next Iron Chef competitor open a champagne bottle with a saber? Me either, but you'll have your chance on New Year's Eve if you go to Reef. The a la carte menu is available at 6 pm for early diners, but the real fireworks begin after the 9 pm seating. An $85 per-person, five-course menu is available with options on each course. Get your traditional good-luck foods out of the way with crispy black eyed peas, cabbage spoons & shrimp shooters. Once you've done your New Year's duty, move on to other things, including entrée choices of short ribs with sweet mustard, smoked broth and lemon-shallot confit or a grilled lamb t-bone. Then, at midnight, see if chef Bryan Caswell successfully opens a nine-liter bottle of Perrier-Jouet with a saber. (Whether or not he has a good time with that, you'll still get to enjoy party favors, a balloon drop and a champagne toast.)
Tila's Restaurante & Bar
Tila's says "you won't stop dancing" to the live Motown band that will be performing there on New Year's Eve. Tila's will be serving a $65 three-course menu. The Mexican-influenced entrées include one of Tila's well-known house specialties: chiles en nogada. These are roasted poblano peppers filled with minced chicken breast, raisins, apricots, apples, pineapple, mango and spices and covered with a sauce made of cheese and blended walnut, cashew and almonds. Pomegranate seeds make a lovely finishing touch. Finish out the meal with ancho fudge pie and wash it all down with Veuve Clicquot or Taittinger Brut (available for an additional charge). The festivities run between 5 pm and midnight.
Tila's will also be open on New Year's Day from 10 am to 10 pm. Call 713-522-7654 for reservations.
Haven
Haven will have two seatings for a three course prix fixe menu (plus an amuse-bouche). The first one is at 8 pm and the second is at 10 pm. (Guests for the earlier seating must depart by 9:30 pm to make room for the second one, so be on time so you can enjoy every relaxing minute!) The price is $85 per person plus tax and gratuity and guests will be entertained by the musical stylings of Luther & The Healers. Guests who reserve for the later seating will also enjoy party favors and a champagne toast at midnight. Reservations are required and you can make them by calling 713-581-6101.
Can't make it for New Year's Eve?  Haven will be open for brunch on New Year's Day from 11 a.m. to 4 p.m.
Branch Water Tavern
Branch Water flies under the radar far too often considering how talented chef David Grossman is. Get to know his work better by checking out their New Year's Eve dinner. Enjoy a hamachi amuse-bouche with grapefruit, jalapeño and crispy garlic. Follow that with one of four secondi options that includes foie gras terrine. The pheasant poele with savoy cabbage, potato puree and thyme jus sounds like a terrific entrée to us and rack of venison is also amongst the offerings.
Live music by Anthony Caceres Legacy Band starts at 9:00. Seatings between 7:00 and 7:30 p.m. are $75 per person, while the later seating between 9 and 9:30 pm is $85 per person. Wine pairings are available for an additional fee. Call 713-863-7777 for details.
---
New Year's Day
First Things First: Coffee!
Southside Coffee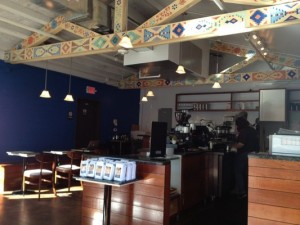 I don't know about you folks, but the first thing I'm going to need on New Year's morning is a healthy dose of wake-up juice. Southside Espresso opens at 7 am (yes, even on New Year's Day) and is there for us with an exquisite selection of exotic beans to make the "elixir of life" with, including Yemen Luul Bani Isms'el, Kenya Kamacharia, Sulawesi Toraja, Ethiopia Sidama Amaro and Mexico Onix Chiapas.
One of the most charming things about Southside are the remenants of Felix's that they fought to retain during their build-out. Find this unassuming, but charming little place on the sidestreet next to Uchi. Street and lot parking is available. For more information, check out the website.
Gratifi Kitchen + Bar
If you don't look at that name closely, you might misread it as "grafitti," but it's pronounced gratify.  New Year's Eve revelers will be grateful this place is open to serve their needs the morning after. They open at a bright-and-early at 9 am, so to me that means breakfast. Feeling guilty after a night of revelry? Have some house-made veggie sausage or an egg white omelet. Still in party mode? Indulge in the pain perdu—French toast baked with almond custard, toasted almonds, powdered sugar and fresh fruit.
If the location looks familiar, it's because it used to be named Ziggy's Healthy Grill.
We're happy they're going to be open on New Year's Day because not many places will be. However, we didn't overlook their New Year's Eve option. Check their web site gratifikitchenandbar.com for a description of their $45three course dinner.
Hugo's
Start 2013 with one of the most legendary brunch buffets in town. Seriously, the first time I saw the buffet set up at Hugo's, my jaw dropped, so hanging out there for the El Buffet que te Vuelve a la Vida (Return to Life Brunch Buffet) sounds great to me. It's $29 per adult and $10 per child (plus beverages, tax and gratuity). (A "child," for pricing purposes, is from age 3 to 12.) As always, the buffet will be loaded with regional Mexican dishes. Don't miss the chocolate desserts; they are always outstanding.
Backstreet Café
Hugo's older (and very different) sibling will host an a la carte New Year's Day brunch, complete with black-eyed peas for good luck in the new year! Well-loved specialties, such as meatloaf and eggs and the Backstreet Benedict will be available. Brunch specialty dish pricing ranges from $11 to $22. You might also be tempted by the brandy milk punch. Good vegan and vegetarian options are available at both Backstreet and Hugo's; all you have to do is ask. Reservations are strongly recommended.
Hunan Garden
Residents of Kingwood, did you know you have an outstanding Chinese restaurant in your area? Yeah, you've known it for years, haven't you? We just made the trek out there for an outstanding Christmas night dinner and suggest that others might do the same on New Year's Day. Proprietress Jenny Wang took over her dad's restaurant a few years ago and we're already craving more of the hot and sour soup, General Tsao's chicken and Mandarin shrimp. We didn't get to try them, but we've heard the chicken wings are outstanding.
If Jenny's name sounds familiar, it's because she's the founder of the Houston Chowhounds and hostess of the Southbound Food radio program. (Tune in at AM 740 or live stream from 5 to 6 pm or listen to the archives.) The place was seriously packed when we went, so we strongly recommend you to call Hunan Garden at 281-360-2668 for reservations.
---
To all of our readers, hard-working industry friends, extended media family and supporters: thank you for an outstanding 2012. We look forward to reporting more exciting dining news in 2013. This year has been extremely busy and the trend is going to continue.
See you next year—in other words, next Friday. We're taking New Year's Day off and hope you are too.