The delicate art of shaved ice is a classic remedy to Houston's suffocating summer heat. It's a treat that takes you back to your childhood, when smelling of sweat and greeting people with a colorful syrup-stained smile was just a part of your ID. Stop by one of these locations for a sampling of some of the best icy concoctions around town.
Texas Blizzard Shave Ice
2706 White Oak Dr., 713-568-7991, texasblizzard.com

Not only does Texas Blizzard Shave Ice offer Texas-sized snow cones (photo above), but the employees always greet people with friendly Southern hospitality. The popular mango-flavored snow cone tastes exactly like a mango, which testifies to the natural syrups that they make. Be sure to check the truck and trailer's schedules online, as the vehicles move around town.
Mam's House of Ice
1040 W Cavalcade St., 832-265-1706, mamssnoballs.com

Mam's House of Ice brings a bite of New Orleans food culture to the historic Houston Heights area (photo below at left). The sizes vary from a small cup to a mammoth-sized cup, and you can choose between classic flavors and specialties like caramel apple. Doggie cones will satisfy your waiting pooch. Be sure to say hello to the Ice Whisperer before you leave.
Snoball Hut
16701 El Camino Real #140, 281-461-8999, snoballhut.com 
With more than 150 flavors offered at Snoball Hut, one is sure to satisfy (photo above at right). Choose from fruity flavors like peach colada, cake-inspired flavors like strawberry shortcake or even mouth-puckering flavors like dill pickle. The hut also serves up gourmet popcorn in flavors such as white chocolate Oreo or savory loaded baked potato.
Nu Cafe
5901 Westheimer, 832-649-2266, nucafehouston.com 
Have you tried "nu snow" or ribbon ice? The Taiwanese specialty is served like a very thinly shaved ice cream or gelato, it isn't a water based ice like New Orleans or Hawaiian shaved ice. Pile it high with everything from fresh fruit to fudgy brownie bites. If you're an ice cream fan, don't miss it.
Juice Box
9889 Bellaire Blvd, 713-484-8085

With a dizzying assortment of fruit options available at Juice Box, the house signature – a shaved ice and mixed fruit bowl – will make ordering a bit easier (photo below); It comes with a profuse amount of shaved ice soaked with condensed milk, a heap of four different fruits of your choice and finished with a scoop of vanilla, chocolate or strawberry ice cream. The generously-sized bowl is best shared between two people.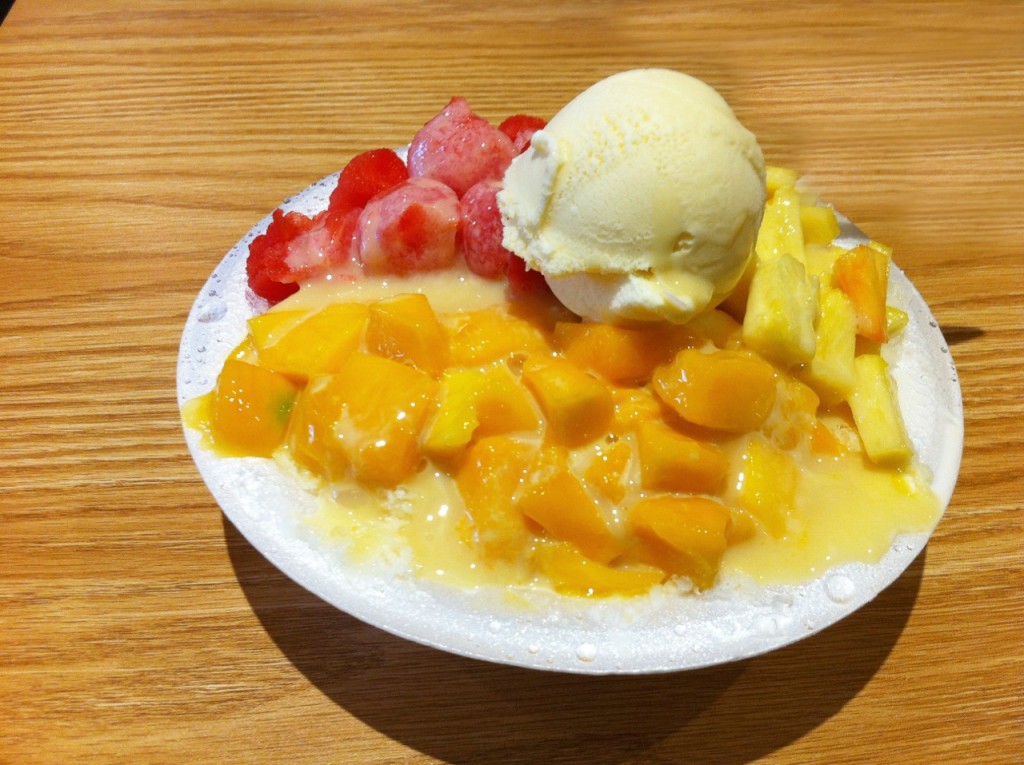 Snowblock Shavery
2518 Rice Blvd, Suite B, 713-528-2063, snowblockshavery.com

The "fruit crush ice" – a plate decorated with thin ribbons of frozen honeydew sheets, a side of mango chunks and a drizzle of strawberry puree (photo below) – is a light and fluffy treat, a refreshing alternative to the overly rich desserts we've become accustomed to. The green tea or salted caramel shaved ice flavors paired with a touch of condensed milk and fresh fruit or nuts make for a memorable dessert.