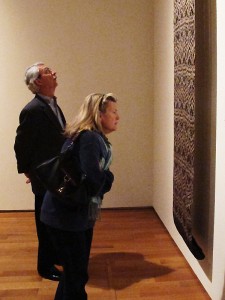 Part of what makes Houston unique is the synergistic mingling of cultures, and never was that more evident than at last night's Night Market, hosted by Asia Society.
Inside the Asia Society's dramatic Yoshio Taniguchi-designed building (located at 1370 Southmore Blvd.) were two lively art exhibits that highlighted female struggle and achievement: "Weavers' Stories from Island Southeast Asia" and "Between History and New Horizons: Photographs of Women, Work and Community in Laos." Video screens played out the tales of women describing their efforts to both maintain their tradition of their craft as well as keep up in the new century. On the walls of other rooms, gorgeous handmade textiles were displayed. Yet another room held tables of handmade goods offered for sale.
Outside it seemed a combination of farmers' market and carnival. Big Creek Farms and Utility Research Garden had picturesque displays of fresh-picked fruits and vegetables at their stands, while people lined up a dozen deep at both the MuSuBi and Flippin' Patties food trucks.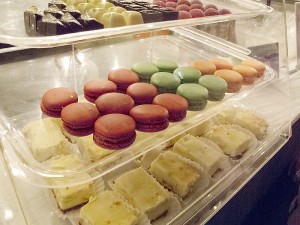 Actually, all of the food vendors stayed quite busy. Filipiniana started selling out after 90 minutes, while Josh Martinez of Goro & Gun worked non-stop making roasted pork bao buns with pickled vegetables. The pork was cooked onsite under blazing coals inside la caja china (an oblong box designed to roast a whole pig, above, left). "Buffalo Sean" of Melange Creperie made Lao-inspired crepes at his stand, and passersby admired Nougat Desserts' pretty display of chocolates and macaroons.
The pleasant bustle of the evening proved that art, culture and awareness go together even better when Houston's food vendors join in the celebration.