Mango season is now, and for the enjoyment of those who want to make the most of it, I've spent the last week scouting mango dishes.
There are two mango seasons: spring to summer and fall to winter. There are dozens of varieties of mangoes in the U.S., but the most common are in season from May through August.
Mangoes made their way to the North American colonies after the 17th century and were often pickled because they spoil so easily. In fact, mango was once a term used to reference what we now call "pickling."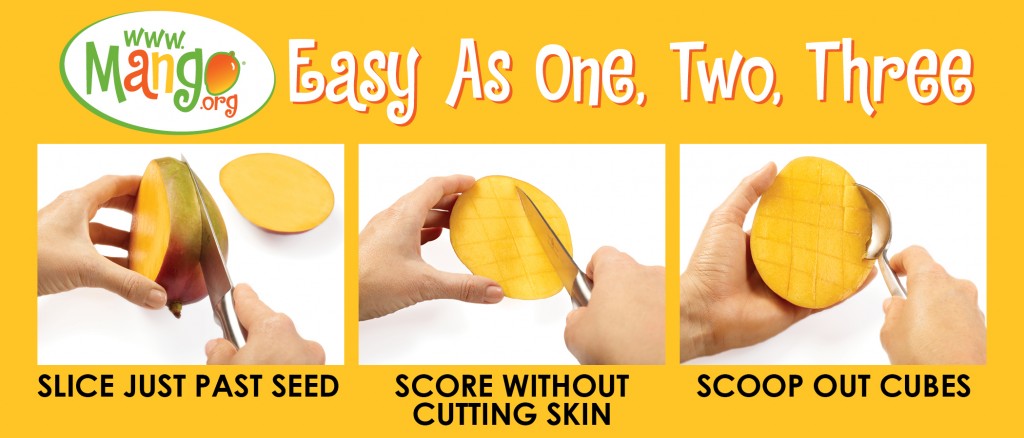 Who is producing the most mangoes? India, by far. They harvest more than 15 million tons of mangoes annually — and they also eat the majority of them. You'll also find mangoes enjoyed by the Chinese, Thai, Pakistani, Mexican and Brazilian communities, as those nations likewise harvest many tons each season.
You don't have to travel far to taste why mangoes are so popular. Here are six Houston-area menu items for readers and eaters who want more of this tropical stone fruit.
Mango Sticky Rice 
Khun Kay Thai Cafe, 1209 Montrose khunkaythaicafe.com
The mango sticky rice, or khao neeo mamuang ($4.50, photo below), at Khun Kay Thai Cafe is especially refreshing after a spicy curry or noodle dish. To celebrate summer mango season, Khun Kay has a number of fresh mango dishes available: Mango red curry, green mango tango and fresh mango juice are also on the menu if you want an entire mango-themed meal.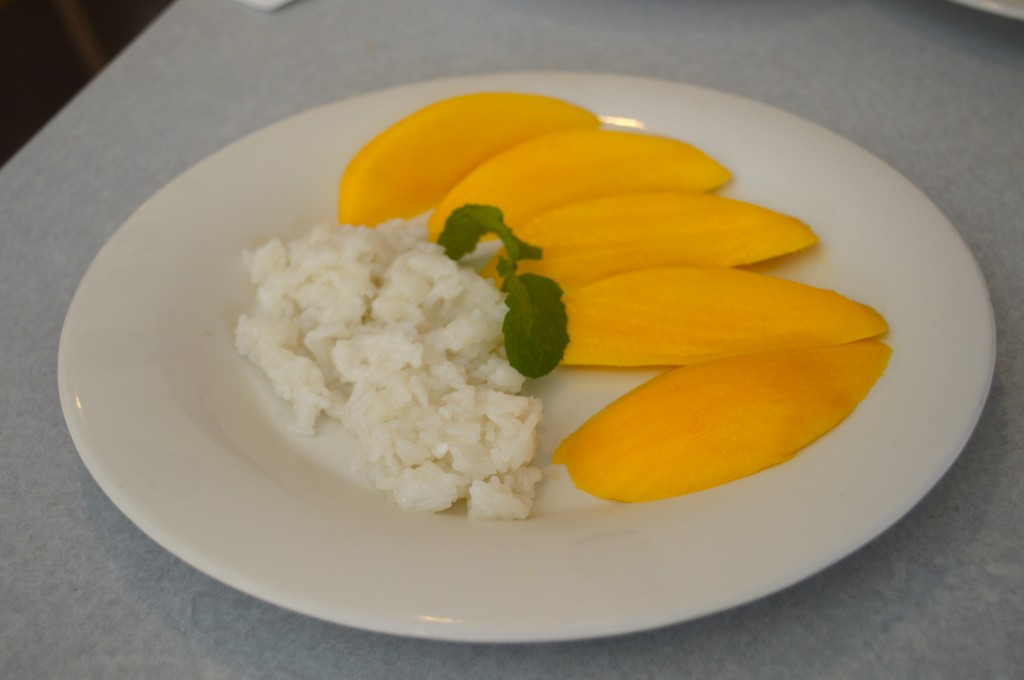 Mangonada  
Mango Beach, 2304 White Oak Drive

Anyone who cannot handle spicy food should steer clear of a mangonada ($3.50, photo below), a Mexican frozen treat similar to a slushy. Fresh mangoes are mixed with chili powder and chamoy sauce — a Mexican condiment containing fruit pulp and chiles, often used as a dip for fresh fruit — to add heat. The raging chili powder was more than I could handle, but I encourage daredevils to have a go at this distinctive drink.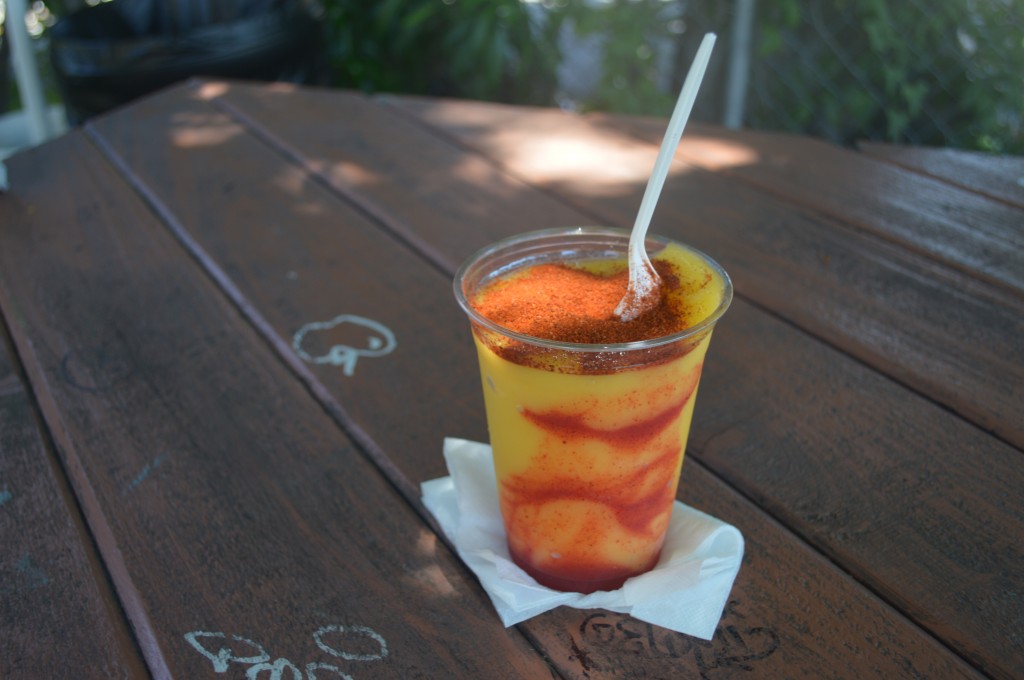 Mango Lassi
Madras Pavilion, 3910 Kirby  themadraspavilion.com

If you want a drink more substantial than just mango juice, have a mango lassi ($3.49) at Madras Pavilion. Mango lassi is a thick, mango-flavored Indian beverage. Made with yogurt and milk, it is much thicker than the average smoothie — drinking it felt like I was trying to suck down dense yogurt. Like the mango sticky rice at Khun Kay, it soothes the palate after a spicy hot dish.
Mayan Chicken Salad
Cafe Red Onion, 12440 Northwest Fwy. caferedonion.com

The Mayan chicken salad ($11.50, photo below) at Cafe Red Onion comes with a fresh sliced mango and mango vinaigrette dressing on the side. The marriage of fruity flavors with tortilla-crusted chicken and leafy greens is light, best enjoyed at lunch or brunch.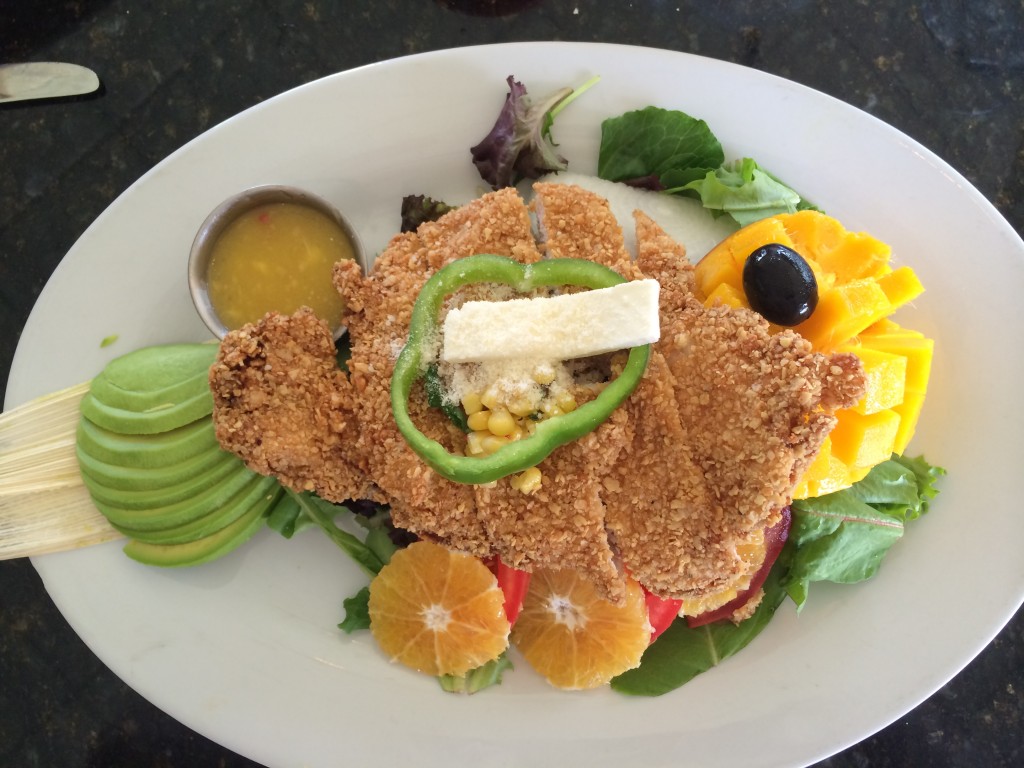 Ceviche "Yucatan-Style" 
Guadalajara, 9799 Katy Freeway guadalajarahacienda.com

Before digging into the Yucatan-style ceviche ($10.95) at Guadalajara, I had never tried ceviche before and wasn't sure what to expect. I was pleasantly surprised by the seafood bathed in lime juice that acts as a tart citrus marinade. The mango chunks provide sweet relief from the citrus and more traditional ingredients like the acidic onions and tomatoes, floral cilantro and buttery avocados.
Mango Pico de Gallo 
H-E-B stores of Houston, heb.com

This mango pico de gallo from H-E-B. ($1.95) is easy to munch on at home with traditional tortilla chips, or serve a spoonful over grilled chicken. Tomatoes, onions and jalapeños dominate the dip, but in the end juicy, ripe mango balances out the assortment of spicy flavors.