For a time, Triniti could have been mistaken for the grand lobby of the Wortham Theater or perhaps a Beverly Hills party. Women in designer dresses and men in suits milled about. Waiters floated through the crowd carrying trays laden with red wine, white wine and lavender cocktails. In the center of it all, a cello, an ornate harpsichord and music stands stood patiently, waiting for their masters.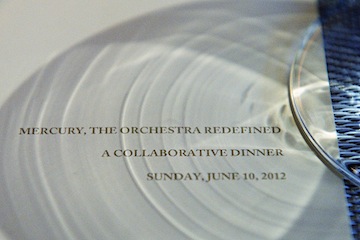 Was this a concert hall or a restaurant? Last Sunday evening, June 10, 2012, it was both.
Diners expect background music during dinner at most nice restaurants. Some places even have live singers and musicians on the weekends. But things were destined to be different at Triniti (2815 S. Shepherd) on this night. Each of eight courses would be paired not only with wine, but also with a musical selection.
These weren't random selections, either. They were carefully chosen by artistic director Antoine Plante of Mercury, the Orchestra Redefined. His inspiration? The flavors, textures and ingredients in the courses prepared by chef Ryan Hildebrand and his staff.
How did this partnership come about? Triniti partner Chong Yi, a supporter of Mercury Orchestra, introduced Plante to Hildebrand, and the two, along with others, collaborated on "Concerto in Eight Courses," an eight-course chef's tasting menu paired to musical pieces that best reflect the textures and flavors of the components in each dish.
"The music was chosen based on my personal experience. It had to be," explained Plante just before the dinner and performance started. "Someone else may perceive the flavors differently. The point is that this should stimulate discussion afterwards."
"The crowd here tonight is a good mix of supporters of both Triniti and Mercury," said Hildebrand when asked whether music fans or foodies had signed up for the $220-per-person experience. As for developing the eight-course menu, Hildebrand went on to say, "It's great to gain inspiration from a craft not your own."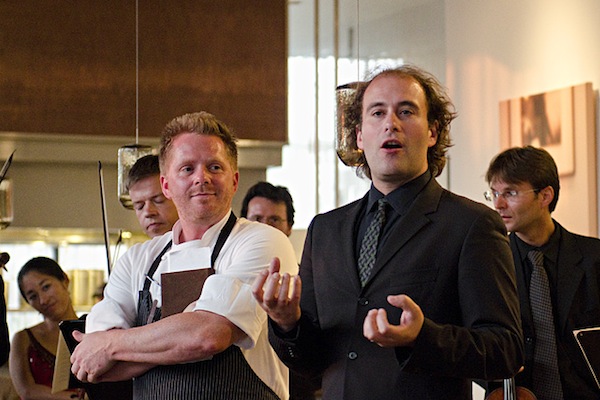 After an hour of cocktails and mingling, the orchestra took their places and diners went to their seats. "Please," requested Maestro Plante, "experience the music and the food silently and then discuss it afterward." Unfortunately, some diners did not pay heed to this request, but no one was particularly disruptive.
I was struck by how delicious the first wine pairing was and when I looked at my menu it became obvious why I liked it. It was one of my current favorites and all-around crowd-pleaser, the 2010 Bandol Rose Domaine LaFran-Veyrolles. I blame (or, rather, thank) sommelier Marc Borel for my ongoing affinity for wines from Bandol. It was paired with a rich consommé poured over ratatouille and granola. I couldn't spoon it into my mouth fast enough.
Selections from Vivaldi appeared four times during the evening, which seemed entirely appropriate for this marriage of the musical and culinary arts. Vivaldi's music speaks to the progression of life itself, and surely the celebration of food is part of that. Lively strings from Concerto for Violin, Op 3, #11 seemed to accent the whimsical fun of a creamy, coconut-enhanced burrata while the serious cello notes spoke of the deeper tang of balsamic-soaked tapioca.
I have to credit Triniti with serving one of the best pieces of beef I've ever had. I think you could have cut the butter-poached ribeye with a stern look. The foie gras vinaigrette was a nice way to dilute any excess richness, and cauliflower puree rounded out the dish. Vivaldi's Concerto for Two Violins danced alongside as I struggled to savor the meat [photo below] and not inhale it.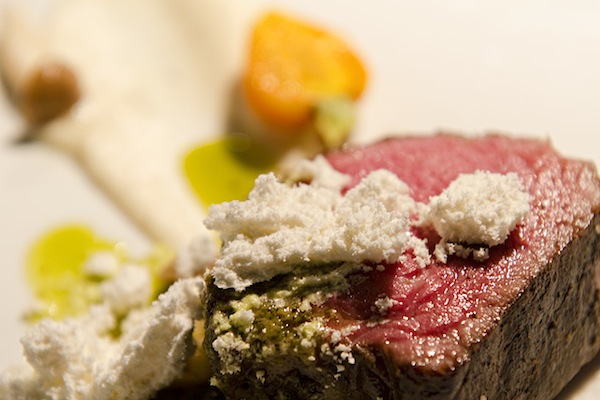 The urgent allegro of G. F. Handel's Concerto Grosso Op. 6, #2 was the most clever musical pairing. The selection was "served up" with a rabbit ragout because Plante thought it evoked a rabbit running through the forest. The rabbit on our plates did not get away. That was unfortunate for him, but lucky for us.
The pairing of music with courses did have one unusual ramification. When the music stopped before I was done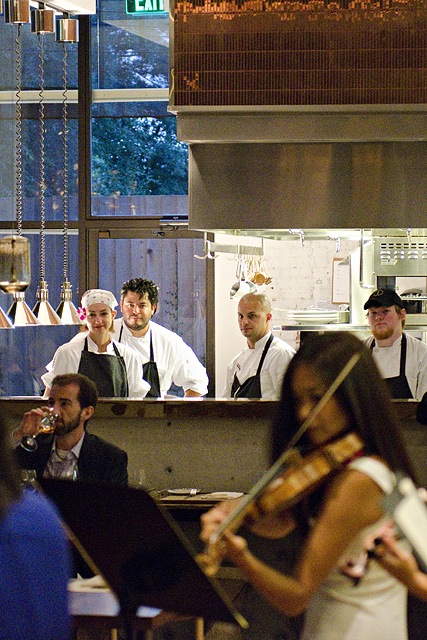 eating, it felt odd and made me feel a bit like I was playing "Beat the Clock" and lost. Should I have eaten faster? Should I hurry up and finish now that the music has stopped? In some cases, the musical selections needed to be a few minutes longer.
The evening concluded on a dramatic note (literally). While we dined on a deconstructed opera cake, opera singer Ana Trevino-Godfrey walked through the crowd and sang Handel's aria Lascia ch'io pianga. Her soprano voice made the simple act of eating dessert a contemplative experience.
Eating at its best is a storm of the senses that engages taste, sight, touch and smell. Hearing is part of it as well. There's the crunch of a cracker, the scrape of a knife on a plate or the laughter of dining partners. Orchestral pairings meant to emulate the twang of lemon or the primal flavors of a tender steak take the auditory factors to a new level. I'm glad that Triniti and Mercury Orchestra collaborated on this venture. It was a grand experiment that I hope will be repeated in some form or fashion in the future.