Authors and long-time food writers Jane and Michael Stern just released the 10th edition of their travel companion, Road Food (Clarkson Potter, 2017), which showcases a selection of more than 1,000 restaurants in the United States.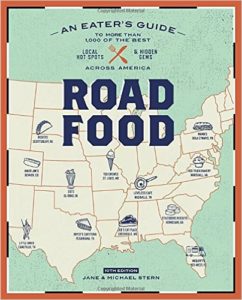 These aren't five-star restaurants where you'll need to make reservations – they're quirky, charismatic favorites that the Sterns believe showcase the spirit of the local community. Curious about their picks for Houston? They include Avalon Diner, Goode Co. Bar-B-Q and La Mexicana. But what Houstonian readers will care more about are the non-Houston recommended stops like Louie Mueller Barbecue in Taylor, TX and Cafe Des Amis in Breaux Bridge, LA. Those weekend road trips inside the state and along I-10 are easier to plan than longer distance commitments. But regardless of your summer plans to drive across the country or just across state lines, get yourself a copy.
Spending the last 40 years on the road and rating local dives sounds like a pretty interesting gig, so we asked Michael Stern some nosy questions to better understand how he's grown to dedicate his career to meals and wheels.
This is the 10th edition of Road Food. What has changed since the first edition?
In the first edition, all meals had to be under $5!
What's your biggest pet peeve when it comes to people eating on the road?
People looking for familiar food, instead of something new and different.
When you're traveling and trying a restaurant for the first time, what do you look for?
Happy customers. That almost always means good food. (Bars are an exception to this rule.)
If you were a vehicle, what would your vanity license plates say? 
OINK

Pancakes, or waffles?
Waffles (but thin-tread, not Belgian style).
Your favorite side served with barbecue is _______________________.
Hash on rice (now that I am a South Carolinian).
If you weren't writing about food, you'd be ________________________.
A bird rehabilitator
When you were a kid, your favorite dish was ____________________.
Stouffer's spinach souffle
Most memorable pit stop?
The diner in Arizona where we stopped in for breakfast, entered a raffle, and won a live sheep.