We recently attended a dinner at Revival Market that featured products from Napa-based Rancho Gordo, a company best known for selling dried heirloom beans. "A dinner about beans?" I thought to myself. "Wow, sounds exciting. Not."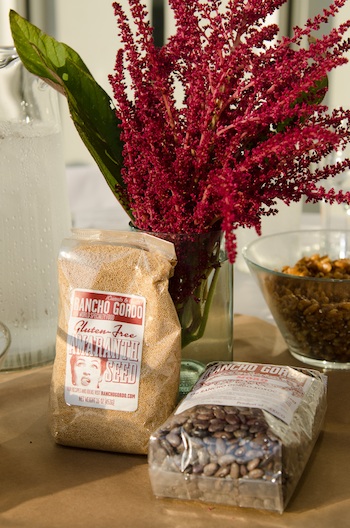 It turns out that beans are not boring at all, a fact I quickly realized when I went to the Rancho Gordo website. There, displayed on the page, were photos of little gems – yes, beans. I had no idea that they used to commonly come in such colors. These were heirloom beans, not mass-produced, commercial farmed types that only came in brown, white and black. These were yellow, purple and red with spots.
I bet you have never tasted beans like these. Unlike most dried beans, these are remarkably luscious and creamy inside after cooking. The company stresses freshness, so when the year's small harvest is sold out, it's gone forever.
Rancho Gordo's trade, however, is more than just heirloom beans. They also sell dried grains (such as amaranth), dried corn (including red popcorn and prepared hominy), canela (Mexican soft cinnamon) and piloncillo, the hard sugar that is made from unrefined cane juice, often sold in cones.
At the Revival Market dinner, we were treated to a Greenway Coffee cocktail called the Caltanisseta Spritz, made with Averna (an Italian liqueur), grape juice and Rwanda Dukeunde Kawa, which got compliments all the way around our table. In glass bowls were soft, heirloom chickpeas sprinkled with smoky paprika. The more addictive dish was the dried corn with sumac (think "Corn Nuts"). After awhile, people were having to make a concerted effort to not just keep eating and eating them.
The first taste of Rancho Gordo's heirloom beans came with the first course. Bruschetta is so often dry and boring, but on that night, it was rich with olive oil-poached Gulf black fin tuna and mayocaba beans (photo at top). Mayocaba beans are from Peru and are somewhat like canellini beans. They are known for soaking up and blending with other flavors in the dish they are used in.
We were also treated to Rancho Gordo's dried grain offerings. Amaranth, a small, chewy grain cultivated by the Aztecs, is similar to Moroccan couscous. Large platters of it were served, and this was one of the most beautiful dishes of the evening with an assortment of chopped heirloom tomatoes scattered on top. Alongside was another platter of hearty, tender corn tortillas, topped with hunks of Oaxaca cheese and a dark, mole-like sauce of smoked chilies.
A friend and I were feeling a little smug and evil when the platter of roasted duck legs, Revival Market house-made sausage and flageolet beans ended up next to us. Virtue won out, and we eventually passed them to our neighbors. (It wasn't really virtue. We were afraid of being beaten up.) Steve Sando of Rancho Gordo commented on chef Ryan Pera's riff on cassoulet, noting, "It's interesting that the beans in this classic French dish actually originated in the New World."
Another dish featured a bed of marinated cranberry beans – speckled and lined with deep red marks, tasting a little like chestnuts – topped with just-harvested vegetables from the Emile Street Community Farm and fresh-from-the-pier Gulf shrimp. Rounding out the course was Rancho Gordo wild rice with toasted hazelnuts and pickled peaches.
The main courses were accompanied by pairings from family-owned Gundlach Bundchu, a Sonoma winery with a heritage dating back to 1858. The winery was challenged by the San Francisco earthquake of 1906 and almost decimated by Prohibition. Eventually, later generations managed to reopen and expand the business. You can see the timeline in its entirety at http://www.gunbun.com/history.
As full as we were, there was no way we were passing up the torre de roja (red bean) ice cream and piloncillo upside-down cake (photo below). The house-made limoncello was so good that a certain diner (you know who you are) tried to hide the bottle before it was picked up. We begged for seconds like spoiled children until Revival Market proprietor Morgan Weber indulged us.
So, who cares about beans? What makes companies like Rancho Gordo — and those like Revival Market who carry their products — important?
Farming doesn't generate a lot of money. So the safest bet, and the thing many farmers do, is to choose hardy, easy-to-raise, quick-growing crops that are in demand. You've probably been shopping for black beans, but I bet you've never looked for yellow-eye beans. If you're anything like me, you didn't know they even existed.
Without demand, most farmers lose the motivation to continue cultivating the "weirder" heirloom varieties, even if they are better quality. Rancho Gordo has taken a hand in preserving these heirloom varieties, and stores like Revival Market provides shelf space and expose their customers to unusual products.
Rancho Gordo beans are not cheap. They're about $6.25 for a one pound bag. But to put that into perspective, a bag will serve about five adults. It will feed more if you stretch the beans with meat or other ingredients — and that's a lot cheaper than eating at a fast food joint.
Give them a try. I bet they'll be the best beans you've ever had. Check out their website to see their full selection, and be sure to drop in Revival Market to see what new high-quality products they've added to the inventory.
---
REVIVAL MARKET, 550 Heights Blvd. at W. 6th, 713-880-8463, revivalmarket.com