Two weeks ago we took you through our first visit at Bosta Coffee & Wine, a relatively new cafe/coffeehouse located in the Parc Binz mixed-use development in the Museum District. This week we have a "snapshot" of sister (and neighboring) restaurant Museum Park Cafe.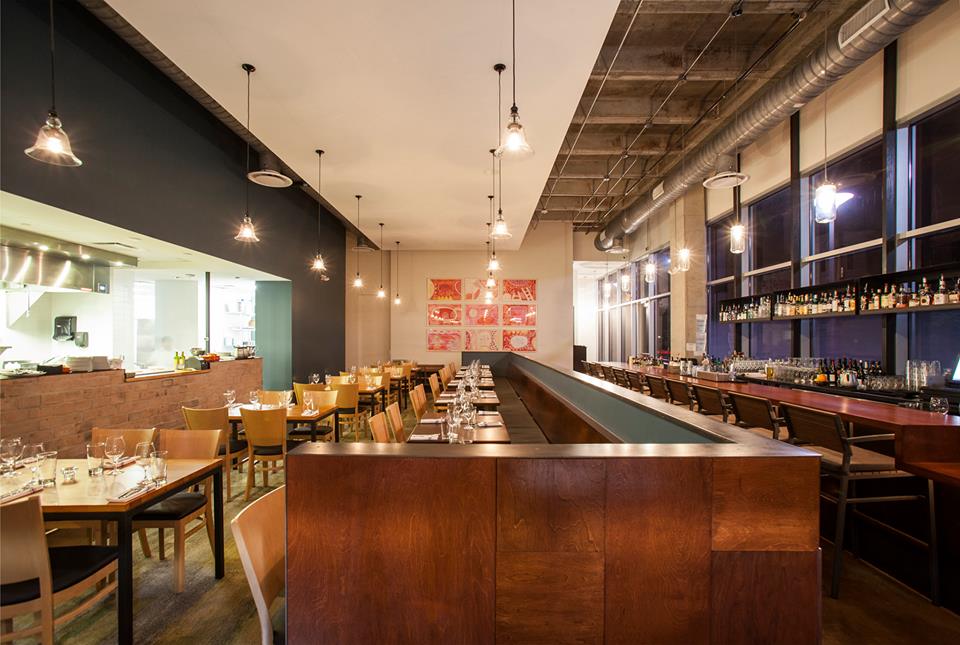 Museum Park Cafe and Bosta share the same owner (Christopher Balat), executive chef (Justin Basye) and pastry chef (Chris Leung), but the concepts and menus differ. Bosta serves as a neighborhood coffeehouse (and wine bar come night) with breakfast and lunch menus that are simple yet decadent, whereas Museum Park Cafe is open for dinner (they are no longer open for lunch) serving dishes that offer the same decadence but prepared with slightly more finesse and surprising flavors.
Museum Park Cafe's decor is minimal but elegant. There are rows of delicate pendant lighting, different shades of wood and a brick wall that separates the dining room from the open kitchen. Nine paintings in hues of reds and corals — brought over from the nearby Children's Museum — are grouped at one end of the restaurant and give a pop of vibrancy to the space.
The restaurant's regular menu is on the short side, categorized into appetizers/salads, made-in-house pastas, entrees and desserts. There is also a kitchen/chef's menu on offer.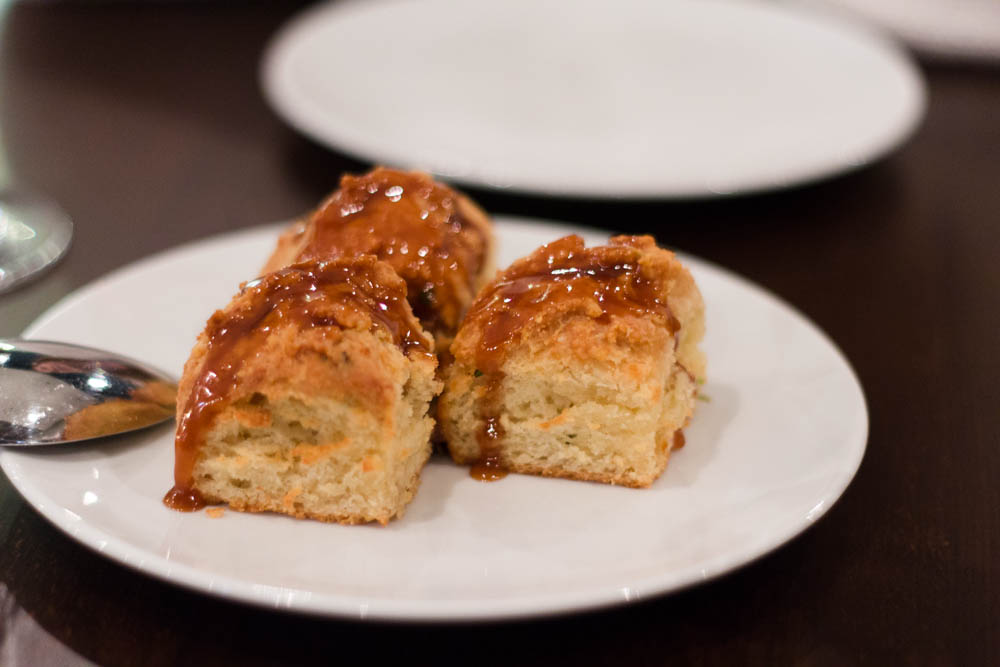 We started with the scallion and cheddar biscuits topped with a salumi caramel ($7, photo above). There are three fluffy biscuits per order — perhaps 10 too few, if guilt were no object — and the cheesy bite that is balanced with a subtle sweetness gets the palate moving in all the right ways.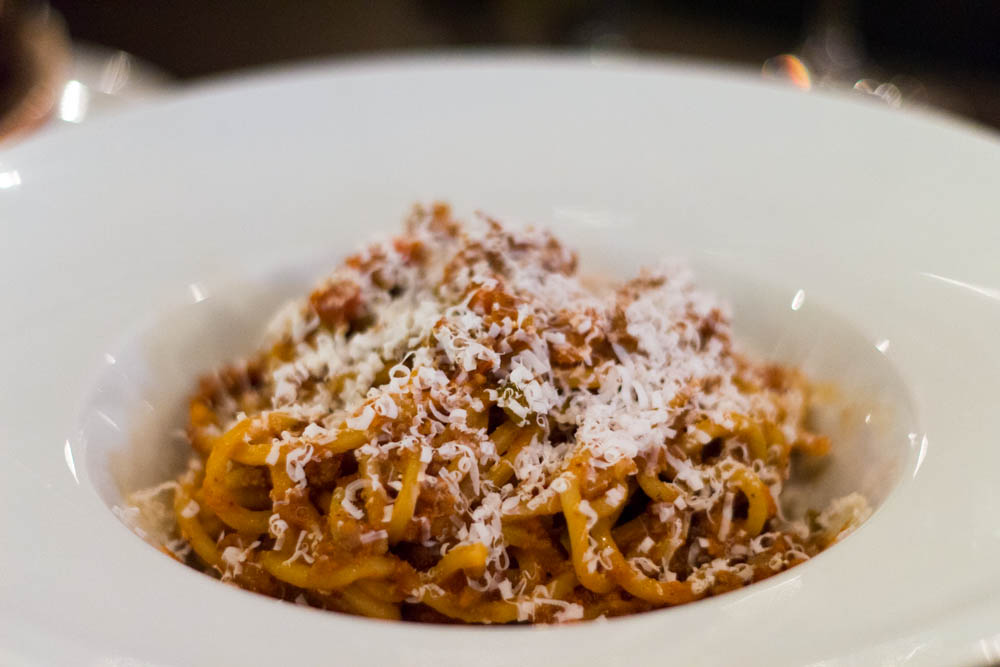 For the main course, we tried two homemade pastas and the Black Hills Ranch pork roast. On the menu when we visited was a spaghetti lamb Bolognese with balsamic vinegar and ricotta salata ($15, photo above), which was a comfort-filled dish, perfect for our recent chilly weather and brisk windy evenings. It was plenty meaty, and the lamb was a nice change from the classic beef Bolognese.
Roasted onion garganelli (ridged tubular-shaped pasta) with 'nduja ragu and fontina ($18, photo below) might have been a little more interesting than the spaghetti but only because the flavors were so unexpected. The onion and seasoned ragu provided a salty, rich bite that was comforting yet not anticipated. The colors were playful, too.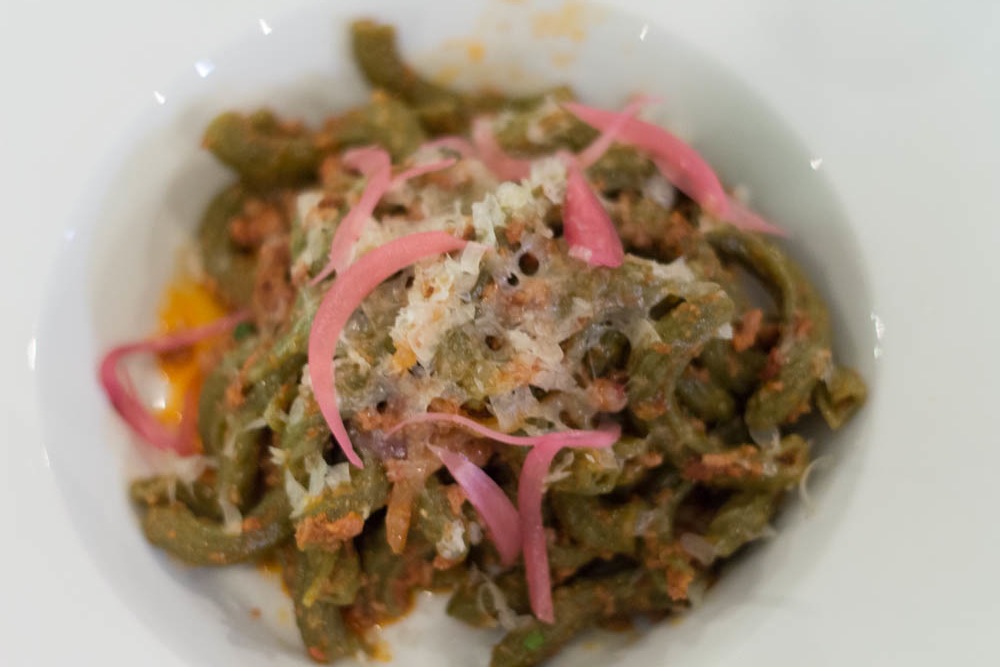 When compared to other menu items, the Black Hills Ranch pork roast at $25 seemed a bit steep, but the portion was plentiful. On a bed of creamy polenta the moist pork roast arrived surrounded by roasted onions, Brussels sprouts and mushrooms, served with what may have been a cranberry and roasted onion compote. (With such dim lighting and broad menu descriptions like "autumn vegetables" it was hard to determine what exactly made up the tangy-sweet, dark burgundy topping.)
For dessert, go with the pumpkin mouse ($9, photo below), served with golden raisin puree, gingersnap ice cream and a drizzle of balsamic vinegar. When the various flavors and textures are combined into a single bite, it tastes like creamy pumpkin pie.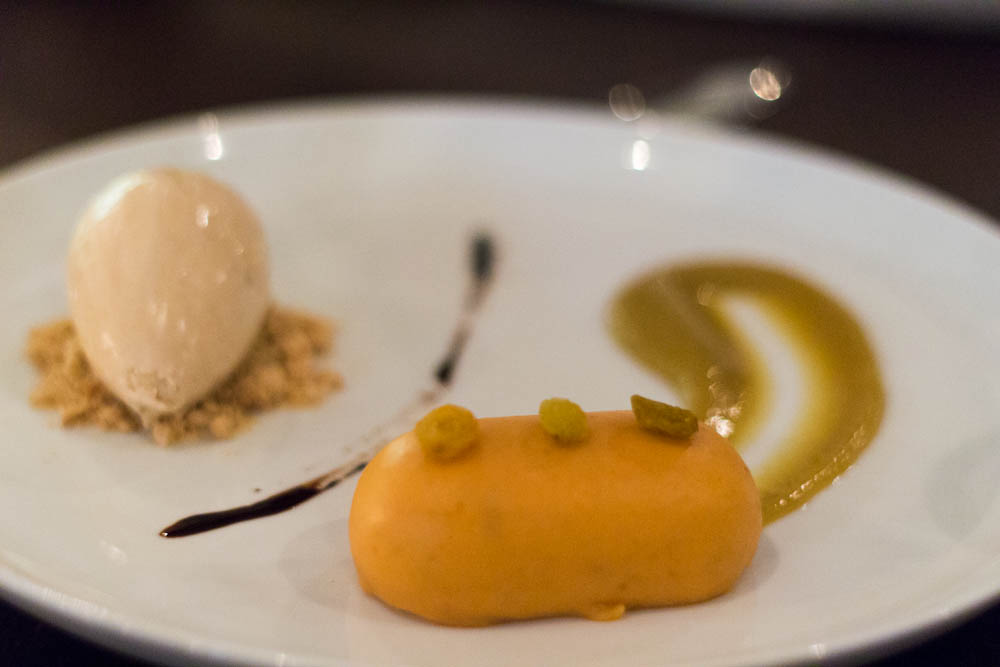 Leung's chocolate financier ($10), while it wasn't unappetizing, struck me as awkward. It seemed like a power struggle of flavors between the rich, luxurious chocolate and the wincingly tart apple butter that the financier rested upon. We would have certainly ordered a dessert that was based on the apple profile alone, but we weren't prepared for two such bold flavors — along with decadent ice cream — in one dish. But then again, one of the reasons why we like Museum Park Cafe are the surprises we've tasted in each bite.
---