Pastry chef Rebecca Masson and Lucky Dog Rescue marketing chair Jodie Eisenhardt met more than five years ago at an Urban Harvest dinner at 5226 Elm — the same event space where they would go on to host their twice-yearly multi-course chef's tasting "Sweet & Savory" dinners to benefit Lucky Dog Rescue.
At the time of the first meeting, Masson had recently rescued/saved her dog Betty from the streets and she was preparing the dessert course for the Urban Harvest dinner that Eisenhardt was attending as a guest. A passion for food brought these two women to the same venue, but it was their passion for rescuing animals that drew them together to work as a team. By the time they left the event that evening, the idea of Sweet & Savory fundraiser dinners was in the works, and Masson was already planning the first event.
The first Sweet & Savory event was in April 2010, and it featured a five-course dessert menu prepared by Masson as well as a cheese course by Tracie Hartman. The duo decided to host the dinners twice a year, which could be seen as a risky move since hosting semi-annual events make it harder to maintain active public interest. But with chef line-ups that grew increasingly bigger with each dinner, it never became an issue. Five years and nine dinners later, the duo is preparing to host their 10th and final dinner, "The Last Bite,"  on Sunday, October 26 beginning at 4:30 pm.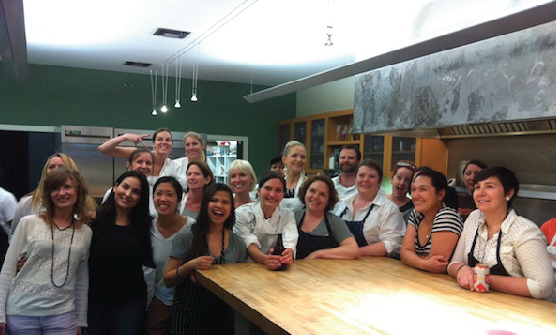 Chefs from across the country have traveled to Houston to participate in the cooking, and Sunday's dinner is no exception. Three Massachusetts chefs — Brandon Baltzey of Ceia, Laura Higgins of Brine and Tim Maslow of Ribelle and Strip T's – will cook up dishes utilizing what's fresh and available in Houston, such as Baltzey's "Fritto Misto" with a mixed fry of lardo, seasonal watermelon, lobster and Meyer lemon.
Of course guests can also expect dishes from the impressive list of Houston chefs participating, including Seth Siegel-Gardner and Terrence Gallivan of The Pass & Provisions, Ruben Ortega of Caracol and Backstreet Cafe, Patrick Feges of Feges BBQ, Ryan Lachaine of Reef and many more.
What's more impressive than the chef line-ups is the amount of money these dinners have raised for Lucky Dog Rescue. Lucky Dog is an all-volunteer 501c3 foster-based organization, so they have no shelter facility. Since most of the dogs who come into the program test positive for heartworm, it averages about $500 per dog to get them healthy and into their forever homes, explains Eisenhardt.
She estimates that over the past nine events, Lucky Dog has netted at least $100,000. "It has become the most significant part of our operating budget."
The event space, ingredients and auction items are all donated, and volunteer servers facilitate the dinner. "We spend next to nothing, so all proceeds go directly to rescue efforts. Proceeds from ticket sales [a $150 donation to Lucky Dog Rescue] translate immediately into the number of dogs we can budget for, so each ticket sold literally impacts the number of saved lives," says Eisenhardt.
"After ten events, it's time for something different, but these have truly been amazing events."
---