Get out your carving knives, cornucopias and pie pans — It's gourd season and pumpkins are in full swing. These weighty, vine-ripened orbs dominate the fall consumer industry every year, and somehow, gourd groupies never tire of devouring this festive fare.
Then again, why should we? With all the creativity and imagination that's infused into their diverse culinary interpretations, there's always a new, innovative dish or drink to try in the consumer market as well as our local culinary scene. In the spirit of the season, I've been tasked by the editors of My Table and SideDish to highlight a few of the best local pumpkin dishes and drinks around town. (Click here to see last year's pumpkin picks.)
SIPS
Saint Arnold Brewing Company's Pumpkinator
With a bottle of Saint Arnold Brewing Company's Pumpkinator comes sentimental feelings, and I'm in love with the gourd booze once more. An undertone of molasses, brown sugar and spice permeates this locally made libation, and the rest of the work is left up to the pumpkin. While there is definitely no shortage of pumpkin-inspired brew on the market, none can hold a candle to Saint Arnold himself.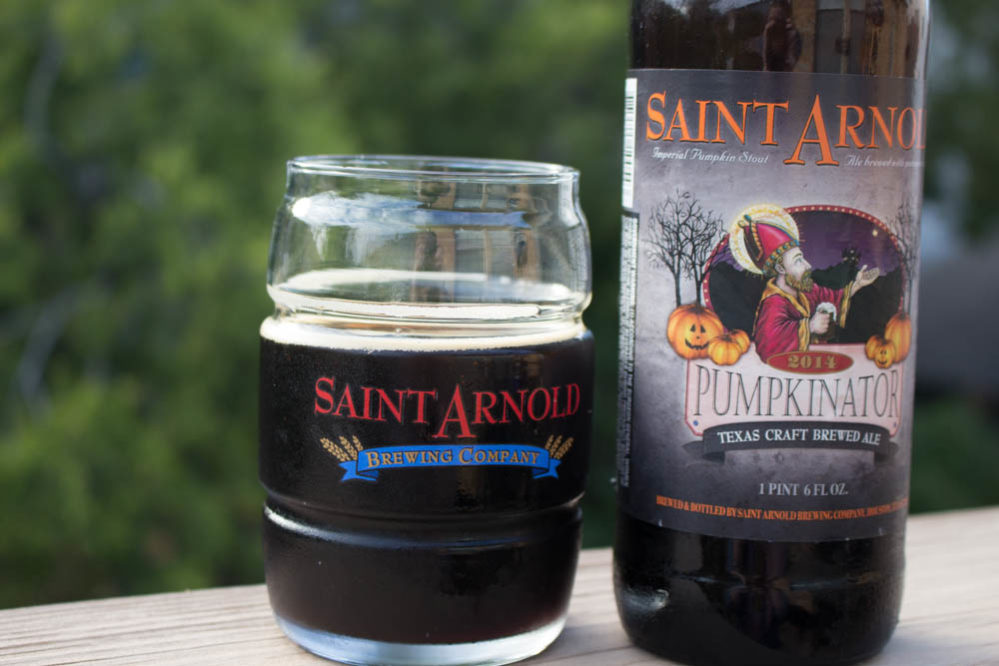 Pumpkin Martini from Kiran's
A few years ago, our friends at Urban Swank shared the recipe for this pumpkin martini – a favorite seasonal cocktail of many Houstonians — courtesy of Kiran Verma. It isn't sweet and it isn't candy-like at all – and it is back on the menu this fall. Want to make it yourself at home? Here's the recipe.
SAVORY
Prego's Pesce Zucca
What do you get when you mix snapper and pumpkin? Something spectacular. Soil and sea are an unlikely but successful duo when married to create the savory pesce zucca – a pumpkin seed-crusted Gulf red snapper with caramelized squash, oven-dried tomato, roasted corn-scallion bianco, sautéed spinach and roasted butternut squash.
Sopa de Semilla de Calabaza from Hugo's
He's a master of seasonal fare, especially when it comes to using the popular pumpkin. Cooking the gourd down into a pale green fusion, chef Hugo Ortega has created a creamy pumpkin seed soup called sopa de semilla de calabaza (photo below). We won't judge if you lick the bowl.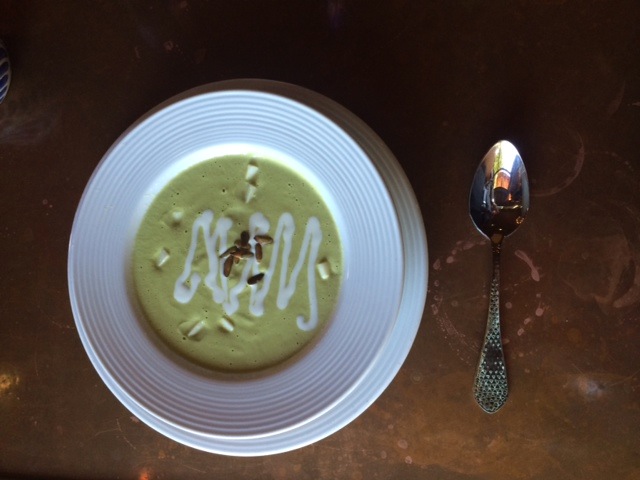 Hubcap Grill's Pumpkin Burger
I never thought I'd live to see the day when a pumpkin found its way onto a burger. But then again, that's the kind of adventure we've come to expect from Hubcap Grill, which also boasts a wild burger made with bananas and peanut butter. If you're adventurous when it comes to burgers, check it out.
Bistecca from Tony's
Who knew that pumpkin and beef made such a great team? Embracing a seasonal approach to their menu, the Tony's kitchen added a pumpkin purée to the Bistecca – a 55-day dry-aged New York strip with autumn onions, amaretto beef jus and buckwheat blini. If you're a devoted fan of the classic seasonal dessert, the restaurant also offers a decadent pumpkin pie pudding.
SWEET
Killen's Steakhouse and Killen's Barbecue Pumpkin Bread Pudding
You've probably seen Ronnie Killen's bread pudding (photo below) on other local foodie websites of late, but I simply couldn't leave it out of this year's list. Pearland's master of meat is throwing us for a loop with this dessert, which is composed of tres leches, cayenne-spiced candied pecans and caramel sauce. It is indeed as sinful and dangerous as it sounds.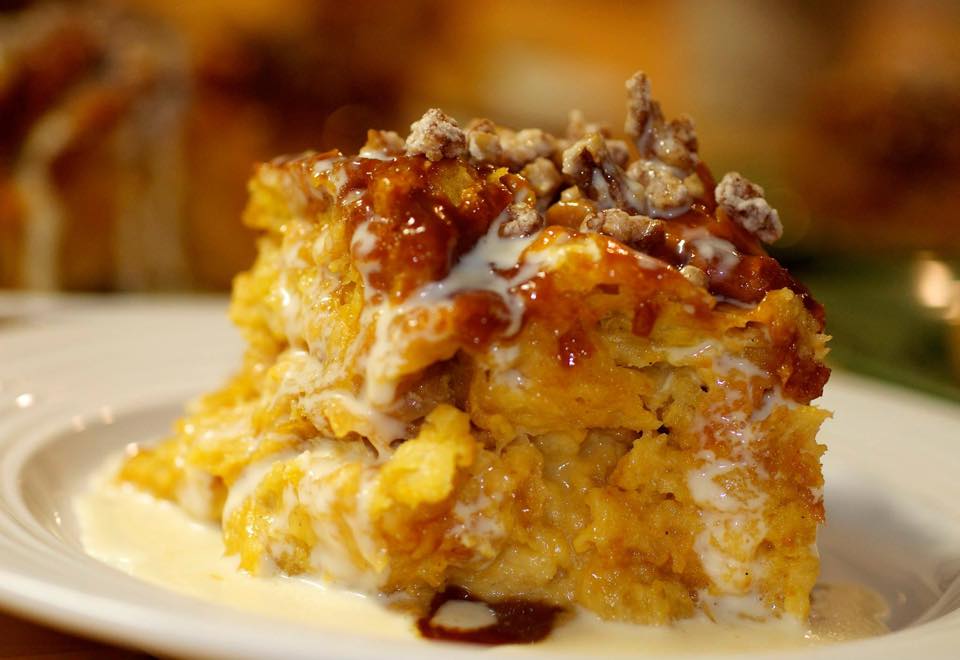 Fluff Bake Bar's Pumpkin Whoopie Pies at Revival Market
Pastry chef Rebecca Masson's carby treats have a certain magical quality to them, and when it comes to utilizing pumpkin, she wields her culinary wand. Soft, creamy and saturated with sweetness, this dessert sandwich is an alternative to the traditional pumpkin pie.
Pumpkin Pie from Ooh La La
An oldie but a goodie, Vanessa O'Donnell uses traditional pumpkin pie staples – ground cinnamon, ginger cloves and nutmeg – to bring this aromatic classic to life. Forgoing just granulated sugar and evaporated milk, O'Donnell uses a combination of granulated and brown sugar as well as cream blended with whole milk to give the pie a creamier texture.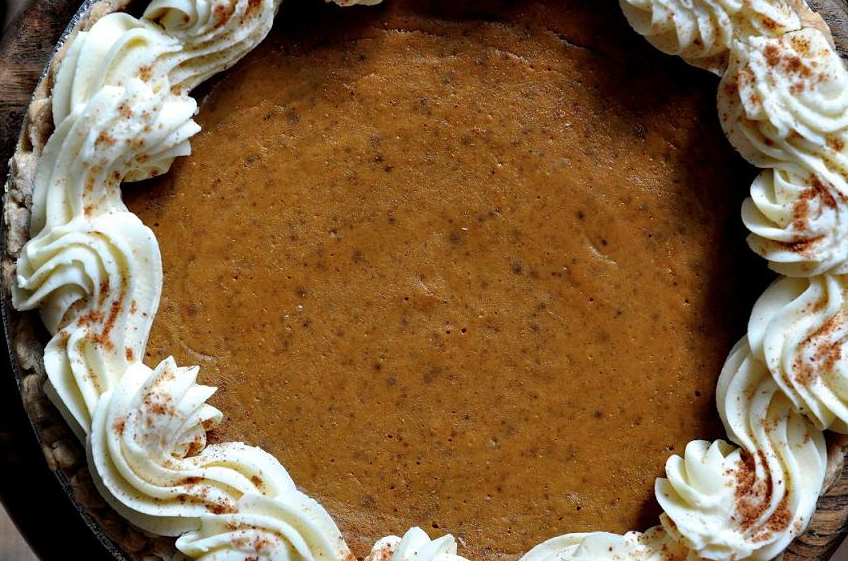 Pretty much pumpkin everything over at Dessert Gallery
The Dessert Gallery won't hold back this fall. Available now is a pumpkin torte with dulce de leche cream cheese frosting, pumpkin cheesecake with toffee crunch topping, pumpkin pie truffles and pumpkin way out cookies. Yowza.
Pumpkin caramels from Cacao & Cardamom
This is a win for the chocolate-lovers. Chocolatier Annie Rupani's pumpkin caramels are milk chocolate caramel ganache spiced with pumpkin puree and warming spices.
AT THE MARKET
"Pumpkin Fest" at The Fresh Market 
This weekend, October 25 and 26, The Fresh Market stores will pull out all the pumpkin products for a two-day sampling event. Expect items such as pumpkin spice coffee, pumpkin chocolate chip pound cake, harvest pumpkin salsa, pumpkin nut bread and, of course, pumpkin pie.
---