For Houstonians, it's the best of both worlds at The Pit Room, Montrose's newest barbecue joint on Richmond. That's because The Pit Room serves both barbecued meats and Tex-Mex tacos.
Under the direction of owner Michael Sambrooks and chef/pitmaster Bramwell Tripp, The Pit Room opened less than two weeks ago on August 19, and word has already spread quickly. Stop in for lunch on a Monday at 1 pm, like we did, and you find yourself with fewer choices among the meats.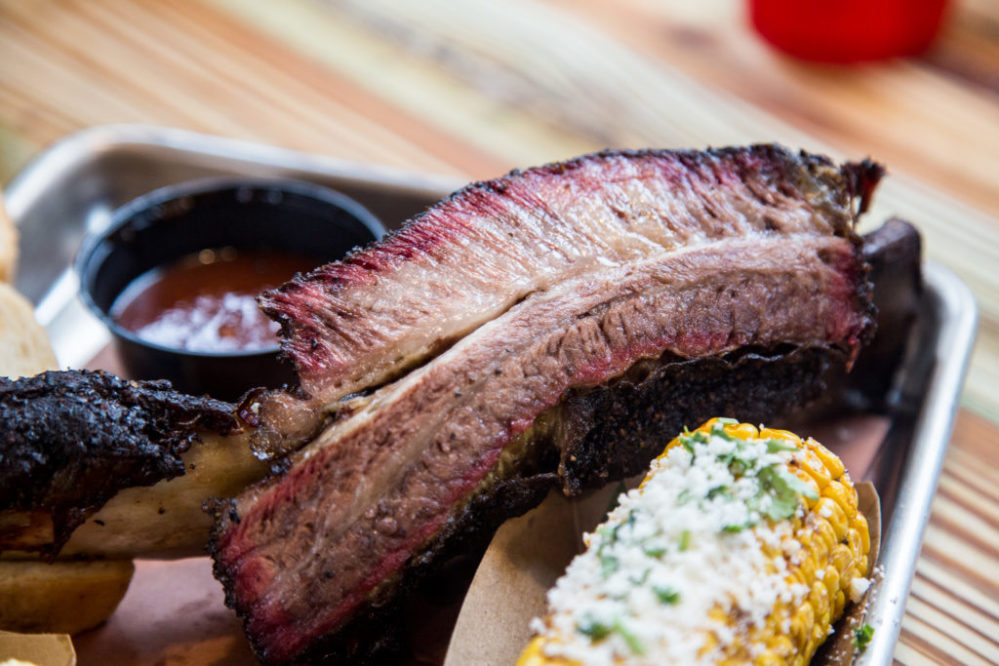 But what was still available, we scooped up quickly and scarfed down even faster. The beef rib ($22/lb., photo above) is one good-looking, over-sized hunk of meat with a gritty, charred crust. Put down the fork and knife, pick up this bad bone and get dirty. It's really the only way to eat it.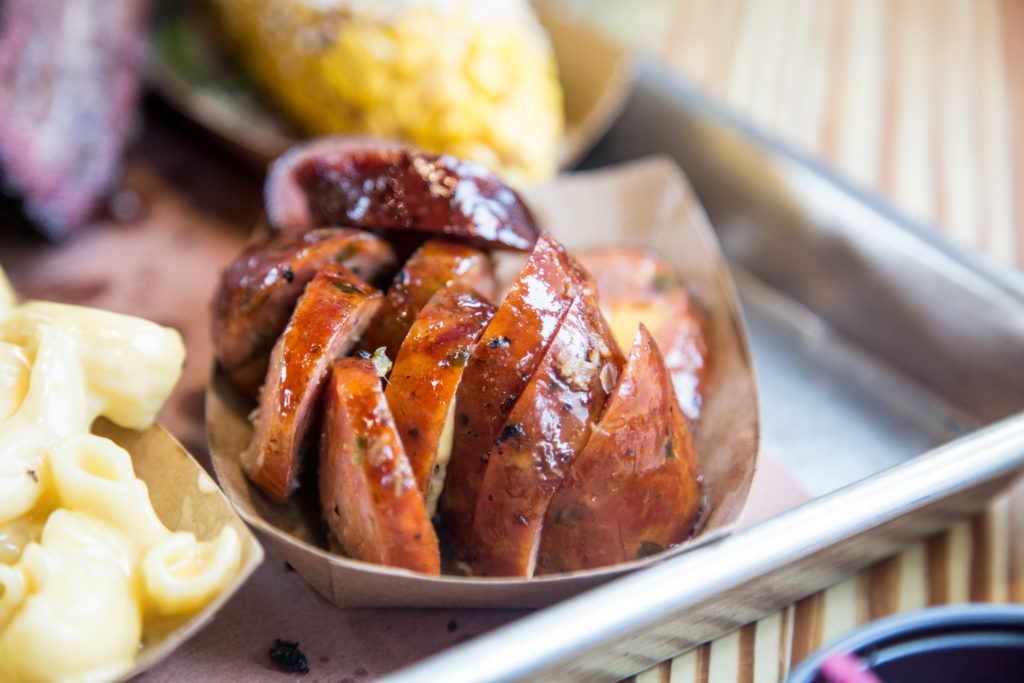 It's hard to compete with the drama of the humongous beef rib, but the jalapeño cheddar pork sausage ($3.50 each, photo above) tries in a spicy way. The counter folks will slice the sausage for you, revealing an interior dotted with yellow cheddar and green jalapeño. There's a spicy jolt to the sausage, which is amped up even more with a dunk in the peppery-tangy barbecue sauce. Sandwich a couple sausage slices between the jalapeño cheese bread that comes on the cafeteria-style tray, add a few pickled onions (available at the serve-yourself condiments counter, photo below) and enjoy.
Other meats (if you arrive early enough) include pulled pork, pork ribs, turkey, chicken and two other kinds of sausages. There's a section devoted to Texas red chili, too, which you can upgrade to a loaded Frito pie that's topped with chopped beef or pulled pork, if you're feeling naughty.
As for the Tex-Mex – there are three tacos to choose from, and we went with the chopped brisket taco ($4.75, photo below) served with cheddar cheese, sour cream and salsa roja. Order one taco, and you'll get a generous scoop of the brisket plopped onto two corn tortillas. Smoked meat paired with smokey salsa … we're into it.
We ordered two sides – the mac 'n' cheese and the elote (Mexican street corn), each $3.25 for a single serving. The mac 'n' cheese (photo below) is reminiscent of Luby's, in a good way, although it's even creamier and cheesier. The elote is a good rendition of the Mexican classic, and, of course, pairs well with the tacos. The half corn on the cob is sprinkled with cojita cheese and dusted with chile powder, just as you would expect. We'll be sure to try the chips and queso on our next visit, or perhaps the chicharrones with house hot sauce.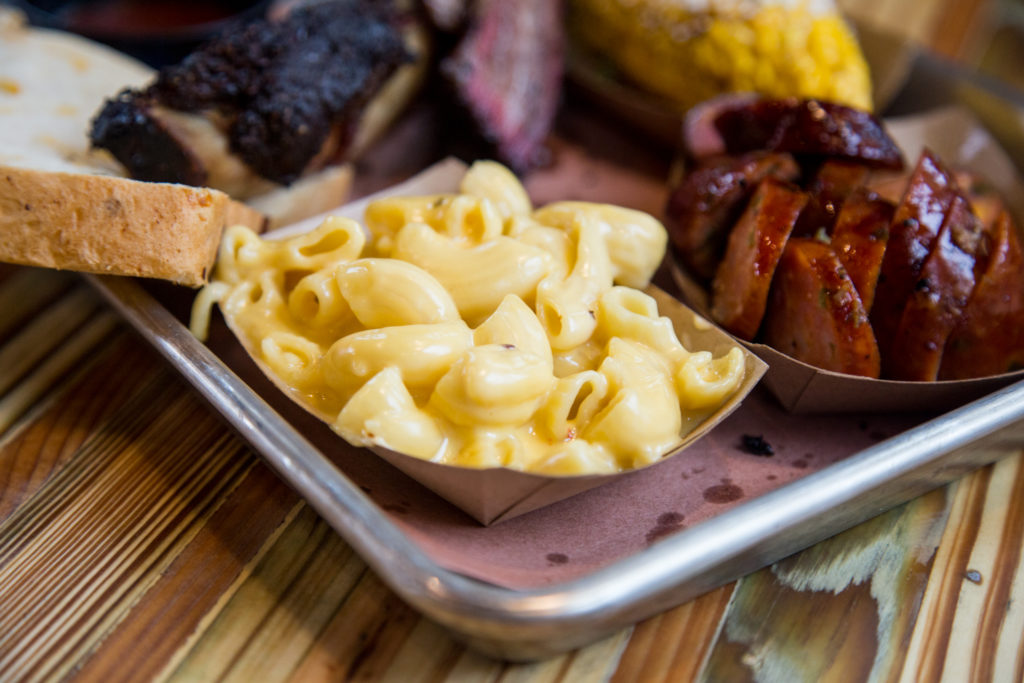 You can also get a taste of The Pit Room on certain days/nights at neighboring bar Jackson's Watering Hole, which Sambrooks recently purchased. This past Friday, the barbecue joint offered bar patrons smoked chicken wings and $3 Lone Star tall boys. Check their Facebook page for upcoming specials.
In time, you'll also be able to nosh on The Pit Room's food during dinner service, but for now, get on over between 11 am and 4 pm, and remember, the early bird gets the pulled pork.
---
The Pit Room, 1201Richmond, 281-888-1929, thepitroombbq.com