When it comes to the food and drink of Italy's Amalfi coast, chef Giancarlo Ferrara (photo below) is an expert: He grew up there. After relocating to Houston, he spent 11 years as executive chef at Arcodoro before finally opening his own spot, Amalfi Ristorante Italiano & Bar, in early November.
It's been a quiet debut, at least compared to the crashing-loud breathlessly anticipated openings of so many restaurants this past year. But don't let this place escape your notice. If you are a fan of authentic Italian (as opposed to Italian-American) cooking, this is one of the most exciting newcomers in years. (Full disclosure: We were guests of the restaurant owners.)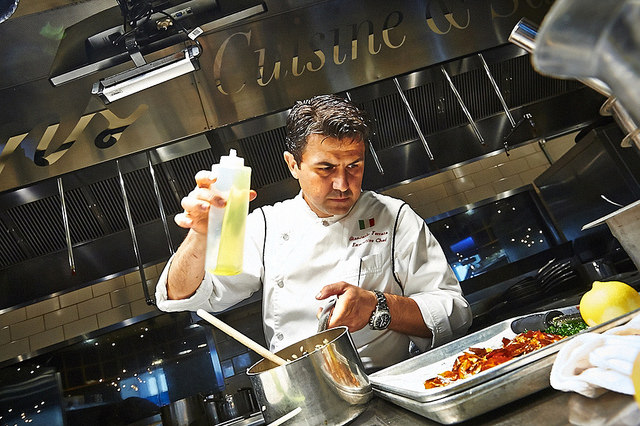 It's a storefront in the same strip center as The Palm. Despite the challenges of such a setting with its view of the parking lot, Amalfi is full of charm, old-school European manners and exceptional food. The dining room has floor-to-ceiling windows, white painted brick, hanging lights with large drum shades and white tablecloths. It's chic, but not self-consciously so. Sound-wise, the dining room is lively, convivial, but not too loud.
One of the first things I observed here was the number of martinis being served and consumed at nearby tables. Not apple-tinis or cosmopolitans, but real martinis garnished with olives or tiny onions. This is a place for grown-ups and grown-up tastes. (Having said that, however, we did notice several raffish-looking younger people coming in toward the end of our evening. Judging by their scarves, clothes and beards, they were mostly European.)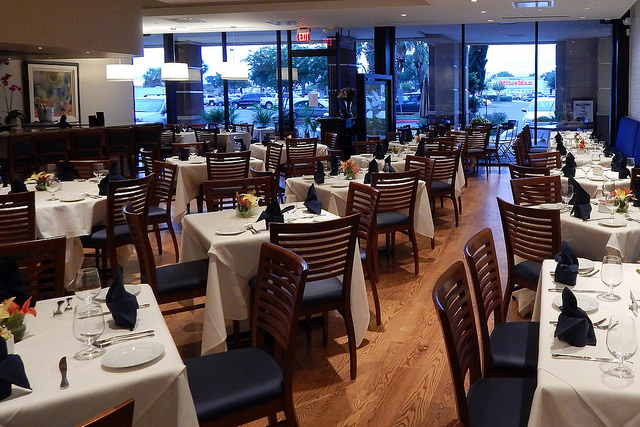 Besides his stint at Arcodoro, Ferrara has worked in several European restaurants, including the two-star Michelin restaurant Patrick Guilbaud in Dublin where he perfected the nuances of French cuisine. And that accounts for the buttery-smooth and rich foie gras terrine with Moscato wine gelatin and pistachio brioche ($22). Also don't miss pan-seared scallops caramelized with sea salt and served atop sautéed porcini mushrooms and fingerling potatoes ($16) or octopus roasted with rosemary, garlic and fine herbs served over sautéed escarole and capers ($16).
Among the pasta and risotto choices, we liked paccheri (large pasta tubes) with a ragu of braised Berkshire pork ribs ($19) and the ravioli stuffed with imported smoked buffalo mozzarella – Ferrara imports many of the fish, cheeses and wines from his hometown of Salerno – that are served dressed with sage butter and a reduction of heirloom tomatoes ($21, photo below).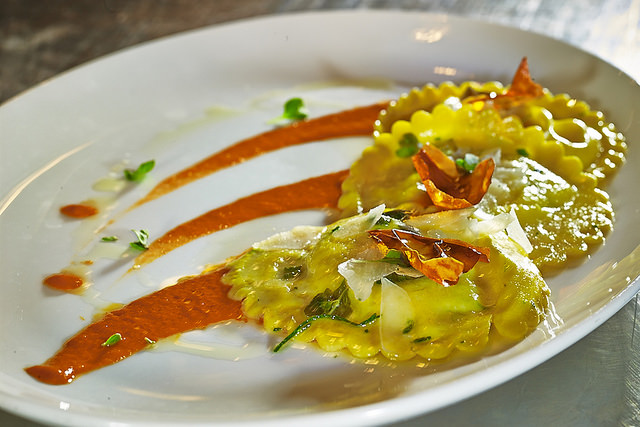 We loved every bite of the rustic-style slow-roasted Texas lamb ($27) that comes with charred spring onions and potatoes, but we watched with envy as large platters of whole salt-crusted fish (market price) were delivered throughout the dining room and gently boned and sauced tableside.
Prices at lunch are significantly less than at dinner, with many offerings between $14 and $22. Ferrara has also built a pizza oven, so you can enjoy classic pizza, calzone or focaccia with a bottle of wine and while away an afternoon.
Ferrara's wife Lisa (a Texas native) runs the front of the house, Adrian Gutierrez is GM, and Andres Blanco is wine director.
Amalfi Ristorante Italiano & Bar, 6100 Westheimer bet. Fountain View & Hillcroft, 713-532-2201, amalfihouston.com
---