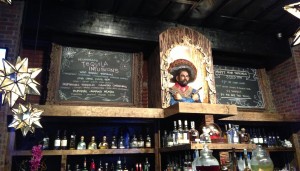 Premium lower Westheimer location, high hopes for an original and successful restaurant and a pairing of tequila and tacos. It is the (almost) perfect storm.
Pistolero's Tequila & Taco Bar took over the Nabi location at 1517 Westheimer and opened last week on May 8, 2013. A few tequila-loving friends and I dined there the next evening. The interior looks nothing like that of the previous occupant. The room has been opened up, and there is a liberal use of barn wood, dozens of Mexican-themed artifacts on the wall along with velvet paintings of Mexican heroes. A beautifully tiled bar has large glass dispensers of infused tequila dotting its length. There is a warm and friendly (if not-so-informed) staff and very comfortable seating in the booths, tables and bar.
Owner Shawn Bermudez touts the menu as light enough as to not disrupt a further evening out. I would argue this is where you come at the end of an evening to soak up your partying ways and have a bit of the hair of the dog.
Chef Brandon Shillings has created a menu of small plates, tacos, tortas, burritos and a few large plates. We sampled eight of 11 small plates and 11 of 12 tacos. We also had eight different tequila drinks, including all of the infused tequilas.
The drinks are definitely light enough to not disrupt any further plans one might have for the evening. Taking a page from the El Gran Malo mixology book, Pistolero's infused tequilas include Wild Berry Espolon, Olive Caper Dulce Vida, Peppercorn Serrano Cilantro Cazadores and Pineapple Jalapeno Milagro. We also sampled the basil fresca, strawberry limonado, anejo Old Fashion, Mexican martini, bloody Maria and several other beverages.
Pistolero's uses silver tequila in nearly every drink and, based on our experience, not very much of it. If you are a tequila lover and want to taste different tequilas, this might not your place. However, if you want fresh, fruity cocktails with a splash of very light tequila, Pistolero's is a good choice.
The food, with a few exceptions, follows suit to the drinks. I'm sure Bermudez intended the offerings to be "light" in size not flavor.
Bermudez wanted to substitute the crisp-fried nopales (cactus, $4.75, in photo below) for beer nuts, and they are perfect for bar snacking. They aren't greasy and have a tender and earthy crisp coating. One guest described them as "Mexican calamari." They come with a chili aioli for dipping that should have packed a bigger flavor punch, but was a well-made aioli. Nopales just might be the next big snack food in Mexican restaurants.
The cabeza de puerco ($6.75) was my favorite dish of the night. It had an authentic Mexican sope (like a very thick corn tortilla) with a fried egg on top of tender, juicy, spicy, smoky pork spiked with a rich, creamy poblano sauce. This dish will cure any hangover and is quintessential late-night food.
For something lighter, try the street corn, which the menu calls "pistol-elote" ($6.75). They are small (about three inches) pieces of corn on the cob that has been grilled and dusted with candied bacon, cotija cheese and honey lime and served with shaved beet. It is sweet, smoky and tangy and the perfect light snack before a big evening.
The tacos are standard tacos with a couple stand-outs. All come with flour or corn tortillas and they cost $3.95 for one, $14 for four or $30 for 10, the last being a pretty good deal for well-stuffed tacos. We ordered roast pork, oxtail, red mole pork, barbacoa, beef fajita, beer batter fish, grilled shrimp, chicken, grilled portabello and grilled veggies.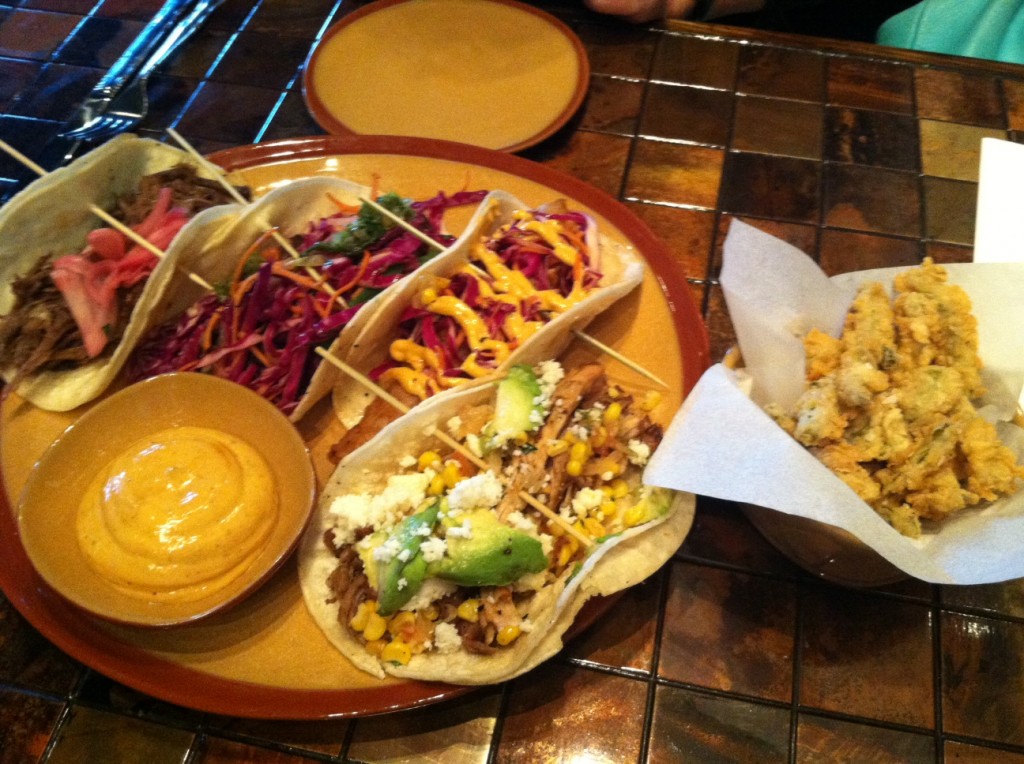 The oxtail was beyond fork tender and topped with a deliciously sweet and tangy tomato jam that was the perfect foil for the oxtail's fatty richness. The portabello is made with cauliflower puree, jalapeño jam and jack cheese. The confirmed meat eaters at the table said they would be very satisfied with that taco. The portabello was thick cut and meaty with great grilled flavor.
There was one more menu item that made all the guests at the table moan with pleasure – cerveza queso Pistolero ($5.75). Guests were saying things like, "I want to be buried in a vat of this" and "This is stupid good." The flavor is unexpected because of the beer. Beer adds a brightness that enhances the cheese in a way that I've never experienced in a queso. (This comes as no surprise — you'll recall that chef Shillings was once the cheesemaker at Pola Artisan Cheeses.)
If you want serious tequila, go somewhere else. If you want fresh cocktails, good hangover food and out-of-this-world queso, Pistolero's might be your place.
PISTOLERO'S, 1517 Westheimer, 281-974-3860 Facebook Page
Photos by Patrise Shuttlesworth and Taylor Byrne Dodge