When the My Table team craves a burger for lunch, the meal usually (and we admit this without shame) begins with, "Welcome to Whataburger. Can I take your order?" But this past Wednesday we found ourselves in the Memorial area when the burger craving hit, so it was about time we checked out the all-natural, sustainable burger joint BuffBurger.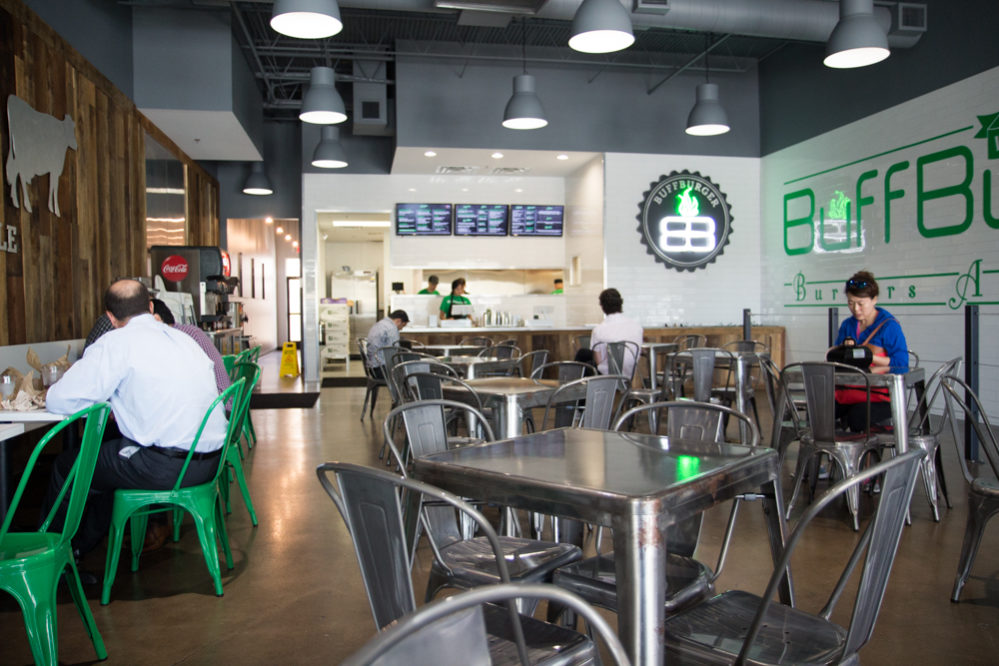 The fast-casual burger concept from owners Paul "Buff" and native Houstonian Sara Burden opened in late March and focuses on all-natural ingredients supplied by local ranchers, farmers and bakeries.
The burgers are made using 44 Farms ground Angus beef; the cheeses are from Houston Dairymaids; buns come from Slow Dough Bread Co. (gluten-free buns are from Memorial neighbor Gluten Free Houston); and ice cream for their hand-dipped milkshakes from a local creamery.
There are five burgers to choose from, including the original BuffBurger topped with house pickles, onion, lettuce, tomato and BB mayo ($7.25). Or you could go the build-your-own route and customize the sauce, cheese and toppings to suit yourself.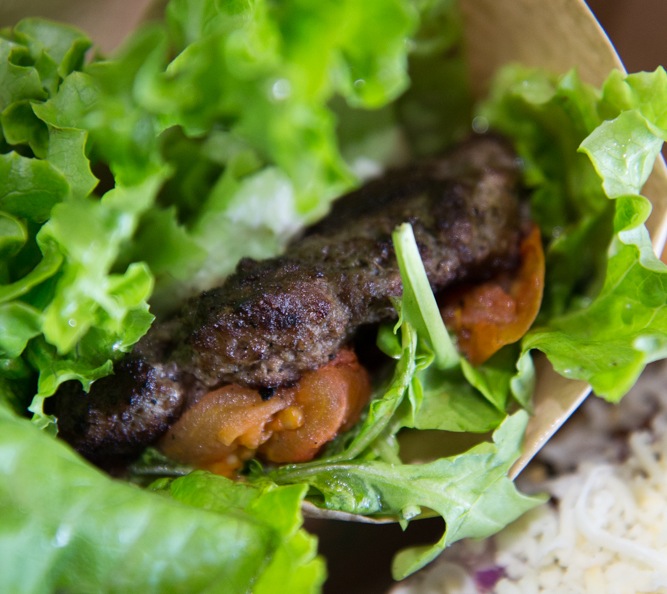 We ordered the goat cheese burger ($8.50, photo above) with Pure Luck goat cheese, oven-roasted tomatoes, arugula and garlic aioli served "In the Buff" — that is, wrapped in lettuce instead of nestled in a bun. The burgers arrive in a little brown box, sitting on their side (which we imagine would help eliminate the soggy bottom bun). It was rich and tangy, and surprisingly filling considering the lack of bun.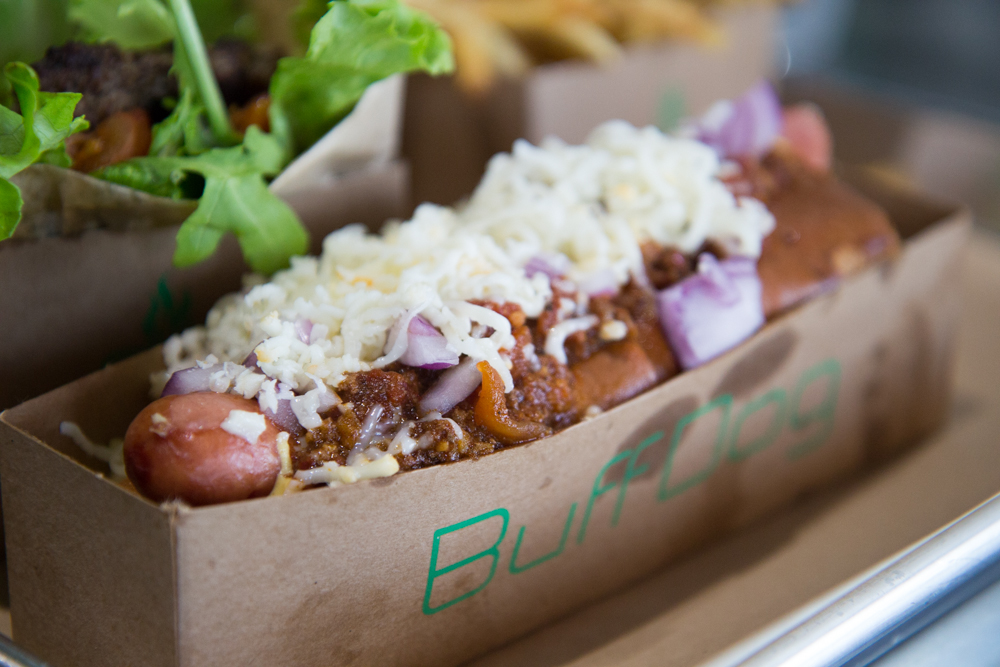 We also tried the chili dog ($6.95, photo above) topped with chili, muenster, chopped onion and Dijon mustard. The dog and toppings are piled high in a lobster roll-type bun, reason enough to order one the BuffDogs. While the actual hot dog may look overwhelmed with toppings — only the ends of the hot dog peek out of the chili — the dish is balanced, and the hot dog is still a prominent flavor.
A side of the regular BuffBurger shoestring fries seasoned with sea salt is $2.25 (photo below). And for $1.25 more, your pile o' potatoes can be topped with parmesan, truffle salt and the merest hint of truffle oil, oh my!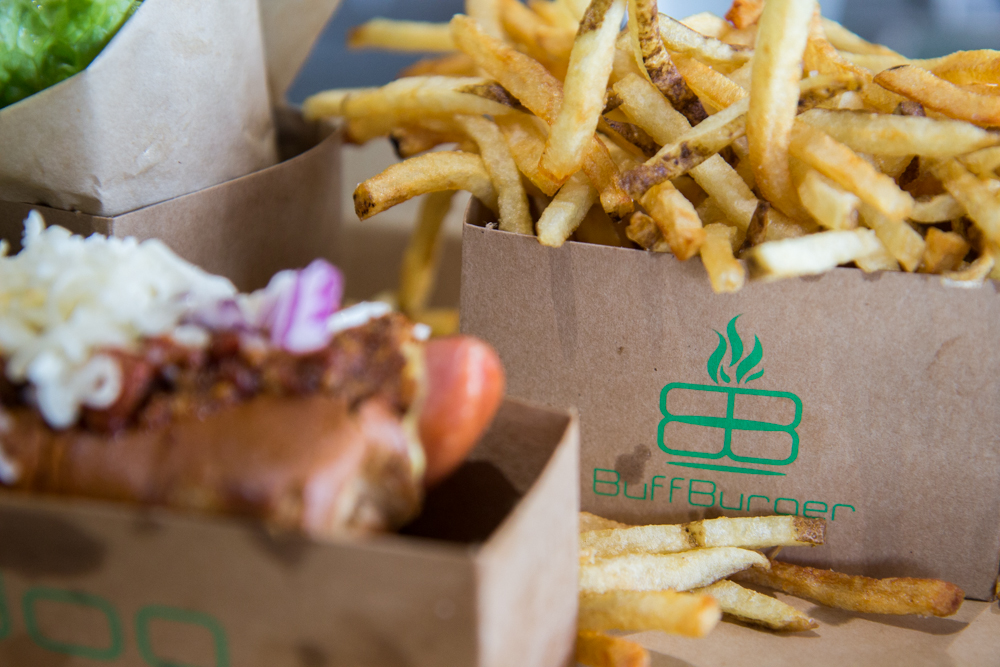 We ended the meal with a regular chocolate milkshake for $5 (a mini is available for $3). When the milkshake arrived at the table, we had to ask, "Is this the regular size?" We were expecting something a bit larger. In hindsight, this is probably a healthful portion. Maybe Whataburger has skewed our sense of size. We're used to "regular" being bigger in Texas.
We'll be back soon to try a burger in a bun and, perhaps, one of their salads if we're feeling really wild.
---
BuffBurger, 1014 Wirt, 281-501-9773, buffburger.com