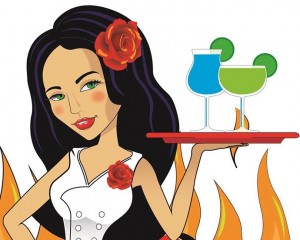 I'll preface this First Look with something I'm not ashamed to admit: I am wary of anything labeled light, diet or skinny. I don't like the too-sweet chemical aftertaste of diet soda, and I'm aware of how they sneak in extra fat and additives in sugar-free cookies. My mom didn't let us have much junk food while I was growing up, but even worse to our matriarch was anything in our fridge or cupboard labeled LITE.
But when your close group of gal pals say they want to take a break from the group's usual chips-and-salsa haunts (El Tiempo and Pico's, usually) because the Tex-Mex joint in their neighborhood is finally open, you go with the flow. Because in Houston, how hard is it to screw up Tex-Mex?
I knew that Skinny Rita's Grille, a concept from Ruggles Green partner Randy Bower and Skinny Rita's co-founder Archie Patterson, was focusing the menu on lighter, less-greasy Tex-Mex cuisine. (Me, I love Tex-Mex because greasy comes standard.) I did not know that this meant they'd be eliminating some of my favorite things all together, like traditional chile con queso, from the menu. You can get the soyrizo or turkey chorizo in your queso if you're really jonesing for some "not so skinny queso." Very Los Angeles of them, you know? But there's nothing like real queso flameado, no queso Joey ala El Tiempo. I'm a bit of a cheese snob in every day life but if I see some processed cheese enchiladas on a plate surrounded by more processed cheese sauce? Watch out, I'll take you down in order to eat them.
I wasn't surprised when I saw the letters GF dotted all over the menu, indicating items that are gluten free, which I fully appreciate for people who truly need to avoid gluten because it makes them sick. I know plenty of folks enjoy Ruggles Green because their menu also offers a great selection of gluten-free dishes.  I also appreciate their message on the menu that all beef, poultry and pork served at Skinny Rita's Grille is hormone free and antibiotic free, because that's just what we all should have been eating all along. And because I'd enjoyed nopal (cactus) in many Mexican dishes before, the kitchen's green nopal tortillas and tortilla chips as a higher-fiber version of the traditional corn and flour alternatives appealed to me too.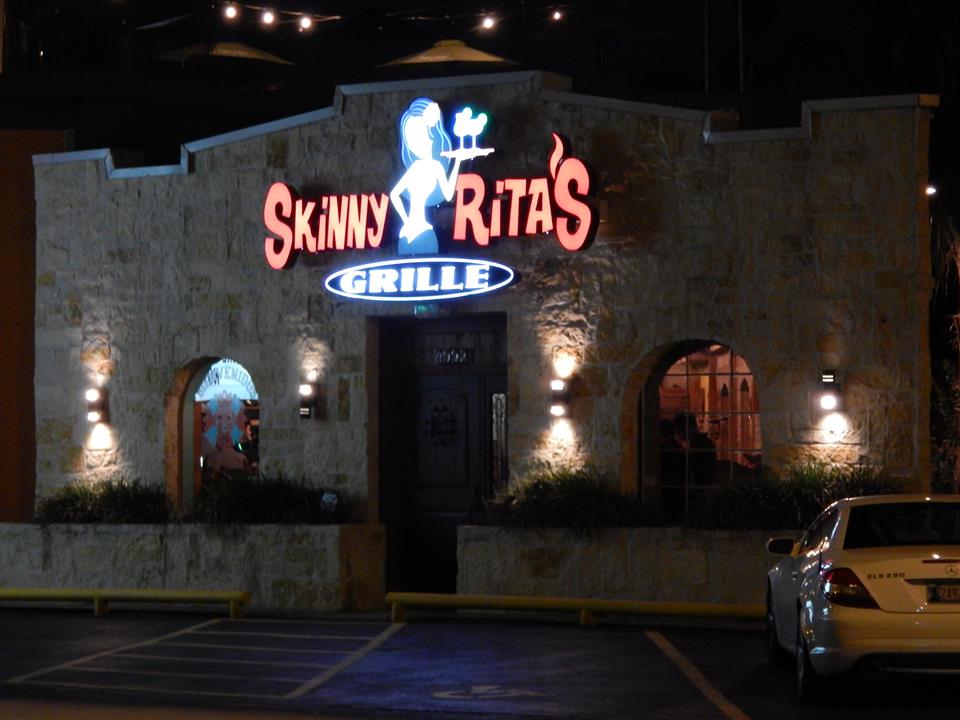 And the drinks? Well, when someone finally asked to take my order for my drinks (four friends arrived earlier than we did at six on a Monday and we were somewhat punished for our late arrival), I was excited to try the Up In Smoke, which is a tequila and grilled pineapple concoction. While it was very good, I was disappointed that my glass was nearly overflowing with ice and there was very little beverage in it, and almost no booze whatsoever. The two chunks of pineapple garnish had a fun, fresh bite after what I'm pretty sure was an alcohol-free fruit drink. Considering that Skinny Rita's boasts 60-plus tequilas alone, I was hoping that the drinks wouldn't also be too light on the alcohol.
The Encabronada (tequila, grapefruit and muddled serrano peppers) was also good but similarly light handed when it came to spirits, as was the mezcal margarita. The six of us agreed that these margaritas were well-muddled but the lack of actual tequila left us puzzled. We compensated by eating a massive amount of nopal chips and the three salsas that come nestled on a little tray, until I realized we'd been waiting almost 40 minutes for our food and we'd run out of chips again.
Upon arrival we were the only table seated at the restaurant, which had opened just a few days before. For whatever reason, the hostess sat our group in the far corner by the pick-up window of the kitchen and the kitchen doors, near the rear exit and restrooms. While this is the least desirable place to sit to most diners in America, it is great if you want to listen to staff berate each other while you watch other diners' food — for people who just sat down 15 minutes ago — get picked up by the staff and delivered to other tables.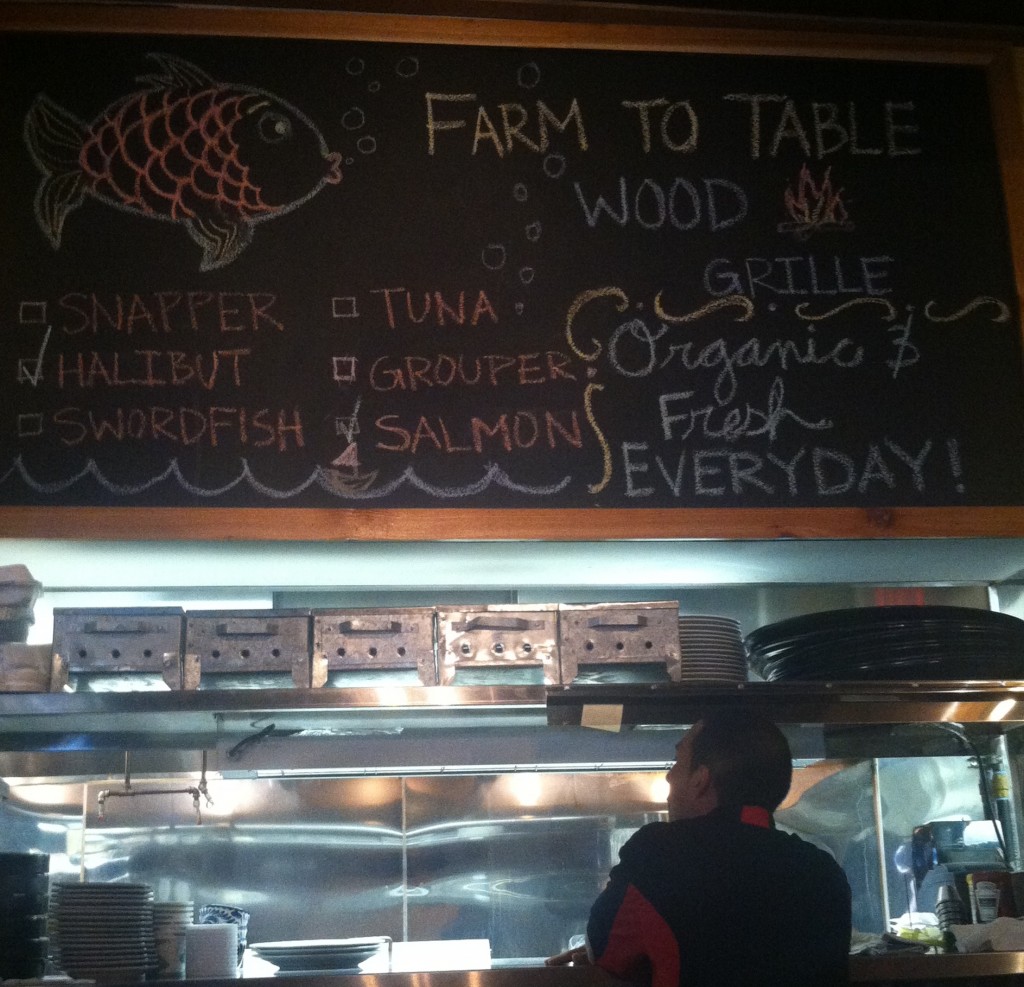 A waitress saw us checking our watches and asked us if we'd like a third round of drinks, and our server assured us our food would be right out. About 10 minutes later it jumped from the kitchen to our table, although a few of us had the wrong food brought out. Most was easily corrected, and I tried to get my friends to eat while I waited for my food to come out. We were a bit surprised when our waitress came and assured my friend that she had personally yelled at a cook for not getting the order right, and the manager came over to our table to ensure that everything was now correct, even though I was still waiting on my dinner.
Typically I'd find smallish service faux pas like these not reason enough to raise my eyebrows at a restaurant, I'd chalk it up to new staff and opening jitters, but I know that Skinny Rita's co-founder is also the co-founder of a successful chain of local restaurants. Somewhere there was a breakdown in operations.
Most of us found our food satisfactory; the spinach quesadillas got a nod of approval from my friend the on-again, off-again vegetarian. The beef and chicken fajitas, which the menu lists as a medium-sized order serving one to two people, fed one male Aggie only (but his wife had filled up on queso with turkey chorizo and several baskets of nopal chips, so she wasn't too hungry once their shared order arrived). I found my pollo pibil to be a much smaller portion size than I expected. (I was also surprised at the additional charge for tortillas.) My chicken dish didn't have much adobo appeal, alas; it was more of a well-cooked and under-seasoned chicken breast.
We found it necessary to add salt and pepper to nearly everything we ordered, but I'm sure this is partly because we're accustomed to our beans being refried in salty, delicious pork products. These clean refried black beans weren't bad, they just weren't what I'd personally ever order again.
Some things made us scratch our heads, such as the enchiladas de pato. These shredded duck enchiladas in pistachio sauce came with tomatillo rice and black beans, but the pistachio sauce had a sandy texture and the duck was very overcooked. In the case of a friend who ordered from the flaco taco section of the menu, her sweet potato fries — which come standard with black beans on all the taco plates — were mushy and she didn't care for them. She didn't want to send her dinner back a second time so she asked our server if she could substitute a side of rice. She was told that no, the flaco tacos all come with sweet potato fries and that she'd like them. When our server began clearing our table and asked my friend if she had liked her uneaten fries, I couldn't help but laugh out loud.
Will I be returning to Skinny Rita's Grille? Probably not. It isn't near my house or office, and I didn't love the food. I am sure that in the coming months, Skinny Rita's will find its footing and the staff will smooth out some of the service rough patches we experienced. Friends of mine in The Heights, the ones who are marathoners and have fantastic bodies and even better self discipline, they'll be there too. And, perhaps, Houstonians who are looking for more gluten-free and special-diet options will find their Tex-Mex haven near Main and 45.
Me? I'll be at one of the hundreds of mom-and-pop hole-in-the-wall Tex-Mex restaurants that serve what I crave, or I'll be sitting at a local institution like Ninfa's on Navigation or Pico's, drinking tall (stiff) not-at-all-skinny margaritas.
Skinny Rita's Grille, 4002 N Main, 832-831-6895, srgrille.com