When your favorite taqueria truck is around the corner from the office (we're talking about you, Tacos Tierra Caliente), it can be hard to get out and try the new, hip taco joints. So this Monday we made a point to drive over to Washington Avenue's newest taqueria, Velvet Taco.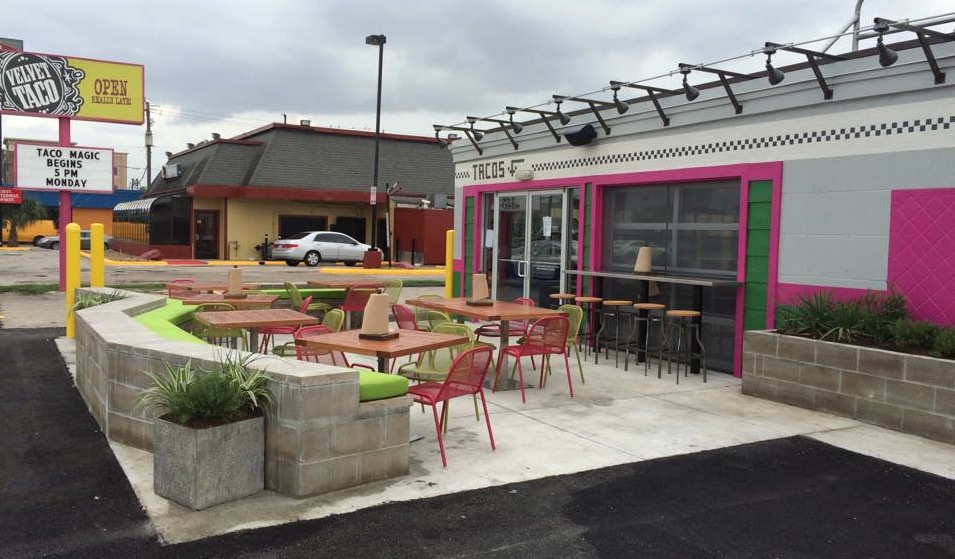 The Dallas-based taco joint opened Monday, June 22, taking over the space formerly occupied by The Rig at 4819 Washington Avenue. The menu of tacos — think Torchy's Tacos with an emphasis on local ingredients — has been developed by Velvet Taco executive chef John Franke. There are outposts in Fort Worth and Chicago, too.
The menu is divided into categories by their main protein or filling: chicken, vegetable, pork, beef, fish and egg (breakfast tacos served all day). The menu has a global influence, pulling ingredients and flavors from cuisines like Indian, Mexican, Southern and Mediterranean.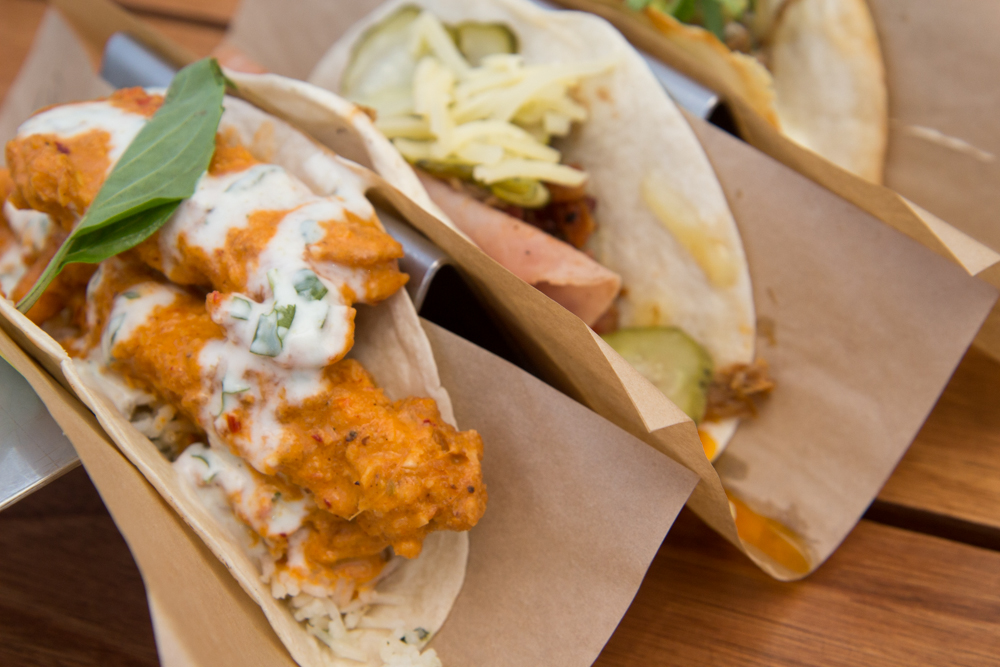 The crisp tikka chicken taco ($3.75, photo above) takes everything you love about chicken tikka masala — roasted chicken, spiced pepper sauce, cilantro and basmati rice — and wraps it up in a convenient house-made flour tortilla. It may not pack as much spice as the Indian staple, but the flavors are inspired and the chicken is moist.
If your idea of a taco is something piled high with melting cheese and guacamole, go with the slow roasted brisket ($4.50). It's cooked barbacoa-style (essentially steaming and smoking the meat at the same time) and topped with red chile mayo, avocado relish, queso blanco and micro cilantro. And if you're like me, and your favorite part of a quesadilla is the fried bits of cheese seeping out of the edges, you'll love this taco's comte cheese-crusted flour tortilla.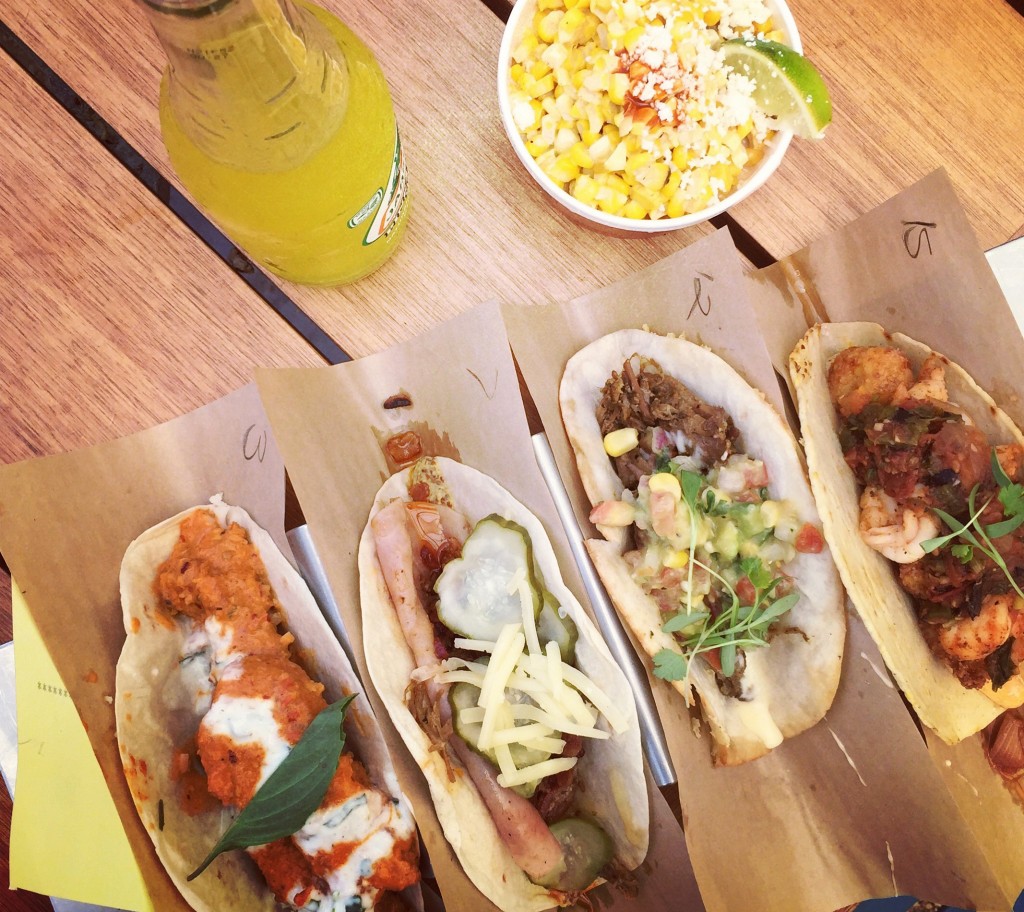 Other options include the cuban pig taco ($3.75) — gruyere cheese, slow roasted pulled pork, shaved ham, peppered bacon, grain mustard, house-brined pickles — and the shrimp and grits taco ($5), which mixes creole mayo with blackened shrimp, crispy pepper jack cheese grits, charred tomato poblano salsa and micro cilantro. Both are good tacos and worthy of a spot on the menu, but we'd prefer a classic pastor taco simply dressed with onions and cilantro.
There are two sides to choose from: the rotisserie elote-style corn with queso fresco, asadero cheese, Valentina, crema and lime ($3.50, photo below) and crisp tots with a local egg, herbed goat cheese, smoked cheddar, avocado crema and bacon ($5). We opted for the corn, which was lacking in salt. We've had much better versions.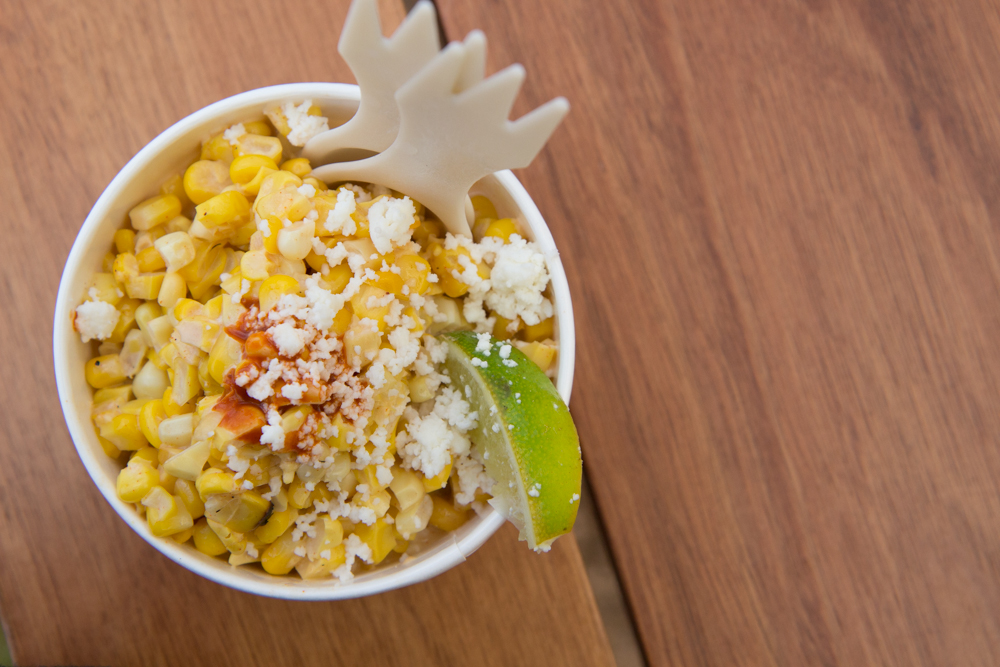 It's also worth noting that Velvet Taco stays open late every day of the week — Sunday through Tuesday until midnight, Wednesday until 1 am and Thursday through Saturday until 2 am.
So if you're feeling an eccentric taco late night, head to Velvet Taco. And grab a margarita or sangria — made with fresh fruit and sorbets — while you're at it.
---
Velvet Taco, 4819 Washington, 832-834-5908, velvettaco.com