Step aside turkey sandwich – we've got the recipe for a spiced-up dish that needs those fowl leftovers. Whether you're roasting or smoking turkey, chicken, pheasant or duck during the holidays, put the leftovers to good use with Third Coast executive chef Jon Buchanan's recipe for smoked turkey (or chicken or pheasant or duck) enchiladas with mole oaxaca.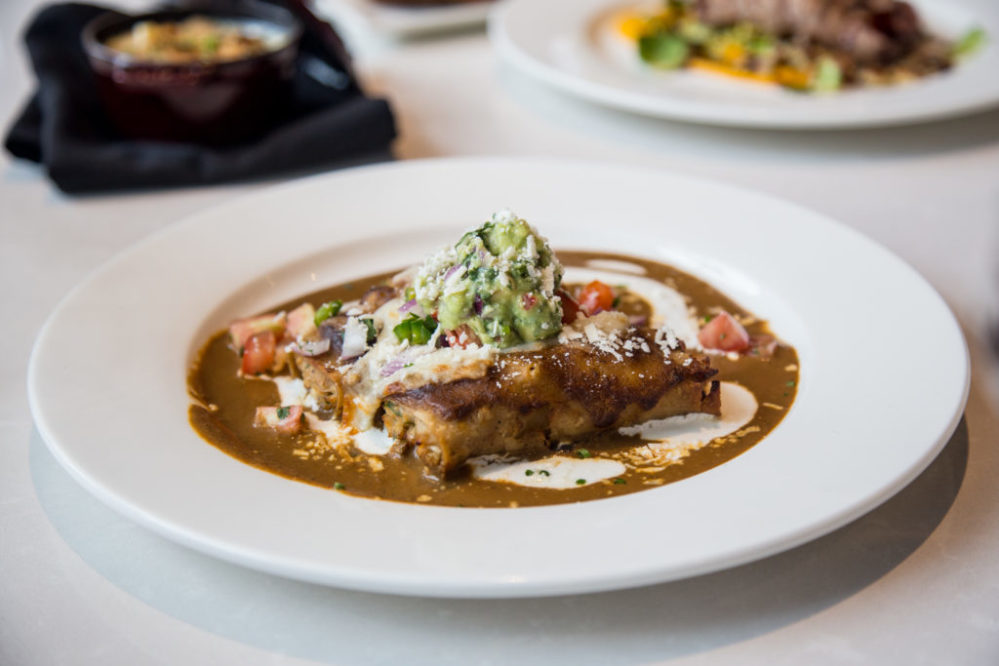 Third Coast, the new concept (with the same ownership) that replaced Trevisio in the Texas Medical Center, opened to the public in the beginning of October. Executive chef Jon Buchanan, who was with Trevisio for a dozen years, has had full creative control over the new menu, which pulls influence from the many cuisines found all over Houston. Expect dishes like tropical poké, beef tartar, pan-roasted oysters with smoked gouda, shrimp and rice grits, gumbo and red snapper with Thai-style green curry. Stay tuned for a "Snapshot" in an upcoming SideDish.
For now, print Buchanan's enchilada recipe and add a little spice to your holiday cooking.
SMOKED TURKEY ENCHILADAS WITH MOLE OAXACA
Recipe by Jon Buchanan of Third Coast
1½ lbs. smoked turkey meat, shredded
1 onion, julienned and caramelized
1 bunch cilantro, chopped
5 oz. queso oaxaca, grated
3 oz. cotija cheese, grated
3 oz. cream cheese
4 oz. mole (recipe below)
salt and pepper to taste
20 corn tortillas
1 cup canola oil
Enchilada toppings
black beans
pico de gallo
avocado
crema fresca
cotija cheese
METHOD: Shred turkey meat and combine with caramelized onions, cilantro, cheeses and mole, season with salt and pepper and set aside. Toast tortillas on a griddle, brush both sides with mole then dip into hot canola oil to make tortillas soft. Place turkey and cheese filling on tortillas and roll into enchiladas. Spoon some mole in the bottom of a baking dish and place enchiladas. Spoon more mole over the top, sprinkle with cheese and bake in a 350°F oven until hot and cheese is melted. Serve over black beans and top with pico de gallo, avocado, crema fresca and crumbled cotija cheese.
MOLE OAXACA
2 pasilla negra (dry chile)
2 pasilla oaxaca (dry chile)
2 mulato or ancho (dry chile)
¼ cup sliced almonds
¼ cup pecans, roughly chopped
¼ cup peanuts
1 Tbsp. cumin
1 Tbsp. coriander seed
¼ cup pumpkin seeds
¼ cup sesame seeds
2 yellow onions, diced
10 whole garlic cloves
2 Tbsp. canola oil
kernels from 3 ears of corn
4 corn tortillas, cut into strips
1 cinnamon stick
3 whole star anise
3 cloves
1 Tbsp. dried oregano
¼ cup raisins
1 banana
1½ quarts turkey or chicken stock
¼ cup dark chocolate (Mexican chocolate, if you have it)
METHOD: Remove stems and seeds from dry chiles and toast lightly on griddle and set aside. Toast all nuts together in a 350°F oven until lightly toasted, approximately 10 minutes. Next toast cumin, coriander seed, pumpkin seeds and sesame seeds, then set aside to cool. In a hot Dutch oven, sauté onion and garlic with canola oil until caramelized, add dry chiles, corn and tortillas and cook until tortillas start to break down. Next add toasted nuts, toasted seeds, spices, raisins and banana, and cook until combined. Add stock, bring to a simmer for one hour, stirring frequently to keep ingredients from burning on the bottom of the pot. Remove star anise and cinnamon stick and puree mole in a blender or with an immersion mixer. Strain to remove any seeds or solids from the mole. Once strained, bring back to a simmer, add chocolate and season with salt and pepper.