It's not every day that an award-winning chef leaves his highly acclaimed and tenured position to strike out on his own. It's even more rare to see said chef open something in the heart of suburbia. But that's exactly what Kris Jakob did when he left his position at Culinary Institute LeNôtre just north of downtown Houston and his eponymous restaurant, Kris Bistro, to open Brasserie 1895 in Friendswood.
It's something he'd been wanting to do ever since he moved to Friendswood 10 years ago. "My wife [Megan] is from Friendswood, so I was always eyeing this area, thinking 'Heck, there really is no restaurant here to eat at,'" Jakob said in an impromptu speech during the restaurant's official opening night Founder's Dinner last week. "Something that was craft-style, something that was kind of unique, where someone had given real thought to the food and the ambiance. And I really wanted something like that."
Tucked away in a strip mall across the street from Perry & Sons Market & Grille, Brasserie 1895 was a labor of love. "I did just about everything myself," says Jakob of the attractive space that features a large dining room with deep purple banquettes in the back, booths swathed in the velvety purple fabric, an elongated bar at the entrance and an open kitchen.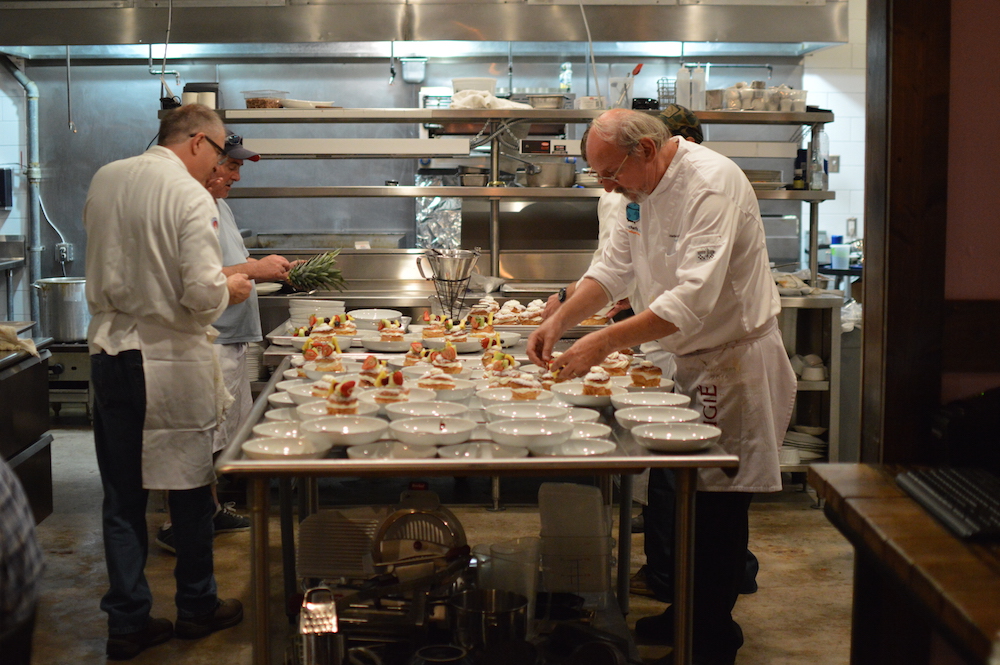 Since its soft opening a few weeks ago, Jakob says he's had a steady stream of customers, many staying late into the night to enjoy bottles of wine in the central lounge area. "We get groups of guests that are so glad they don't have to drive into town. They really enjoy the ambiance, ordering bottles of wine, lingering until close to midnight."
For the Founder's Dinner, Jakob, with the help of Belgian master chef Christian Echterbille, pastry chef David Berg, his wife Megan, partner Sky Lyn Gibbons and a team of waitstaff and support staff – many whom had come out of the management program at LeNôtre – served an eclectic five-course meal that showed off the toque's many culinary talents.
Delicious Neopolitan-style wood-fired pizzas – my favorite was made with soft-ripened robiola cheese, pesto, leeks and house Italian sausage – were served in lieu of passed hors d'oeuvres during the cocktail hour.
Piping hot fresh-baked bread straight from the pizza oven — made daily by Jakob himself and a regular feature at the restaurant — was served with creamy butter before the first salad course of frisee au lardons (frisee with crunchy bacon cubes) with truffled egg.
To follow: an Italian-style, perfectly cooked grilled octopus gnochetti (photo above); a creamy summer corn bisque with pretty cornbread madeleines, succotash and lavender butter; a tamarind sous-vide Spring Creek prime strip with garlicky chimichurri and a summer vegetable napoleon (photo below); and Parisian-style choux à la creme (cream puff) adorned with local fruit.
Asked if the courses were representative of his opening menu, Jakob smiled and said, "Not really, but they may end up on the menu eventually."
So what can you expect on the menu? It's not your typical Friendswood fare, that's for sure. Though classical French technique is at the core of the style of food you will get, you'll find dishes with international flair. In fact, the current menu includes not only French, but Asian, Mexican, Spanish, Indian, Italian and some Southern thrown in for good measure.
For lunch, he's got Asian-esque buttermilk chicken with Szechuan pepper gravy, braised mustard greens, candied pecan; Mexican vuelve a la vida, a seafood cocktail of poached Gulf shrimp and grilled octopus in spicy tomato cocktail sauce; Hawaiian-style tuna poke; house-made lasagna; and choices of quiche Lorraine or ratatouille, as well as salads, pizzas and sandwiches.
For dinner, the steak and fresh catch — delivered daily by area fishermen — have been popular, to be sure. But then so have the nachos topped with Mexican cochinita pibil (slow-cooked pork), the duck confit gumbo, the chicken-fried steak and the Indian sleeper hit known as rogan josh, a sort of lamb stew with pureed lentils served with naan bread.
From the restaurant's website: "Brasserie" is a French word for an unpretentious neighborhood restaurant or tavern that serves drinks, especially beer and simple food. "1895" is in honor of the year that Friendswood was founded. Another meaning for Brasserie 1895? Friendswood's hottest new restaurant.
---
Brasserie 1895, 607 S. Friendswood Dr. #11, Friendswood, 832-385-2278, brasserie1895.com
Hours: Mon., Tues., Thurs. and Fri. 11 am to 3 pm, 5:30 to 10 pm, Sat.-Sun. 5:30 pm to 10 pm