Rice Village has quietly become a mash-up of Mediterranean restaurants. There are the Turkish spots like Pasha and Istanbul Grill, Mi Luna for Spanish tapas, Café Rabelais for French, newcomer Sud Italia Ristorante for a taste of Southern Italy and now the latest arrival, Helen Greek Food and Wine.
At Helen, the taverna that took over the space long occupied by Kahn's Deli on Rice Boulevard, you won't find the canon of Greek dishes prepared exactly like you expect. But, depending on the region of Greek cuisine you're familiar with, there are many familiar tastes and scents.
The restaurant kitchen sends out regional and modern Greek dishes with American Southern and local twists. And by "regional," the restaurant means all different regions of Greece, including the cuisine found in Thessaloniki, where co-owner/sommelier Evan Turner lived as a child.
At the kitchen's helm is executive chef William Wright, who previously worked with Turner at Table on Post Oak. The two have created a menu of classic (i.e. Greek salad) and not-so-classic (i.e. collard green dolmades) dishes to pair with Turner's all-Greek wine list, which itself is unique in Houston. Steven Ripley (formerly at D&T Drive Inn and Branch Water Tavern) has joined as chef de cuisine to help Wright in the kitchen.
You won't recognize the old-school deli space, which has been renovated into a handsome galley-style restaurant with a built-in wine feature that separates the front of the restaurant from the back bar area. Houston designer Erin Hicks (who also has a few cookbooks of her own) has placed huge mirrors on the exposed brick walls at a slight angle, accentuating the high ceilings and giving the illusion of more space. What could easily feel like an awkward shotgun dining room instead feels airy, intimate and, wonderfully enough, decades old.
As guests of the restaurant last week, we stopped by Helen to sample the menu. We started with a few small plates and salads, and we encourage you to do the same. (In fact, much of the menu is meant for sharing.) The trio of dips ($9) that day featured eggplant, red pepper and a fragrant humus-like chickpea spread. The Greek village salad ($14) is a classic preparation featuring heirloom tomato chunks, mild red onion, black olives, cucumber, feta, oregano, and as the menu notes, never any lettuce.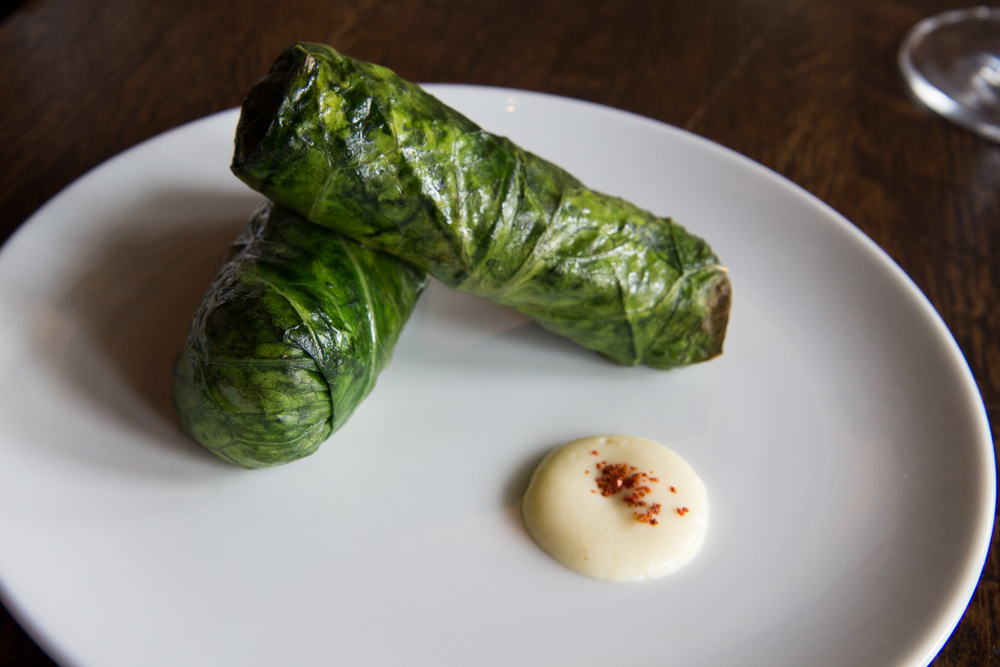 Helen's dolmades ($7, photo above), traditionally prepared with grape leaves, are given a Southern touch. The kitchen swaps out the grape leaves for collard greens and stuffs them with rice, fresh corn and raisins. It's served with a dab of traditional avgolemono (delicate lemon egg sauce). It may not be what you expected, but if you're not crazy about the texture of most canned grape leaves, you may just prefer this preparation.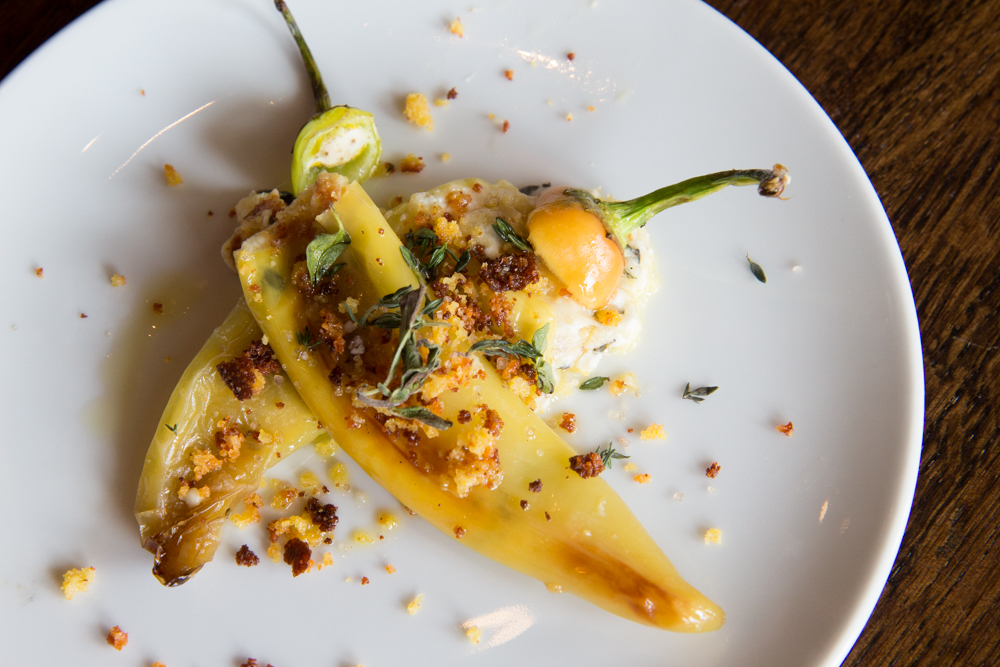 The blistered banana peppers ($6, photo above) are another stuffed small plate (which got the approval of the two opinionated women sitting next to us). They are stuffed with manouri (Greek semi-soft cheese), kefalotyri (Greek cheese made from sheep milk and/or goat's milk), ladotyri (Greek sheep's milk cheese preserved in olive oil), feta and cornbread crumble. The lamb meatballs ($15, photo below) are a lighter take on the small plate served at so many restaurants. No marinara sauce here; instead, the meatballs are served with chickpeas and brightened with a tangle of orange and fennel.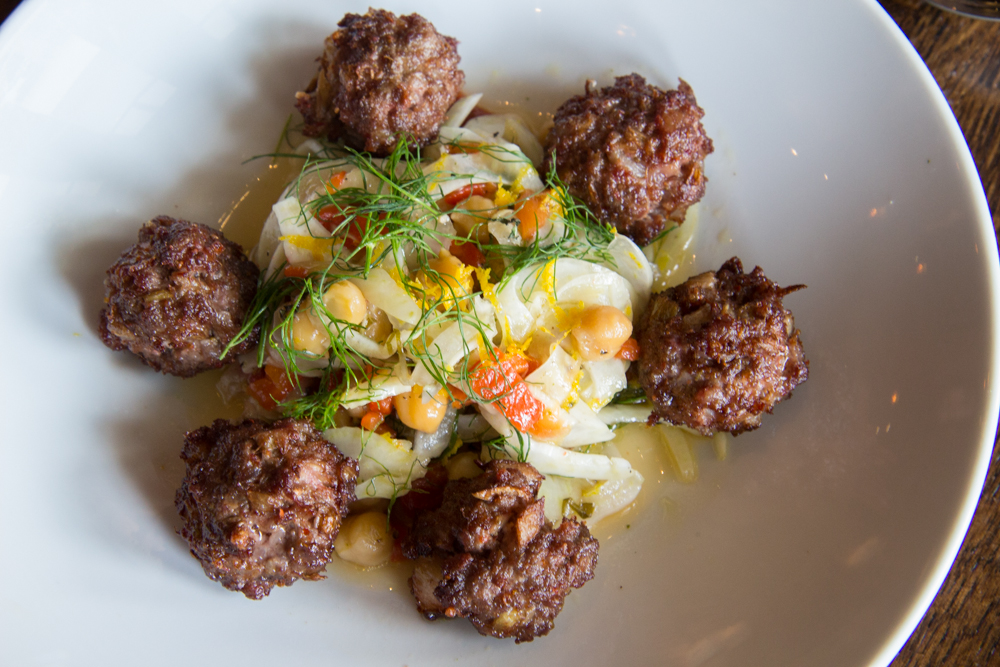 Also on the lunch menu is chicken slouvaki ($16, photo below) served with tzatziki sauce, arugula and herbed fries. This is a good option if you've filled up on appetizers. But if you have a hearty appetite, do try Helen's pork gyro ($10) served on pita with tomato, onion and tzatziki. According to Turner, gyros made with pork shoulder is the traditional style of Thessaloniki and northern Greece, rather than the mishmash of meats and fat typically found on the rotisserie at Greek-American restaurants. (During dinner service, it's served as a family-style, make-your-own gyro platter for $40.)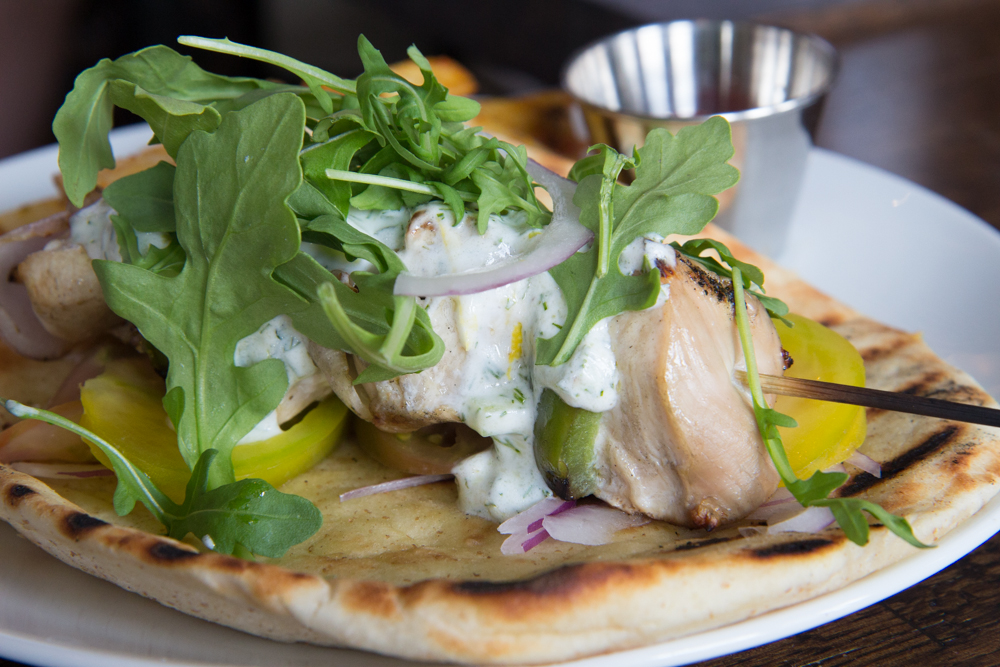 And if you're feeling especially indulgent, order the baked Greek pasta ($16) with beef sauce, béchamel and hints of warm spice. Those two opinionated women we mentioned earlier said there was too much filler, or béchamel sauce, but we're not so sure too much béchamel is such a bad thing.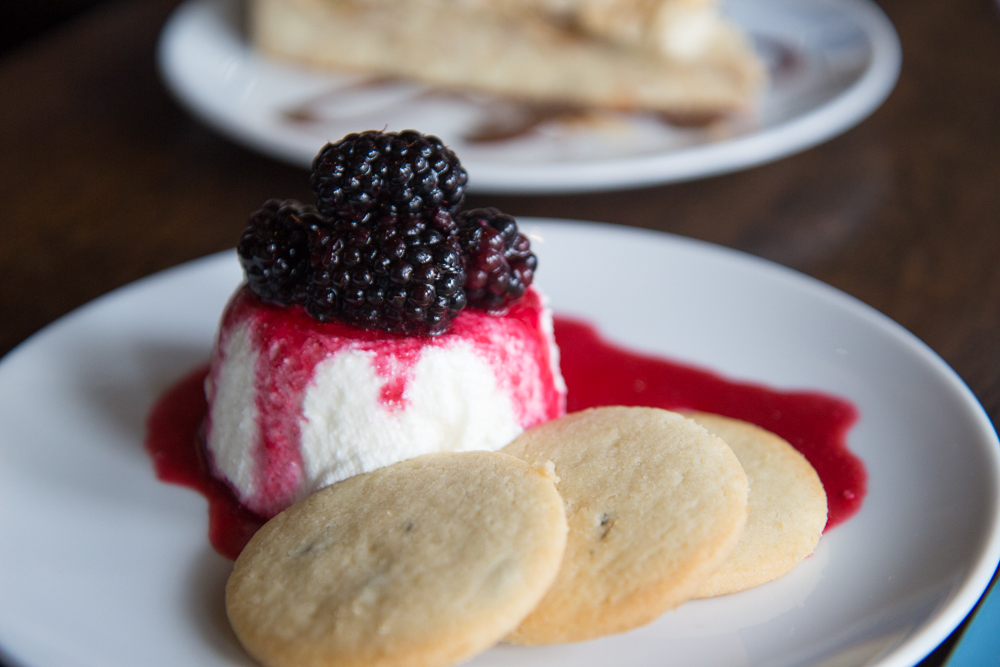 Save room for desserts — which is where Wright strays most from the Greek classics — because the feta mousse ($8, photo above) is nearly perfect. It's light and airy, salty and sweet, topped with a "spoon sweet" (sweet preserves). The flaky olive oil shortbread cookies are perfect with coffee.
Texas pecan baklava sundae ($6, photo below) that is served in the Anthora to-go coffee cups won't conjure memories of your great aunt's baklava recipe. Wright has interpreted the traditional baklava method of layering filo dough and has instead layered ice cream, chocolate cinnamon sauce, flaky pastry and Texas pecans into a sundae fit for the road. In fact, we asked for a plastic spoon to go before heading out.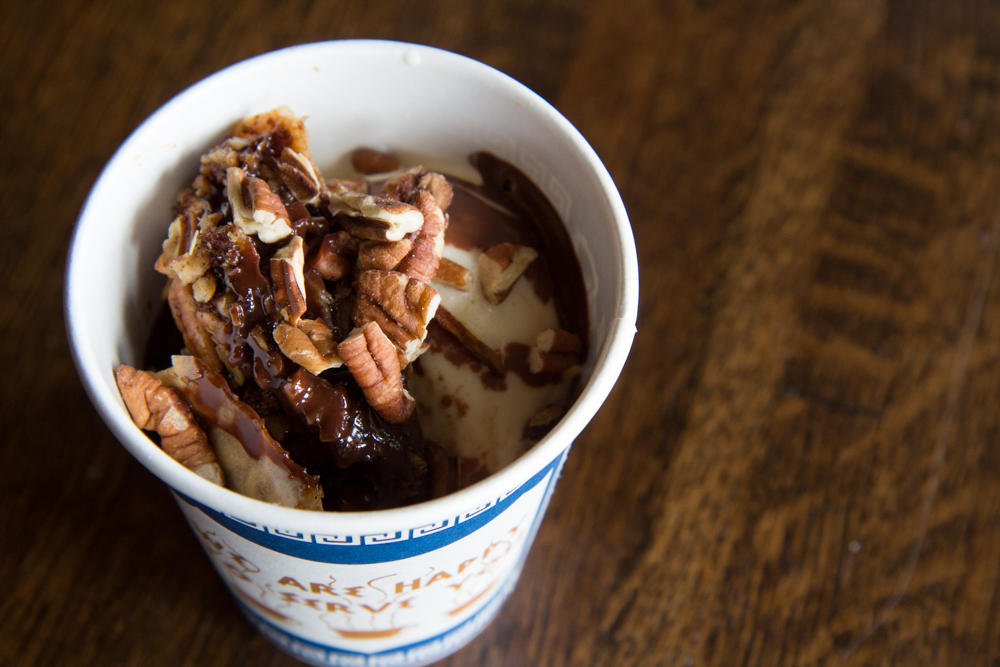 ---
Helen Greek Food & Wine, 2429 Rice Blvd., 832-831-7133, helengreekfoodandwine.com