Possibly the most intriguing new restaurant in Houston is The Dunlavy, which is on Allen Parkway – on the Buffalo Bayou side of the street overlooking the water – at Dunlavy. Motorists have been watching the transformation of this bit of landscape for months, and it finally opened at the end of 2015.
Clark Cooper Concepts (Ibiza, Coppa, Brasserie 19, Punk's, SaltAir) operate The Dunlavy, and what a cool concept it is. During the morning and afternoon, The Kitchen at The Dunlavy pumps out casual, uncomplicated fare. When the sun goes down, the kitchen lights are extinguished, and guests stroll in for private parties in the chandelier-bedecked space.
According to its website, The Kitchen at The Dunlavy pulls influence from Southern California and features produce sourced from three property gardens. In addition to the breakfast and lunch menus, there's a full bar, breads, pastries and smoothies. It's a casual atmosphere – order at the counter, fill up your own glass of water and then find seating at one of the many community tables. It's pretty much all communal seating here, except for the smaller tables on the patio.
If you stop in for lunch during the week, as we did, chances are there will be a line of folks waiting to order. But the five- to 10-minute wait is just the right amount of time to read through the menu. It's a bustling place filled with ladies who lunch, businessmen and the sweaty folks refueling after a run down the Buffalo Bayou trails.
On the lunch menu, there are four main categories: 1) smoothies and juices, 2) snacks and sides, 3) salads and 4) sandwiches.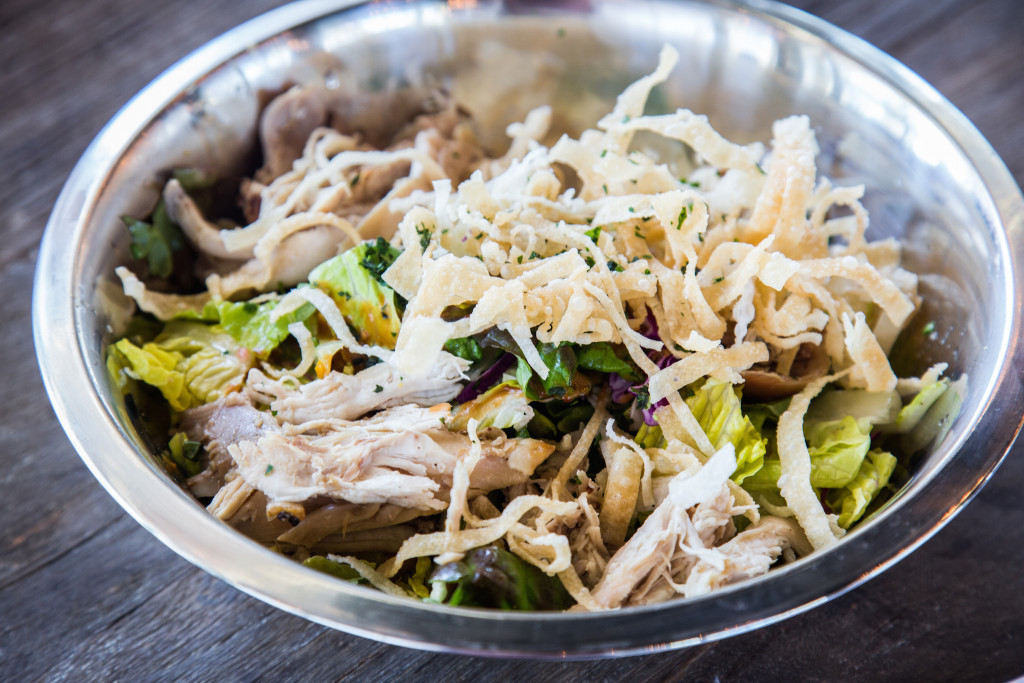 All of the salads seem thoughtfully (and creatively) put together. Take the Chinese chicken salad ($14, photo above), for example. The moist rotisserie chicken sits on a bed of romaine and red and green cabbage, dotted with mandarin orange segments, basil and cilantro. The ginger vinaigrette and peanut sauce lightly coat the greens and round out the flavors. Simply put, it's a flavorful, light salad.
Other options include the kale salad ($11) with Brussels sprouts, savoy cabbage, ricotta salata and horseradish vinaigrette, and the fattoush salad ($15) that combines romaine, arugula, tomato, cucumber, olive, feta, pita chips and rotisserie lamb.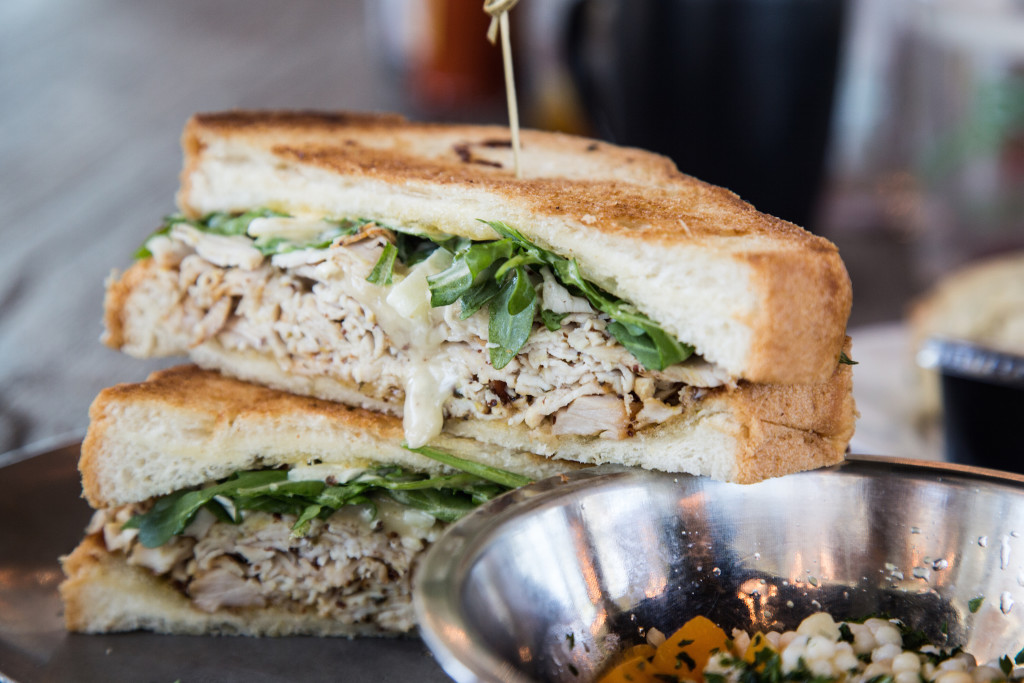 There'a also a nice variety under the sandwich section, including a Cuban, a lamb gyro, a brisket sandwich and even a veggie option with goat cheese and hummus that could tempt a meat lover. We went for the turkey, apple and brie ($14, photo above) served on white bread. It's warmed and packed full with its ingredients, including a light smear of honey mustard and olive oil mayo, Granny Smith apples and French brie. Rearrange the ingredients in the sandwich's name to "brie, turkey and apple," and you have a more appropriate description for this bread-cheese-meat combo. Consider this a warning – it's very brie forward.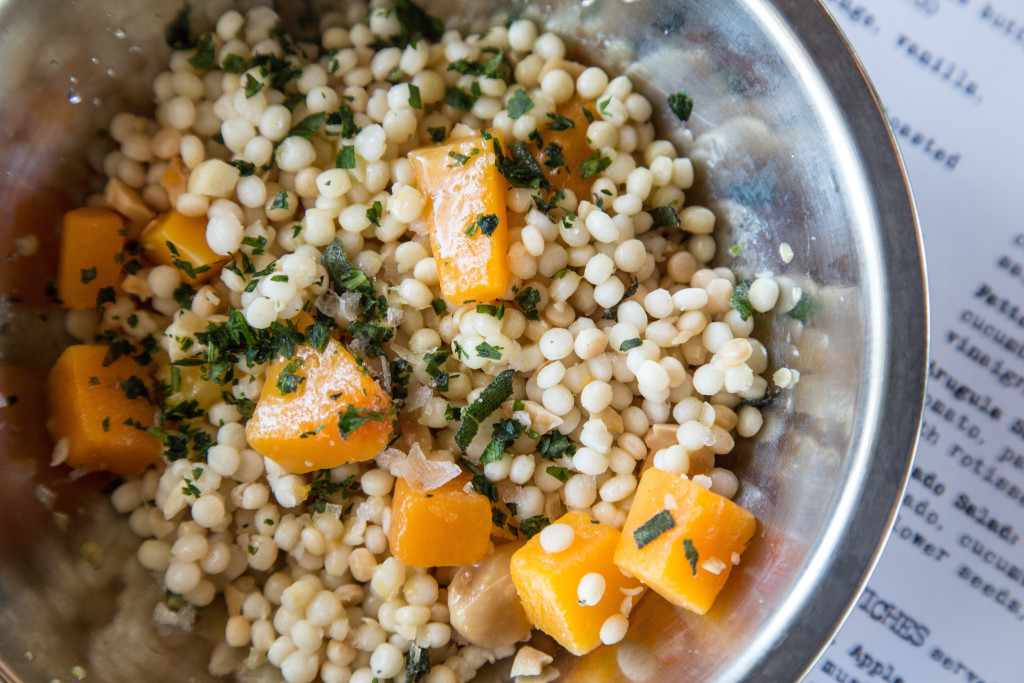 The sandwiches come with a choice of side; options include carrot salad with poppyseed yogurt, red quinoa with orange, currant and pine nuts, beets with an orange vinaigrette and (the option we went for) Israeli couscous with butternut squash, sage and marcona almonds (photo above). It's a decent choice – the couscous and squash are tender yet al dente. We craved a bit more salty, almond crunch.
The best thing we ate while at lunch was the rosemary honey roll with honey butter (photo above) – fragrant and moist with a touch of creamy sweetness. The restaurant bakes all of its breads and pastries in house. Other savory bread selections that day were cranberry sage with orange marmalade and cheddar jalapeño with garlic cream cheese.
The Dunlavy's kitchen is open 7 am to 2 pm daily (lunch service starts at 11 am) and then closes for the night-time private events. If you get an invitation to attend a party at The Dunlavy, don't skip out. Views of the banks of Buffalo Bayou and downtown, plus a ceiling scattered with dozens of sparkling chandeliers guarantee a gorgeous setting.
---
The Dunlavy, 3422 Allen Pkwy., 713-360-6477, thedunlavy.com/thekitchen