Nearly every culture on Earth has some form of dough stuffed with a sweet or savory filling as its comfort food, whether it is Italian ravioli, Polish pierogi, Turkic manti, Latin American empanadas or Indian samosas. In China, it's jiaozi – crescent-shaped dumplings of evenly crimped wrappers stuffed with meat, seafood and/or vegetables.
Jiaozi were originally served during Chinese New Year's feasts in Asia. They are a symbol of wealth, and, according to legend, the more you eat the wealthier you will be in the coming year. Nowadays, dumplings are served throughout the year, and in this country they have become a favorite starter course.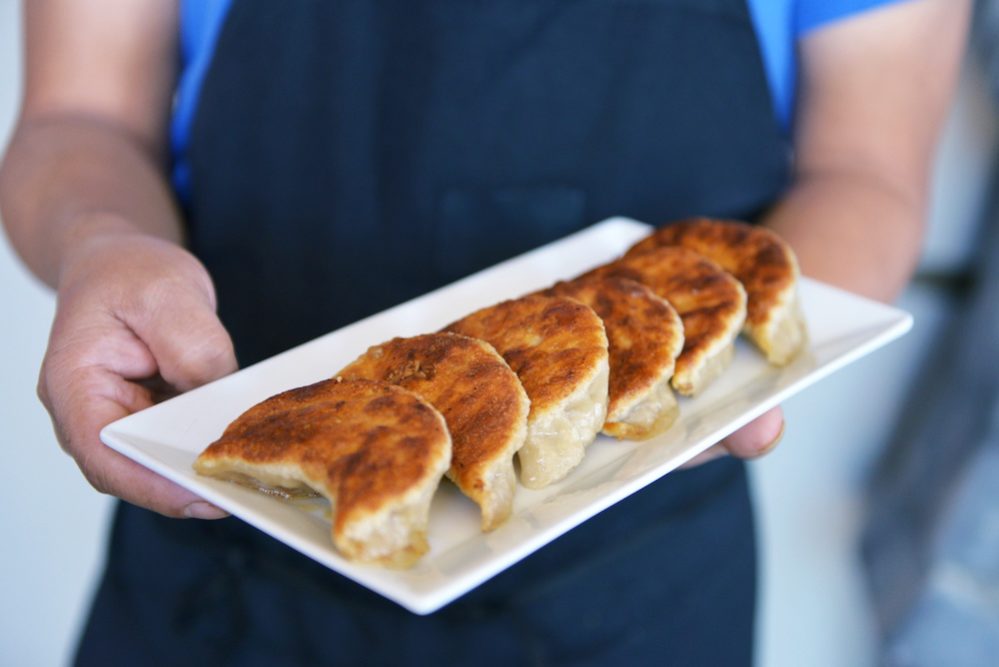 For a great dumpling recipe, I turned to Houston Chowhounds founder and restaurant owner Jenny Wang at Hunan Garden Restaurant. With two locations and serving the Rosenberg and Kingwood communities for 30 and 29 years respectively, Hunan Garden's kitchens have perfected the art of the dumpling, including the fried version commonly known as potstickers.
At the Kingwood location, kitchen manager Rodrigo Lopez, with nearly 26 years of service, showed me the technique for scratch-made dumplings. He works from a recipe developed by general manager Henry Shi. The dumplings are made two to three times a week, and the result is much superior to store-bought dumplings. The wrapper is made using only two ingredients – flour and hot water. The pork filling, my favorite, is flavored with a generous amount of aromatic fresh ginger and piquant scallions.
Plan ahead. Lopez advises making the dough and the filling the night before you plan to assemble the dumplings. The dough will have "rested" sufficiently, allowing the gluten in the flour to relax and stretch easily when rolled out, and the meat will be cold and easy to scoop. Have plenty of extra flour nearby as you work to prevent the wrappers from sticking to your hands, the counter and your rolling pin.
Pleating takes a little practice. We've all admired the uniformity of restaurant dumplings, and although perfect pleats are visually appealing, a tight seal at the edges is more important than beauty to prevent the dumplings from falling apart. While I attempted Lopez's pleating method in the restaurant, when testing the recipe at home, I reverted to a simpler method and set the dough on my countertop while I pleated and pinched away. Don't stress over visual irregularities and imperfection – your dumplings will be delicious regardless. Speed and coordination come with practice.
Dumplings freeze well and there's no need to thaw them before cooking, which makes them ideal for quick snacks and light meals. See notes on freezing in the recipe below.
Note: Many Chinese restaurants use stackable stainless steel steamers (available at Asian markets or online), but bamboo steamers are a less-expensive alternative. Dumpling steamers have large slits to allow steam and heat to circulate when cooking the dumplings. An ordinary steamer basket would also work in a pinch. Whichever steamer you choose, line it with something to prevent the dumplings from sticking. Napa cabbage leaves work well because they are thin and pliant, but disposable steamer liners made of hole-punched parchment have recently come on the market. If you have parchment at home, you can easily make your own liners by folding and clipping it.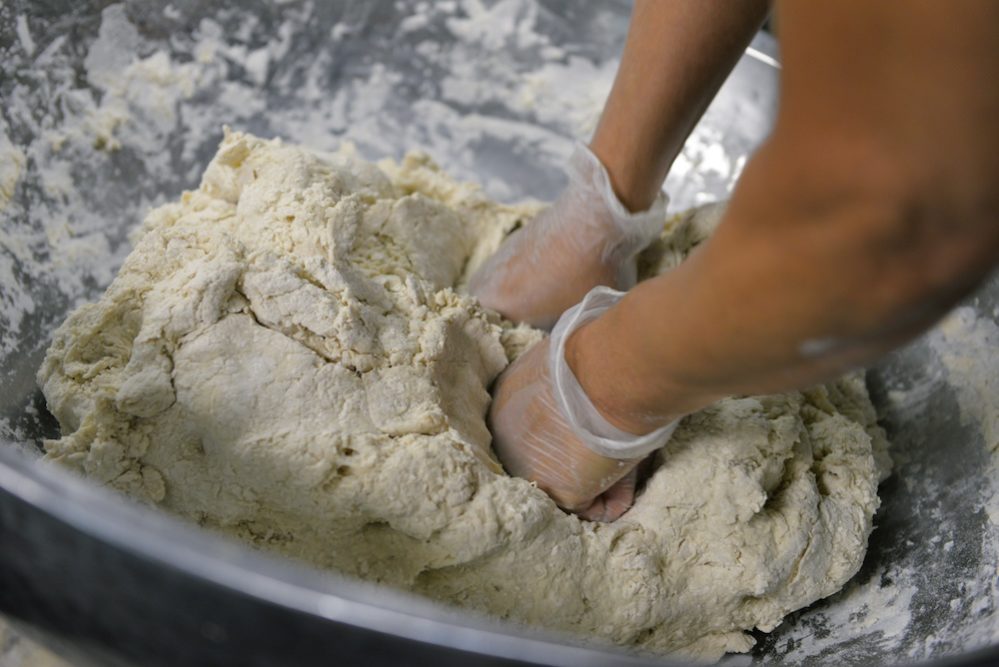 Pork Dumplings



Recipe by Henry Shi, provided by Hunan Garden Restaurant in Kingwood
Wrappers
5 cups (20 oz.) all-purpose flour, plus more for dusting and rolling
1¼ to 1 1/3 cups (10 to 11 oz.) hot water
METHOD: Measure flour into a large bowl. Drizzle about half of the water over flour and mix with a wooden spoon until you get a ragged/shredded dough. Add the rest of the water, little by little, until the dough is stiff but still on the dry side (depending on the ambient humidity, you may not use all the water). Working with one hand, quickly knead the dough until it becomes one mass. If the dough is sticky, add more flour and knead again until smooth. Dust dough generously with flour on all sides and wrap it in plastic wrap. Refrigerate dough for at least 2 hours, but preferably overnight.
To make the dumpling wrappers, dust your workspace liberally with flour. Cut the dough in half. Using both hands, roll each half into a long strip, about 1½ to 2 inches thick. Cut each strip into 18 even pieces, and 24 pieces for smaller dumplings. Dust pieces of dough with flour and using your hands, shuffle the pieces around so they are completely covered in flour.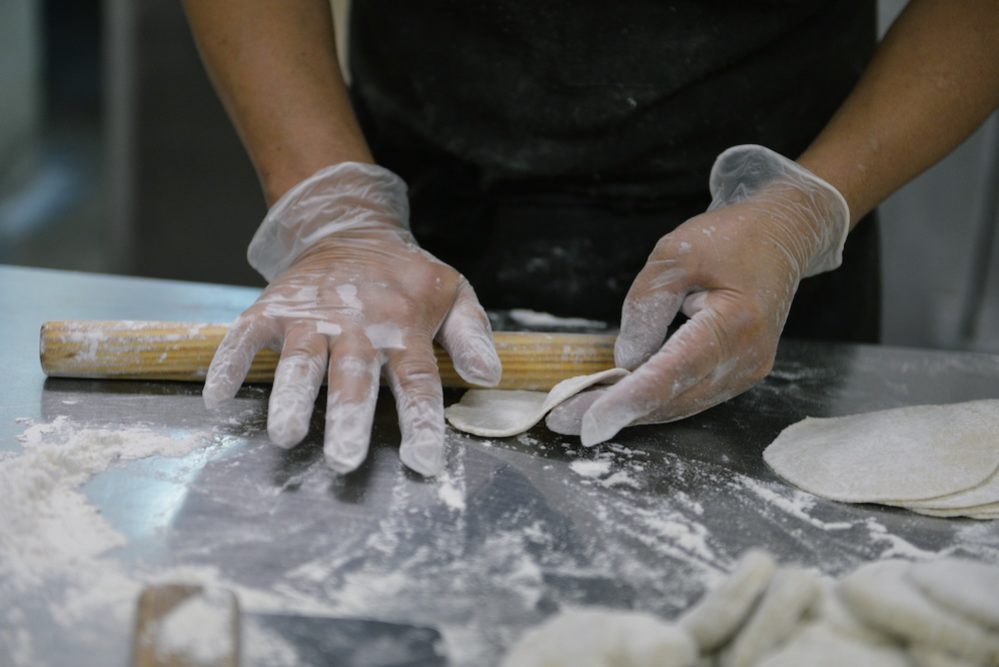 Now take a piece of dough and flatten it into a disc using the heel of your hand. With a rolling pin in one hand, roll the disc from its edge towards the center and back, turning the disc a few degrees with your other hand. Repeat rolling and turning all the way around until the disc is about 4 to 5 inches in diameter. It won't be perfectly round and that's okay. It will be thinner around the edges and slightly thicker in the middle. Repeat with the rest of the dough. Dust wrappers generously with flour and stack them as you go. Cover with a towel to keep them soft and pliable.
Pork filling
2 lb. ground pork
1 egg
2½ Tbsp. fresh ginger, finely chopped
1 cup chopped scallions, green parts included
¼ cup soy sauce
¼ cup oyster sauce
7 Tbsp. rice cooking wine
6 Tbsp. sesame oil
½ cup pork stock (can substitute chicken stock)
5 tsp. sugar
½ tsp. white pepper
METHOD: Place all ingredients in a medium bowl and combine well using your hands. Cover and refrigerate for at least 2 hours or preferably overnight.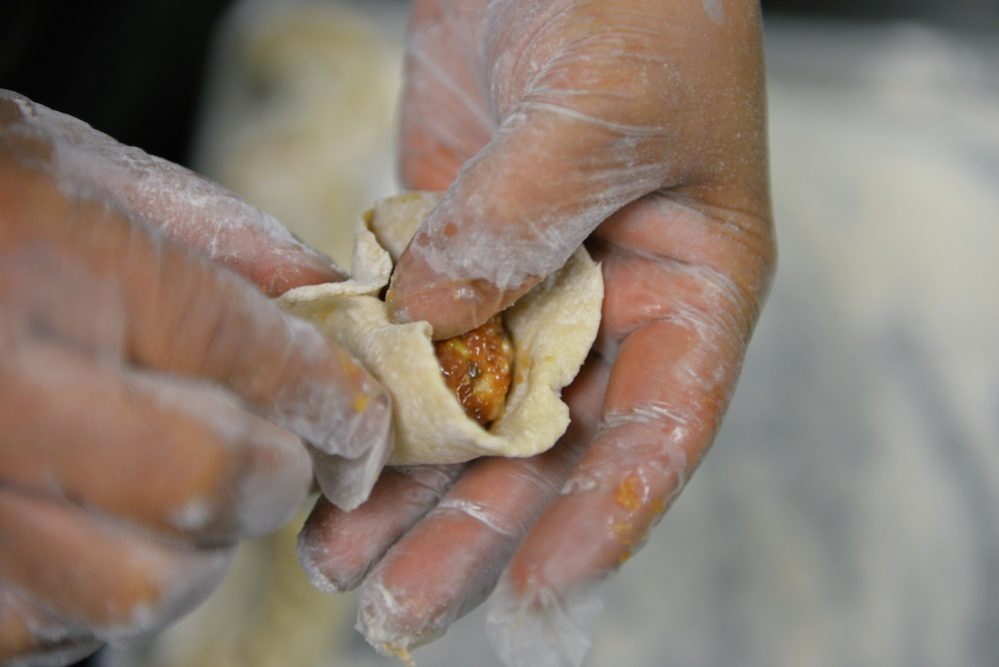 To fill and shape the dumplings
Generously dust a sheet pan with flour. Scoop about 1 to 2 tablespoons of filling and place it on one wrapper, creating a somewhat oval shape, leaving edges of the dough clear. Rodrigo cups each wrapper in his left hand and pinches one long end together closest to his right hand to begin crimping.
Using his left thumb, he gently pushes the edge near the pinched end from the outside towards the opposite edge. His thumb allows him to press a pleat into the dough with his right hand, sealing the edges at the same time. He repeats this maneuver until he reaches the other end and pinches the dumpling closed. By crimping one edge he creates a crescent shape.
If you have trouble with this method of filling the dumplings, simply place the wrapper on the counter, fill it, pinch the middle and pleat inwards on both sides until the dumpling is formed.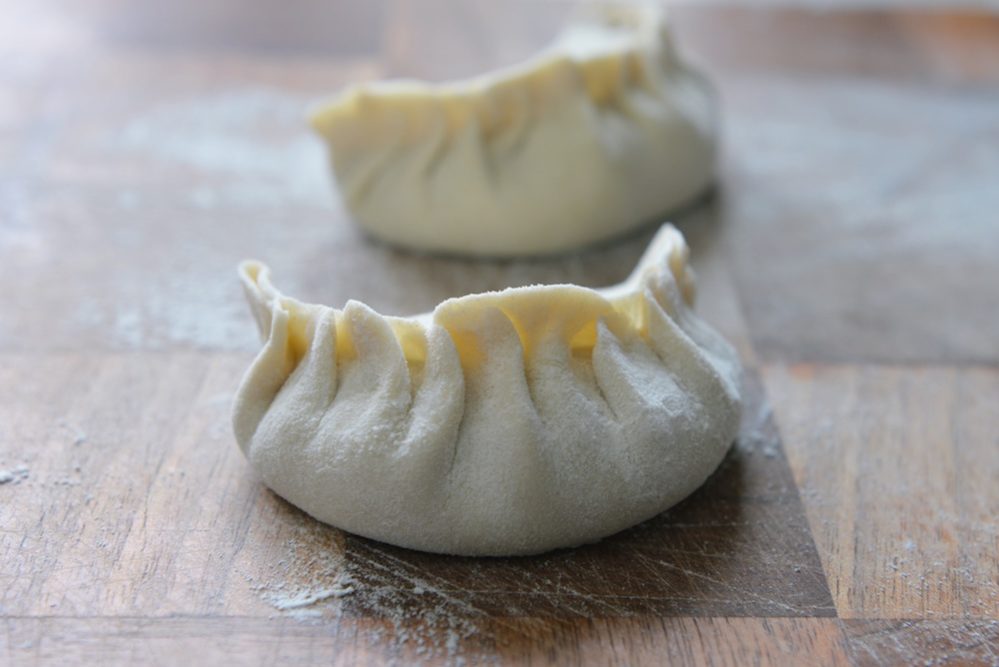 Arrange dumplings snugly on floured pan. Cook dumplings immediately, chill uncovered for up to four hours and cook the same day, or freeze for future meals.
To freeze dumplings place sheet pan with dumplings (uncovered) in freezer for about two hours. When dumplings are hard, place in freezer bags, seal and return them to the freezer. Use within three months. Makes 36 to 48 dumplings.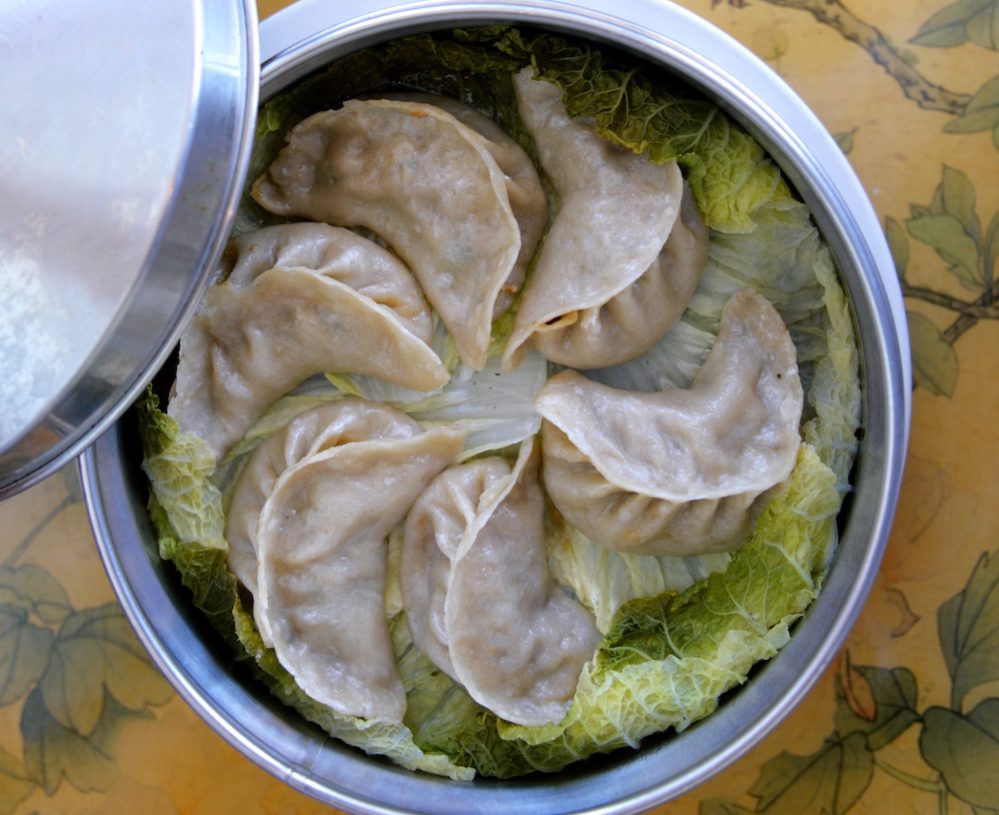 To steam the dumplings
Line a steamer basket with Napa cabbage leaves. The leaves will prevent the dumplings from sticking to the pan. Arrange about 6 dumplings on the cabbage, leaving a little space between each. Steam fresh dumplings for 16 to 18 minutes and frozen dumplings for 20 minutes. Serve immediately with dumpling sauce.
To make potstickers
Steam dumplings first as directed above. Heat 2 tablespoons vegetable oil in a non-stick pan over medium-high heat. Carefully place steamed dumplings in pan, bottom side down. Cook for 3 to 4 minutes or until the bottom is nicely browned. Serve with dumpling sauce.
To make potstickers with frozen dumplings, heat about 2 tablespoons vegetable oil in a non-stick pan over medium heat. Carefully add dumplings to pan, leaving a little space around each dumpling (don't overcrowd the pan). Allow the dumplings to cook for about 2 to 3 minutes or until the bottoms are nicely browned. With the lid ready, very carefully add enough warm water to the pan so that the level is about one third to halfway up the sides of the dumplings. Immediately cover the pan to trap the steam. Turn the heat down to low and allow the dumplings to steam for about 10 to 12 minutes. Remove lid and allow the remaining liquid to evaporate and the bottoms of the dumplings to crisp. Serve immediately with dumpling sauce.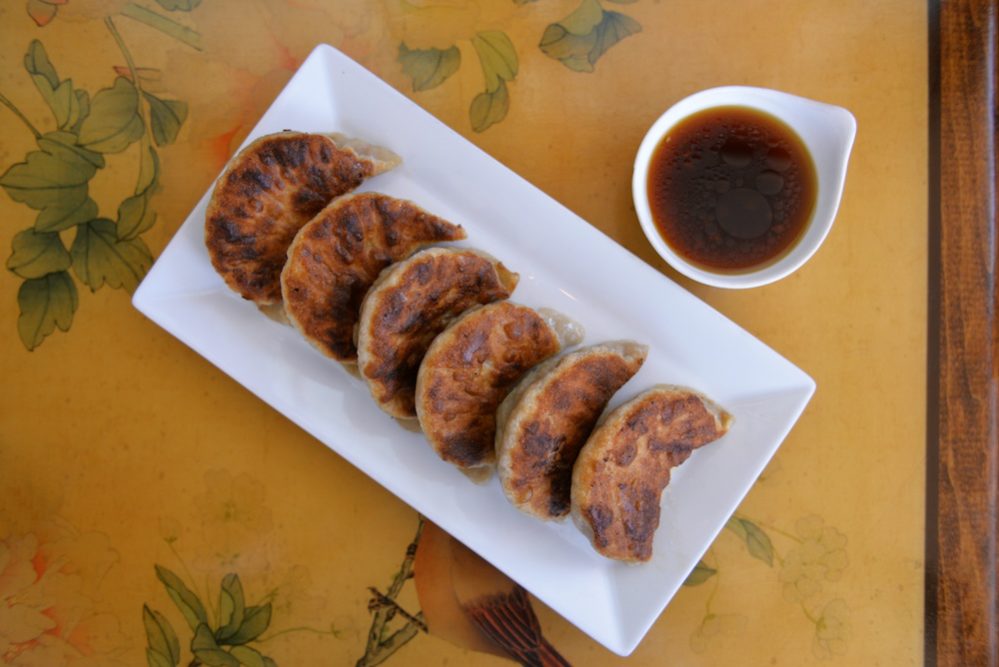 Dumpling sauce
4 Tbsp. sugar
6 Tbsp. white vinegar
2 Tbsp. rice wine vinegar
½ cup soy sauce
1 Tbsp. oyster sauce
1 Tbsp. finely chopped ginger (or more to taste)
1 small clove garlic, finely chopped
1 Tbsp. sesame oil
1 cup plus 2 Tbsp. water
1/8 to ¼ tsp. white pepper
METHOD: Combine all ingredients. Serve sauce on the side with dumplings. Makes about 2 cups.
---
This article was originally published in the Summer 2017 issue of My Table magazine, now on newsstands. To purchase a copy online, click here. To find one at a local retailer, click here.