Last month, I scored big. I was itching to get out of town and escape the infinite heat and see some autumn colors. When the opportunity to go to Wisconsin fell into my lap, I immediately packed my bag.
I've been to Wisconsin before. In the summer, it lures Texans with cool temperatures and green scenery, delicious cheese snacks and so. much. beer. This was my first time to visit in the fall, and I traveled to Elkhart Lake, a town with fewer than 1,000 residents about an hour northwest of Milwaukee. Elkhart Lake became a popular destination during the later years of the Victorian era. Travelers from Chicago and Milwaukee could take trains directly to the center of Elkhart Lake's Town Square, making it an accessible summer and weekend destination for wealthy Midwesterners.
While the town itself is small, today it attracts several thousand guests annually for its Old World Christmas Market, Road America events, waterfront condos and vacation homes, fishing and spa treatments. On my second day of visiting Elkhart Lake, I was lucky to catch several smallmouth basses with fishing guide Jay Brickner and sat in for the tail end of a cooking class at L'Ecole de la Maison, a cooking school inside of the Osthoff Resort. It was a very brisk October morning, and having spent several hours on the lake with my wimpy Texan tolerance for lower temperatures, a break from the windy water surrounded by savory smells was welcomed.
At L'Ecole, the kitchen was a flurry of students chopping, stirring and peeling. The class was making several different dishes, one of which was a five onion soup. The same recipe is on the menu at Lola's on the Lake, the fine dining restaurant recently launched inside the Osthoff Hotel. I ordered it one night for dinner, and I was in love. Harmonious sauteed onions with gruyère? The soup is decadent and comforting. Traditional French onion soup (upon which this five onion soup recipe is founded) is just about my favorite soup. While I wasn't a student in the class, I knew I had to have the recipe before I headed back to Houston.
As it turns out, one of the many onions called for in the soup is the yellow onion. Texas produces a sweet yellow onion, which was introduced to South Texas from Bermuda in 1898. The 1899 crop was sent to Milwaukee, in order to meet the needs of Wisconsinites who demanded more alliums. The Texas sweet onion was so well received that South Texas began to grow and export thousands of train carloads the very next year. While there are many offspring variants of the Texas sweet onion, one of the most popular yellow onions is known as 1015. Today, the state of Texas brings in $70 to $100 million in onion sales annually. That's a lot of onions.
Before making this recipe myself, I was overzealous with my onion purchases at Fiesta. I used Texas sweet yellow onions, and I like to think that it's the desired onion used in Wisconsin for their own onion soup. Below is the recipe given to me by chef and instructor, Benjamin Sommerfeldt.
I should note that I was lucky to leave Elkhart Lake with several Wisconsin-grown shallots in my suitcase. When I learned that the Osthoff Resort grows the majority of their produce and herbs onsite on two acres of land, I was impressed. When speaking with the gardener about their most prolific harvests, he pointed out the different varieties of shallots grown at the Osthoff and sent me home with over a dozen shallots.
L'Ecole de la Maison's Five Onion Soup (adapted recipe)
6 Tbsp. clarified butter
2 yellow onions, julienned*
2 red onions, julienned*
2 leeks, washed and julienned*
6 shallots, sliced*
2 scallion bunches, sliced*
2 cloves garlic, minced
3 cups red wine
½ cup bourbon**
10 cups beef stock***
1 modified sachet d'espices
black pepper
sea salt
Sachet d'Espices
2 Turkish bay leaves
1 large sprig of rosemary
1 handful of parsley
6 crushed peppercorns
1 sprig of thyme
Wrap ingredients in cheesecloth and tie with kitchen twine.
The croutons†
1 loaf French bread cut into ½ inch cubes
8 Tbsp. clarified butter
3 cups gruyère cheese, shredded
METHOD: Heat up a large pot (a Dutch oven works great) and add butter, slowly adding in onions one type at a time. Start with the yellow onions and add only enough to cover the bottom of the pot. When they've broken down and caramelized, add more, and repeat. Then move on to the next type of onion. Stir often so that onions quickly and evenly caramelize.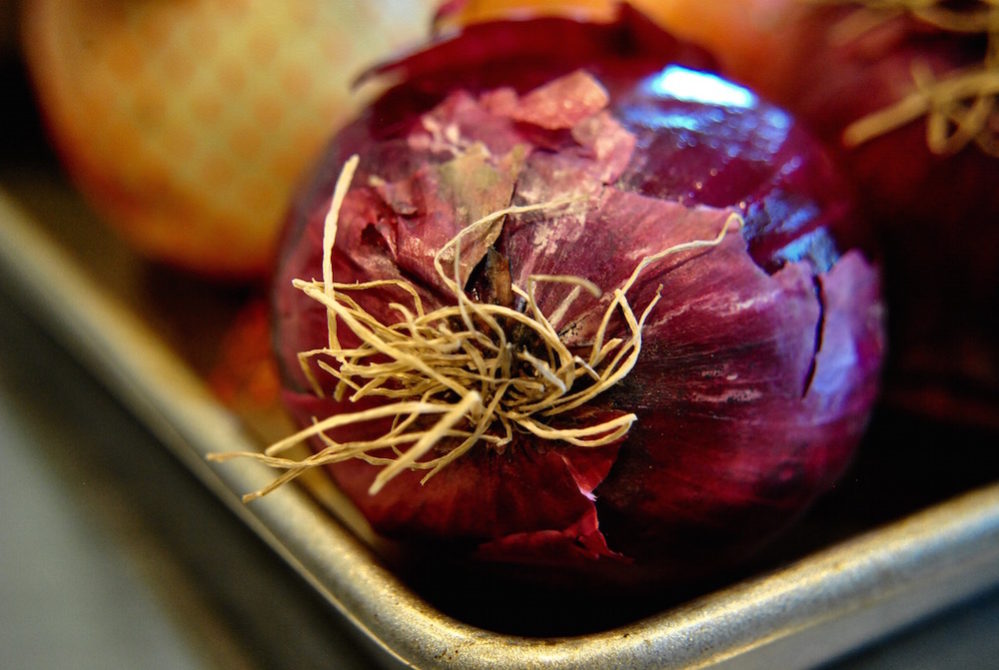 *The recipe calls for all of the onions to be julienned. Because my knife skills are mediocre at best, I pre-peeled and washed all the onions, and set them aside. I put them in the food processor separately for each step. For example, I first processed the yellow onions, then put them in the pot. While those were breaking down and between stirring them, I then did the same with the red onions, and so on. I tried to keep all the onions the same size when processing them (with the exception of red onions, which I allowed to be chunkier) and just scraped them from the processor into the pot. It probably saved me 15 minutes and made clean-up easy.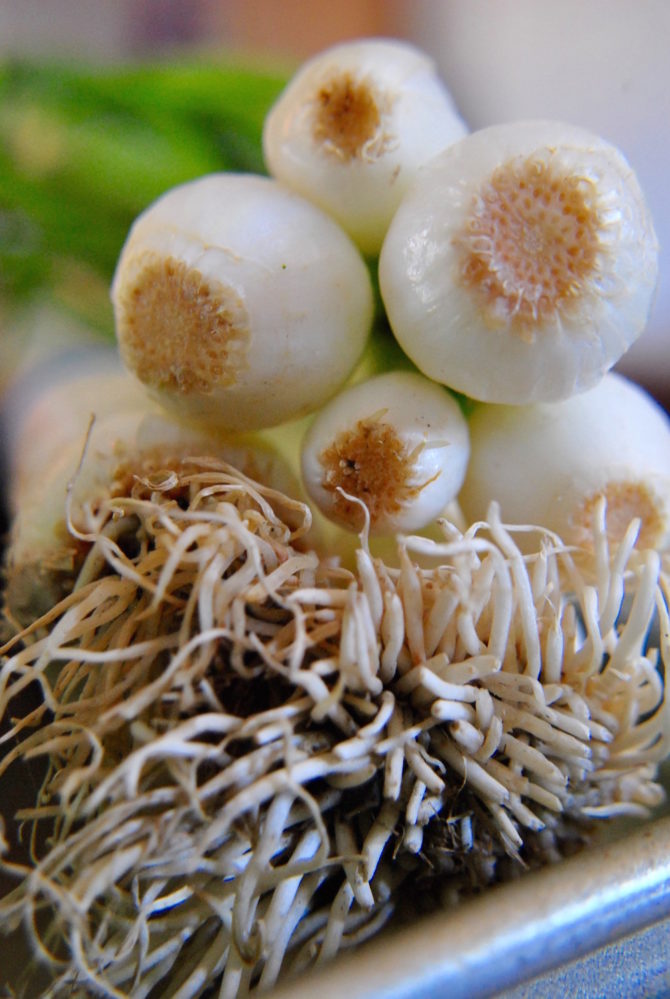 After repeating the process with the red onions, leeks, shallots and scallions, add garlic and sweat until translucent. Stir often. Add bourbon and red wine, and reduce to au sec (until liquid has been mostly evaporated). Continue stirring.
**I used a ½ cup of Wild Turkey and I also added a ½ cup of Catalonian vermouth and a ½ cup of sherry, because I love their dry sweetness and the way the two get all the flavorful bits off the bottom of the pan. So, I supposed this is a five onion and four booze soup when I make it.
Add stock and sachet, add salt and pepper to taste; simmer about 45 minutes. Stir occasionally.
***Confession: I used 6 cups of beef broth and four cups of chicken broth. It's what I had in the pantry. My Table friend Bear Dalton told us he makes his own beef broth before he makes French onion soup, and that sounds like an ideal project on a crisp Sunday afternoon in preparation for Sunday evening's dinner, but I didn't have that kind of time. I was making a weeknight dinner at 5:30 pm. Bear also said he uses Oloroso sherry in his soup, so I feel very justified in my addition of it to this recipe. 
Also, I've made a sachet d'espices before with no problem, but for some reason, the cheesecloth I had purchased long ago at H-E-B must have had a very loose weave, because all of the d'espices fell through the weave. First aid gauze would have been a better substitute. I tried doubling up on layers of cheesecloth, but I still made a sachet d'mess everywhere. The ingredients continued to sift through the cloth. Finally, three layers of cheesecloth, packed with herbs and smashed peppercorns and tied with twine later, the rachet-looking little sachet was dropped in the pot.
Toss cubes of French Bread into clarified butter to coat. Place the croutons on a sheet pan and put in a pre-heated 300°F oven until lightly brown. Remove from oven, and ladle soup into oven-proof bowls or crocks. Place croutons on each and divide the cheese into each bowl. Place under broiler to brown, then serve.
†I don't have crocks. I don't have oven-safe bowls. And on this day, I didn't have French bread. I did, however, have a few bolillo rolls. So when serving, I simply quartered a bolillo, smeared the top of it with a pad of butter, and toasted in the oven at 300ºF for about 8 minutes, until brown. While the bread was near the end of toasting, I grated the cheese. Then, after ladling soup into a bowl (to only half full), I assembled by tossing a quarter cup of cheese into the bowl, ladled more soup on top, and then placed a few slices of toasted bread on top of the soup. I then topped the toast with cheese.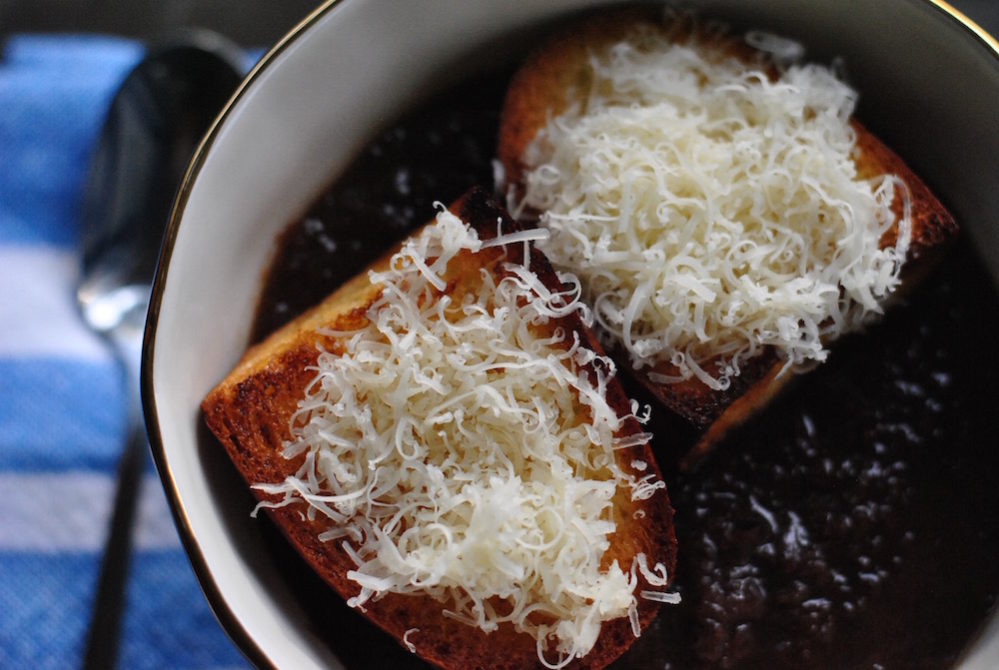 Because the soup was very hot and the bread had just come out of the oven, the cheese began melting on the toast (and in the center of the bowl). This is my preference of how to eat it, and it isn't very dainty. I just prefer the large piece of toast over smaller croutons. It's the way you'd eating it if you weren't in a chic restaurant. The bolillo easily breaks apart into the soup with your spoon. (On the particular day I took the above photo, it was pretty chilly outside and the topmost cheese stopped melting since I moved outside to take the photo.) 
Another cheese toast idea: You could cut up bread as detailed above, in quarters, butter and toast it for six minutes, then remove it from the oven. Top it with the shredded cheese and throw on some green onions, and then broil it for two minutes. Have extra herbs? Throw those on your toast too.
Feel the need for cheesy onion soup now? If you don't want to wait to make it, I understand. After polling My Table readers, these were their favorite onion soups in Houston:
La Table 1800 Post Oak Blvd #6110
Etoile 1101-11 Uptown Park Blvd
Bistro Provence 13616 Memorial Drive
Rise No.2 1700 Post Oak Blvd #290
Killen's Steakhouse 6425 Broadway St, Pearland
Croissant Brioche 2435 Rice Blvd