Because people outside the Loop also "give a dam," there is now a second location of Beaver's – Beavers West. It's a sprawling urban campground-feeling restaurant that opened just after Christmas at 6025 Westheimer in the old Texadelphia location.
Outside, there's a patio equipped with a fire pit, lawn games and an Airstream travel trailer. The small barn on the property is meant for private parties, but Beaver's will slide open the barn doors when extra outdoor room is needed. The main building, which has soaring lodge-like ceilings, houses two rooms: the Beaver Den and the main dining room. The Beaver Den (photo at top) is an adult's-only space, which is needed in a part of town rife with family-friendly restaurants.
The menu is significantly larger than the original Beaver's, which is located just off Washington Avenue near downtown. With "Space City Cowboy" executive chef Arash Kharat at the helm, Beaver's favorites like the Smoky Queso with "bar bar" (that would be brisket) and the vegetarian Beaver Nut Burger (photo below) still remain, but a slew of new appetizers, entrees, tacos, po-boys, salads and barbecue have been added. The new location also welcomes a huge cocktail, wine and beer program, headed by Mike Sammons. (You know him from Mongoose Versus Cobra, Weights + Measures and 13 Celsius.)
Interesting starters include the Buffalo Cauliflower ($9), fried crispy and tossed in spicy buffalo sauce with jalapeño ranch dressing on the side, and the grilled oysters ($9, photo below) topped with garlic butter, bacon, chimichurri and citrus pico – a rich and refreshing bite. We also enjoyed the Dirty South Chicken Salad ($13) with big chunks of fried chicken, cornbread croutons and homemade ranch.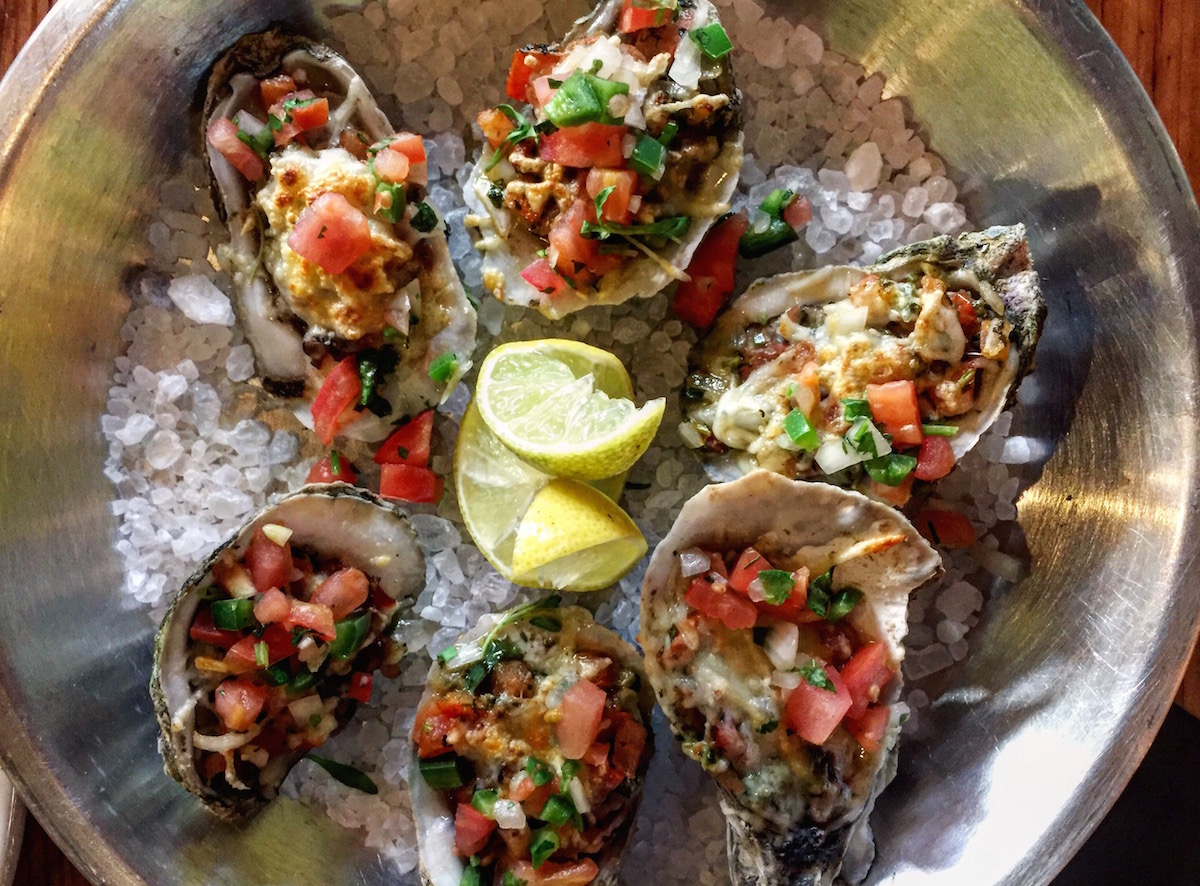 Unable to make a unified meat decision, we opted for the sampler plate of barbecue ($19, 14 oz. of meat), which included pork baby back ribs, brisket, jalapeño pork sausage and pulled pork. The sausage was our favorite of the smoked meats, but considering the many options for great barbecue in Houston these days, Beaver's will need to step up its game if it wants to be a serious contender. (Editor's note: another My Table contributor dined on a different occasion and had a very positive barbecue experience.)
The cocktails were clever (and reasonably priced) including the refreshing Rosemary Pineapple Rickey ($8) with Monopolowa gin, pineapple, rosemary and Green Chartreuse.
We finished with "Beaver Balls" ($9) – panko-crusted deep-fried brownie balls with powdered peanut butter, white chocolate sauce and vanilla ice cream. It was a little over the top, but isn't that the point at a place like Beaver's? Come hungry and live it up.
---
Beaver's West, 6025 Westheimer at Greenridge Dr., 713-714-4111, beavershtx.com
Hours: Mon. to Thurs. 11 am to 10 pm; Fri. 11 am to 11 pm; Sat. 9 am to 11 pm; Sun. 9 am to 9pm