If you plan on spending an afternoon in Galveston for spring break or getting away for a weekend this summer, don't pass up a chance to get off the Strand and into Daiquiri Time Out.
Within walking distance from the touristy attractions on the Strand is an area of development currently undergoing big changes. Where empty lots and rundown buildings used to be common, Galveston locals are seeing new businesses and real estate development in the red light district. Just down the street from the famed Antique Warehouse – formerly the brothel known as the Oleander Hotel – is unexpected cocktail bar Daiquiri Time Out (DTO), sitting directly across the street from Maceo Spice and Import Company.
DTO owners Brad Stringer and Ian Ramirez and their business partner Robert Hollis opened the modern, minimalist cocktail bar last July and have seen the neighborhood value go up in the nine months that they've been serving drinks. Renovations, restaurants and retail have "increased the property value and rent $100,000 over here since we opened," says Stringer.
DTO isn't serving up a gentrified atmosphere or drinks with inflated prices. "We can't charge here on the island what they would charge in the city," said Stringer. But it would be difficult for Galveston visitors and locals to find another cocktail bar where the cocktails are often made with lesser-known boutique spirits and the term "daiquiri" refers to the Earnest Hemingway recipe and not the frozen, rainbow-colored variety.
While the menu at DTO is made up largely of tiki drinks and classic cocktails, it changes seasonally to include off-the-wall liquid inventions from Stringer and Ramirez, who are known in the Houston drink community for their counterwork at Boheme and Johnny's Gold Brick before opening DTO.
On this particular visit, which was my fifth and a first for my colleague, we tried two different drinks, the $12 Two Dots and a Dash (which is the Morse code for victory and contains two rums, falernum, dry curaçao, honey, lime, Angostura bitters and allspice dram) and a Piña Colada with shredded coconut ($8, below).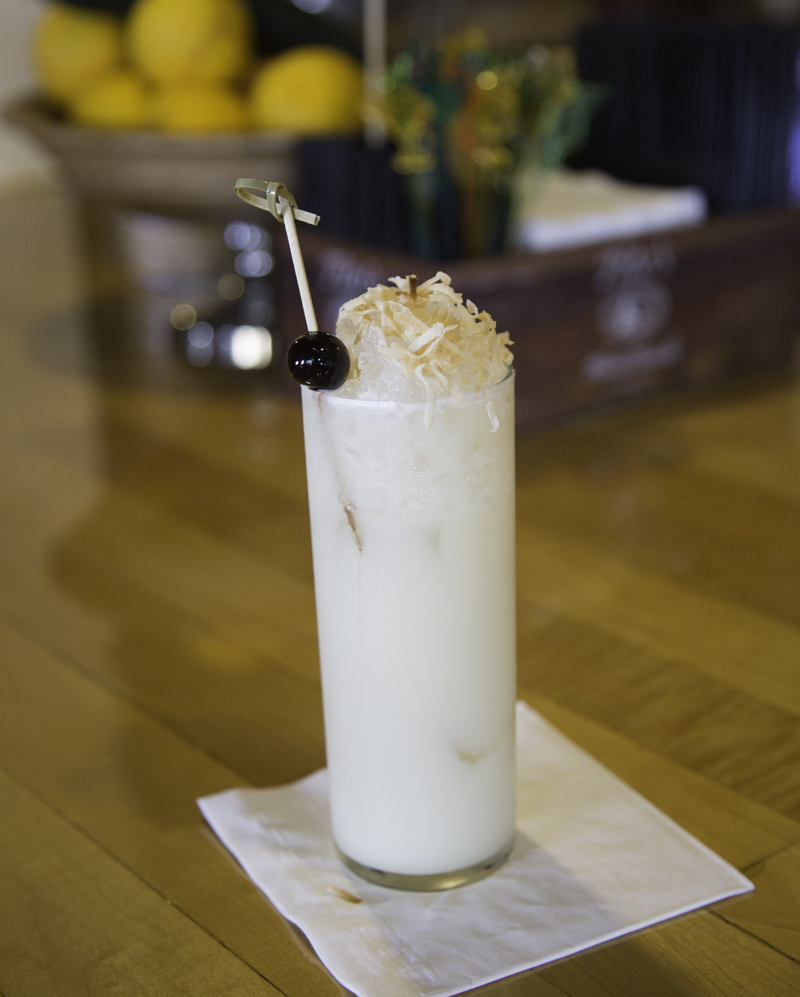 The new menu at DTO was in the works the weekend before Fat Tuesday and should be launching any time now. Stringer described one of the creative cocktails on the forthcoming list as having Thai influences, including a jelly noodle-like consistency mixed with spirits and served in a hollowed-out coconut. The small patio on the side of DTO (on 27th Street) is fine for easy afternoons when the heat isn't too severe. When July and August drive patio-goers out of the sunshine, guests can either sit inside while the AC pumps out cool air or make their way to the back patio, which is dotted with shady fruit trees and acts as a breezeway between DTO and the restaurant next door, Gypsy Joint.
You may not notice Daiquiri Time Out immediately if you're walking down Market Street from the Strand. Look for a simple, fuss-free white building with the neon pink sign.
---
Daiquiri Time Out, 2701 Market Street at 27th St., Galveston, 409-497-2760, dtogalveston.com
Hours: Tues. to Sun. 4 pm-2 am