Springtime in Houston equals brunch. I love to get friends together for a Sunday toast, and a leisurely brunch is likely to make the entire day relaxed and fun versus the harried errand-running or lengthy to-do list it might otherwise become.
One of my favorite patios for brunch is at Haven, where the waterfall fountain draws birds to sing along with the soundtrack of Texas singers in the background. Haven began offering brunch a couple of months ago as customers continued to ask for it, recalling chef/owner Randy Evans' previous tenure at Brennan's.
The restaurant began by offering it on special occasions like Mother's Day and Easter, then moved it to Saturdays, but there were too many conflicts with kids' activities in the nearby West University and River Oaks neighborhoods. Settled now on Sundays, Haven's brunch menu is a vast assortment, including some of their most popular lunch items like the wild boar chili and signature salads.
The migas were a standout, with an extraordinarily tender and flavorful loin of beef (prepared sous vide), fluffy scrambled fresh farm eggs with crisp pieces of tortilla chips, pico, Mexican crema and an enchanting mole sauce based on a Rick Bayless recipe and made with Abuelita chocolate. It was hearty, fresh and light all at once.
The frittata features Evans' famous greens – that would be seven greens – including collard, mustard, turnip, kale, chard, spinach and beet tops, braised with onion, white wine vinegar and a little honey for balance. I could eat these all day by themselves, but tucked away inside the frittata along with tomatoes, mushrooms and caramelized red onion, the dish became a satisfying vegetarian odyssey utilizing all of the local farm ingredients Haven is known for.
I also loved the appetizer portion of brioche French toast (at top) topped with Steen's cane syrup and strawberries simmered together for an unusual tangy/sweet combination.
I've been on a fried-chicken kick lately, which led me to try brunch at Tony Mandola's on Waugh. Jazz singer Yvonne Washington strolls around the patio and inside the restaurant, serenading guests while they enjoy $1.99 mimosas and nosh on tender little biscuits and corn muffins that are available only during brunch.
Speaking of fried chicken, Mandola's is homestyle – like my grandmother used to make – and juicy. It comes with their Frangelico French toast and hazelnut syrup and plenty of fresh berries. I loved the combination and think it's even more of a natural than fried chicken served with a waffle.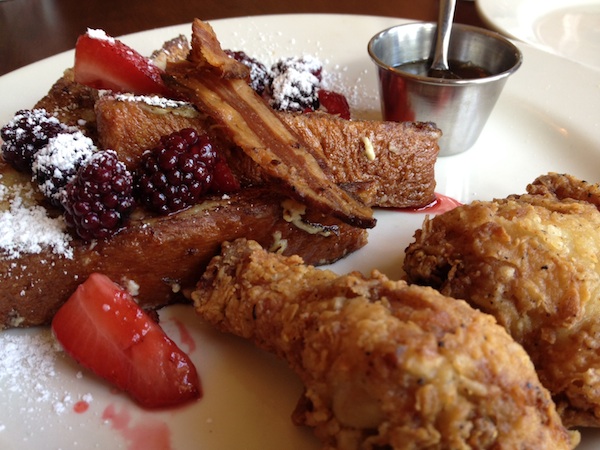 We also tried the tarragon seafood crêpes cradling shrimp, crabmeat and lobster, which sounds like they could be heavy, but are not. The crêpes were not over-stuffed or too saucy. Also the hollandaise wasn't too thick and did not overpower, so these were delightful, especially with the sautéed spinach on the side.
My favorite item, though, was the softshell crab and green tomato Benedict that is served on an herbed scone. The tanginess of the green tomato and the crunch of the softshell crab along with the not-too-heavy hollandaise were heavenly. The softshell crab season doesn't last long, so don't miss out.
Service at Mandola's is old-school charming and there's a chill, relaxed vibe. It feels like a world away – possibly New Orleans – but fortunately right in the heart of Houston.
My last stop was Max's Wine Dive on Washington. I don't know why I take Max's for granted and forget to return. It is always so good. What I love most is that this brunch is now available on Fridays starting at 10 am. What a great way to kick off the weekend in the fun, upbeat atmosphere.
Chef Michael Pellegrino puts a unique spin on classic favorites. Take the "Jake Cakes and Wings," which are Max's signature buttermilk-jalapeño brined wings that are "deep fried slow and low." You get a delicious, crispy souped-up version of fried chicken wings served alongside savory cornmeal pancakes studded with corn and tiny pieces of jalapeño. The maple syrup adds a touch of sweetness, and the overall effect is kind of perfect.
The fried egg sandwich takes a childhood favorite to the next level with three fried eggs drizzled with truffle oil and sea salt and stacked with applewood-smoked bacon, gruyère, lettuce, tomato and black truffle aioli between two slices of ciabatta. The quality of the ingredients makes the sandwich: tomatoes from the Pea Patch farm in Humble, bacon from Nueske's, farm fresh eggs … you get the idea. Not the kind of thing I would usually order for brunch – and it was scrumptious.
I'm a sucker for French toast and Max's "crème brûlée" style was right on. Thick slices of brioche are soaked in a decadent crème brûlée batter (think: melted ice cream or crème anglaise). Crispy on the outside, melt-in-your-mouth on the inside, these hit the spot.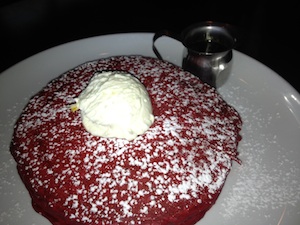 "The RVP" stands for the initials of Max's president, Rick Van Pelt. Thank goodness for us, chef Pellegrino looked at those initials one day and realized they also stood for red velvet pancakes. Not overly sweet as you might imagine, these are earthy, savory wonders, hitting it out of the park with the use of Valrhona cocoa powder. The singular sweet element comes from the dollop of cream cheese that is beaten with lemon juice, lemon zest and powdered sugar. I had heard about these and assumed they'd be overly sweet and now I've gone this long without having them – my bad! These were such a revelation. I can't stop thinking about them and my guaranteed method to keep my Sunday mindset as it should be – with more brunch.
---
HAVEN, 2502 Algerian Way, 713-581-6101, havenhouston.com
TONY MANDOLA'S, 1212 Waugh, 713-528-3474, tonymandolas.com
MAX'S WINE DIVE, 4720 Washington Ave., 713-880-8737, maxswinedive.com