Early last October Travis Lenig left his executive chef position at the Liberty Kitchen restaurants, and, on October 19, he and friend/business partner Christopher "Chico" Ramirez acquired the Craftsman bungalow that was previously the home of Zelko Bistro on 11th Street in The Heights. That bungalow has since become their new Field & Tides Restaurant + Bar.
"This is an exciting project for both of us. Probably five years in the making [since] we were both down at Liberty Kitchen," Ramirez said during the restaurant's media tasting yesterday, Monday, February 13. It was also the restaurant's first evening of dinner service.
Ramirez left his position as director of operations at Liberty Kitchen in mid-2014 to open The Boot – Cajun Bon Temps with a few other business partners. He then sold his interest to those same partners last year in order to focus on Field + Tides.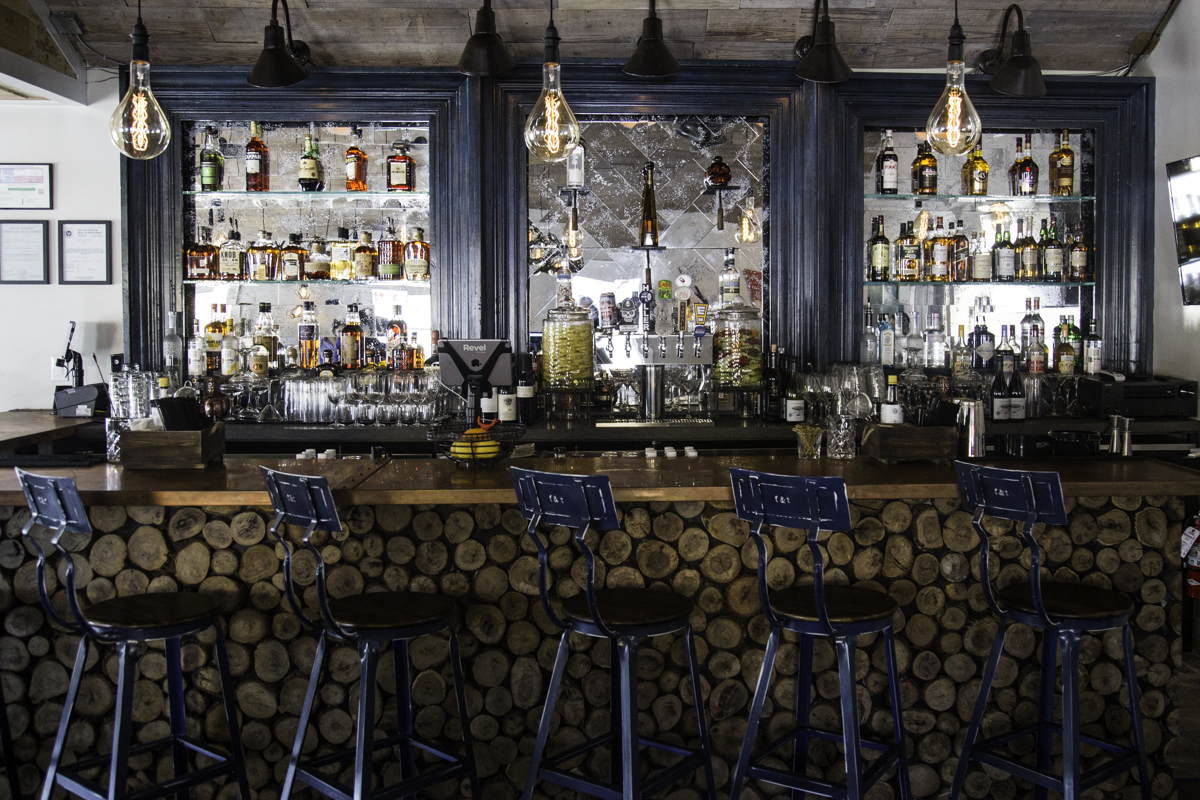 At Field & Tides, the menu is Southern-inspired with touches of Italian, French and Asian. "My menu is very straight forward," Lenig explained. "This is food that I cook at home." This 54-seat restaurant (they hope to open the building next door for private dining in April) is offering quite an expansive menu for such a small space. But Lenig is used to cooking large menus. When he was in the kitchen at Mark's American Cuisine, he was responsible for about 15 items on the line, not to mention Liberty Kitchen's wide-ranging menus.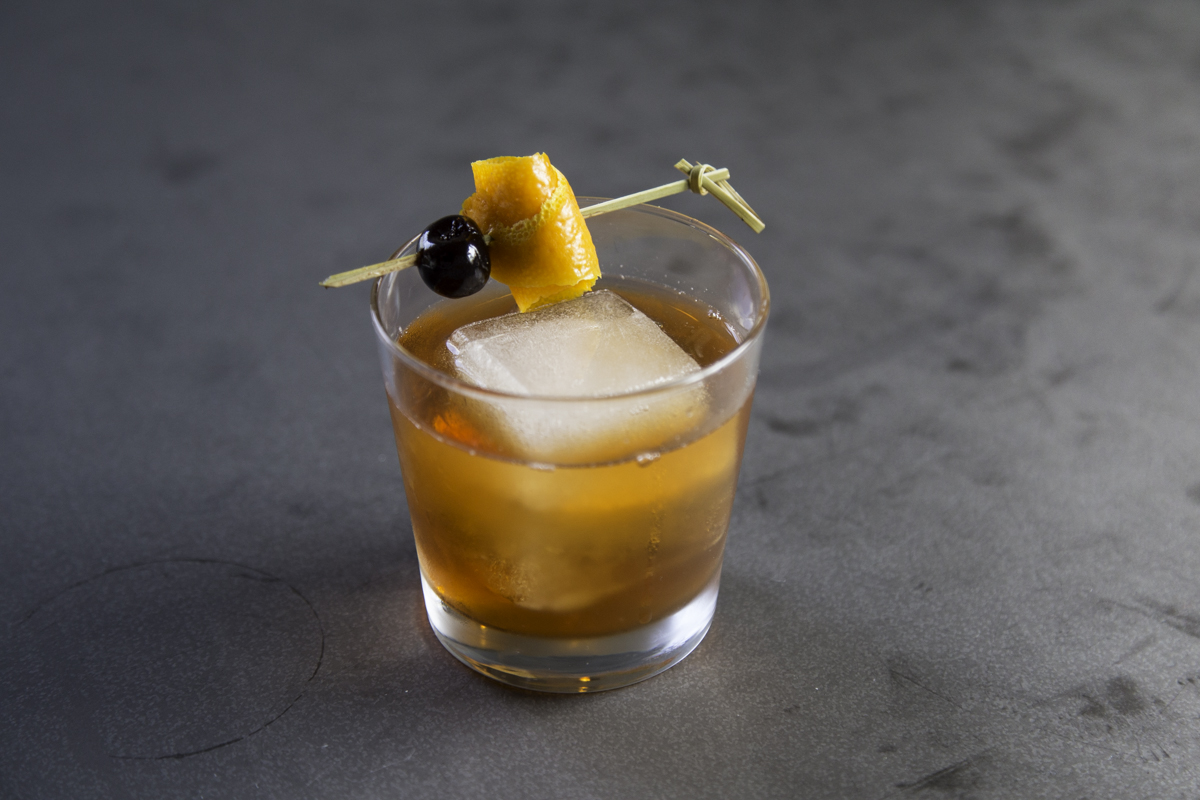 Behind the bar is beverage director Monique Hernandez, who was previously at The Palm and Liberty Kitchen. She's crafted cocktails to flatter Lenig's no-fuss menu. Expect classic cocktails and variations of them, like the Rip Tide ($12, or a classic Aviation) made with The Botanist gin, maraschino liqueur, crème de violette and lemon juice, and the First Cut ($12, photo above), the bar's take on a classic old fashioned using Old Grand-Dad bourbon.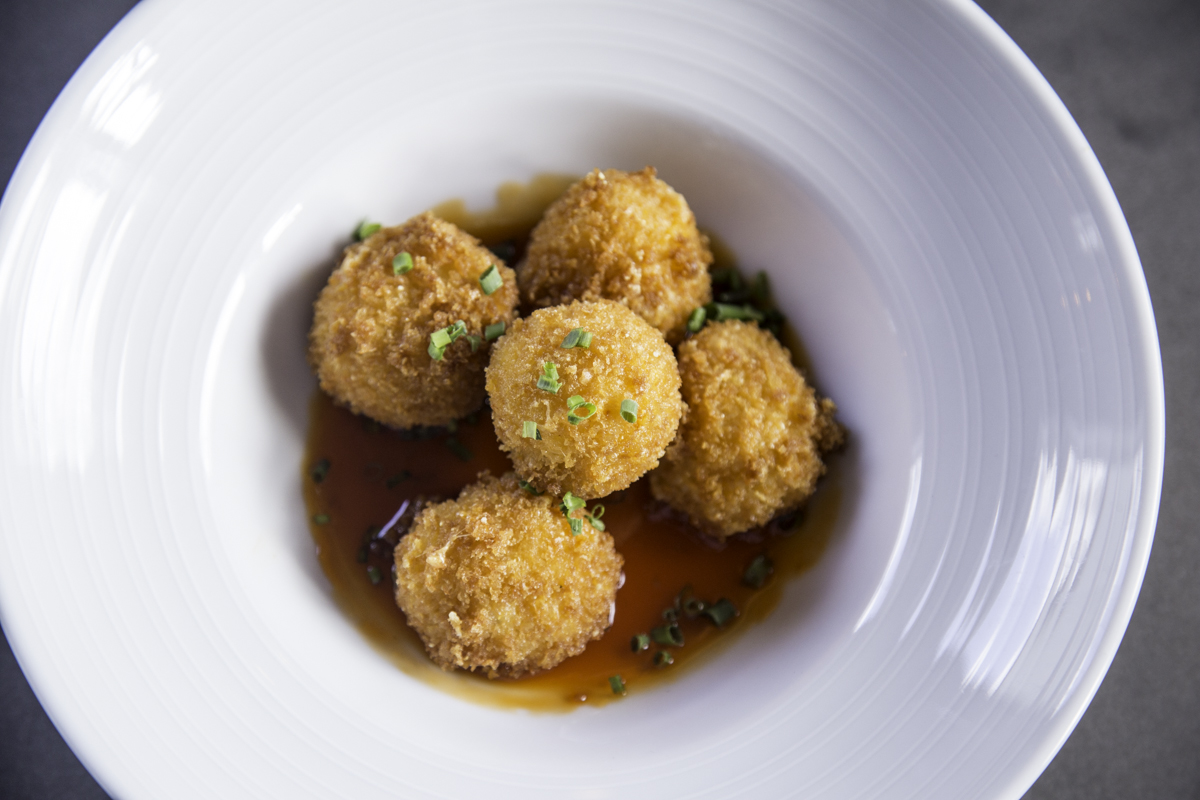 For appetizers, think small bites you can pick up with your fingers or bowls of dip that you can scoop with crackers – like we said, no fuss.  The F&T chicken "wang"  has an Asian twang, with a coating of sticky sambal glaze and a cilantro aioli ($7). One-bite pimento cheese fritters ($7, photo above) are stuffed with local sharp cheddar and served with a smooth-and-sweet pepper jelly for just a bit of heat. You will have to pick up a fork to enjoy the fried cornmeal-crusted-Gulf oysters ($9, photo below) served with shaved Brussels sprouts and a chili honey glaze.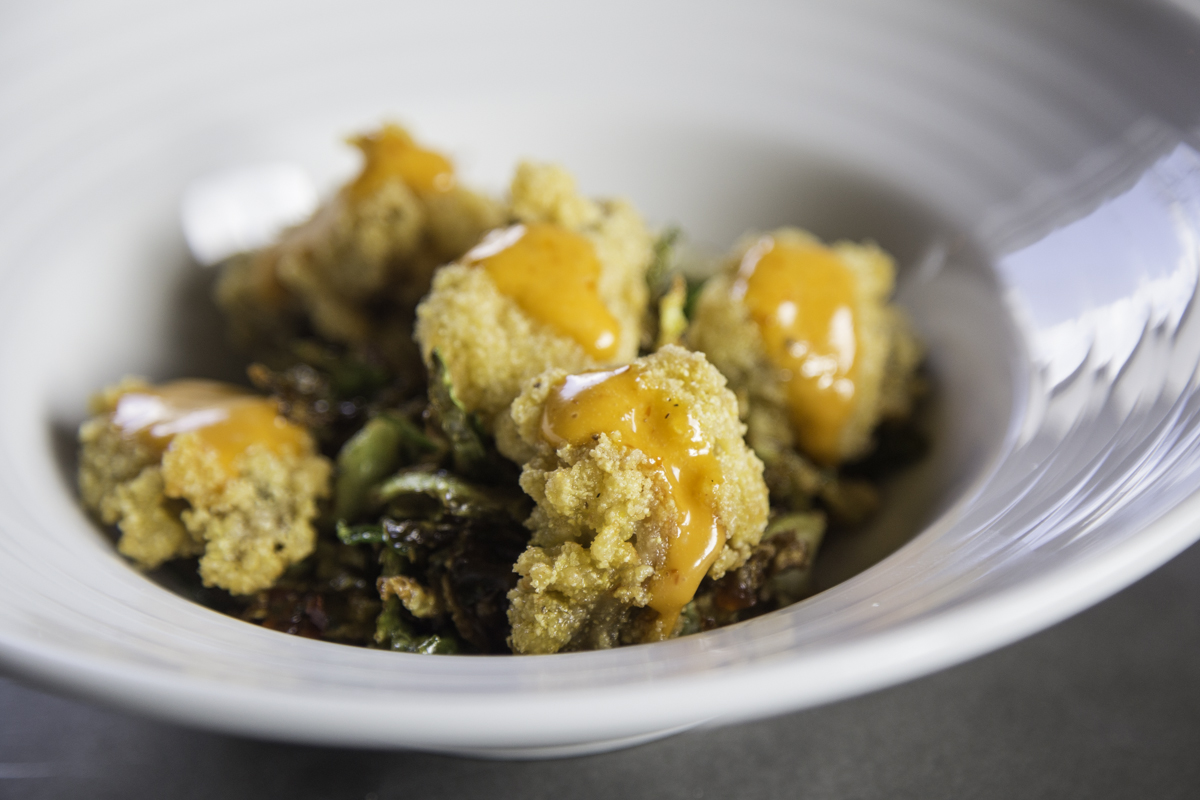 The two salads we sampled could each serve as a lighter entree. The local greens salad ($6) features greens from Huckleberry Farm, which is owned by Lenig's father- and mother-in-law in Round Top, Texas. The salad is topped with radish, carrots, queso fresco and a sesame honey serrano chili vinaigrette for an enjoyable level of heat. The herb-roasted beets salad ($8, photo below) features colorful chunks of purple and yellow beats, topped with spiced Texas pecans and chevre and simply dressed with olive oil and sea salt.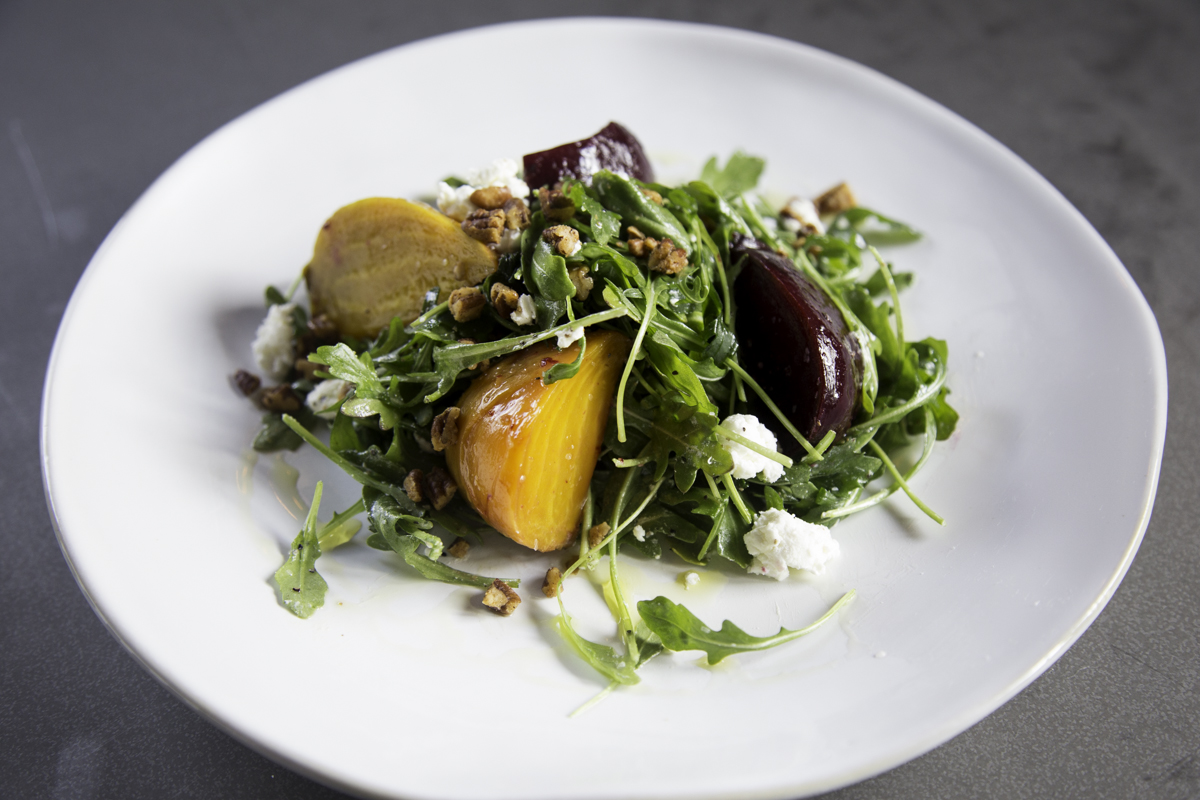 Entrees range in price from $12 for a tomato and garlic frittata to $37 for a roasted venison rack with poblano mashed potatoes and a bourbon peppercorn demi. For a little something sexy, order the pan-seared scallops with a creamy shrimp and lobster risotto and chive buerre blanc ($23, photo below). A bite of the succulent scallop and the silky risotto is one decadent spoonful of the sea.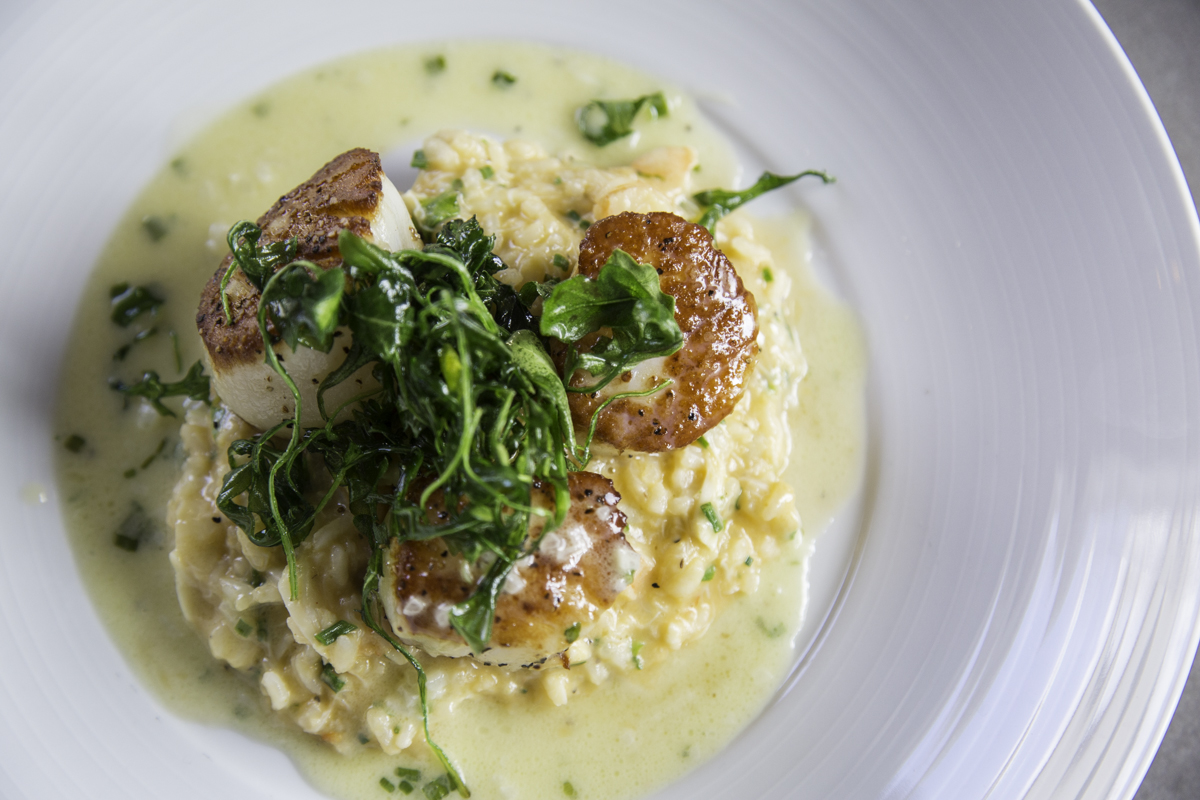 Or, do you know a basic meat-and-potatoes guy? Take him to Field & Tides for the smoked bacon-wrapped pork tenderloin ($21), served with smooth, garlic mashed potatoes. But it's the mustard sauce dotted around the plate that makes this dish shine. The sauce is a reduction of onion, bacon, Karbach's Hopadillo IPA, Creole mustard and cream.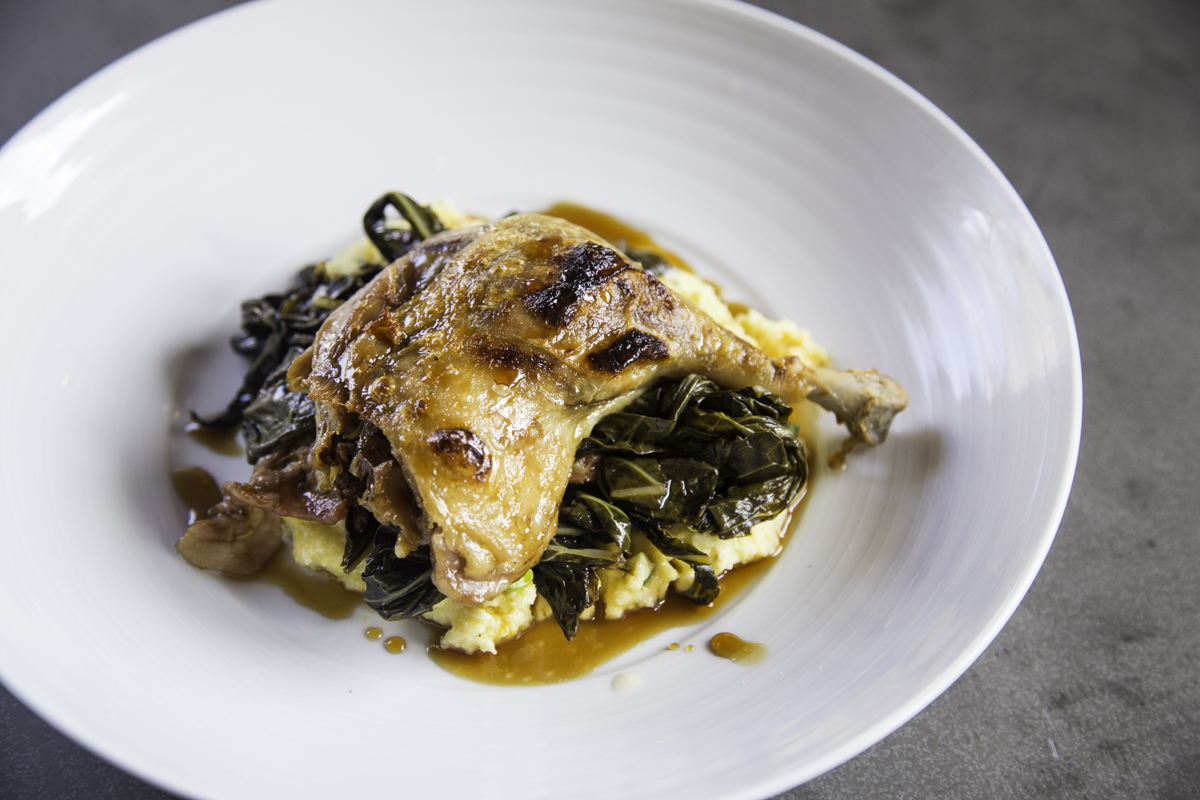 Another stand-out entree is the confit duck leg served with corn pudding, bacon collard greens and a drizzle of cane vinegar gastrique ($25, photo above). The duck leg is fall-off-the-bone tender, while the smokey greens still have a nice bite to them, which works well with the creamy and slightly sweet corn pudding. Again, what brings this dish together is the punch of sweet-and-tangy gastrique.
Field & Tides also provides a kid's menu with four choices, each $5: chicken fingers and fries, fish nuggets and mashers, fettuccine alfredo and grilled cheese with fries.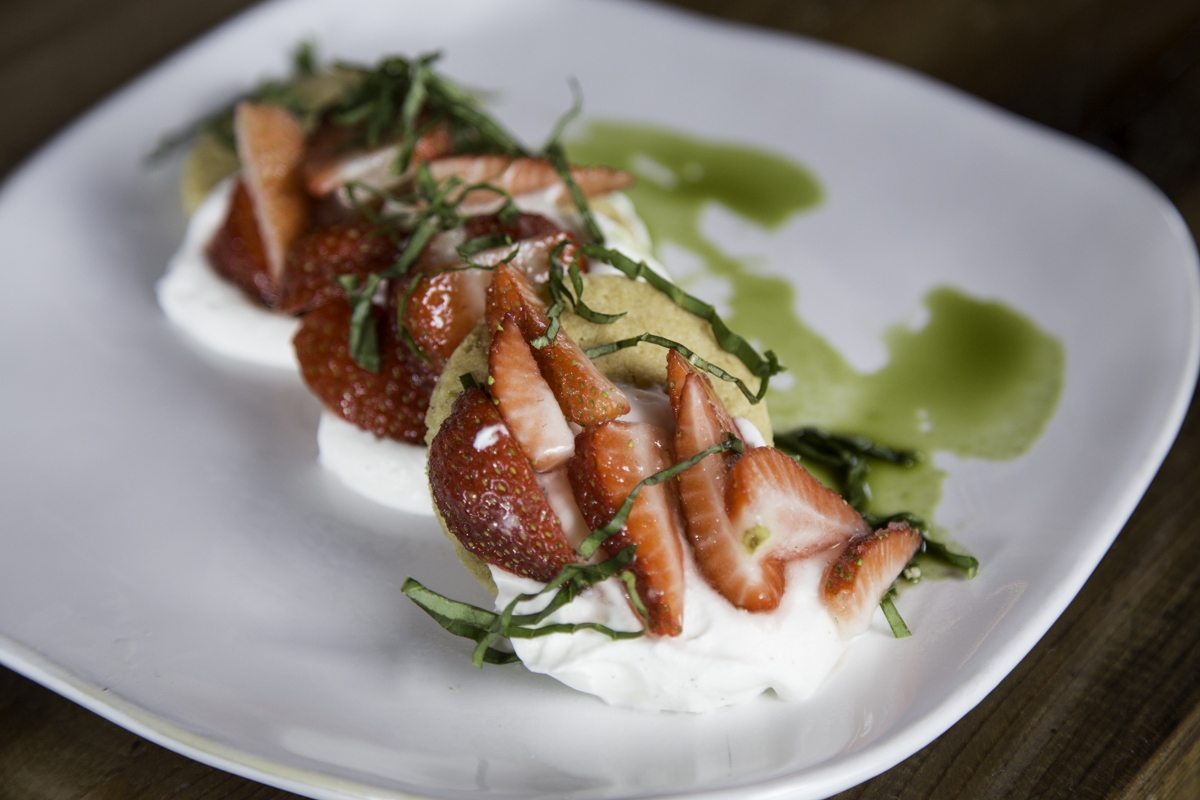 Dessert options, also made by Lenig, include strawberries and vanilla crème fraîche ($6, photo above) with basil syrup and shortbread cookies. Don't bother eating this with a fork or spoon. Pick up the cookie – make sure there's a little bit of everything on top – and eat like an open-faced dessert sammy.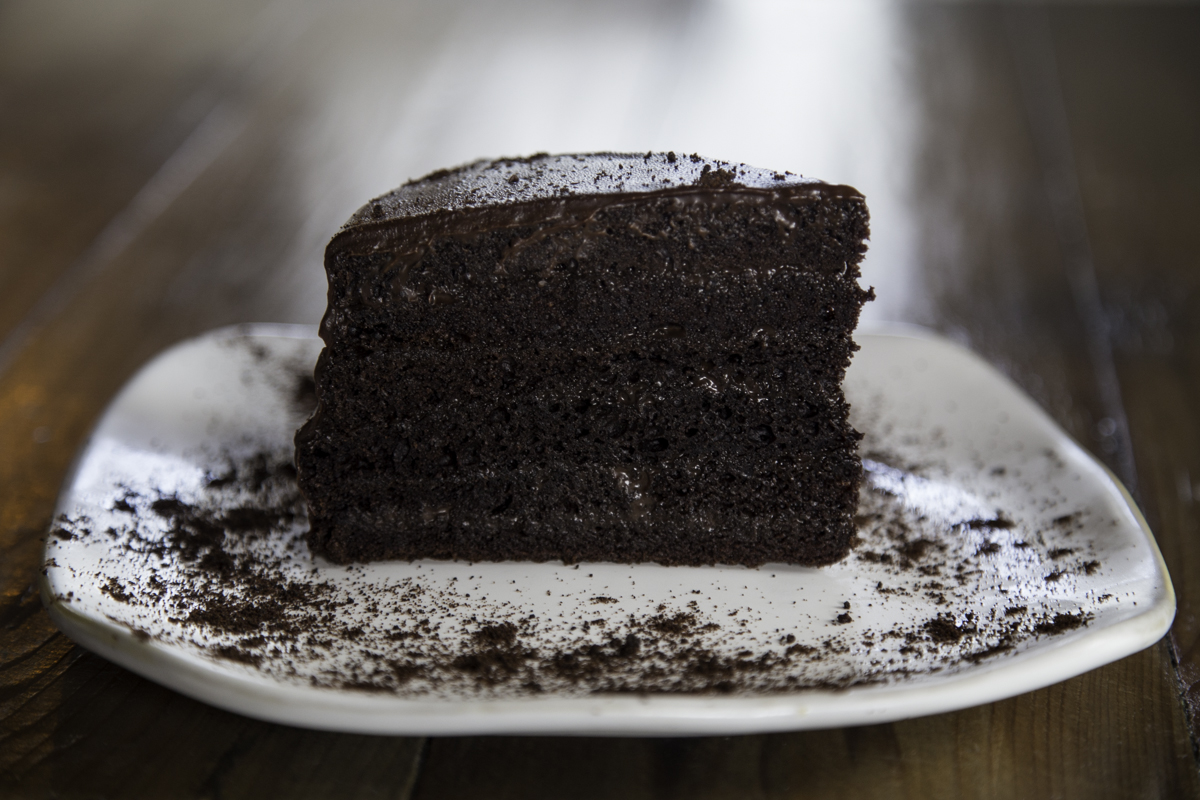 The spongy pineapple upside down cake ($7) topped with whipped cream and a caramel sauce is very naughty. But the naughtiest treat of all? The chocolate Alabama stack cake, with layers of chocolate sponge cake and bourbon chocolate icing ($8, photo above). It's served chilled, which is how we happen to prefer our chocolate cake.
The restaurant is open for lunch, dinner and weekend brunch. We'll be seeing you soon, pulled-pork buttermilk pancake stack.
---
Field & Tides, 705 E. 11th St. just west of Studewood, 713-861-6143, fieldandtides.com
Hours: Mon. to Thurs. 11 am to 10 pm; Fri. 11 am to 11 pm; Saturday 10 am to 11 pm; Sun. 10 am to 10 pm