On May 20 chef Roy Shvartzapel unveiled his long-awaited cafe/bakery Common Bond, and it's serving up an array of pastries and breads as well as a savory lunch menu available 11 am to 3 pm. When Common Bond was first announced more than a year ago, Shvartzapel — an internationally known pastry chef — declared it would be "the best bakery in America."
The restaurant is still in its soft opening, but with such a bold promise we had to stop in and check out Montrose's hottest newcomer. Here's a first look:
At the corner of Dunlavy and Westheimer, you'll spot Common Bond right across the street from Brasil – and if you are there at prime business hours, you'll likely spot a line around the building as well. To avoid the crowds, three My Table editors decided to stop in for a late lunch this past Wednesday around 2 pm.
There was no line wrapped around the building, but we were surprised by the number of people still there to order lunch, sip a coffee at the bar or pick up a box of pastries to go. To serve the crowds, Shvartzapel is joined in the kitchen by executive pastry sous chef Jillian Bartolome, head bread baker Drew Gimma and assistant bread bakers Tony Stein and Alec Bartee.
When you step inside of the cafe, you will join a line along a room-wide counter display of croissants, pain au chocolat, kugelhopf, macarons, brioche and such.  Place your savory order at the counter while browsing all of the pastries and breads, which are displayed as beautifully as necklaces and bracelets in a jewelry store.
Pay for your order, get a number or pager, then choose to sit at any of the marble-topped tables, the coffee bar or outside on the narrow patio facing Dunlavy. Inside, the soaring ceilings and duct work are exposed, and there are plenty of metal, wicker basket and subway tile accents.  Pops of primary and pastel colors plus those old-fashioned marble-topped tables altogether give the bakery a lighter-than-air ambiance. Some have suggested that the place feels like a more industrial version of Crave Cupcakes' space in Uptown Park. It was designed by Italian firm Costa Group in collaboration with local Heights Venture Architects.
The downside to grabbing a late lunch was that half of the lunch sandwiches were already sold out, so we ordered the three that were still available. In addition to six sandwiches — the softshell crab sandwich and brown turkey were among those already sold-out — you can choose from two salads and four sides.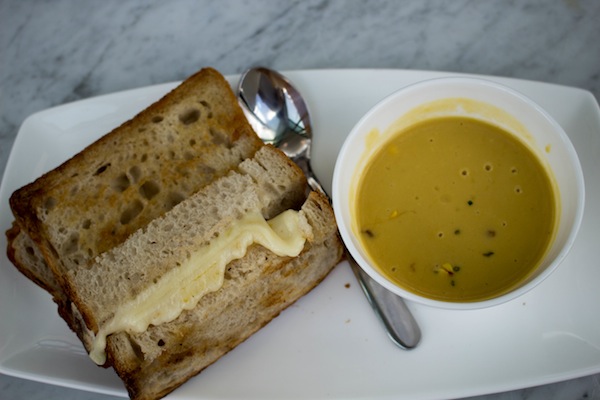 We ordered the grilled cheese and corn soup ($9 photo above), the chile relleno torta ($10) and the chicken torta ($11); the latter two are each served with a small side of pickles. The grilled cheese halves were stuffed with melted fontina and mozzarella cheese, though not so much as it appears in our photo. The slices of bread were thick, resulting in a bread-to-cheese ratio that was a bit off. The sandwich itself was bland, so we dunked it into the corn soup, which was unusually sweet. Props for a seasonal soup, but it lacked the acid-y oomph to properly bolster the grilled cheese.
There was nothing really wrong with the chile relleno torta, but we wouldn't come back for this sandwich, as we think there are much better chile relleno treatments in Houston. As expected though, the telera roll— Mexican bread similar to a French roll— which the chile relleno was sandwiched in was perfectly light and fluffy.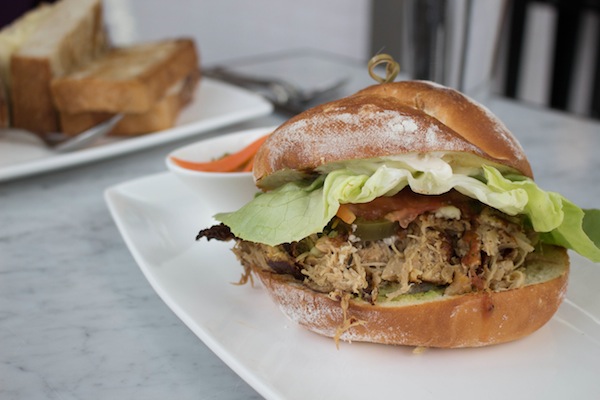 The best of the three sandwiches was the shredded chicken torta (photo above) with guacamole, pickled jalapenos and cotija crema served on a telera roll. The chicken was moist with a nice smoky flavor, and it was piled high and falling out onto the plate. It was messy in the best way – but we have to be honest: We would have preferred the sandwich to be stuffed full of pulled pork.
We didn't try any of the gorgeous-looking pastries during this visit, so a return visit will be in order so we can properly evaluate the "Best Bakery in America" ambition. Look for a full review of Common Bond in the August-September edition of My Table magazine.
PS All of the servers we encountered at Common Bond were friendly, though some of the service systems are still awkward. The staff's fedoras — part of the uniform — have generated quite a bit of mocking comment. We think head coverings in a bakery is both sanitary and charming.
---
Common Bond, 1706 Westheimer, wearecommonbond.com