Good Dog Houston found permanent digs this past fall in a renovated bungalow off of Studewood in The Heights, and their charming brick and mortar restaurant is still putting out the same first-class franks and funky food truck atmosphere as when the restaurant was on wheels.
Good Dog started up its engine three years ago as a food truck serving up Texas-made, all natural hot dogs, each served inside a Slow Dough Bread. Co. bun and topped with house-made, preservative-free condiments.
There is a certain ruffian satisfaction, both of mind and stomach, that one looks forward to when eating food truck grub, and Good Dog Houston has done an excellent job of retaining that outlier experience in its rooted restaurant.
The restaurant's exterior perfectly imitates the food truck's design, with light blue window and door trim that matches the truck's paint job. The trusted "Good Dog" emblem is posted up at the height of the roof, which provides visibility from the road, and the restaurant's French doors are propped open (providing the weather cooperates), so the transition indoors is nearly seamless.
Inside you will notice the feature wall faceted with gorgeous reclaimed wood and the bar that is equipped with bright yellow metal stools. Order your dog at the counter or bar and then grab a table in one of the multiple dining areas. There are two rooms for dining inside the restaurant as well as two different spaces for dining al fresco— on the front porch or back patio.
Good Dog Houston's quaint back patio is one of Houston's hidden gems. It is equipped with umbrella'd patio tables, a picnic table and scattered sunlight. Take your favorite frank and Texas craft beer down the steps to this patio, and you'll find yourself questioning the appeal of food truck dining.
Rest assured, the food at Good Dog is still a fine marriage between gourmet and comfort. Each hot dog is thoughtfully assembled with homemade condiments, and when the hot dog snaps on the first bite, you find yourself in that happy place.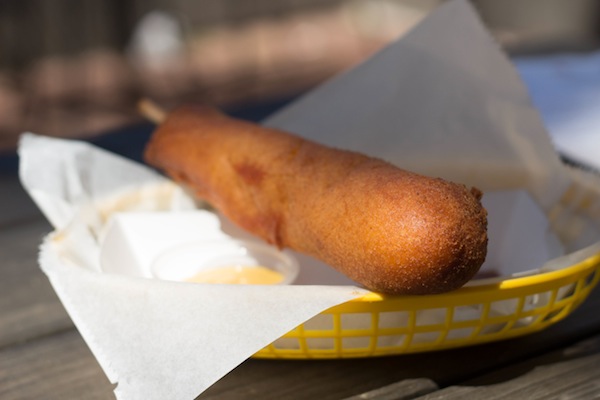 During our visit, we first ordered the corn dog (photo above) and the curried chicken salad sandwich (photo below). The corndog was a bit different than one found at the rodeo or a carnival—the batter is slightly sweet and has the consistency of a corn pancake—but it will fully satisfy the undeniable craving for a deep-fried frank.
The chicken salad sandwich was moist, and the ratio of bun to filling was spot on. But it was obvious our meal was missing a couple components. (You were probably already thinking, "They didn't order a hot dog?")
So our second trip to the counter resulted in a spontaneous order of the Curryous Frank, the Cajeta & Caphin milkshake and the New Yorker dog packed to go.
The Curryous Frank is a beautifully colored dog—stuffed full of curried onion relish, cilantro chutney and topped with Sriracha ketchup, roasted garlic aioli and sweet potato crisps. When you manage to get a mouthful of all of the components, it makes for a delicious, albeit difficult, bite of hot dog. For a more traditional dog, the New Yorker topped with beer-braised sauerkraut and whole-grain mustard is a great rendition of the northern-style dog.
To properly end the experience at Good Dog, an order of the milkshake made with locally bottled Caphin Vietnamese iced coffee and house-made dulce de leche is almost mandatory. Unlike most milkshakes, this house favorite won't push you over the food coma threshold as it has just enough sweetness and the right punch of caffeine. Additionally, the serving size of the milkshake is what I like to call appropriate; there is just enough to give you a little energy buzz as you slurp and stroll back to your car.
Keep in mind that parking on-site is limited, so there is a chance you'll park on one of the narrow residential side streets.
---
Good Dog Houston, 903 Studewood Street, 832-800-3647, gooddogfoodtruck.com