There isn't much to say about Harvey that hasn't already been shared on local and national news. The storm hit Rockport on the evening of Friday, August 25, and the majority of the Texas Gulf Coast has been traumatized by hurricane winds, tornadoes and relentless rains ever since.
But we've been seeing many bright spots representing the coming together of the Houston hospitality industry and Texas ranchers. If you need details about resources for post-Harvey recovery, click here. Texans who can help, have been helping. There is a lot of love in the state as towns in Victoria through Houston begin putting together what pieces they have left and we watch Port Arthur and Beaumont get pounded with a second landfall from Harvey on August 31.

While there is so much devastation and loss, there are also many heartwarming stories. For example, the Eatsie Boys have utilized their huge Army vehicle and assisted in rescues in the Upper Kirby and Meyerland areas.
These cowboys and police getting their livestock through Dayton, Texas (northeast of Atascocita) have Texans bursting with pride.
Folks like Arnaldo Richards and Alex Richards of Picos Restaurant who made 600 meals and delivered them to the Houston Red Cross, and to the team at Phoenicia Downtown who prepared nourishment for evacuees staying at the George R. Brown Convention Center.
High-five to the folks at H-E-B – they seem to always come in with support during clutch time – who are not only setting up trucks full of supplies and essentials for Harvey victims but will also have a pharmacy and ATM machines so that Texas residents can slowly begin putting their lives back together when they can return home. The trucks are in Victoria now and will probably head to Houston once they can access the roads and it is safe for their volunteers and employees.
Chef John Sheely of Lowbrow announced they are taking in items for donations to the makeshift shelter at George R. Brown Convention Center starting tomorrow morning. If you're in the Montrose area and want to donate, you can take items there.
Whiskey Cake in Katy handed out sandwiches through the back door for any first responders taking a quick break to grab a bite.
Antone's Po'Boys has picked up 2,000 sandwiches from its commissary and is delivering them while this post goes live to HPD and other first responders. The effort was coordinated by Legacy Restaurants' director of operations Dave Mays and CEO Jonathan Horowitz and a network of friends on social media.
In an effort to prepare, Felix Florez of Ranch to Kitchen and Black Hill Meats was driving all over Texas, moving and reorganizing hogs in order to get them to higher ground before Harvey hit.
THIS amazing act of service from culinary friends, guests and staff of Downhouse today.
Same goes for the crew at El Bolillo who pre-made dough in advance of Harvey knowing they'd want to donate to first responders — and then apparently got stuck for two days at the bakery. We appreciate you!
This in from a reader: "Kolache Shoppe owner Randy Hines went into the Shoppe to bake nearly 400 kolaches by himself! He personally delivered them to ABC 13 (who was in desperate need for food for their crews) and to his local fire department. No photos to share but thought it was still a great deed. Tomorrow (Tuesday, August 29), the Shoppe (located at 3945 Richmond Avenue) will be open at 8:30 am. Randy will once again make kolaches all by himself and sell them until they are all gone."
This from Richard Knight of Baking Bread Pop-Up Series: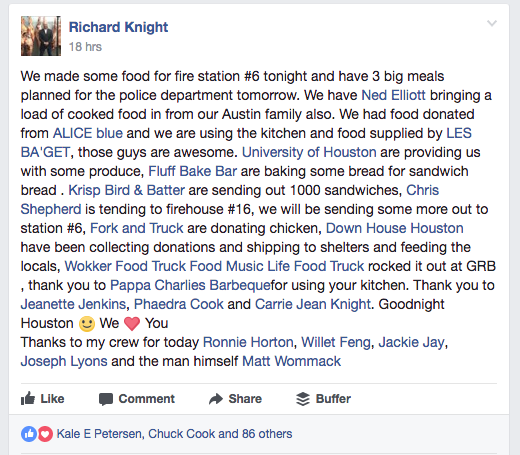 This from a Killen's Barbecue rep: "Starting at 11 today (August 29), Killen's Barbecue is providing free plates of BBQ for first responders. At this time, there are no cashiers on site so they can't accept paying customers just yet. Will let you know should that change." 
And from Dish Society: Today (Tuesday, August 29) Dish Society plans to open both locations at 11:30, near San Felipe and in LaCenterra in Cinco Ranch, to serve lunch and hopefully dinner until they run out of resources. It will be with limited menu and staff, but they'll do what they can to help out hungry neighbors. First responders will eat for free.
At Armadillo Palace, Goode Company will give away barbecue to first responders in uniform from noon "until it runs out" on Wednesday, August 30.
From the good folks at Cane Rosso's Montrose location:

Earlier today Tiny's No. 5 and Coppa Osteria both were accepting donations. Please check their Facebook pages to see if they'll be accepting donations to deliver to Houston Food Bank and George R. Brown Convention Center later this week.
Full operations aren't 100% back at Max's Wine Dive and The Tasting Room, but they are serving limited menus, and cooking for first responders.
The absolutely unbeatable selflessness from Prestige Oysters Inc out of Dickinson who brought their boats and jetskis to aid in Houston-area and Port Arthur rescues, and have loaned their refrigerated trucks to shelters for cold food storage. While they were away, Dickinson was nearly demolished by high winds and had to be evacuated during severe flooding. The headquarters for Prestige Oysters still stands.

Rocking 711 Ranch came out of nowhere and donated 1,000 pounds of beef to Houston restaurants. Wine maven Cat Nguyen of Republic National Distribution somehow maneuvered it to the team at Caracol, who was able to prepare it all and deliver meals to MD Anderson Cancer Center employees. Some nursing and medical staff in Houston have worked 96-hour shifts since Harvey threw himself into town. Caracol and Hugo's teams have been working nonstop to feed those in need since Sunday.
We would like to share more stories about Houston's restaurant and farming communities coming together during Harvey. If you have a story to share or photos we can use, please email details and images to sidedish@my-table.com or tag @MyTableMagazine on Twitter and Instagram, or @My Table ~ Houston's Dining Magazine on Facebook. We've also begun compiling a list of restaurants as they are closed from flooding damage, re-open post-Harvey and fundraise for local and state-wide efforts to support those who have lost so much. Please let us know of your events and status changes.