Last month My Table magazine and SideDish kicked off a monthly how-to video series. Each short-short video — two to three minutes each — demonstrates a culinary technique and/or recipe. In April we began by teaming up with Brennan's of Houston and captured bar chef Richard Middleton's step-by-step process for the classic Mint Julep. For May, just in time for our sultry Houston summer, we learn how to make a proper ca phe sua da (Vietnamese iced coffee) from Cafe TH's owner Minh Nguyen.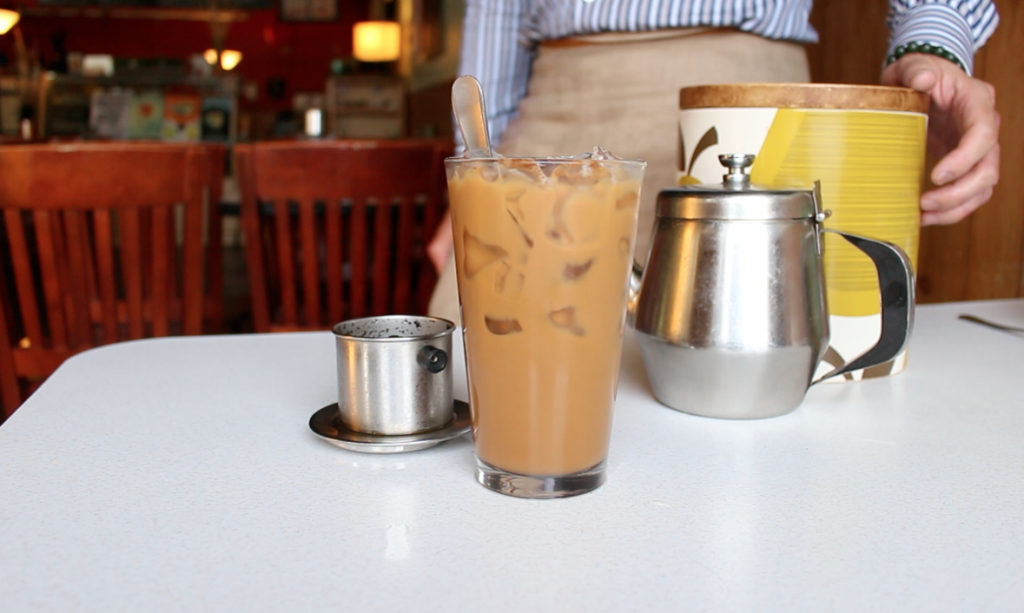 The history of ca phe sua da dates back to the 19th century when French colonists introduced coffee to Vietnam. Fresh milk was not always available, so coffee began being mixed with sweetened condensed milk. Vietnamese iced coffee in its simplest form is sweetened condensed milk and Vietnamese-grown dark roast coffee brewed with a metal French drip coffee filter. And ice, of course.
Ca phe sua da is one of those drinks that always seems to taste better when somebody else makes it for you. To attempt to bridge the gap between chef-made and homemade, we asked Nguyen to walk us through the correct and complete procedure for Vietnamese iced coffee.
CA PHE SUA DA
2 to 3 Tbsp. sweetened condensed milk (Nguyen prefers the brand Black & White, as it lands in the middle of the sweetness and thickness scale.)
2 to 3 Tbsp. dark roast coffee (Cafe Du Monde Coffee & Chicory is the coffee Nguyen uses at the restaurant.)
hot water
ice
*You will also need a drip filter; Nguyen sells these at Cafe TH.
METHOD: Pour the sweetened condensed milk into a tall glass and set aside. Remove the drip filter screen and scoop coffee into the filter. Make sure you can still see the top of the screw. Tap the side of the filter with a spoon to settle the coffee grounds. Then tightly screw the filter screen back on. Set the filter on top of the glass containing the sweetened condensed milk. Pour in a small amount of hot water to moisten the coffee grounds. Let drip until all of the water has seeped through the filter. Next loosen the filter screen a little bit and fill water to the top of the filter. The tighter the filter screen is screwed down, the longer it will take to drip and the stronger the coffee will be.
When all of the water has dripped through, place the filter lid on the table and place the filter on top of the lid to catch any drips. Stir the milk and coffee together well. Add ice and enjoy.