Feeling a little bit on the dark side today? Lighten up with some punny cocktails created by the Nobie's team in honor of May the Fourth. The Star Wars-themed cocktails are available at the restaurant only on Thursday, May 4, but if you're settling in on a galactic movie night or want to drink in honor of the George Lucas empire, you can nerd-out at home using the two recipes shared with us by Nobie's barchef, Sarah Troxell.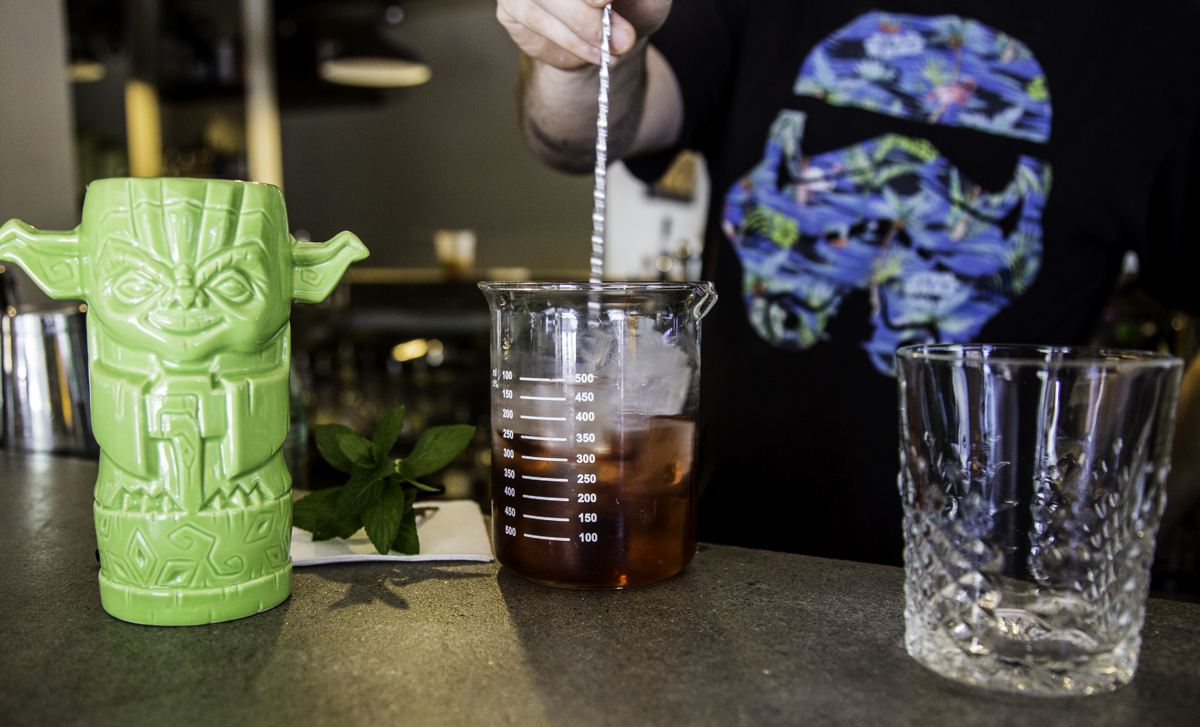 When I asked Sarah if she'd be interested in doing a demo of the cocktails for My Table, she admitted, "I will tell you that Star Wars was never my nerd thing. The drink names are mostly Martin [Stayer, executive chef] and Steven [Bigham, bartender]." As it turns out, the guys are huge fans of the film series. It's not every day that a chef steps out of the kitchen between baking pies to mix us cocktails — Stayer has a strong background in bartending — and Bigham brought his light saber, so we knew we'd be in for a treat.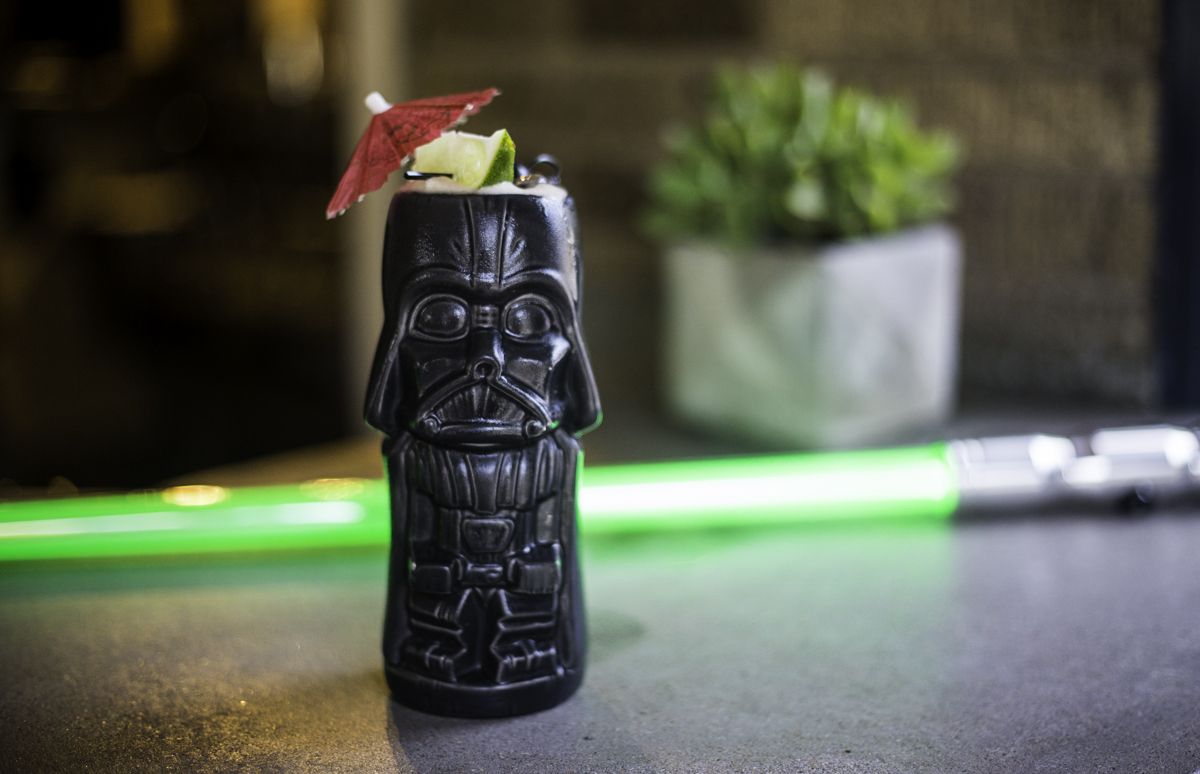 1 1/2 oz. Hamilton Navy Strength Rum
1/2 oz. lime juice
1/2 oz. dry curaçao
1/2 oz. pecan piloncillo orgeat*
1 barspoon of Fernet-Vallet
1 to 2 dashes of Angostura bitters
splash of Topo Chico
crushed ice
METHOD: In a shaker filled with ice, combine rum, lime juice, dry curaçao, orgeat and fernet. Shake well. Fill a vessel of your choice with crushed ice and strain liquid from shaker into the vessel. Add 1 to 2 dashes of Angostura bitters and fill rest of glass with splash of Topo Chico.
*Make your own orgeat using this recipe, substituting with pecans and using piloncillo instead of cane sugar.
---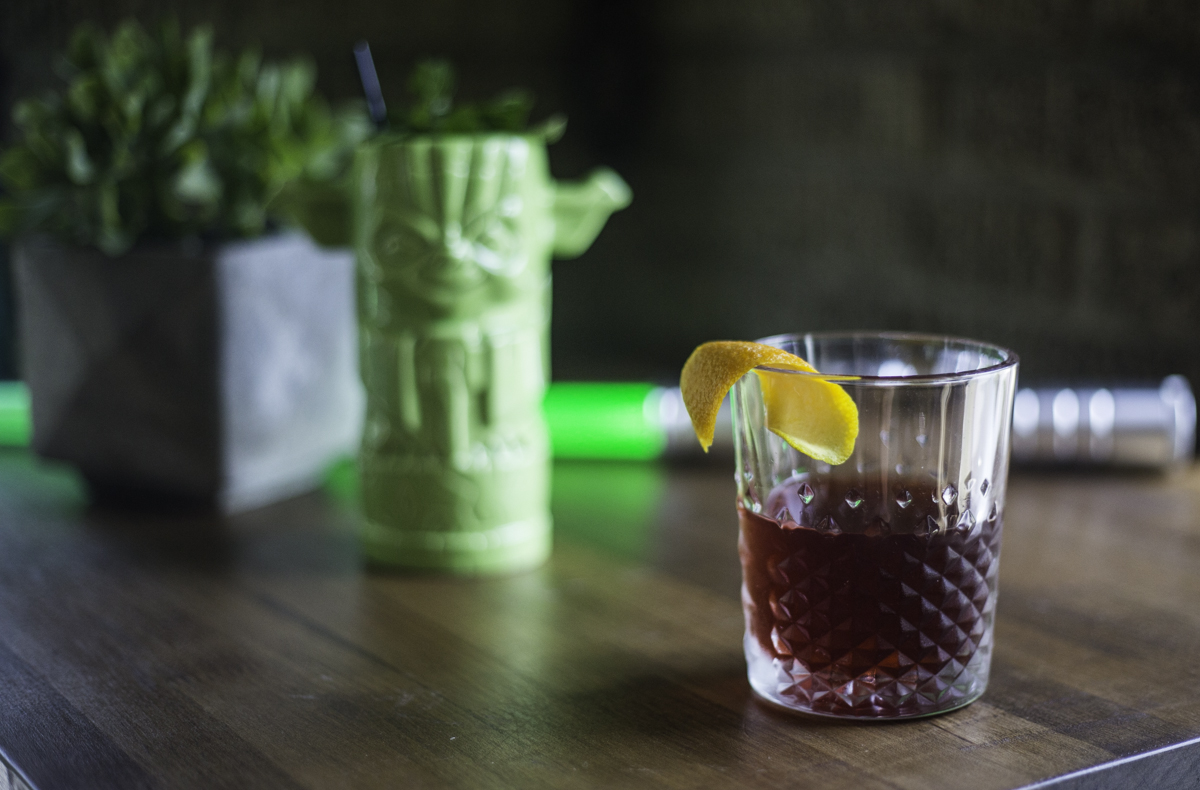 Obi-Wan Negroni (photo above) – Chef Martin Stayer, Nobie's
An extra-boozy spin on the classic Negroni recipe
1 1/2 oz. mezcal
3/4 oz. Campari
1/2 oz. Amargo-Vallet angostura
1/2 oz. pineapple shrub (made by Sarah's Shrubs)
2 dashes of orange bitters
ice
METHOD: In a mixing glass, combine all liquids and ice. Stir well. Strain into a rocks glass, add an orange wedge or orange peel as garnish.
---
Nobie's, 2048 Colquitt Street, 346-319-5919, nobieshtx.com
Hours: Closed Mon.; Tues. to Wed. 5 to 11 pm; Thurs. to Sat.  5 pm to midnight
(No reservations)