Brooklyn Athletic Club?
Why must we pay homage to Brooklyn here in Texas? Of the name, I am not really a fan. Of the restaurant, I am a fan. And I do *get* the name. It goes well with the whole concept; I'm just not too keen on telling my friends I'd like them to meet me at a place with Brooklyn in the name. I'm the child of ex-New Yorkers, but I think the proud, stubborn native Texan inside me is going to win this battle. Maybe we just call it BAC, okay?
I appreciate the Athletic Club part of the name — the place is kitschy and fun and unique to Houston. I love a good patio, and BAC has one: fire pits (with s'mores as a dessert option, to boot) on chilly nights, games such as croquet, bocce, badminton and horseshoes to play during cocktail hour or your lunch break.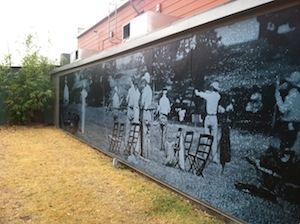 The talent behind Brooklyn Athletic Club is Shepard Ross (owner and co-founder) and chef Jeff Axline. You know these guys: Ross also owns the Glass Wall, and Axline was over at BRC before he moved to Austin and has since returned. The food is hearty and the wine list is carefully chosen. Portion sizes aren't monstrous, but you won't leave hungry, either.
On my most recent visit it was rainy and cold outside; inside, the small dining room was bustling. There's an open diner-style kitchen where patrons can sit at the bar for service and watch everything prepped. This is not a large dining room at all, but long and narrow. It feels as if you're in a tiny, upscale diner surrounded by a large patio. Ross told us that while diners are welcome to sit on the patio now, soon there will be a second bar setup outdoors. For now, waitstaff is working both the dining room and the "BAC yard."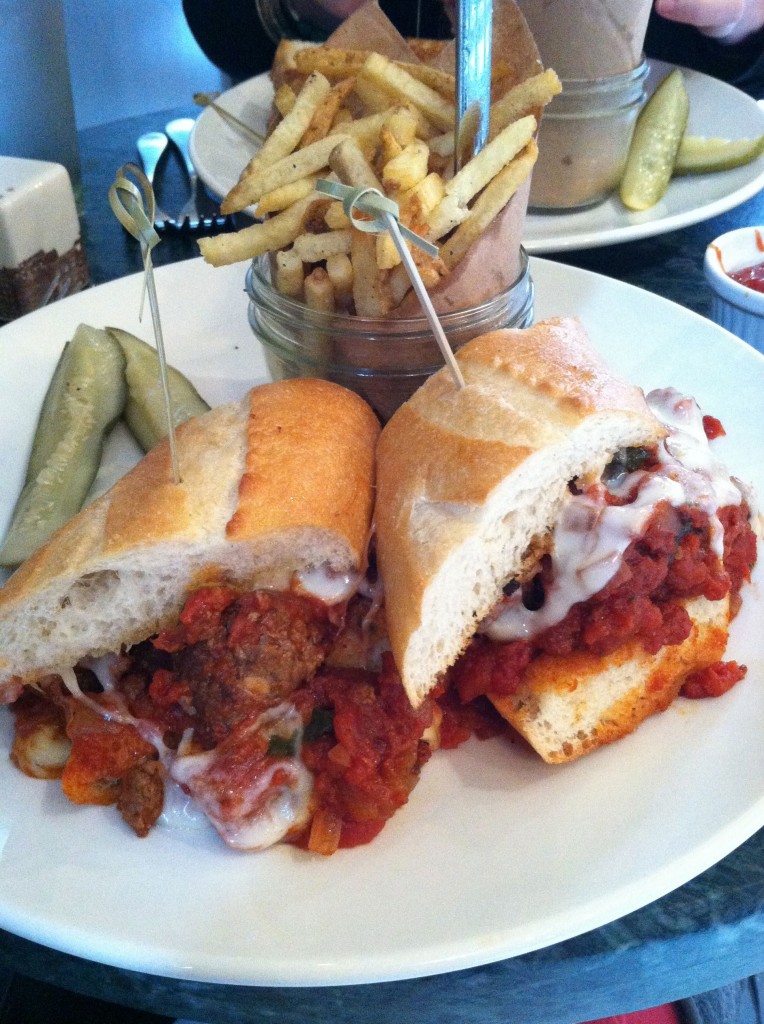 Hot sandwiches were what we craved with such miserable weather, so we ordered the Reuben and a meatball sub. Both arrived with little jars of hand-cut fries and house-made pickles on very fresh, soft bread. These were not meant for eating with your hands — both were dripping with savory dressings and sauce, and there was an ample amount of corned beef escaping from under the eaves of the Reuben. The meatball sub was messy, of course — I used the eat-the-meatballs-first tactic, and then ate the sauce-soaked bread as if it were a piece of bruschetta.
It can be hard to judge a meatball sub. Much like a hamburger, there is a large debate on what qualifications and standards must be present in order to make the mark. For me, it is an equal amount of quality sauce and meatballs. The ratio should be even — I don't like a dry meatball sub, but I also don't want to feel like I'm getting short-changed with too few balls. The meatballs should be tender and soft, and I prefer my sauce chunky. I also am disappointed when a meatball sub comes without cheese; I prefer mozzarella or provalone. One summer, my family vacationed at a lake house in New Hampshire. My mom and I must have tried every single meatball sub in the surrounding towns; we probably tried at least a dozen different versions of the sandwich. I believe that is when my personal standards for meatball subs were set. BAC's sandwich met the mark for me — the only improvement would be a tiny additional salt to the sauce.
But it was the Reuben that impressed us most. The fresh, soft rye bread and corned beef weren't overpowering each other. I'm not too keen on sauerkraut, mainly because it tastes too sour for me. This sauerkraut was tangy, not sour — and instead of mushy, it was slightly crunchy. The best part? Some of the ends of the corned beef were a bit browned and frizzled-crunchy. I love that — limp, salty corned beef is all too common in a Reuben. And the balance of all components in the sandwich was ideal, not too much nor too little of anything.
A declaration: My Table magazine editor Teresa Byrne-Dodge said that this Reuben is the best Reuben she's ever had.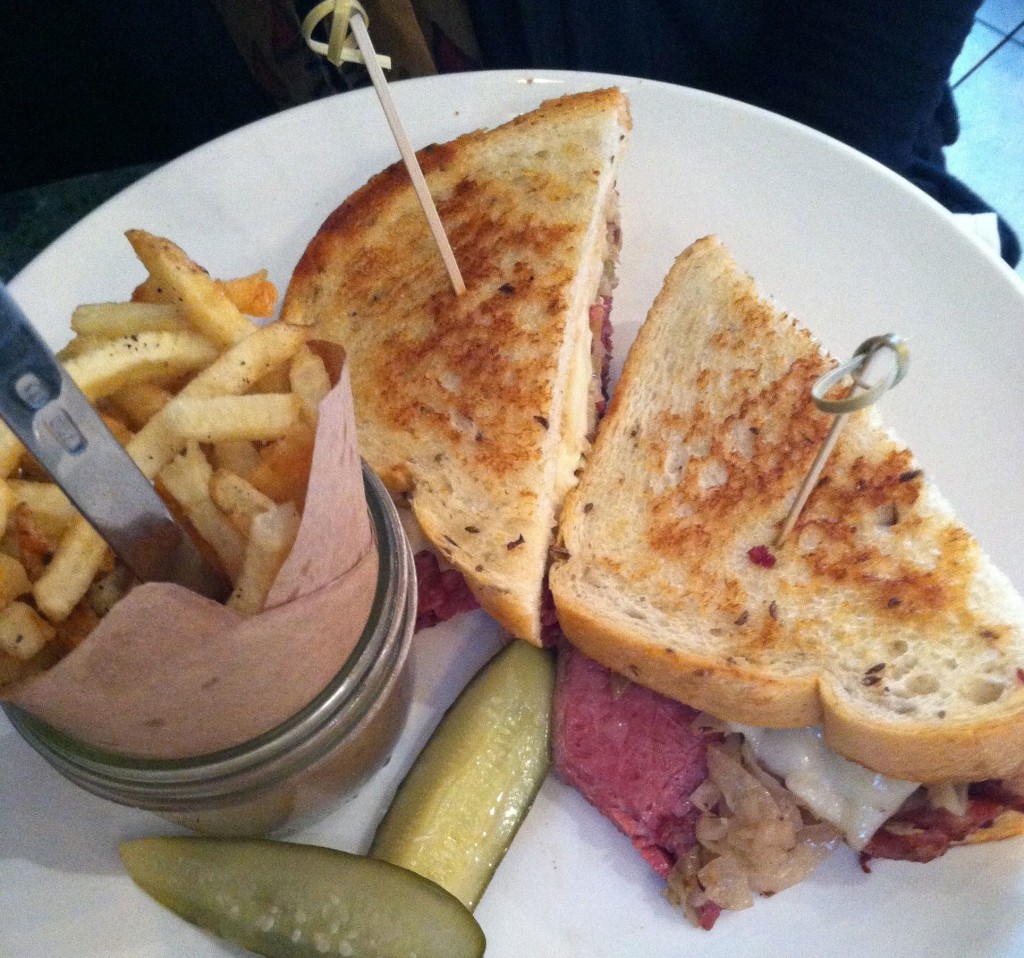 Wondering what that metal object is coming out of the French fries in the photo above? I believe it is actually an oyster fork, which I attempted (awkwardly) to use to eat the French fries. The fries, by the way, were very good. Crispy, warm, finely cut and slightly seasoned.
As if that weren't enough meat and bread to put us into a food coma, we ordered dessert. An innocent multilayer chocolate cake was rich and decadent, so we nibbled on some and asked to take the rest to go. Suddenly we found ourselves sampling the s'mores bread pudding, which the waiter brought to us. Light as air, it tasted just like a s'more. It turns out that Axline invented the bread pudding while the rain was hitting Houston, since the outdoor fire pits were doused and inclement weather made it impossible to safely enjoy traditional s'mores. Well played, BAC.
---
Brooklyn Athletic Club, 601 Richmond near US 59 spur to downtown, 713-527-4440, thebrooklynathleticclub.com