You're probably used to seeing Bobby Heugel and his business partners make headlines. Heugel, Kevin Floyd and Steve Flippo started Anvil Bar & Refuge, which put craft cocktails on Houston's radar and garnered national attention. They, along with chef Chris Shepherd and Michael Burnett, went on to create Underbelly and Hay Merchant.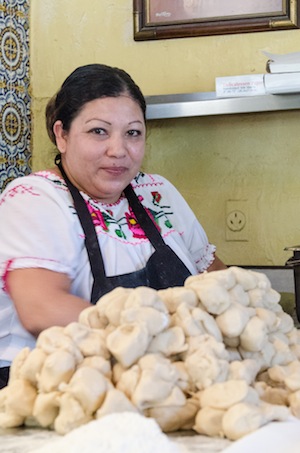 Three more places are currently in the works: Blacksmith, which will feature Greenway Coffee and its principals, David Buehrer and Ecky Prabanto; The Original OKRA Charity Saloon, which had a preview weekend this past August and is tentatively slated to open in December; and Julep, bartender Alba Huerta's future place on Washington.
To say that this is a group of busy people is an understatement. So the announcement that Heugel, Burnett and Floyd would be taking over the operations side of The Original Ninfa's on Navigation and Antone's Famous Po' Boys caught many by surprise. They have been better known for starting new ground-breaking concepts rather than getting involved with established brands.
Yet, if one looks closer, the evidence is clear that preserving Houston history is a high priority for this group. During the backbreaking build-out of Anvil (which Heugel and Floyd did themselves with the help of some very good friends), the back wall was stripped of paint to reveal the original brickwork underneath. Hay Merchant has an old City of Houston manhole cover embedded in a wall of antique bricks and the old Chances Bar sign framework houses the Underbelly logo. But really, did these folks need the operations side of two storied brands on their plate?
"It was because of what these two places are," says Michael Burnett, who helps evaluate business development opportunities for the group. "They feel like the places that we already own. The Original Ninfa's and Antone's really care about their customers and the people who work there. There are people who have worked at Ninfa's for 37 years. Their sons and daughters work here."
Heugel elaborated on how the deal evolved. "I got to know Niel [Morgan, of Legacy Restaurant Groups which owns Antone's and the Original Ninfa's] when I was doing some consulting work and we stayed in touch after that. We recommended that he work with a few people that we use for different types of services. He mentioned the opportunity [to manage the operations side of the businesses] and at first it didn't seem like something we'd be interested in.
"We talked about it more and considered the history and the opportunity to do something different. It was hard to turn down and made too much sense for us. If it had been anything else, the answer would have been no."
But why would Legacy sell a minor ownership percentage of these brands in the first place? "Niel is getting older and focusing on other things in his life," said Heugel. "He was looking for someone who would be a good steward for these restaurants."
"Ninfa's on Navigation is a great place and we want to champion both it and Antone's back to what people remember them as. I think most people know the challenges they've gone through with franchising," said Burnett.
There have indeed been challenges. Here's a brief history: The Laurenzo family, which started the original Ninfa's, entered into a joint venture in the 1980s. The peak of expanding the brand was in 1993, when there were 55 Ninfa's locations. RioStar Corp., the Laurenzo-controlled holding company, filed for Chapter 11 bankruptcy in 1996 and at that point the family lost all involvement with the Ninfa's name.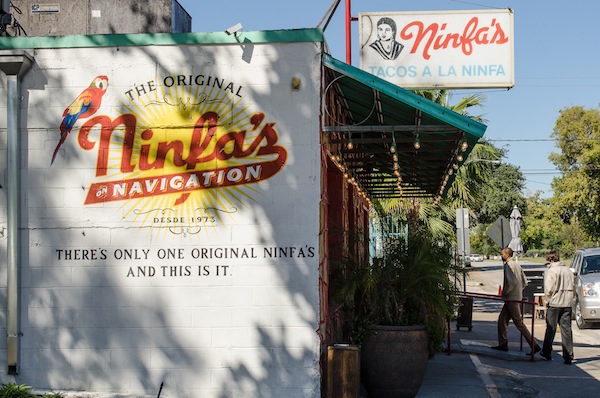 The Laurenzo family now operates four El Tiempo Cantinas, El Tiempo Market and Laurenzo's Prime Rib. Ironically – or not – the Laurenzo family recently announced that they will be coming back to their old neighborhood. An El Tiempo is slated to open just down the street from The Original Ninfa's in spring of 2013.
Antone's went through a similar rise-and-fall. Jalal Antone, now deceased, opened the original Antone's Import Co. on Taft in 1962. It closed in 1993, and the building was later the home of Gravitas, which closed last year. Now it's the home of The Pass & Provisions. The new owners discovered the original Antone's sign and showed their respect for history by having it mounted on a wall inside the main dining room.
At one point, there were several Antone's franchise locations across Houston. Now there are only two, both owned by Legacy. One is off the West Loop at San Felipe, and the other is on West T.C. Jester near 610 North.
What, exactly, are Heugel, Burnett and Floyd responsible for regarding Ninfa's and Antone's?
"Daily operations of the restaurants, which means working with the managers, as well as accounting and human resource needs," said Burnett. "I work at the Legacy offices to handle some of the administrative needs while Bobby tends to be onsite more. Antone's has a commissary that supplies sandwiches to 150 grocery stores. We look at new opportunities for the distribution chain and we want to get Antone's to a place Houstonians will love even more than they do already."
People who have been concerned that the group intends to make big changes to or expand these well-loved brands can lay their fears to rest. "For us, the cultural and social impacts are as important as the financial ones," explained Heugel. "This is about preserving this restaurant. We don't think of [The Original] Ninfa's as a large brand. We think of it as a restaurant that we loved even before we got involved. It's never been a 'brand' in any of our concepts. Antone's is different. It's more like retail. Even when people go into the stores, they buy their prepackaged sandwich and leave."
Burnett elaborated, "We're not going to come in and dramatically change what these places do. These places did well before we got involved. We want to craft them to stay with their rich tradition and history.
"If we were just in it for the money," added Burnett, "we'd start a fast food chain or something like that. There are easier ways to make money!"
Burnett and Heugel also quashed the rumor that they jumped in and saved The Original Ninfa's on Navigation from takeover by Maggie Rita's. While it's a great story, it's not true. Heugel says that those previously franchised Ninfa's locations opted out of their franchise agreement and stopped using the Ninfa's name.
What does the future hold? "Our involvement needs to be a really slow process and our impact as minimal as possible. There is a talented chef here [Ninfa's chef Alex Padilla], and we want to showcase his talents as much as possible," says Heugel.
Burnett agreed. "Alex really cares about this place. He is amazing and deserves to be supported." [Author's note: Chef Padilla regularly competes in cooking competitions and won the 2012 Caesar Salad Competition in the Creative Category.]
So, save your worries for a different treasured restaurant. The Original Ninfa's on Navigation and Antone's Famous Po Boys seem to be in safe hands.