Signing up for a chef's table experience at a restaurant is like entering a contract. You promise to stay for a few hours and pay a substantially higher price than normal for a meal, and the restaurant promises to deliver an unforgettable experience. Le Mistral delivers on its promise.
It took a few tries to successfully get a reservation. Attendees of the recent Offshore Technology Conference kept the chef's table booked for a solid week, and for my part, I was trying to coordinate the evening schedules of four busy professionals.
Thanks to some patience all around, we made it work and showed up on a Tuesday night to be treated to the creations of chef David Denis and his staff.
Denis and his excellent chef de cuisine, Lionel Debon, took pains to customize the meal to everyone's liking, so the meal actually began with a conversation. Denis sat down with a pad and pen and asked us questions about what we would like to eat. Did we like scallops? Yes, indeed. Would we prefer lamb with the foie gras or quail with foie gras? Oh, that was a tough one, but ultimately we decided to go with quail. Some sushi-quality tuna was available. That one made me prick up my ears, as I adore very good lightly seared or raw tuna. Chef Denis suggested that would make for an excellent starter, and thus our meal began.
There's a substantial advantage that another Denis endeavor, Foodie's Bakery, is right next door. I have been to two chef's table dinners at Le Mistral, and both times, the bread has been outstanding. The crust is so bubbly and crisp that it has multiple layers of crunch on the outside and the reward of a warm, puffy center on the inside. When bread inspires its own accolades, you know it's something special.
We started with a French martini, and while I often turn my nose up at vodka-based cocktails, this one was a delightful start to the meal. A bit of pineapple juice along with raspberry liqueur and blackberry purée made for a concoction that was fruity but not cloying.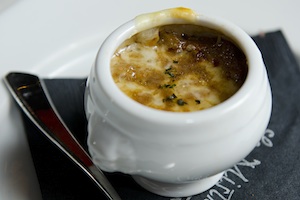 The amuse bouche had not only a small urn of the always delightful French onion soup with its crusty melted layer of cheese, but little zwieback toasts with a swirl of goat cheese, topped with a candied pecan. It was an unexpected pleasure. The sweet, crunchy pecan mingled wondrously with the swirl of goat cheese.
One may not consider raw tuna to be a French dish, but it is if you consider the emphasis on fresh ingredients and healthful eating. The tuna, as it came out, is one of the best things I've had at Le Mistral or, for that matter, any French restaurant in town. It arrived in a martini glass heavily rimmed with toasted sesame seeds. The fish was cut into neat slabs and glossed with a bit of sesame oil and honey.
Next up, chef Lionel presented a dish that proved that lentils are anything but boring. It was the scallop, seared to a beautiful mahogany on the top and bottom. It rested on a bed of mushrooms and was topped with a sprig of baby parsley. Surrounding it was a vast swash of the creamiest lentil purée I've ever had. Nested inside the swath of lentils was a little rivulet of wine sauce, and a paper-thin slice of lotus root adorned the whole deal. It was a marvelous creation.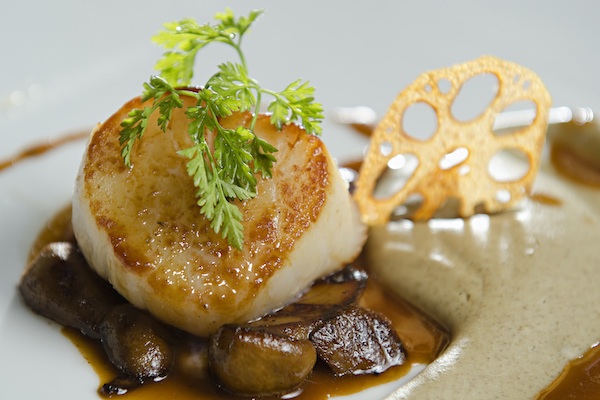 The dish that followed was the quail, and our table was surprised to discover that we probably should have chosen the lamb. The quail was stuffed with the foie gras, and for some reason it had taken on some of the more unpleasant, livery aspects of foie. It was a good dish, but not as outstanding as expected.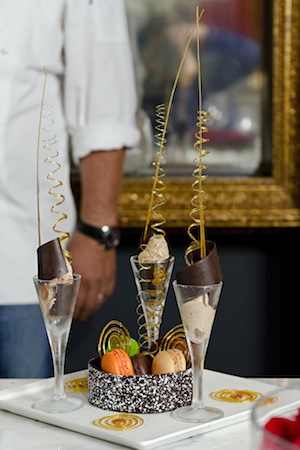 Dessert was stunning. I've had a lot of desserts in this town, and I don't think any have been as beautiful as the carnival-like structure that came out on a plate that night. It was a ring of chocolate, filled with colorful macarons. Cordial glasses filled with chocolate mousse, one for each guest, stood attendance on the same plate. Golden spikes and curls of sugar rose out of each one.
Alas, it seemed like Houston's awful humidity had already starting getting to the macarons a bit, but that was the only flaw. I crunched on the little sugar sticks like a kid.
And yet, there was more, as single portions arrived of other desserts. A thick ring of coppery brown apple domed with a big scoop of vanilla ice cream arrived, as did bread pudding in a light vanilla sauce topped with raspberries. (Bread pudding makes complete sense for Le Mistral to serve, as it is a perfect opportunity to use more of the tasty bread from Foodie's.)
Is an experience like this expensive? Yes. If you enjoy wine with your meal and go for the four-course, you should probably plan on around $150 per person for a group that shares two bottles of wine, plus tax and tip. (The baseline price of the chef's table at Le Mistral is $80 per person for three courses plus amuse bouche and goes up for each course you add. We had four courses.)
Yes, you are paying a lot for a meal, but what you should really be there for is the experience. Some people care about such things; others do not. For those of us who do, though, Le Mistral is an outstanding option.
---
LE MISTRAL, 1420 Eldridge near Briar Forest, 832-379-8322, lemistralhouston.com