Sometimes trying to find a tangible gift for a person who has it all (or who is a minimalist) is frustrating and takes the fun out of giving to others. You could give someone a memorable dining experience instead of a trinket or bobble. Why not give those on your nice list the gift of a meal they'll love or something they can add to their bar? We asked some of Houston's best-known culinarians and food enthusiasts, who made it on your nice list and what would you give that person?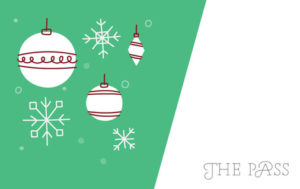 Bobby Matos, executive chef, State of Grace: My wife… and we're going with a few friends to The Pass on Thursday, to splurge. The Pass of The Pass and Provisions now offers a tasting menu for $65 per person or $105 with included wine pairings. Get a digital gift certificate (or an actual gift card mailed) for a friend to enjoy dinner at The Pass – courtesy of you – here.
Eric Sandler, CultureMap Food Editor: I think I might upset some people by listing just one person on my nice list, but I'd probably pick my mother for her constant support and level-headed advice. We'd go to Star Fish both because the food and service are consistently excellent and also because she really loves their key lime pie. Treat someone special to a year-end meal at Star Fish, but make sure you've got reservations. To see our favorite menu items at Star Fish, click here.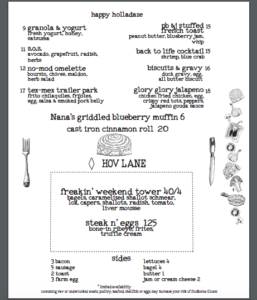 Felice Sloan, blogger, Urban Swank: A person on my "nice' list is Dutch Small. This dude's love for people and Houston is undeniable, and one of the reasons why I love him to pieces! Even though he was stranded in Atlanta during Hurricane Harvey, he set up rescues and countless relief efforts for his beloved city. I would treat him to a fab meal at Star Fish or Nobie's. Dinner at Nobie's isn't complete without trying one of the cocktail-of-the-day creations. Want to treat on your list who loves a good Sunday Funday brunch blowout? Brunch returns to Nobie's the second week of January, and it's one of our favorite brunches in town. See the sample brunch menu from Nobie's, at right. (Click to enlarge.)

Elaine Collum, manager, Yauatcha: Cat Nguyen for all her organizational work with the Kitchen Collective Group, and I would give her a bottled Manhattan cocktail made from Old Forester 1920 Prohibition Edition, Alessio Vino Chinato, and Angostura Bitters. Or, Chelsea Handler for taking a more political stance and not being afraid to be called a bitch or a loud mouth. I'd give her a bottle of Deep Eddy Cranberry because you know that chick loves her vodka and it makes incredible cosmopolitans. Have a bourbon fan on your list? Find Old Forester 1920 Prohibition bourbon, ~$50, at Spec's. You can find Deep Eddy products, Alessio Vino Chinato and Angostura Bitters at Spec's, too.
Mike Raymond, owner, Reserve 101: Shawn Bermudez, one of my favorite people who has the worst luck opening places. (Bermudez's newest Montrose bar project, Present Company, caught fire just as construction was nearly complete shortly after Harvey. It was previously the site of Royal Oak.) A bottle of Fireball? The joke writes itself. No, really, I'd give him a bottle of our Maker's Mark Select, the first time I went to the Maker's Mark distillery, he was with me. You can taste Reserve 101's special edition of their own Maker's Mark Select at Reserve 101, along with about 400 other whiskeys. Then buy a bottle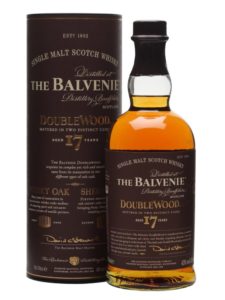 of Spec's Maker's Mark Select for $62. 
Monica Richards, beverage director, Picos: I'd probably have to pick my dad (chef Arnaldo Richards) for this. I'd give him a bottle of Balvenie Doublewood 17 Year Scotch. He enjoys spending time with my fiancé Jason smoking cigars and trading stories while sharing different scotches. Order a few drams of this collector's edition scotch at Reserve 101 and then buy a bottle at Spec's for $150. Want to give the gift of tamales to soak up that scotch? The Picos tamale truck is fulfilling orders now. Find out what flavors are offered this year here. 
Editor's note: Want to send delicious tastes of Texas to your out-of-state friends and family? For many companies, today (December 19) is the last day to get orders out and delivered in time for Christmas. We always recommend Thank-Your-Lucky-Stars pies and gift baskets from Goode Company, and a monthly pie subscription from Royer's Round Top Cafe. Now you can also send 44 Farms storefront items such as steaks, jerky, honey, aprons, hats and more through online orders. Our favorite from 44 Farms? The gift set which includes an apron from Houston-based designer and Project Runway Winner Chloe Dao paired with two 44 Farms USDA choice bone-in New York Strip steaks, $149.