Cherry Pie Hospitality has slowly been taking over all three of celebrity chef Bradley Ogden's concepts that hit Houston in 2014 and 2015 but didn't last long. First, the Southern comfort food spot State Fare replaced Odgen's Pour Society in Memorial Gateway. Next Pi Pizza moved into the strip center location that housed Funky Chicken off Heights Boulevard. And most recently, at the opposite corner of that same strip center, Bradley's Fine Diner has now been replaced with Star Fish Coastal Bar & Kitchen, which kicked off service right after Easter.
Star Fish's expansive – and we emphasize "expansive" – menu highlights a variety of fresh seafood dishes, both classic and creative. There's a fun raw bar program, and the kitchen also boasts a wood-fired grill to impart smoked flavor to seafood and meat dishes. Executive chef here is Armando Ramirez, who has been working with Cherry Pie culinary director Jim Mills to create an exciting, fresh menu. Leonora Varvoutis is Star Fish's general manager and sommelier, and behind the bar is Cherry Pie beverage director Laurie Harvey. Last week we stopped in as guests of the restaurant and got a taste of Star Fish's fare.
Decor at Star Fish mimics the menu – thoughtful, tasteful and fun. The interior has the chic-meets-eclectic look we've come to expect from Cherry Pie concepts – marble, black and white subway tile, metal accents and pops of bright turquoise. It was designed by Cherry Pie partner Lee Ellis and Design Hound, which hails from Austin.
The cocktail menu has two sections that particularly excite us: martinis and gin and tonics. The classic Star Fish martini is made with Fords Gin, Miro Extra Dry Vermouth and lemon zest ($7/$11, photo above). The extra four dollars gets you a cocktail sidecar – an extra shot of your martini, chilled in a dish of ice to use when you're ready as a refill. For subtle salinity, try Leslie's Oyster Shell Martini ($7/$11) made with Aylesbury Duck Vodka, oyster shell-infused dry vermouth and house-made ocean water tincture.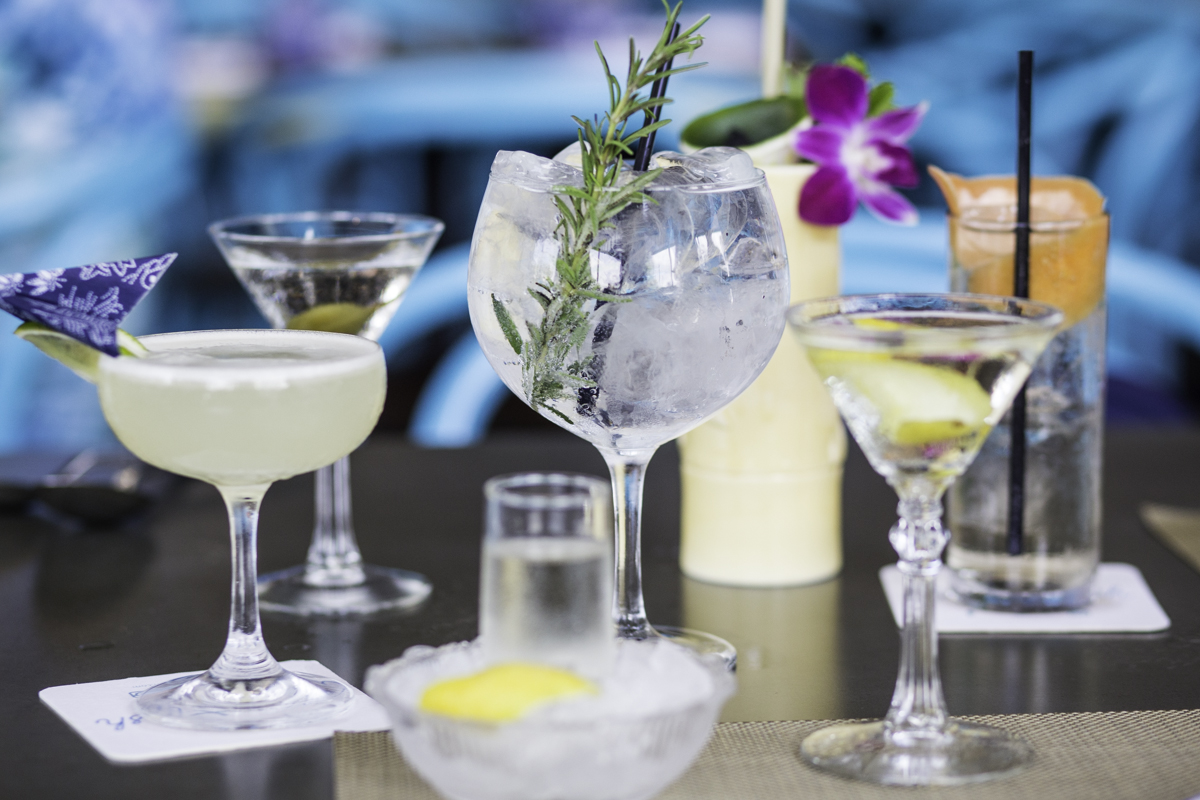 If you like gin and tonic, try the The Celtic Kavanagh ($12, photo above, center) that combines green apple peel, Caorunn Gin, acid phosphate, elderflower tonic and a torched rosemary sprig for garnish. It's fun to sip this light and fizzy cocktail, and we loved the elderflower tonic for its layered bitterness and delicate sweetness.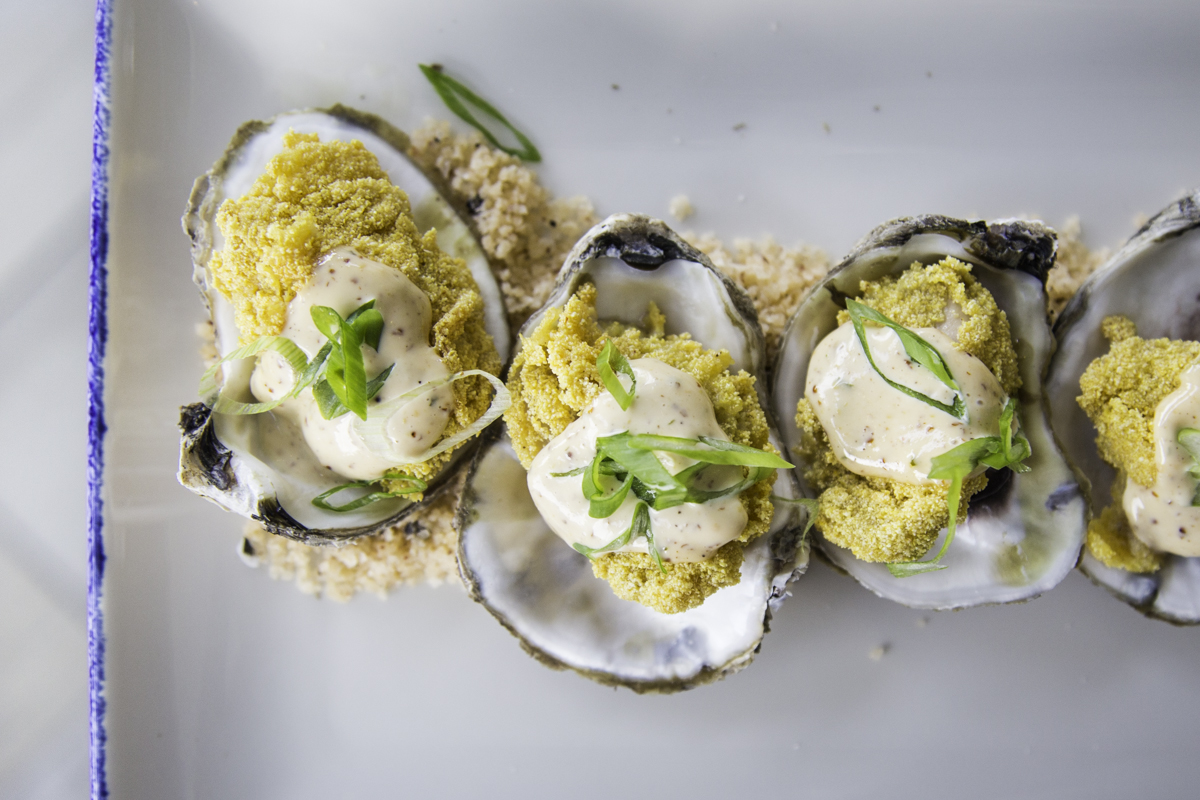 Let's get to the food. Of course, there's a raw bar at Star Fish with options like littleneck clams, Gulf and Atlantic oysters on the half shell, Gulf oyster shooters, chilled seafood platters and seafood cocktails. What makes this raw bar menu stand out are the six signature sauces ($2 each) available. Expect flavors like spicy-limey leche de tigre (yes, it actually contains seafood "juice"), Meyer lemon pesto, sriracha lime and fleur de Chartreuse. You can get your Gulf oysters fried, too ($14, photo above). They are coated in cornmeal and served with a Cajun remoulade.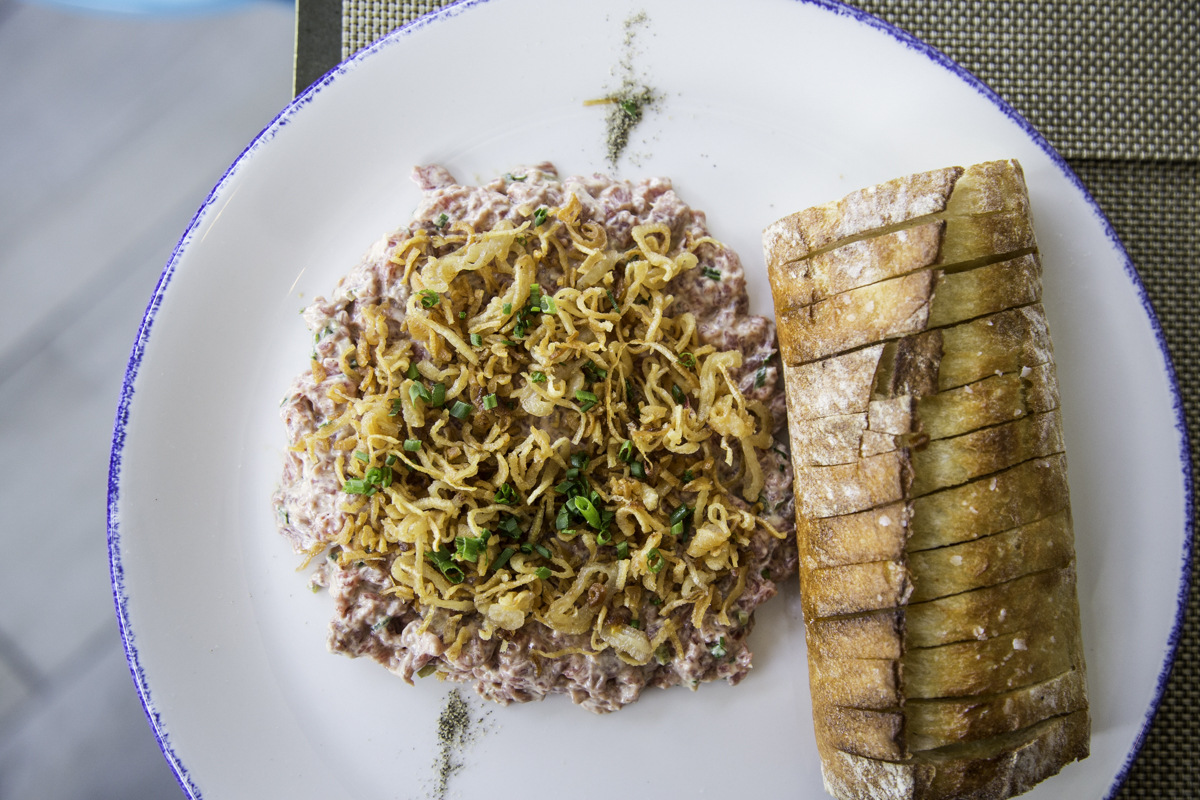 We anticipate many future meals at Star Fish made up entirely of appetizers. The house steak tartare ($16, photo above) is a playful take on the classic dish, served with crispy shallots and toast – it's almost like eating a hamburger. Ellis recommends taking it one step further – he ordered a side of the butter fries and picked up two at a time, almost like chopsticks, to scoop up the tartar. It's a burger and fries, reimagined.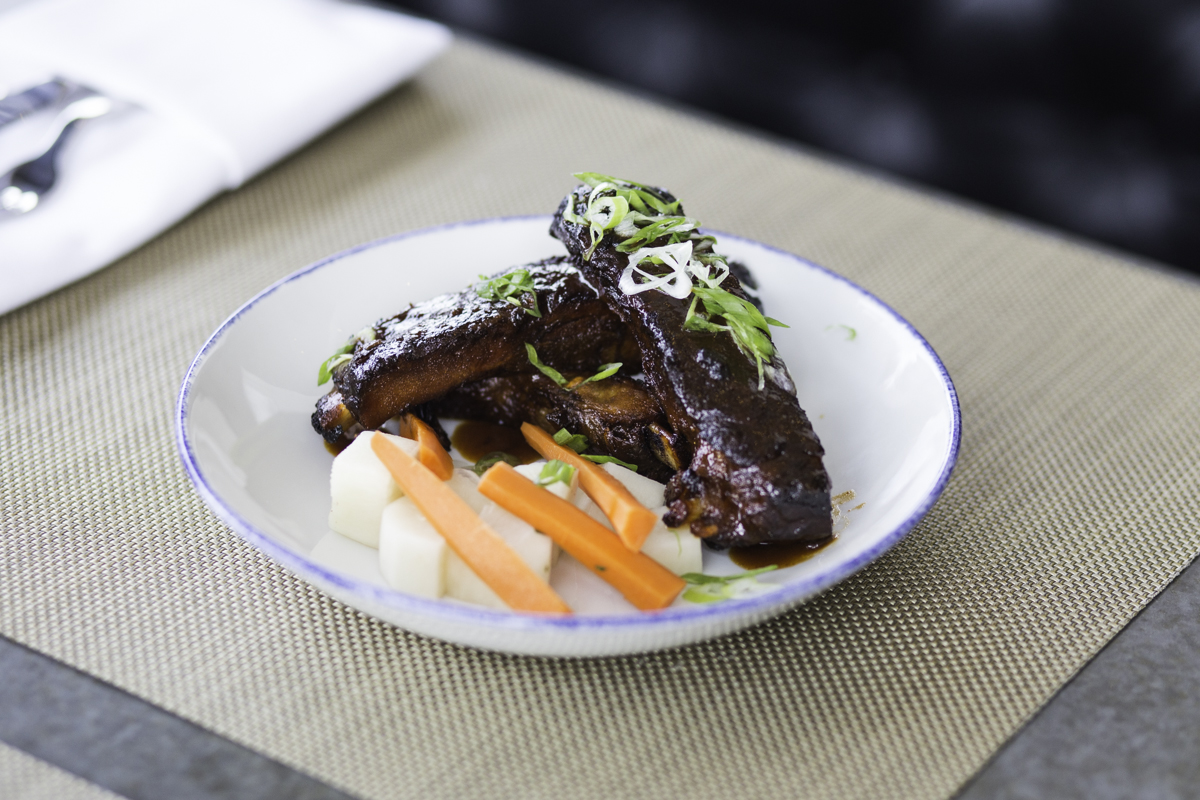 Sesame-glazed spareribs ($12, photo above) will be a pleasant surprise for meat-eaters. The sticky glaze is similar to a sweet-smokey Korean barbecue sauce, and there's just the right amount of fat on each rib to add moisture and flavor. We know the restaurant's tagline is "coastal bar & kitchen," but these ribs will be an extra reason we return.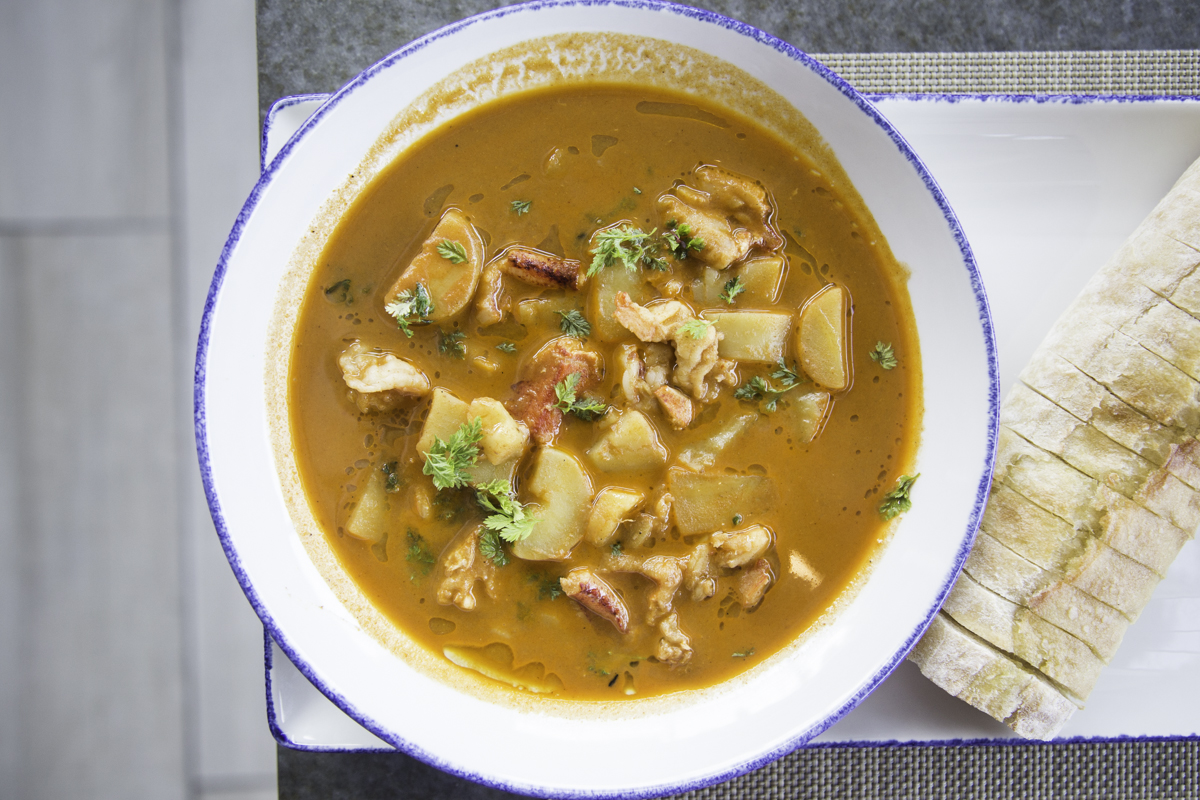 The shrimp and lobster soup ($18, photo above) with tomato, cream and fingerling potatoes is rich and buttery. We also recommend the jumbo lump crab meat and avocado salad ($19, photo below) served on sweet-sour Japanese cucumber salad. The two dishes together make a winning combination – a tartly refreshing seafood salad with a luscious bowl of seafood soup.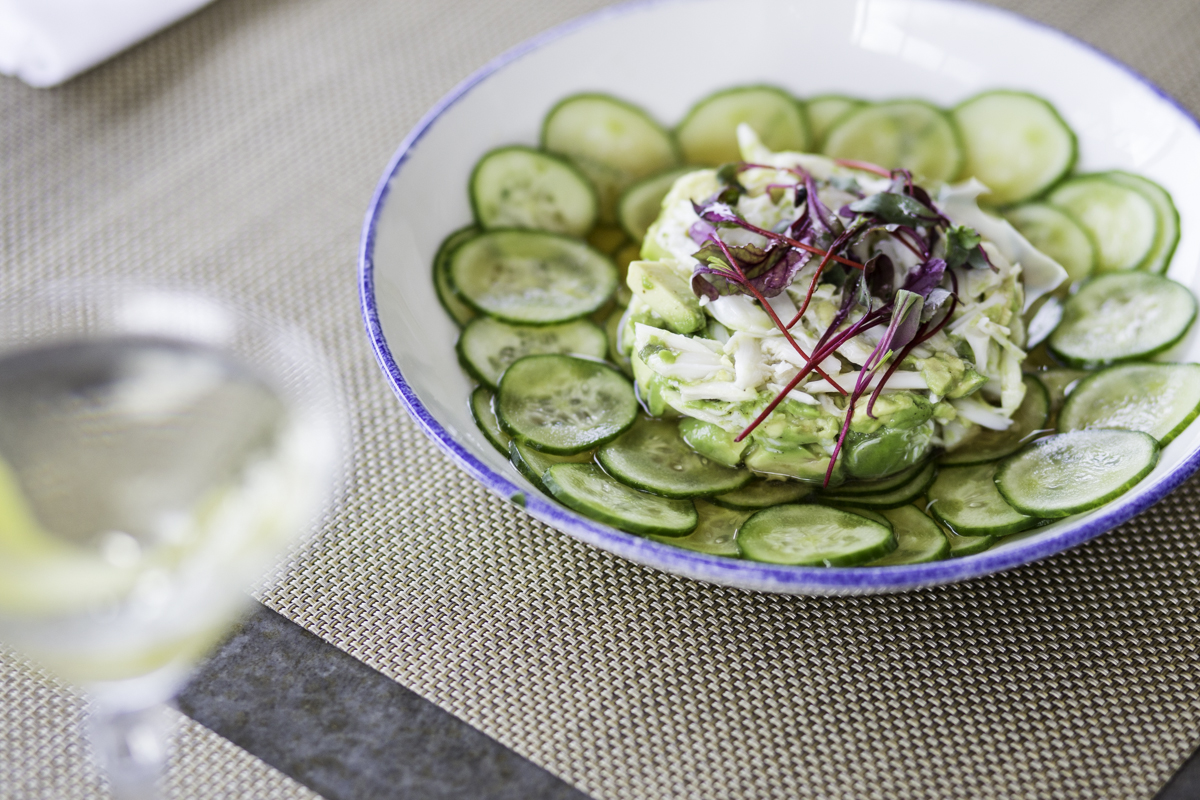 Flip the menu over and dig into the entrees, pastas and sandwiches. It's easy to be overwhelmed, but we have a few suggestions: The pan-seared diver scallops ($32, photo below) are a good choice if you have over-ordered on the apps. They are basted with a subtle jalapeño glaze and plated with Ruby Red grapefruit segments and wedges of crisp-fried avocado. What a complex dish, with silky and juicy textures and sweet, acidic and spicy flavors, each bite shifting the balance.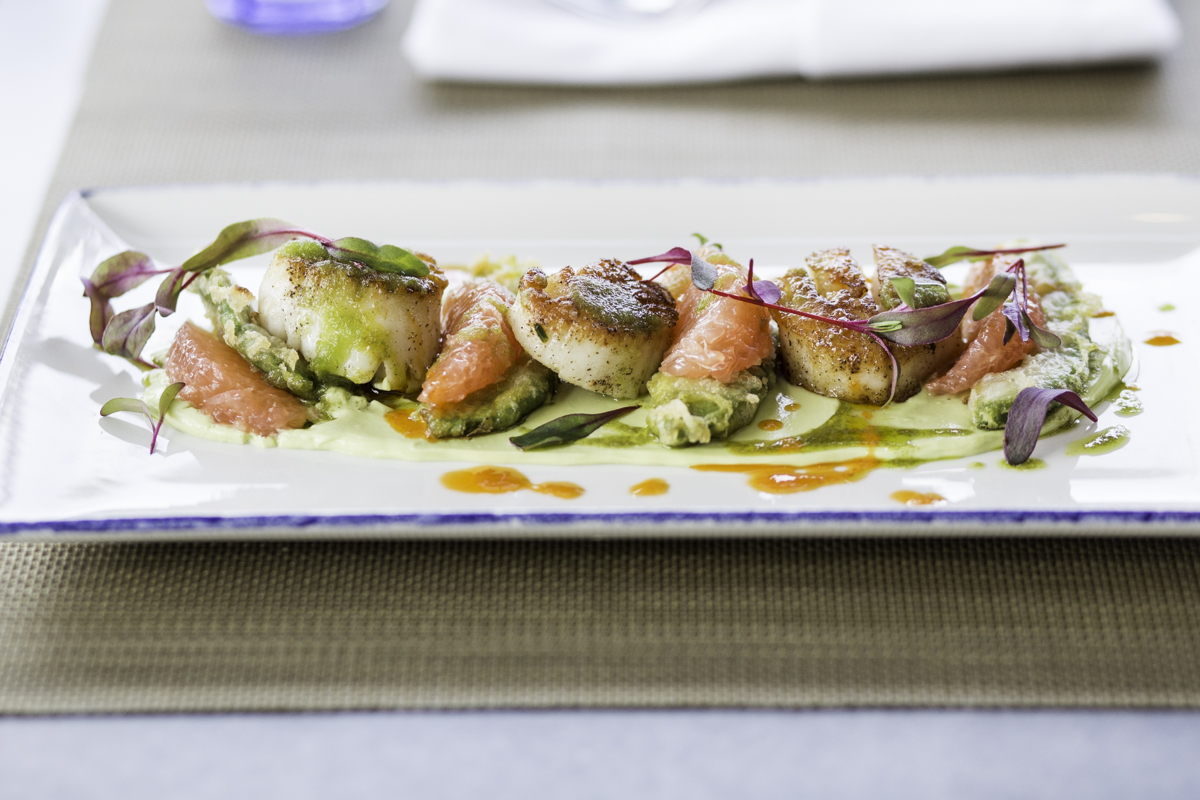 You might think of the ahi tuna entree ($29, photo below) as this seafood restaurant's signature steak and potatoes dish. Four big medallions of meaty ahi tuna come with grilled broccolini, roasted fingerling potatoes and peppercorn cream sauce. (Of course, this is Texas, so there is real steak on the menu as well.)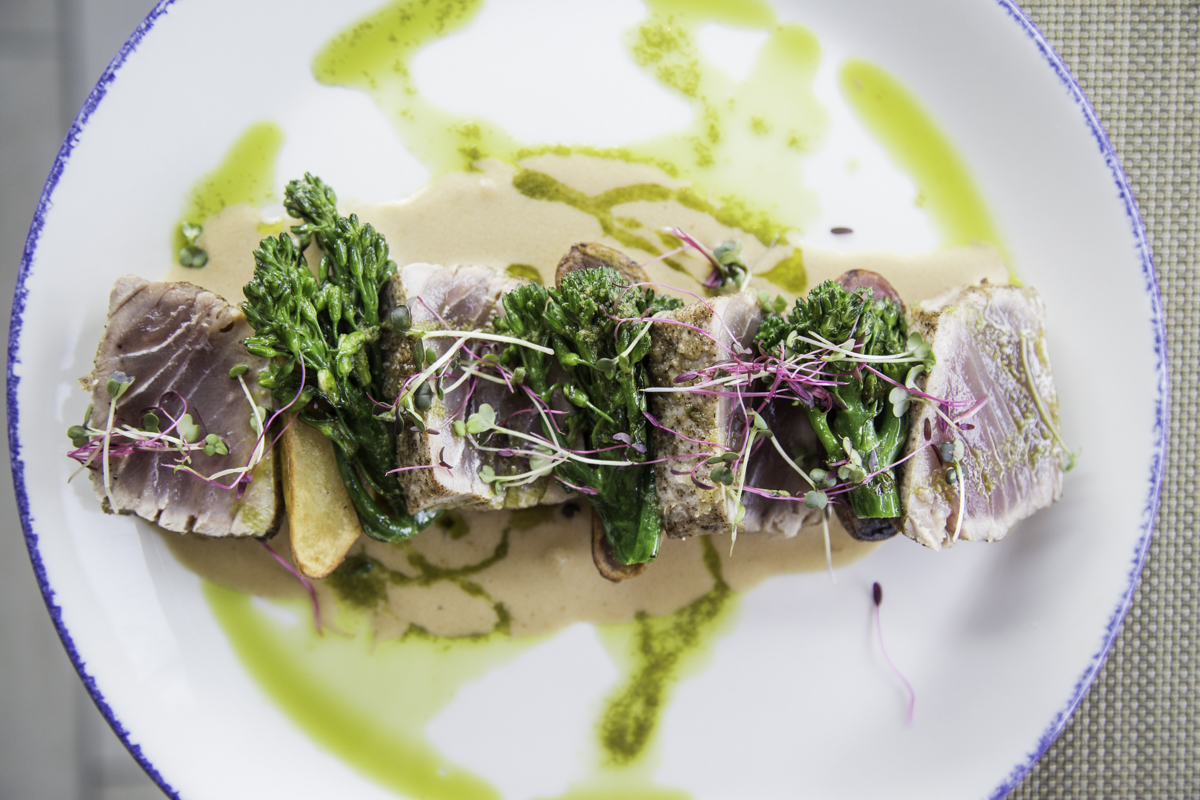 Bouillabaisse ($43, photo below) is a generously populated toss of halibut, lobster, shrimp, clams and mussels in tomato-saffron broth. Enjoy the oversized crouton smeared with garlicky rouille.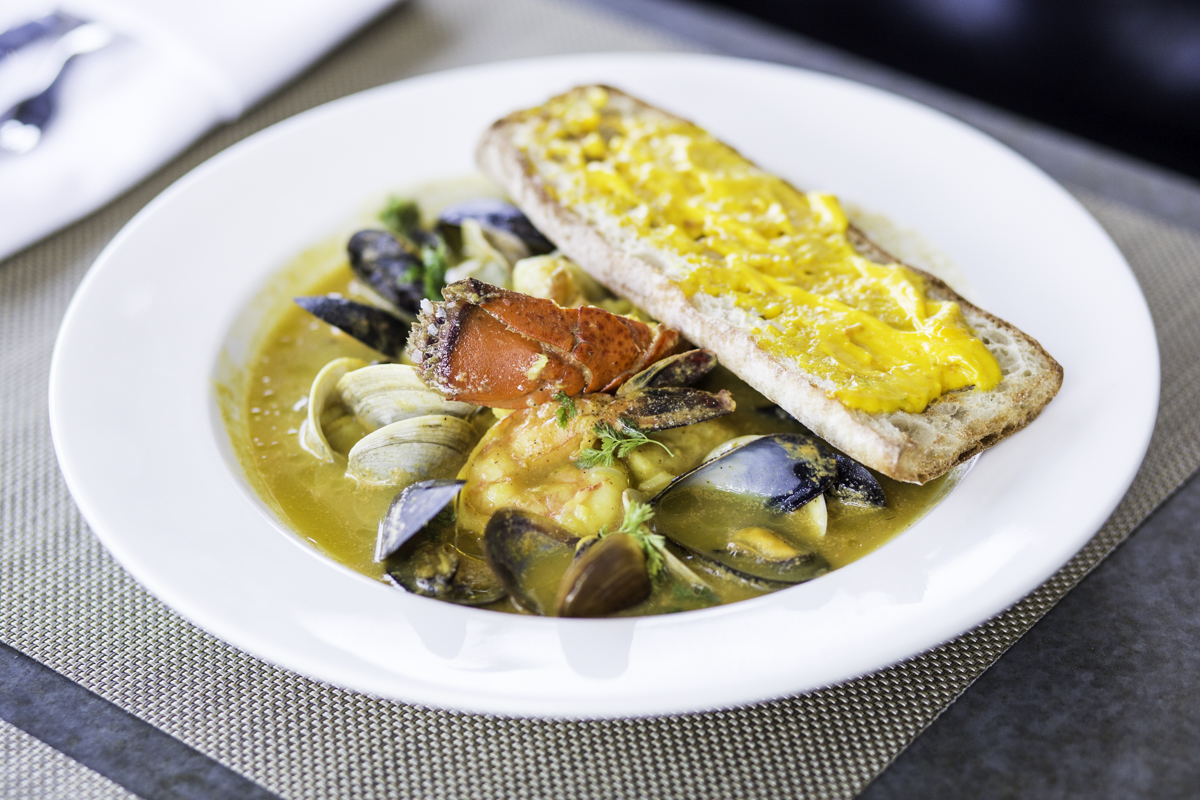 If you crave some turf with your surf, there are wood-grilled lamb T-bones ($36, photo below) served with a warm salad of farro, golden raisins, pistachios and herbs.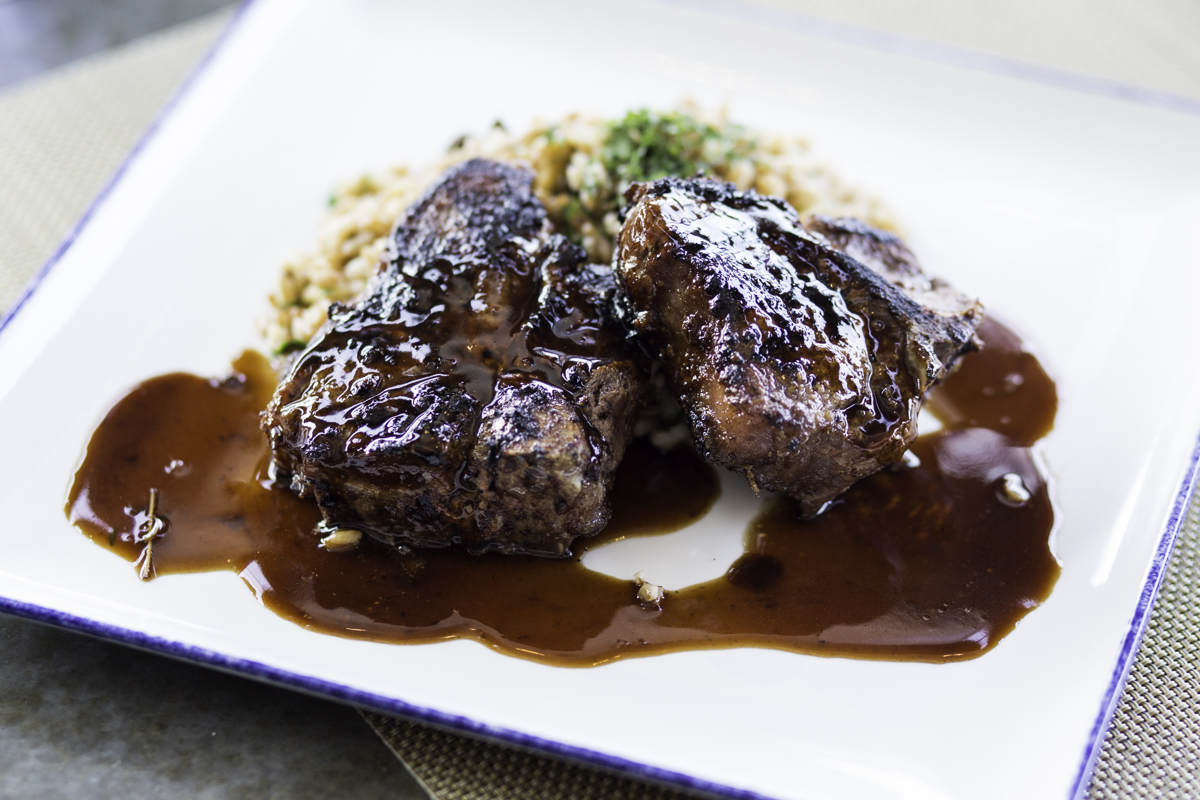 After trying the sweet red pepper-roasted Gulf shrimp ($21, photo below) with garlicky noodles and chives, we can't wait to get back and explore the rest of the pastas. Think of the buttery, garlic spaghetti your mom used to whip up for family dinner, topped with sweet shrimp. We also appreciate the Star Fish kitchen's attentive peeling of the shrimp – they've removed all of the shell (but kept the tail on for presentation), so no need to use your fingers to pinch out the small bite of shrimp that typically hides inside the last half-inch of shell.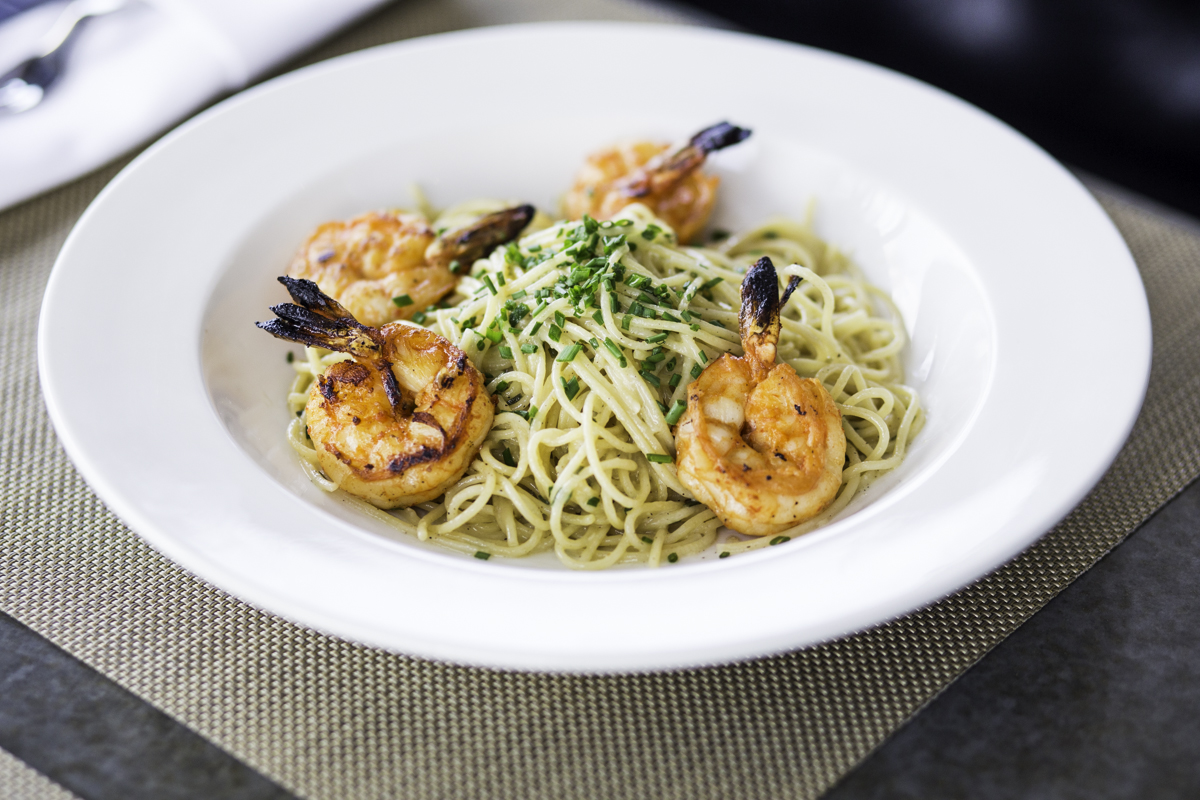 You could make a meal of the sides here, too. The sautéed cauliflower steaks ($8) have a North African flare, dressed with lemon, dates and capers; likewise, Moroccan spices and seasoned yogurt jazz up the braised heirloom carrots ($9). Bacon, sour cream, cheddar and chives make for the butteriest, cheesiest twice-baked potato ever ($8), but let's not forget about those butter fries ($8) we mentioned earlier: They are cooked in butter, twice.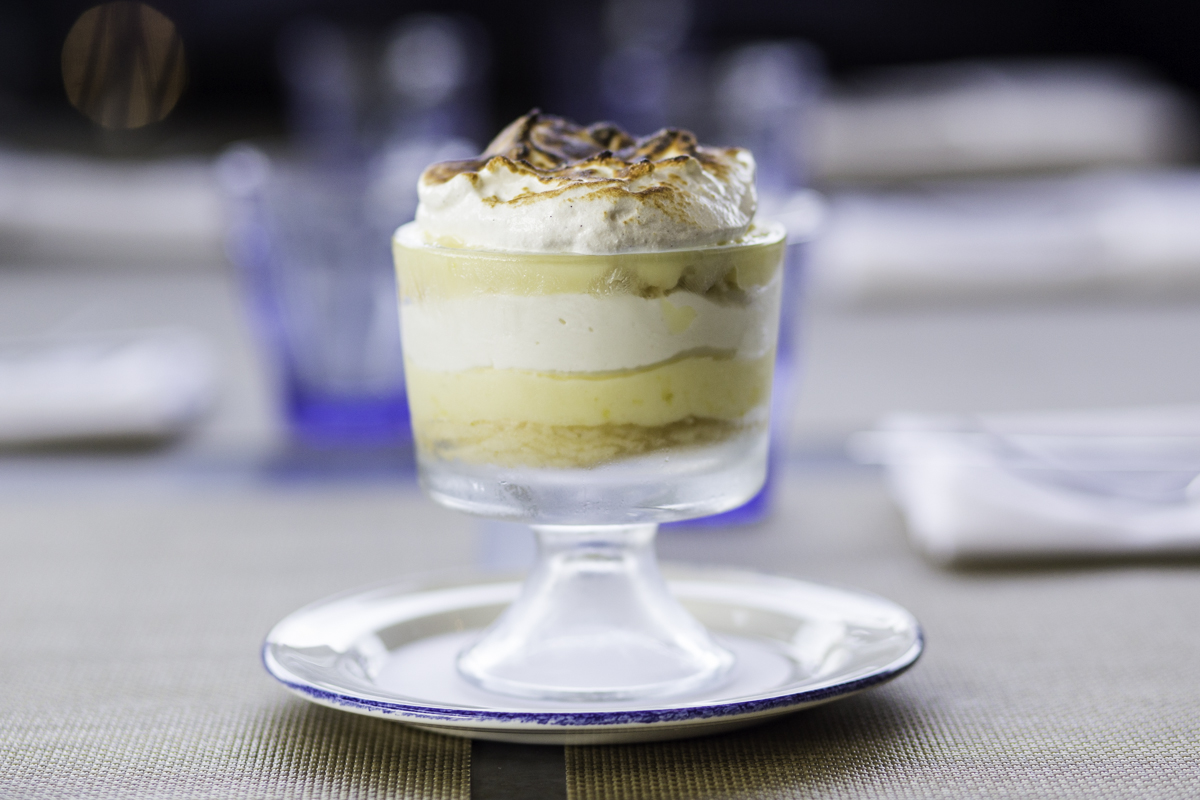 Desserts at Star Fish come from Petite Sweets on West Alabama, also a Cherry Pie concept, and the choices rotate regularly. After such a filling meal – we bet you'll experience the same lack of control that we did – a bright, tart lemon trifle (photo above) and an espresso with a lemon twist was the perfect ending. Star Fish, you sure do shine bright.
---
Star Fish, 191 Heights Blvd. just south of I-10, 832-831-9820, starfishhouston.com
Hours: Sun. to Wed. 4-10 pm, Thurs. to Sat. 4-11 pm