Holidays that have their own category of candy — Valentine's Day, Easter and Halloween — account for massive retail sales for candy companies like Mars and Nestle. Holiday candy is often sentimental and even a bit emotional for some, as it reminds us of our childhood. Who doesn't love Peeps in their Easter basket? Some of us munch them contemplatively on Easter morning, and some of us microwave them.
Candy corn, that Halloween mainstay, is notorious for being addictive. The resulting sugar crash after  over-indulging in the vegetable imposter should prevent us from repeating the behavior, but, alas, we reach for just a few more.
Candy hearts with flirty phrases and red heart-shaped boxes of chocolates are often better than an actual date on Valentine's day. For the romantically-challenged: pajama pants and chocolate with a glass of wine? Yes, please. Let's just by-pass the awkward dinner.
We've made a list of locally made Halloween confections that you can indulge in while avoiding the guilt that comes with eating half a bag of peanut butter cups. Buy yourself and your sweetie a playful treat and save the bagged supermarket candy for the trick-or-treaters.
Araya Chocolate
Dia de Los Muertos is in full swing at Araya. On our treat list is the large Day of The Dead chocolate gift box, with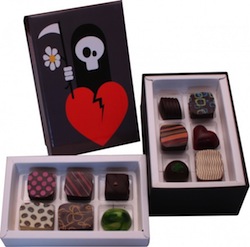 specialty artwork by Mexican artist Fernando Robles. Chocolates are $28 for 12 and $48 for 24. You could swap out chocolate for macarons (imported with loving care from France) and assemble a box of 15 macarons for $34. Both dark and milk chocolate hand-painted pumpkins are available for $12. You can pick them up at Araya at 2013 West Gray or order them online here. For a list of Houston-area shops that sell Araya products, click here.
Fluff Bake Bar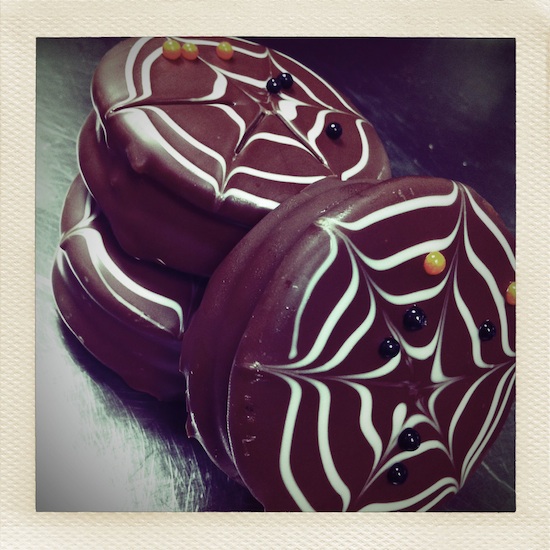 Devilishly cute are these moon pies we spotted on Twitter last week from pastry chef Rebecca Masson. Childhood nostalgia meets quaint with these chocolate-covered marshmallow and graham cracker sandwiches. With orange centers and white chocolate "spider webs," who wouldn't smile at this tricky smore-like sweet treat? You can purchase these moon pies at Revival Market (beware that they sell quickly!) for $3.25 each, or order them online on the Fluff Bake Bar website. 
Jodycakes
Baker Jody Stevens has got more up her sleeve than just vegan, gluten-free and dairy-free baked goods. For the fall season, Jody is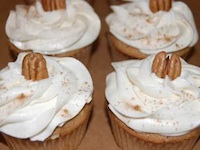 baking bountiful trays of pumpkin maple and cardamom spice-flavored cupcakes (shown at left), as well as mini "mummified" red velvet cupcakes ($30 for 24). To inquire about special dietary needs and to order online, visit the Jodycakes website. She's able to deliver to your office or home — wherever you're having a Halloween soiree. Delivery charges range between $5 and $10.
Michael's Cookie Jar 
Master of cookies Michael Savino is betwitching zombies large and small with his collection of Halloween cookies, including all-butter cut-outs, sugar leaves, ginger molasses cookies and his signature "candy corn" shortbread. An assortment of 12 is $19.99, available through the Michael's Cookie Jar website, or visit the bakery at 5330 Weslayan (corner of Weslayan & Bissonnet, behind Petco).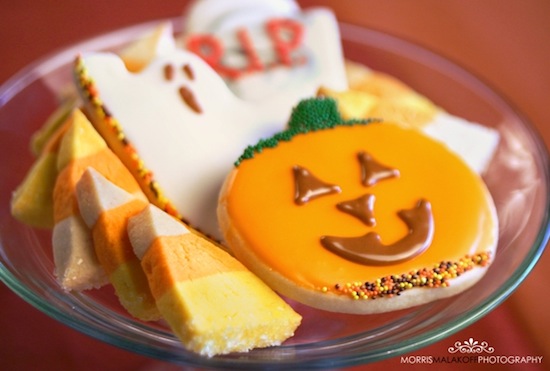 Ooh La La Dessert Boutique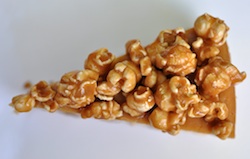 With a location set to soon open in the CityCentre/Town & Country shopping area, things are bubbling and toiling at Katy-based Ooh La La. Most notable are the candy corn cheesecake, spider web Boston cream pie (there's a cupcake version, too, of course), caramel toffee popcorn and caramel toffee popcorn cheesecake (shown at left and $5.95 per slice). For location information and the whole Halloween collection, visit the Ooh La La website.
Petite Sweets 
These speak for themselves: Cake pops in Halloween fashions can't fail. Also offered are wee cupcakes (no guilt, right?), macarons and cake balls. Specialty cake balls and cake pops such as the jack-o-lantern and owl shown below are $2.75 each. Susan Molzan recently opened Petite Sweets at West Alabama and Kirby, so be sure to go give her a warm welcome. To order and see more spooky sweets, check out the website.
Dessert Gallery
Pastry chef Sara Brook has long wielded witchy powers when it comes to concocting some of the most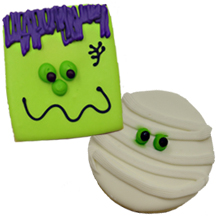 mesmerizing desserts in Houston. Check out the Dessert Gallery website and you can ogle — calorie-free — the silly "fanci-pants" cupcakes (innocent cupcake spookies peek at you from their paper wrappers) and a mash-up of monster cookies (shown) that come in a variety of characters. A dozen of your choice of Halloween cookies is made-to-order and costs $35.40.
Three Brothers Bakery
Teen Wolf fans will recognize the greatness here. Three Brothers Bakery is putting the werewolf — amongst several other beasts you can see here online — on the surface of cookies. These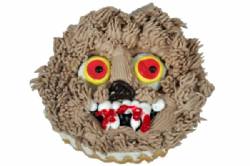 particular howlers are gingerbread cookies dipped in white chocolate and then decorated in buttercream (priced at $4.95 each). Or maybe you'd be interested in the four-pack of "designer cupcakes"
available in white and chocolate cake for $26. You'll get one Frankenstein, one pumpkin, one bat on the fly and a somewhat disturbing rat. I'd eat the rat first because it is pretty unsettling to look at in a pastry box … and I always enjoy a sugary frosting frenzy.