Editor's note: When this recipe for croquembouche ran in our December 2016-January 2017 issue, it was intended to inspire readers to create their own show-stopping centerpieces and desserts that evoked the celebratory mood of winter holidays. But why present this masterful tower just during the winter months? Croquembouche is also an appropriate dessert for bridal and baby showers, as well as Easter. If you're hosting a spring event, forego the ever-so-common tier of cupcakes or platter of macarons and start stacking profiteroles.
This recipe is courtesy of David Cordua and Almendra Callirgos.
---
This is the season for special sweets, and none is more beautiful – or delicious – than a croquembouche (say: crock-om-bush). From the French croque en bouche, meaning "crunch in the mouth," this elegant dessert is a conical tower of small profiteroles (cream puffs) traditionally served at special occasions in France, where no wedding, baptism or first communion is complete without it.
Its pièce de résistance – glistening golden spun sugar that spirals from top to bottom – makes the croquembouche a festive work of art. In Great Britain it has become a popular dessert over the Christmas holidays. Because it's shaped like a Christmas tree, it's a showstopper, reflecting light and joy.
A couple of Cordon Bleu-trained Houston chefs have mastered the croquembouche and shared their recipes and tips with us: David Cordúa is a graduate of Le Cordon Bleu in Paris and executive chef at his family's Cordúa Restaurants, while Almendra Callirgos, Cordua's executive pastry chef, graduated from Le Cordon Bleu Peru in Lima. Many oohs and aahs could be heard behind the clicking of smartphones as the tower came together.
The croquembouche is made of several components: light and airy profiteroles; sweet vanilla pastry cream that is piped into the profiteroles; deep amber caramel, which is the glue that holds the structure together; and a spiral of delicate and lustrous spun sugar that envelops it. There's a delightful contrast in textures between crunchy caramel on the outside and the vanilla cream filling inside the profiteroles.
Profiteroles are made with pâte à choux (putt-a-shoo) – the same soft dough used to make churros, éclairs and cheesy puffs called gougères. Because the recipe makes about 150 small profiteroles, you will need to bake them in two batches, using two pans at a time.
The super glue of the pastry chef's kitchen – blistering hot liquid caramel – does a quick and efficient job of bonding the profiteroles. It dries very quickly and stays put until cracked. Please be aware that working with hot caramel requires great caution. Wear gloves and proceed carefully.
Somewhat time-consuming to make, parts of the croquembouche can be prepared in advance. Assembling it, however, must be done only few hours before serving. I recommend starting with the pastry cream. Make it at least one day and up to three days in advance, so that it's completely cold and very thick. The profiteroles can be made one day in advance, cooled completely and stored in an airtight container. If they have softened by the next day, simply reheat them in a 250˚F oven to re-crisp before filling.
As David and Almendra worked together, joking back and forth with their staff in their native Spanish, it occurred to me that that this could be a fun activity for friends and family during the holidays. I envision the spirit of the season bringing friends together over cheese, wine and croquembouche.
---
CROQUEMBOUCHE   
(Recipe makes one 20-inch pastry)
Pastry Cream
3 cups (720 grams) whole milk
1 vanilla bean
8 egg yolks
1 cup (200 grams) granulated sugar
6 Tbsp. (50 grams) cornstarch
2 Tbsp. (28 grams) unsalted butter, room temperature
METHOD: Pour whole milk into a medium saucepan. Slit vanilla bean in half lengthwise. Scrape the seeds with the tip of the knife and add seeds and vanilla bean to milk. Bring milk mixture to a boil; remove from heat to cool slightly.
Meanwhile, beat egg yolks and sugar with a wire whisk in a bowl. Add cornstarch and whisk until mixture is smooth. Slowly add hot milk, little by little, while whisking constantly, until the egg mixture has warmed and thinned a little. Pour warm egg mixture into the saucepan with the milk and cook over medium heat, whisking constantly, until the mixture becomes very thick and creamy. Remove from heat and add butter. Whisk until butter has melted.
Cover pastry cream directly on its surface with plastic wrap and allow it to cool completely. Refrigerate until needed. (If using pastry cream the same day, cool pastry cream by placing the pan in an ice bath – a bowl filled with ice and water. Stir constantly until pastry cream is cold. Cover and refrigerate until needed.) The pastry cream can be made three days ahead.
Pâte à Choux
1 cup (240 grams) water
1 cup (250 grams) milk
8 ounces (2 sticks; 226 grams) unsalted butter
1 Tbsp. (15 grams) salt
1 Tbsp. (15 grams) granulated sugar
2 cups (230 grams) all-purpose flour
8 (400 grams) large eggs
2 egg yolks (for egg wash)
METHOD: Heat water, milk, butter, salt and sugar in a medium saucepan until butter and sugar are melted and it begins to boil. Remove from heat. All at once, tip the flour into the milk mixture and stir vigorously with a wooden spoon until it forms a thick dough. Return to medium heat and stir for about 3 to 5 minutes or until it forms a ball that pulls away from the saucepan and leaves a thin film on the bottom of the saucepan. Remove from heat and transfer dough to a mixing bowl of a stand mixer (or large bowl if using a hand-held mixer). Beat the mixture on medium-low speed to release steam and to cool the dough, about 5 minutes. When the dough is warm to the touch, add whole eggs, one by one, beating well after each egg has been added. This will aerate the dough and allow the puffs to rise in the oven. The dough will be sticky.
Preheat oven to 350˚F. Line two (or four, if you have two ovens) 13 x 18 pans with parchment paper. Transfer dough to a piping bag with a ½-inch tip. Pipe dough onto pans using a circular motion until the dough mounds into about 1¼ inches in diameter, leaving about 2 inches between mounds.
Combine egg yolks with 2 tablespoons water to make an egg wash. Smooth the tops of the mounds by gently brushing the tops with egg wash. Place pans in oven and check after 15 minutes. If the puffs have doubled in size and are uniformly golden-brown, remove them from the oven. (Repeat baking method with two more pans, for a total of four.) Cool puffs completely. Can be made a day ahead – if the profiteroles have softened overnight, bake them on trays in a 250˚F oven for about 15 minutes. Makes about 150.
Caramel
(Prepare the caramel when ready to assemble the croquembouche.)
2 ½ cups (500 grams) granulated sugar
¼ cup (80 grams) light corn syrup
²⁄³ cup (158 grams) water
METHOD: Place sugar and corn syrup in a medium saucepan. Slowly pour water in pan so as not to disturb the sugar. Do not stir. Place pan on high heat and bring mixture to a boil, shaking the pan back and forth until the sugar has dissolved. Watch constantly and cook the mixture until it is a dark amber color. The caramel will be extremely hot.
To assemble the croquembouche
Cut a small slit in the bottom of each puff using a knife. Place cold pastry cream in a piping bag fitted with a filling tip (available at craft stores or online) or a small piping tip, about ¼-inch. Fill each shell with pastry cream.
Draw the circumference of an 8" or 9" circle on a cake board or stand. Use this line as the base for your croquembouche.
Please proceed with caution and wear gloves for protection: Dip the top of each filled profiterole in the hot caramel, letting the excess drip off. Set aside until you've dipped the entire batch. To form the base of the croquembouche, take a cream puff and dip the bottom in caramel. Place it on the drawn line on the cake base or stand. Continue with more cream puffs until the bottom row is complete, nestling the cream puffs tightly together.
To form the rest of the layers, dip the cream puffs in hot caramel on one side and place it on the puff below it with the dipped side touching the cream puff next to it (not below it). Some of the caramel will flow down and glue itself to the cream puff below. To achieve an elongated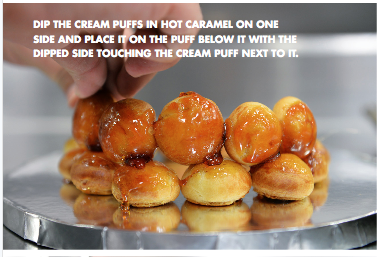 conical shape, angle the cream puffs inward slightly with each new row, which will be smaller than the one below it. You will use one or two fewer cream puffs per row as you build your croquembouche.
Check periodically to see that the overall shape is vertical. It may look messy at first, but keep on going … the final croquembouche will be beautiful. David and Almendra ended up with 13 rows plus a single crowning cream puff on the top. If necessary, carefully re-heat the caramel until it is fluid enough to work with.
Spun sugar swirl
Please proceed with caution and wear gloves for protection. Place an extra-long metal spatula (or long knife) perpendicular to the edge of your workspace. Line the floor beneath it with newspaper (about 3 feet long) to catch any drips. Re-heat the leftover caramel. Using a large fork or spoon, scoop the caramel and quickly pulse it back and forth across the spatula several times. If the caramel forms fine threads below the spatula, keep the motion going until you have a thick cascade of fine spun sugar. With gloved hands, grasp the spun sugar threads right beneath the spatula and gently pull them away. Wrap the spun sugar around part of the croquembouche in a spiral shape, starting from the top. Repeat the process until the croquembouche is covered to your liking. If the caramel does not form sugar threads easily, stir vigorously with a spoon and test every minute or so until it does.
Decorate with flowers, fruit, chocolate, nuts or candy and serve the same day, because the pastry cream filling is temperature sensitive. Do not refrigerate, as that will soften the profiteroles. To serve, carefully crack the croquembouche with the back of a knife to separate the profiteroles.
---
This recipe was originally featured in the December 2016-January 2017 issue of My Table magazine.