The Palladium might just be the coolest thing to happen to the suburbs of Houston. Let it be known that this is not just a movie theatre. It is 180,000 square feet of entertainment — really.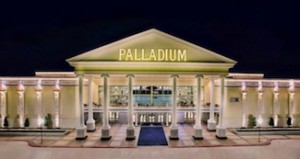 With several successful locations in San Antonio, the Santiko's theater chain celebrated its grand opening in May 2013 in Richmond on the Grand Parkway. (That's about mid-way between Sugar Land and Katy for you inner-Loopers.) Essentially it's a colossal Greek-inspired building, complete with columns, pretty much in the middle of nowhere. No need for paid parking, as it has an enormous parking lot—a pretty nice perk if you are accustomed to paying $3 to park at the Edwards theater on Richmond at Weslayan.
Boasting 22 screens, movie-watching here is serious business. Six of the screens are a little over 80 feet and feature the high-tech Dolby Atmos sound systems; two of these screens even offer seats that vibrate in conjunction with the action of the film thanks to technology called D-Box. Not only do you get to experience motion seating, you also get gusts of wind and water thrown at you during any aquatic or stormy scenes. (Just kidding about that last part. But who knows, that could be a "thing" in the year 2015.) When it comes to getting a ticket for D-Box seats, be sure to bring some serious cash as they are $18.50 per ticket. I was able to experience one of the six extra-large theater screens. It was the largest movie screen I've ever seen, and the seating has long armrests with a little tray at the end—perfect for keeping snacks and cocktails in a safe, convenient place.
You'd think that the extra large screens would have a premium ticket price, but that isn't the case. I paid $7.50 for my matinee ticket; showings after 5 pm cost $10. They also offer VIP show times on the second floor — these tickets are $10 for matinee showings, and $12.50 after 5 pm. Why might you want to pay extra for a VIP showing? Brilliantly, guests must be 18 years or older to purchase tickets and to enjoy VIP showtimes—no middle schoolers to clown around in front of you while you're watching a film and no screaming babies to kill your date-night buzz.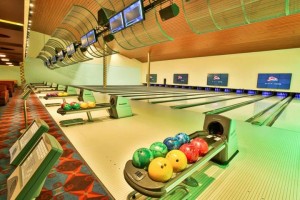 Speaking of buzz, the Palladium offers 16 bowling lanes to play, with a fully stocked bar right next to it. I have visited the Palladium four times since it opened, and I've been bowling every time. (Check out their prices online as they vary.) I spent $8.50 for shoes and a game, which seemed a good deal. At the neighboring bar, the cocktail list is playful, but you can also order a classic drink. On one of my visits, the bartender handed me a Fruity Pebbles cocktail —definitely a must-try for anyone who isn't adverse to trying something new, if not a little silly. Made with Three Olives' "Loopy" (Froot Loops-flavored) vodka, Sprite and a splash of lemonade, it very much did remind me of Fruity Pebbles cereal. This drink is especially nice to pair with bowling— at least I thought so, as my childhood was full of bowling birthday parties and rainbow-colored breakfasts. For anyone who is a fan of The Big Lebowski, it is common knowledge that bowling and White Russians pair nicely — this is the kind of place you can have a Dude moment and not feel like a jerk. On the other hand, if you're feeling sophisticated there is a wine bar on site as well.
If adult drinks don't cut it for you, imagine the food service that this megaplex has on hand: Palladium boasts a frozen yogurt bar, a gelato bar, a sushi bar, custom made-to-order gyros, Tex-Mex, burgers, thin-crust pizza straight from blazing ovens and a Starbucks. Of course there is also your standard popcorn and candy counter (not to mention their special M&M candy store) for those who want a traditional experience.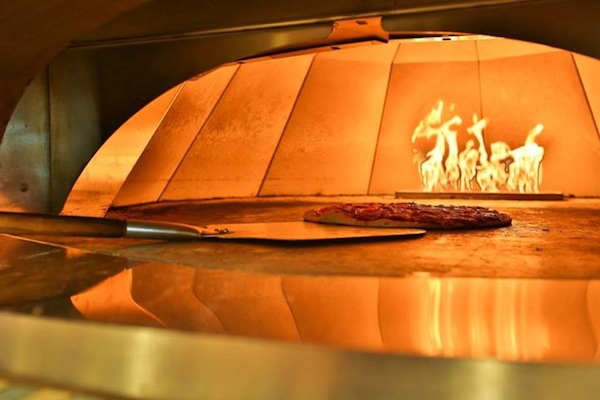 This whale of a cinema might not be the theater for everyone — there are a lot of working parts, and the building itself is enormous — but for family night or a special occasion, it could be a lifesaver. If your bored teenagers or grandkids don't want to join you for that Diane Keaton/Jack Nicholson Golden Years RomCom (and they've seen everything else on the marquee), they might be up for bowling a few rounds and trying every gelato in the case while you and your significant other hold hands and sniffle.
The Palladium has a Greek theme — but Santiko's theaters also have a location in Tomball called The Silverado. Yes, there's a wild west decor and theme throughout.
By Taylor Byrne Dodge and Nadia Tazehzadeh
---
The Palladium, 7301 Grand Parkway, santikos.com