The soup dumpling, or xiao long bao, is one of those Chinese delicacies that rightfully inspires the food-obsessed. Done correctly, the thin-skinned round-shaped steamed bun is artfully created with 25 pleats that end in a pinch at the top. When plucked carefully from the  bamboo basket steamer, the dumpling will sag with the weight of soup trapped inside the bun.
If there's an art to the way soup dumplings are made, it is equally important to master the art of eating them. The bun should be placed carefully in a large soup spoon, where you should take small bite out of the dumpling wrapper before slurping up the soupy contents. Then comes the moment of glory, when you dip the bun in the soy-vinegar-ginger dumpling sauce and revel in the deliciousness of the savory pork dumpling itself.
In Houston, it used to be that for a good soup dumpling, you'd have to venture outside Loop 610 and into the heart of Chinatown for a taste. But that was before an unassuming restaurant by the name of E Tao opened up in The Galleria mall on the second floor a few doors down from Nordstrom.
You may have walked by E Tao without noticing. But if you happened to take a look inside, you'd see a clean, bright open kitchen with several white-clothed, hat-wearing Chinese chefs making everything from fresh dim sum like har gow shrimp dumplings to stir fry, roast pork and lobster four ways. It's a scene straight off of the streets of Hong Kong, but this is America after all, and what better place than in The Galleria, which attracts 24 millions visitors per year and was ranked one of the world's best shopping malls by Forbes magazine?
"Many of the people from Singapore and Malaysian Airlines come here to eat during their three-day layover," says Edmund Mo, the owner of E Tao. Mo is there every day, guiding new patrons on what to order and sharing stories about how they started out.
"We started with an Americanized menu, but people were always ordering the real Cantonese food," Mo explains when asked why he put an authentic Hong Kong-style Cantonese restaurant in an American mall. "Many of the dishes we have here – like the soft-shell crab fried rice – you can't find it in Chinatown."
The dim sum at E Tao is excellent, and on weekends, there is often a wait during the busier lunch hours. Saturday are usually packed with discerning Asians who have heard through word of mouth about the food and brought their family and friends. Saturday evenings, Mo also offers special dishes, like their house-made char siu pork, steamed crab over rice and Macau roast pig.
The house special dishes on the back of the menu, like the soft-shell crab fried rice or Hong Kong Style Prawns, are all skillfully garnished with a pretty hand-made flower made of carrots and an accompanying oval or heart-shaped trim of cucumber and carrots.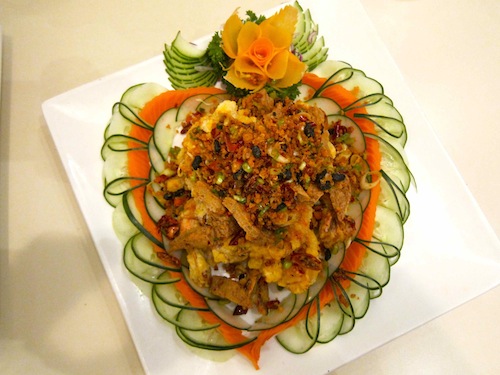 Personally, I always go first for the soup dumplings, but the menu is large enough that each visit has been like an adventure where I find a new dish to love. Recently, I tried some of the best xiu mai (ground-pork) dumplings I've had outside of Hong Kong. Next time, I plan to try their steamed crab over rice.
---
E TAO, 5135 W. Alabama, Suite 7295 in The Galleria, 713-965-0888, etaoasian.com