The team behind Helen Greek Food & Wine closed their Italian-American concept Arthur Ave several weeks ago and instantly set about to re-work the space at 1111 Studewood in The Heights to house a second location of their popular Greek restaurant. Arthur Ave closed March 19, and Helen in the Heights opened to the public Tuesday, April 11.
At the original Helen Greek Food & Wine in Rice Village, the menu focused on Greek regional cuisine –  specific dishes, perhaps not the best known, found in small towns across that country. At Helen in the Heights, which has been branded a Greek taverna, the menu focuses on classic and familiar Greek dishes. Chef William Wright is at the kitchen's helm with the help of chef de cuisine Mercedes Gomez.
A few of the menu items from the original Helen have made their way to The Heights, but the new location boasts quite a few different dishes. The menu is slightly larger – there are more shareable small plates – and prices are slightly more affordable. For the first two weeks, Helen in the Heights has been open only for dinner, but starting next week, they will be open for their normal business hours (see below). We stopped in this week as guests of the restaurant to see what's new at Helen number two.
A big difference between the two Helen locations is behind the bar – Helen in the Heights has a full bar program, featuring the "largest selection of Greek spirits in Texas" and a 100 percent Greek wine list. (You'll find a wine-only bar list at the original Helen.) The new bar program was created by sommelier Evan Turner and bar manager Josh Bearden. Jump into the cocktail program by trying the Love and War cocktail ($11, photo below), made with strawberry byrrh, Punch Fantasia amaro, lemon and a pomegranate cordial.
New appetizers include zucchini chips ($8, photo below), cumin-spiced meatballs ($11), flame-kissed halloumi cheese served in a skillet ($11) and Greek queso ($8). Zucchini usually doesn't get us too excited, but batter it in chick pea and rice flour and serve it with a thick, garlicky yogurt sauce, and you'll spark our interest. The chips are crunchy with a soft, delicate interior, and the dish is even gluten-free.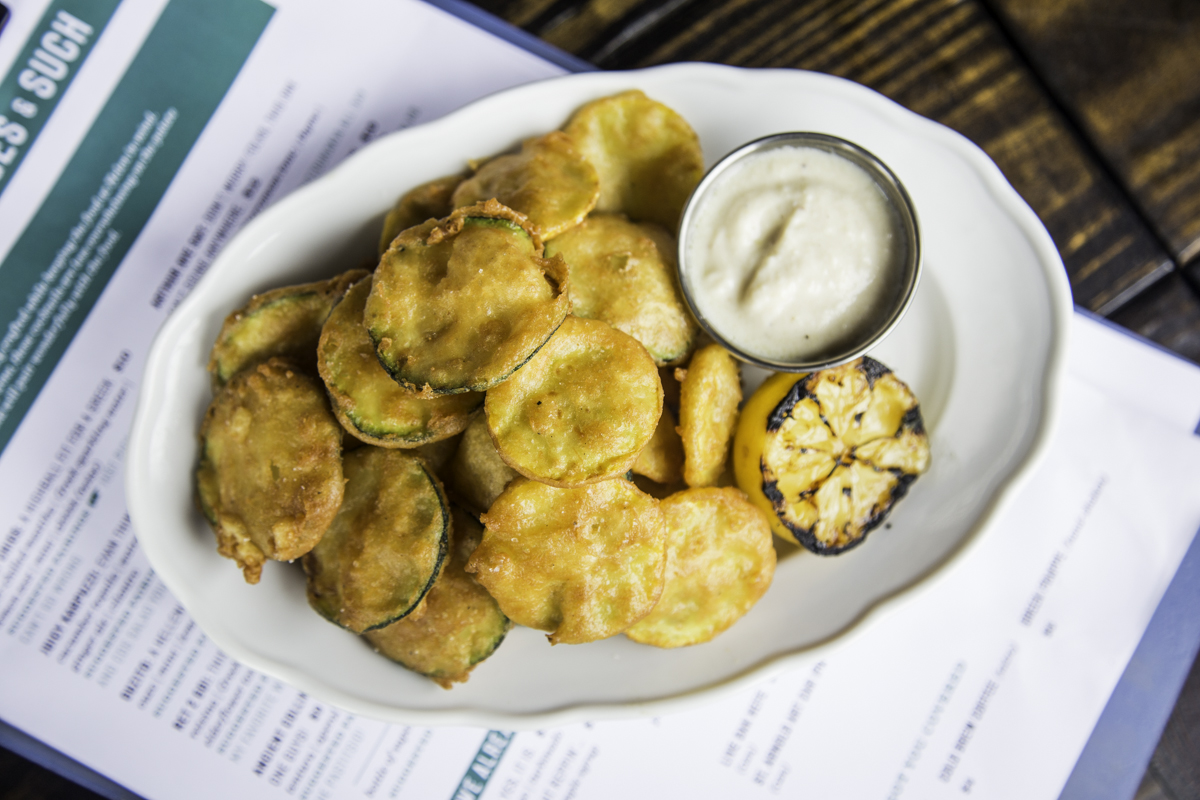 If you're a fan of halloumi cheese, try Helen's version. It's pan-fried with a splash of anise-flavored ouzo. The cheese's salty flavor is dominant, and the exterior is a crispy, golden brown. Halloumi's layered texture (think mozzarella meets feta) and high melting point yields a cheesy-yet-meaty appetizer. If you're craving actual meat, however, try the dainty-sized meatballs (photo below) that have been jazzed up with cumin, garlic and a rich tomato sauce. They are dotted with fried garlic chips for another layer of texture and sweet-savory flavor.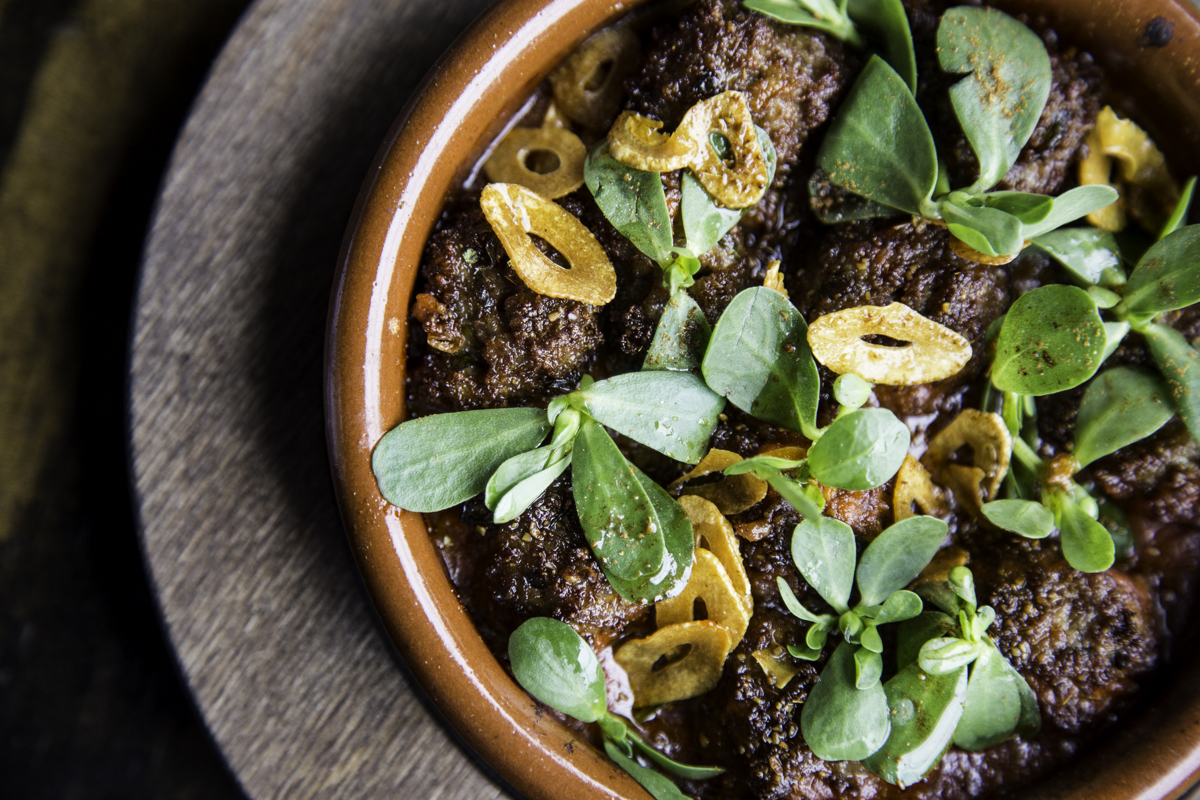 To balance the meat and cheese, order the Village Salad ($10, photo below) and share it with the table. Chunks of tomato and cucumber mingle in an oregano-olive oil vinaigrette with black olives, slices of red onion and green bell peppers. There is a wedge of feta on top, so you're not fully escaping the cheese. This salad is very similar to the Greek Village salad ($14) found at the original Helen, which is instead served with crumbled feta, but the lower price point makes The Heights salad even more delicious.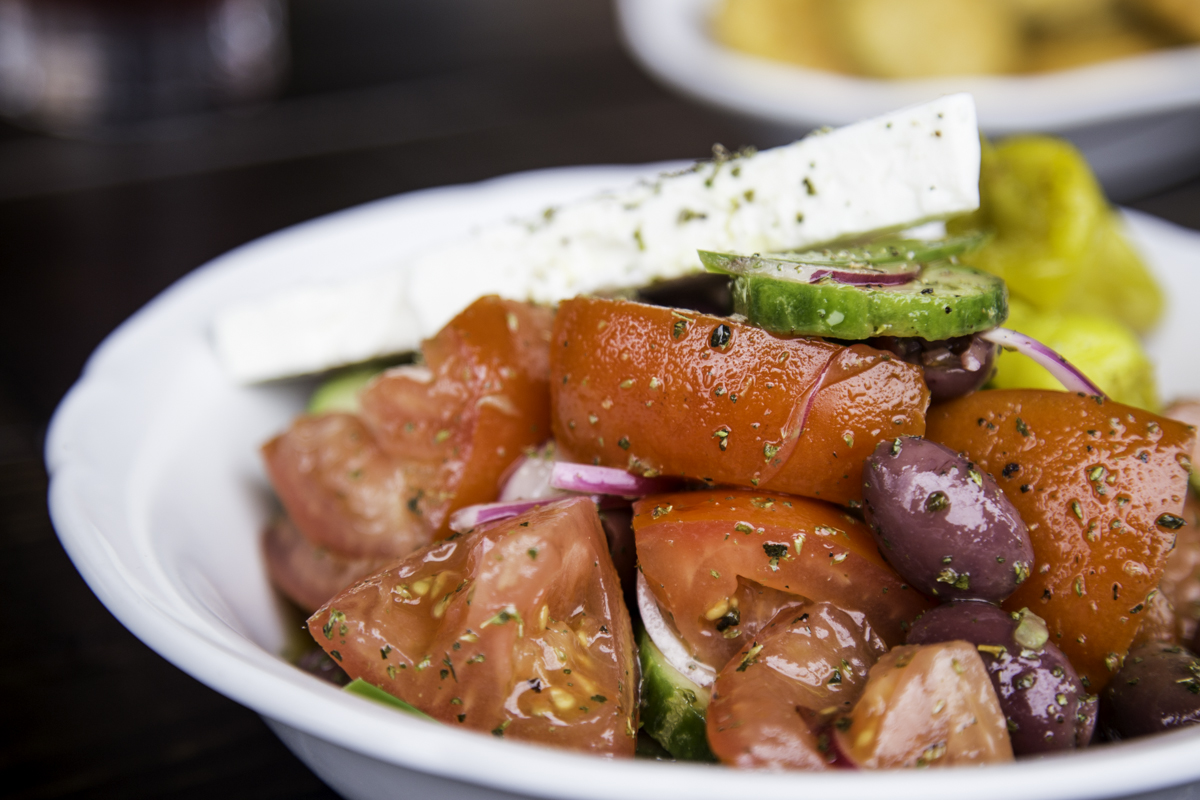 Also new to this location is the section of the menu devoted to souvlaki and gyros. At the original Helen, gyros are made only with pork shoulder, the traditional style of Thessaloniki and northern Greece. At Helen in the Heights, there are three different meats you can order to fill your gyro – pork, chicken and the Greek-American lamb-and-beef combination. Chef Wright has put in quite a bit of effort to replicate the beloved texture and flavor of gyros found at Greek-American restaurants that feature a mishmash of meats and fat. Here at Helen, Wright has combined 30 percent lamb with 70 percent beef and has essentially created his own cone of rotisserie meat just for this. It's all you want in a Greek-American gyro, minus the grease and the what-meat-am-I-eating uncertainty. You can order a personal size gyro, or make it a platter for the table ($12 to $14 for individual/$27 to $36 for the table).
The last dish of our tasting was the pastitsio ($17, photo below), which features pasta (like a Greek macaroni), spiced beef, béchamel and tomato. You might remember this dish from the original lunch menu at Helen in Rice Village. If you were disappointed like us when they took it off, well it's back and it's here to stay at Helen in the Heights. Each portion is individually baked, rather than built in a big pan like when it was on the menu at Helen in Rice Village, which means more crispy, fried edges of cheese per serving.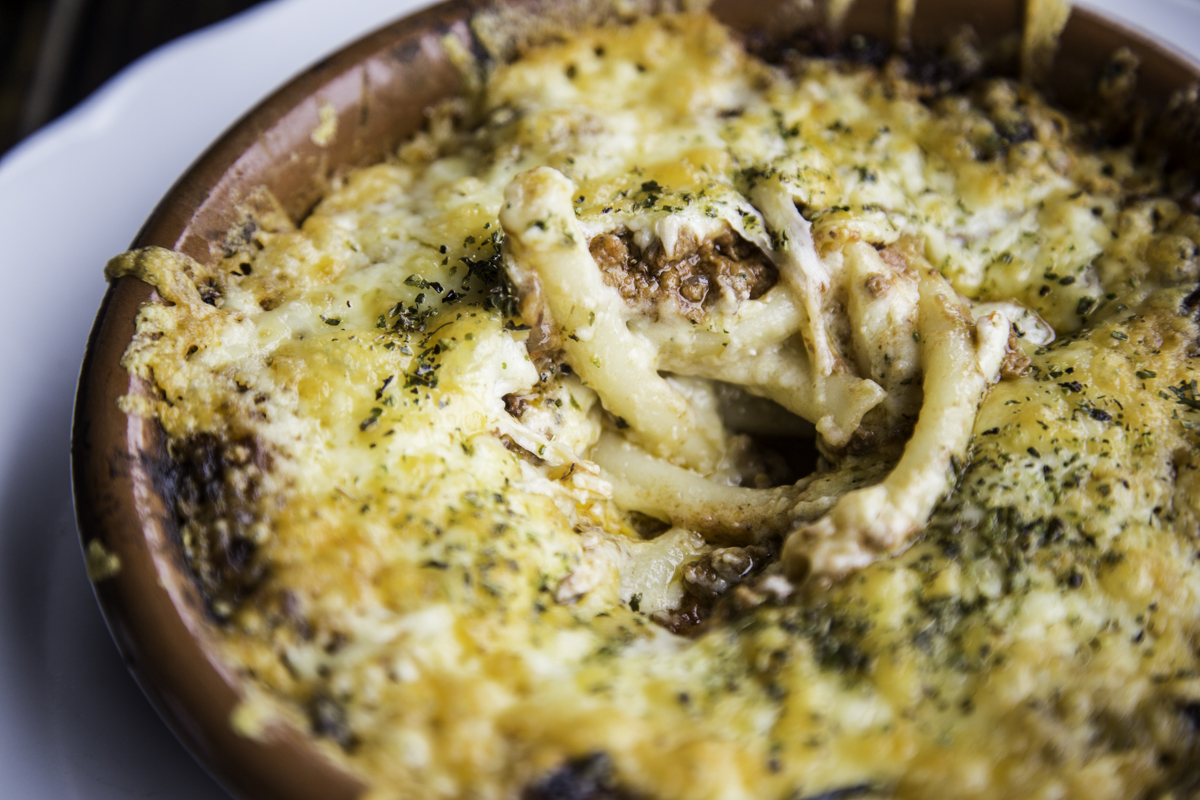 A perfect dessert to split with the table is the bougatsa ($8, photo below). Sandwiched between buttered phyllo sheets is a delicate not-too-sweet semolina custard, served warm and dusted with powdered sugar.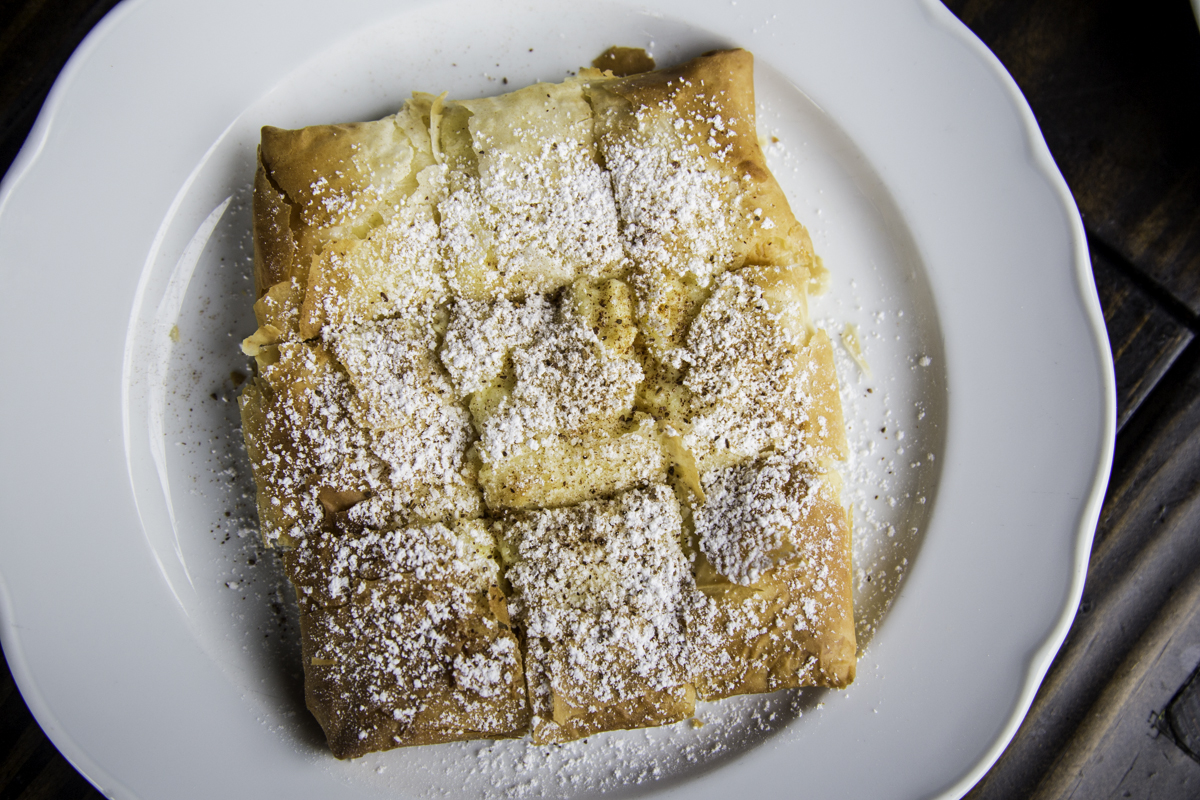 We were fans of Arthur Ave and were sad to hear of its closing. But after a visit to the new Helen in the Heights, it's obvious this group of restaurant professionals really geeks out for Greek.
---
Helen in The Heights, 1111 Studewood at East 11th Street, 832-582-7146, helengreek.com
Hours: Tues. to Thurs. 11 am-10 pm, Fri. & Sat. 11 am-11 pm, Sunday brunch from 11 am–3 pm, and Sun. dinner from 4-9 pm.