King's BierHaus, the sister concept to Pearland's King's Biergarten, opened their new Heights location for lunch and dinner this week. Father-son duo Hans and Philipp Sitter launched the German-American restaurant/beer garden in Pearland in 2011. The Sitters, originally from Austria, brought with them cookbooks and family recipes and created a concept that has received national acclaim, and they've taken their time finding the right location for a second outpost.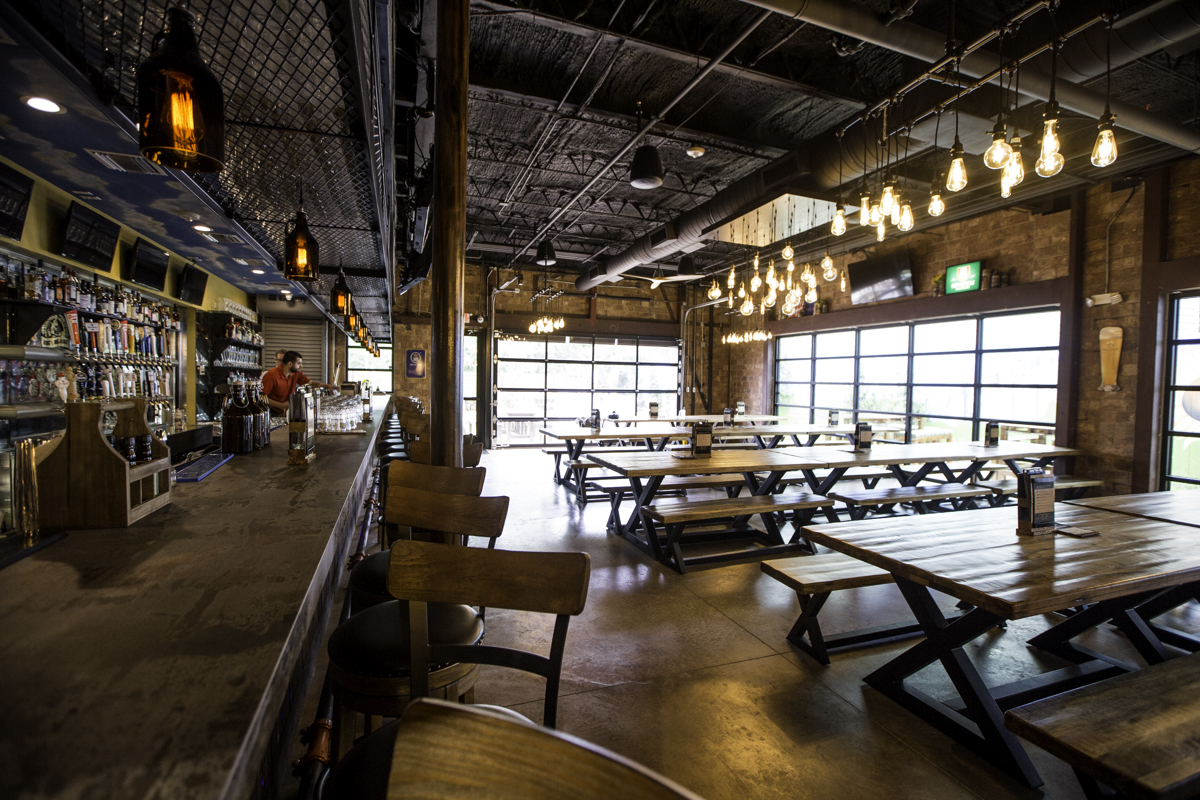 Inside the new BierHaus in The Heights, you're greeted by a 30-foot biergarten mural with a few nods to Texas – see if you can spot the celebrities during your first visit. Walk down the entry hall past the grab-and-go fridges and order at the giant beer barrel. Service here is a bit unique – once you place your order at the beer barrel (you won't pay here), you'll be given a number and you can choose your seat inside or outside in the 9,000 square-feet beer garden. From there, a server will take care of any additional food and beverage needs throughout the rest of your meal. Check out with your server and you can be on your way.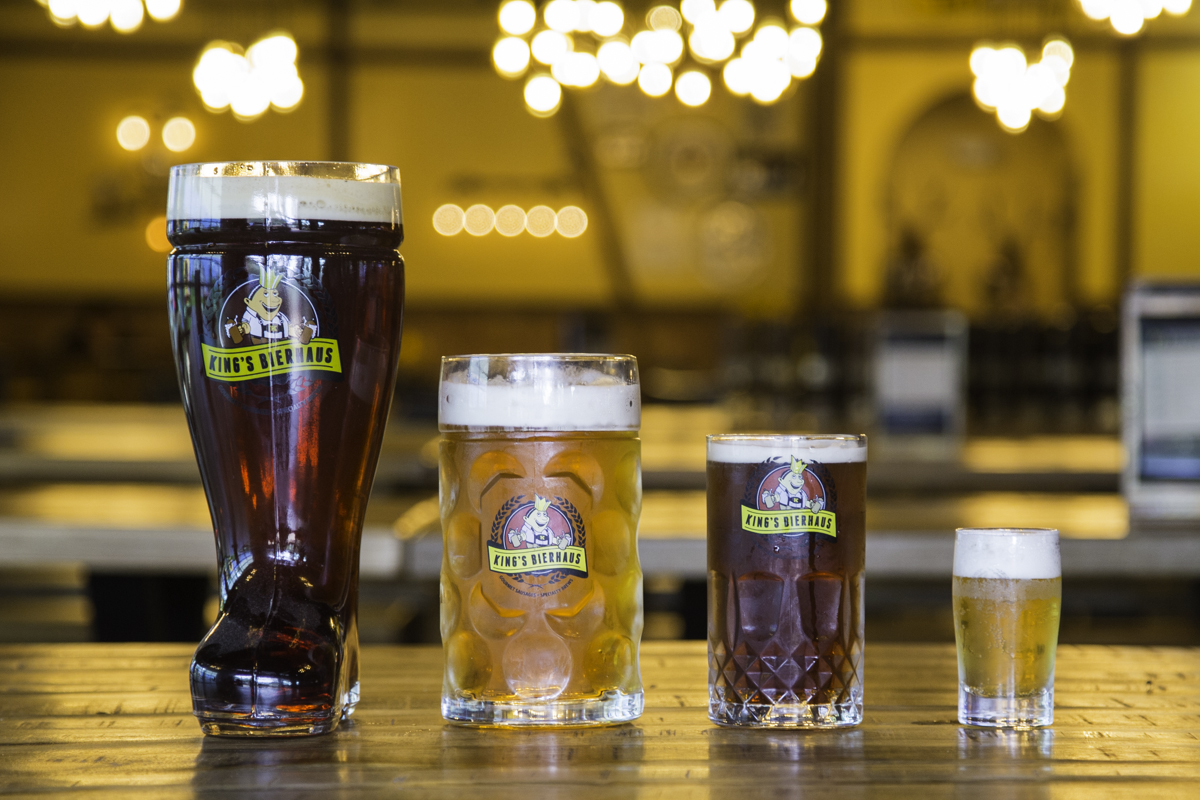 It's likely you'll want another drink after your first order at the beer barrel because there's lots to explore here. Behind the bar, there are 18 German beers, four brews from German monastery breweries, six local options and two Central European options. Beers can be bought in four different sizes – a 4-ounce sampler, a half liter, liter and "Das Boot" (2.5  liters). There's also an extensive whiskey list, a seriously impressive selection of schnapps and a range of speciality cocktails.
If you're nursing a hungover, we suggest you try the White Oak Runner ($10) made with Stiegl Grapefruit Bier and Aperol. It's the easiest shandy you'll ever drink. And when the hot summer weather blankets Houston, try the brisk Munich Punch ($10, photo above center) made with coconut rum, pineapple juice and a Jaegermeister floater. Don't let the Jaeger jerk you away, it's quite refreshing.
Also give the sweet-and-sour Lt. Aldo Raine ($10, photo above at left) a try, made with Lairds 80 Apple Brandy, house-made grenadine, lemon and Creole bitters. Round out the cinematic theme and order the Inglorious Bastards sandwich ($12, photo below), which combines fried chicken schnitzel with Swiss cheese, lettuce, buffalo sauce and Jaeger mushrooms. It's a combination of ingredients we didn't understand at first, but we get it now. The crispy bird, tangy sauce, nutty cheese and marinated mushrooms make for a naughty bite of food. We can see this catching on quickly.
For table starters, try the cream cheese-based Liptauer spread ($8) with paprika, onion and dill pickle and the deviled eggs ($8 for four, photo below) topped with fried chicken schnitzel and bourbon-bacon jam. The deviled eggs might be the perfect appetizer for brunch – the crunchy chicken mimics the crisp edges of a waffle, and the bacon jam plays to those sweet-savory notes we love in a breakfast dish.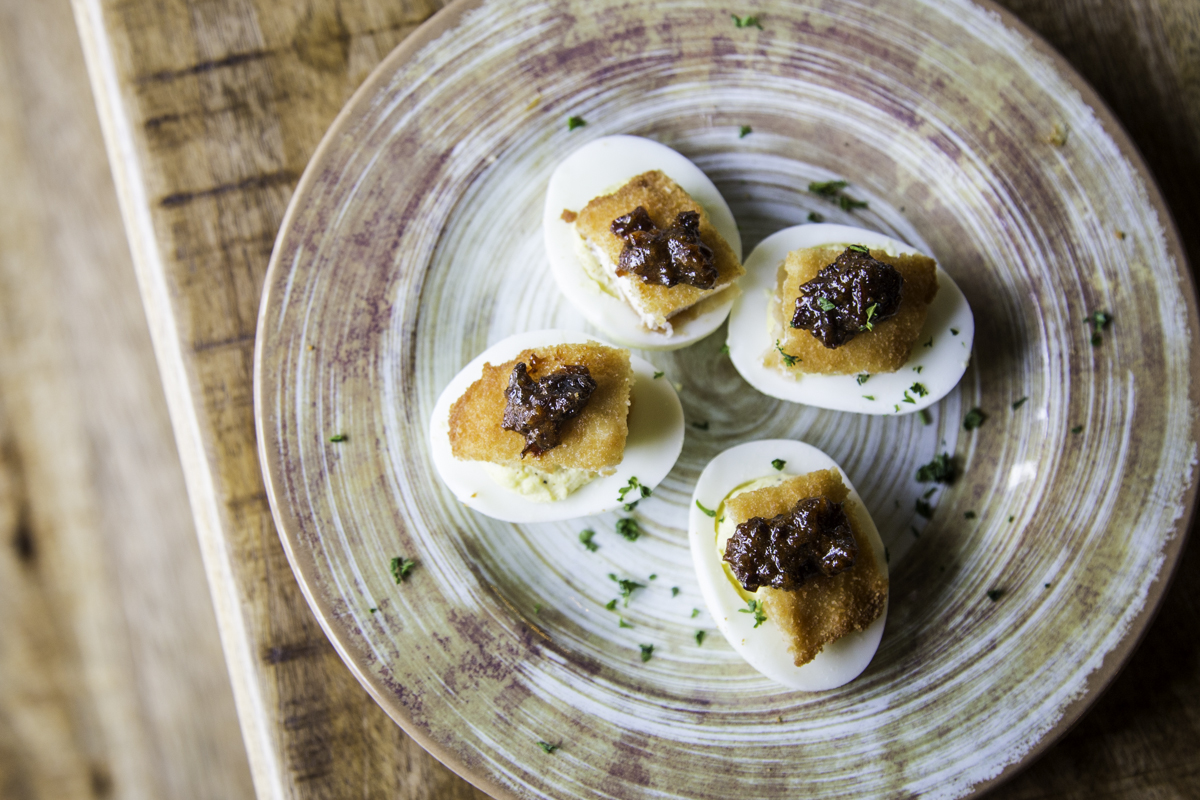 Looking for more things to share? We recommend the King's Smoked Wings ($12 for eight chicken wings, photo below), which are slow-smoked and then "lightly" fried and served with a blue cheese sauce. The same tangy buffalo sauce found on the Inglorious Bastards sandwich coats the wings, and the spice heat is just right – not too hot, but spicy enough to make you want a swig of beer. The best part about these wings? The moist chicken meat has its own smoked flavor, so it's not all about the sauce here.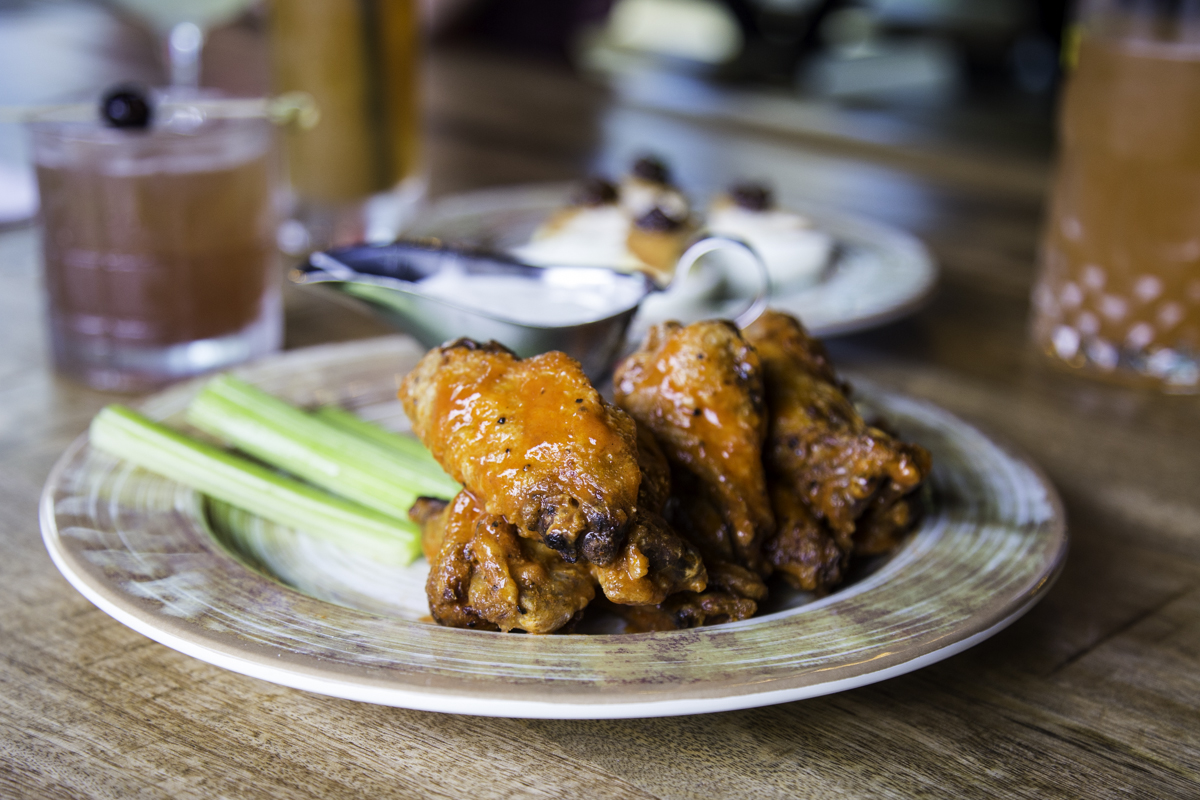 Another new item at The Heights location is the pretzel grilled cheese ($12, photo below) served with a cup of tomato basil soup. The freshly baked pretzel is sliced in half and filled with cheddar and American cheese and fresh basil. The tomato soup, while not the best we've had, does its job – rip apart the pretzel and dunk into the soup for a creamy, cheesy bite. This isn't a dish that will rock the culinary world, but it's pretty good comfort food and we're already craving it.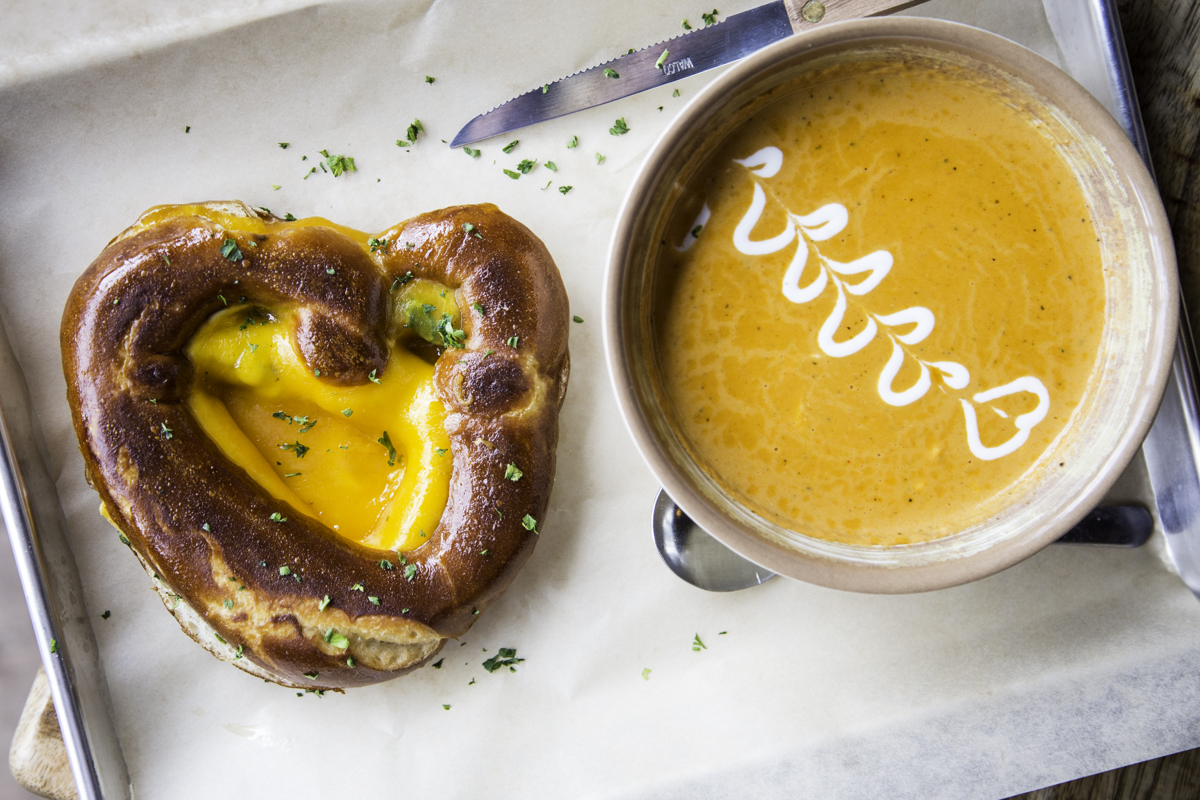 On the lighter side, try one of the new skewers ($14/drunken chicken, $22/tenderloin) served with veggies, herbed butter and rice. Ordering this over, say, Oma's Famous Fried Chicken (a King's speciality) may leave caloric room for another beer. You'll have to weigh your priorities.
One of the main attractions at King's is, of course, the gourmet sausages (photo below). At The Heights location, you're able to "make the wurst combo ever." Choose your wurst (exotic, traditional and vegan), your bun and then your toppings, which include things like King's sauerkraut, drunken peppers, sautéed onions, sautéed mushrooms, cheddar bacon bier sauce, house pickled onions and more.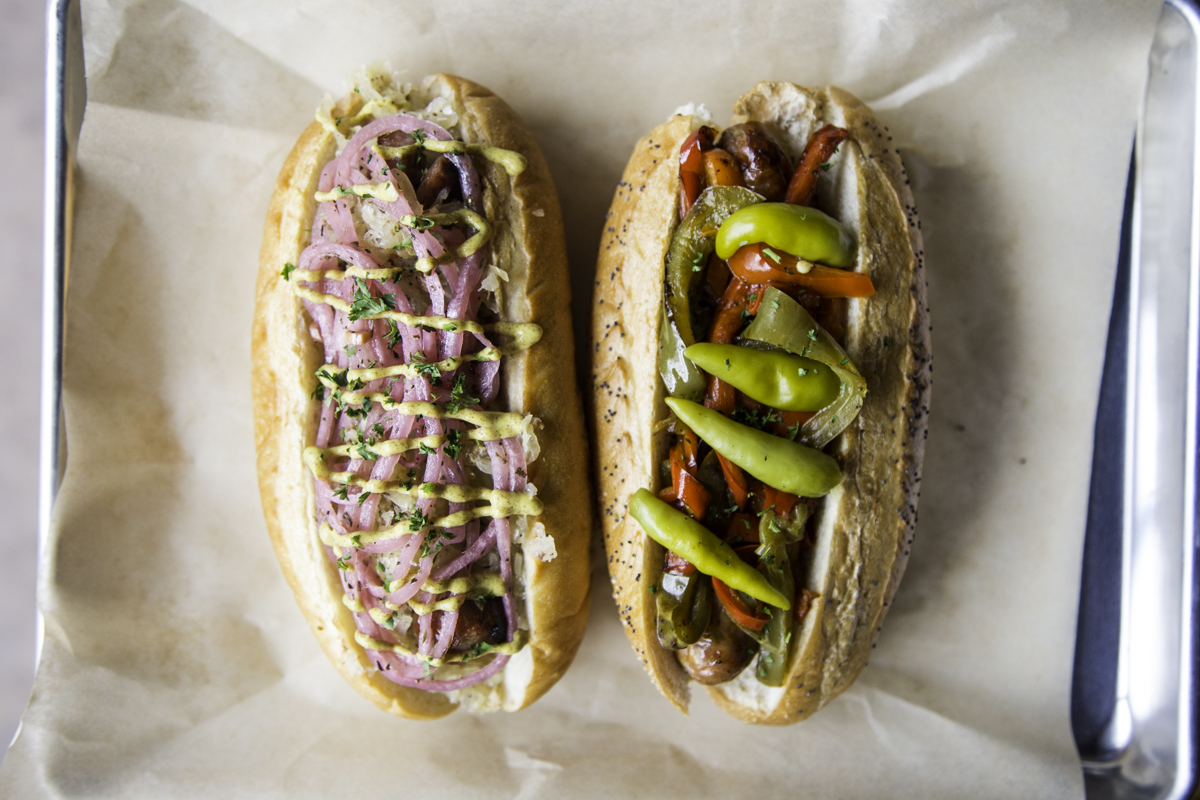 It's hard not to want a brew and a brat when you step into King's BierHaus the first time. So go ahead, build your own brat and then plan for a second visit.
---
King's BierHaus, 2044 East T.C. Jester near Ella Blvd., 281-990-3042, kingsbierhaus.com
Hours: Mon. to Wed. 11 am-10 pm, Thurs. 11 am-midnight, Fri. & Sat. 11 am–1 am, Sun. 11 am-9 pm