Planning on treating mom to a home-cooked brunch on Mother's Day morning, Sunday, May 14? Here's a recipe for a crustless quiche that combines ground beef, Tuscan kale, shiitake mushrooms and goat cheese. It can be made a day in advance and reheated that morning. Without the calories from the crust, you and mom can indulge in one extra mimosa guilt-free. Cheers to you, mom!
Crustless Quiche with Beef, Kale & Goat Cheese
Recipe courtesy of 44 Farms
Prep time: 15 minutes
Total time: 2 1/4 hours
2 Tbsp. vegetable oil
1 lb. 44 Farms Angus ground beef
1 cup onions, sliced 1/4 inch thick
8 oz. shiitake mushrooms
2 cups Tuscan kale, stemmed and chopped
2 Tbsp. tarragon, chopped
6 oz. zucchini, thinly sliced or shaved
8 whole eggs
1 1/2 cups whole milk
1 ½ cups cream
4 oz. goat cheese, crumbled
kosher salt
black pepper, fine ground
METHOD: In a cast-iron skillet, heat 1 Tbsp. vegetable oil over medium-high heat. When hot and starting to smoke, crumble in ground beef and 1 tsp. kosher salt. Break up meat with a spoon and continue to cook over medium heat for 15 minutes, stirring occasionally to allow for even browning. When beef is done cooking, remove from pan and strain off all the excess fat.
While beef cooks, add 1 Tbsp. vegetable oil to another pan. Add onions and begin to caramelize over medium heat, stirring occasionally and until golden brown, about 15 minutes. Add mushrooms and cook for 5 minutes. Add kale and sauté until wilted, about 3 to 4 minutes. Season with 1 tsp. salt, 1/4 tsp. black pepper and tarragon. Set vegetables in bowl and set side.
Toss shaved zucchini with 1 Tbsp. oil and season with 1/4 tsp. kosher salt. Add to hot pan in which you cooked the vegetabls and cook until slightly golden and tender, about 3 minutes. Add half of the cooked zucchini into other vegetables and reserve the other half in a separate bowl.
For the quiche base, use a blender and blend together eggs, milk, cream, 2 tsp. kosher salt and 1/4 tsp. ground black pepper. Blend for one minute.
In a 12-inch cast iron skillet, add half of the ground beef and vegetable mix. Pour half of quiche base over top and add half of goat cheese on top. Repeat with remaining ground beef and vegetables. Pour the remaining quiche base on top. Add remaining goat cheese and finish by arranging reserved sliced zucchini on top.
Bake for 1 1/2 hours in 325ºF oven until top is golden brown and filling is set all the way through. Let rest for 20 minutes before serving. Serve with a side garden salad. Serves 8 people.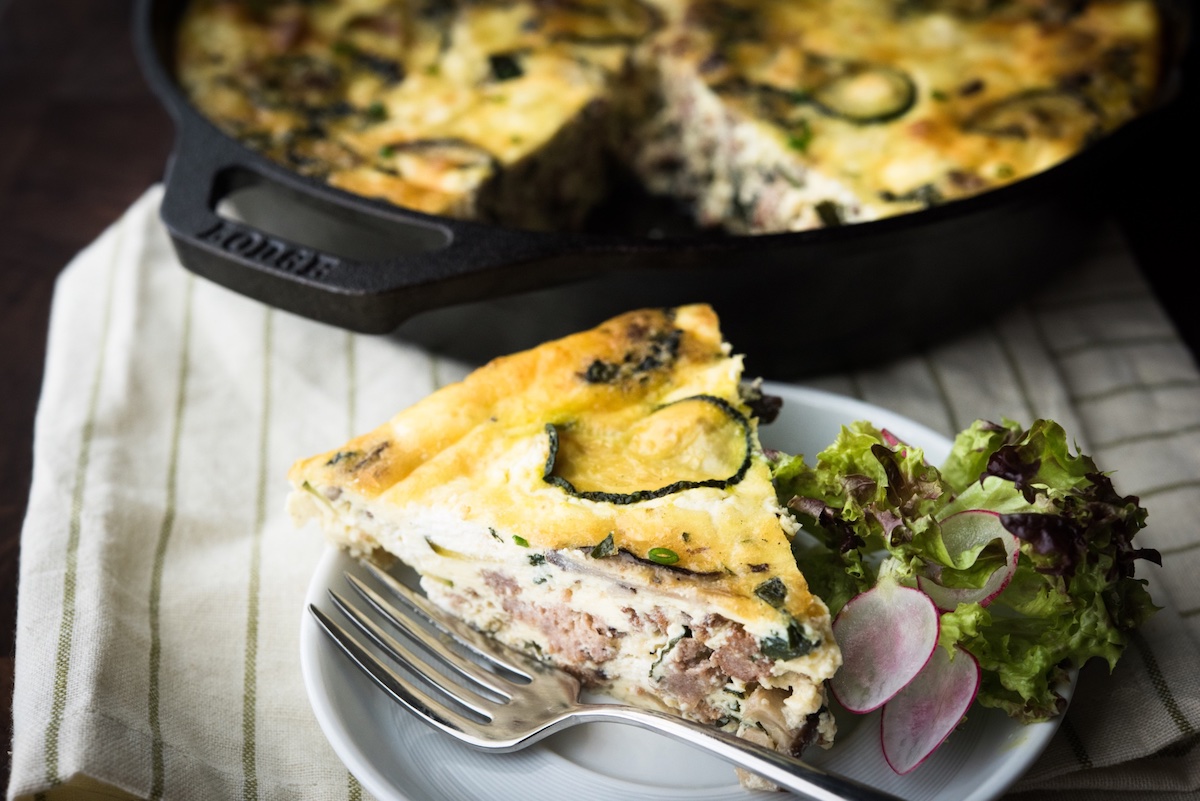 *Chef's Note
Quiche can be made a day ahead and reheated in a 325ºF oven for 10-15 minutes.
---
*Brought to you by the partnership of My Table magazine and 44 Farms