Houston's ramen infatuation continues with several iterations of the wildly popular Hawaiian chain AGU Ramen, founded by executive chef Hisashi Uehara in 2013. "AGU" means "best friends" in Uehara's native Okinawa dialect, and he has sought to create a high-end ramen experience for patrons beyond Oahu island by coming to Texas, firstly in Houston with three locations, soon to be followed by openings in Sugar Land, Clear Lake and Katy.
We recently stopped in to try AGU's Heights location (on Washington Avenue, where Christian's Tailgate used to be) for dinner, which opened just days ago. Large communal tables seem to be the trend for ramen joints in Houston, including AGU, and there is bar/counter seating as well. A cheat sheet of Japanese food terms sits on each table to guide patrons in their selections; this is very useful.
The expansive menu offers 13 ramen choices split into categories for Jidori chicken (a brand of kindly raised and fed chicken, sometimes called the Kobe beef of the chicken world), tonkotsu pork (including the richer and heavier kotteri ramen) and specialties such as Okinawan pork belly rafute (the meat marinated for hours with a generous layer of fat on top) and hakata, a milky shio-based broth. Then there are also tapas and small plates of fried mimiga (pig's ear) and jellyfish and Hawaiian dishes like ahi tuna poke bowls and huli-huli grilled chicken.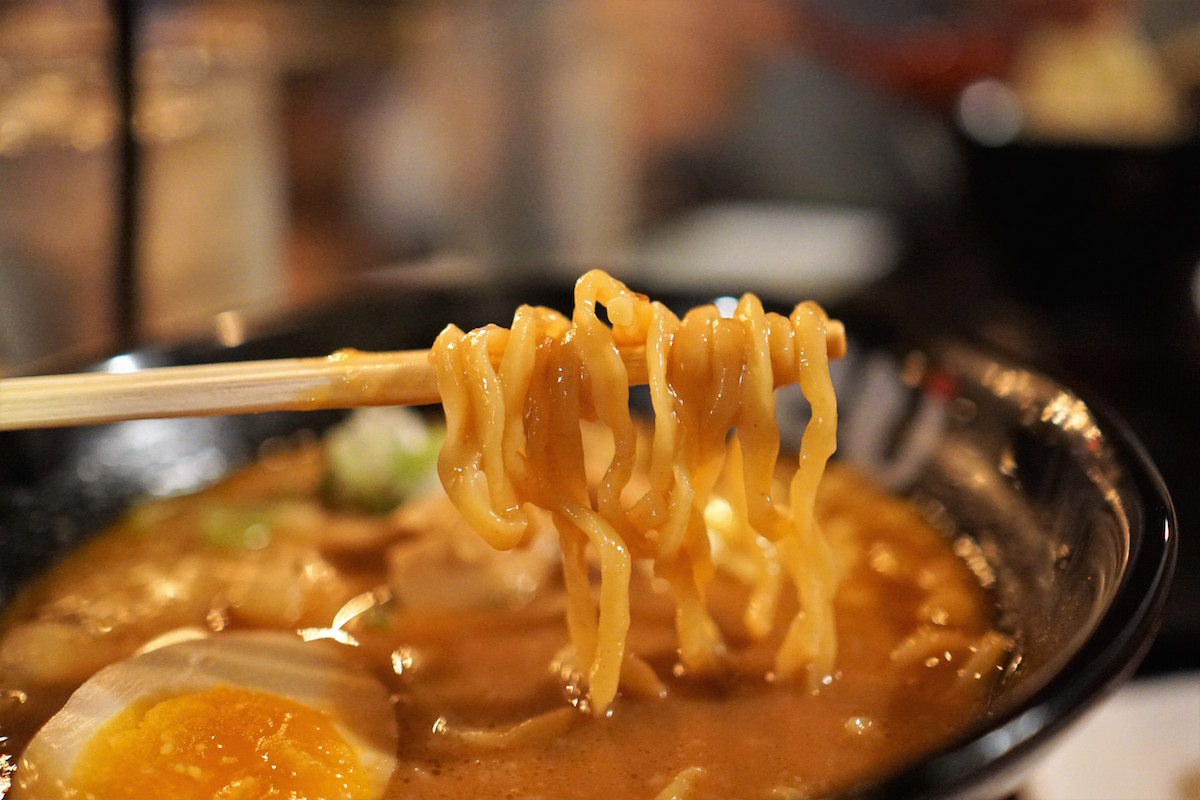 Tonkotsu ramen is a favorite classic, and our server recommended AGU's variation: a miso tonkotsu broth ($13, photo above) steeped for more than 24 hours topped with sweet corn, a soft-boiled marinated egg, house-made char siu pork slices and bamboo shoots. The broth exudes an extraordinary richness, and the house-made thick noodles – cooked a bit too al dente for our liking – seeps into it for an extremely hearty flavor.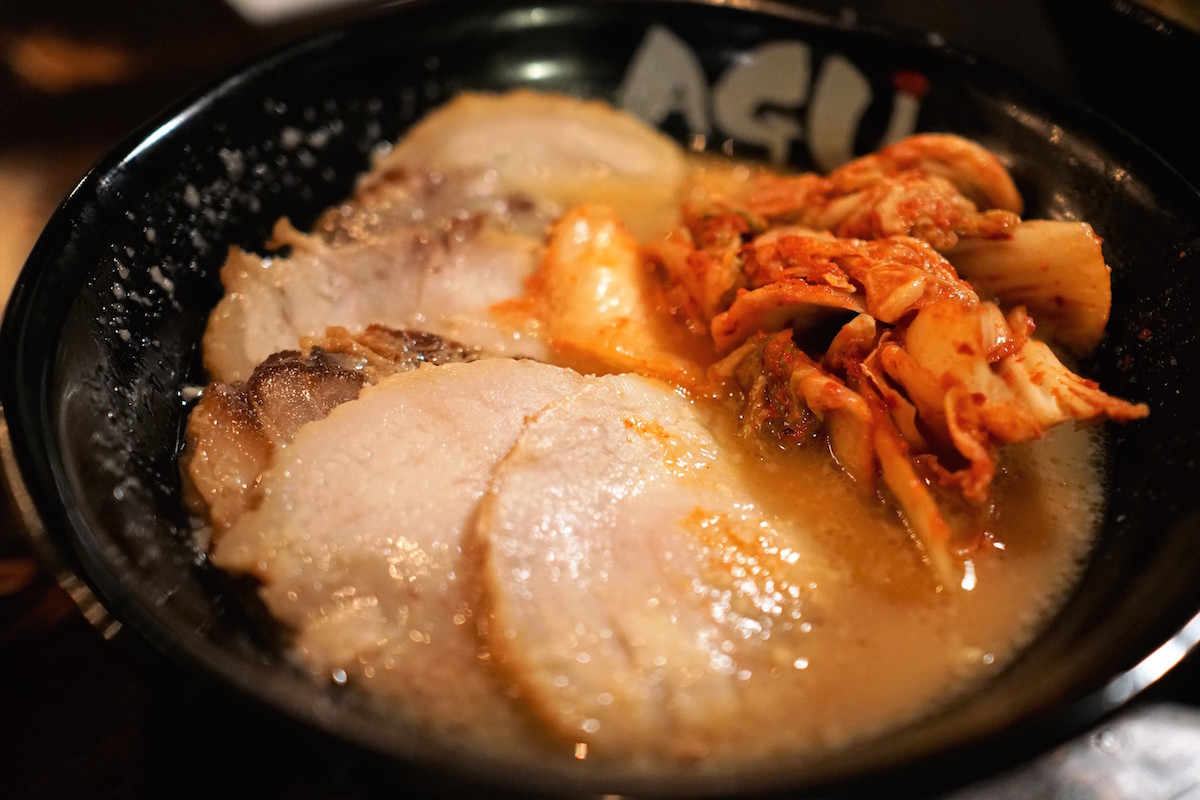 One specialty ramen that we tried is a nod to char siu itself. The char siu tonkotsu ($15, photo above) is the ultimate pork lover's choice, featuring a fan of five char siu slices and a topping of kimchi, seaweed or green onions. This bowl contains slender, thin noodles, a bit on the doughy side, and a rather mild broth that vastly contrasts with the miso tonkotsu's richness.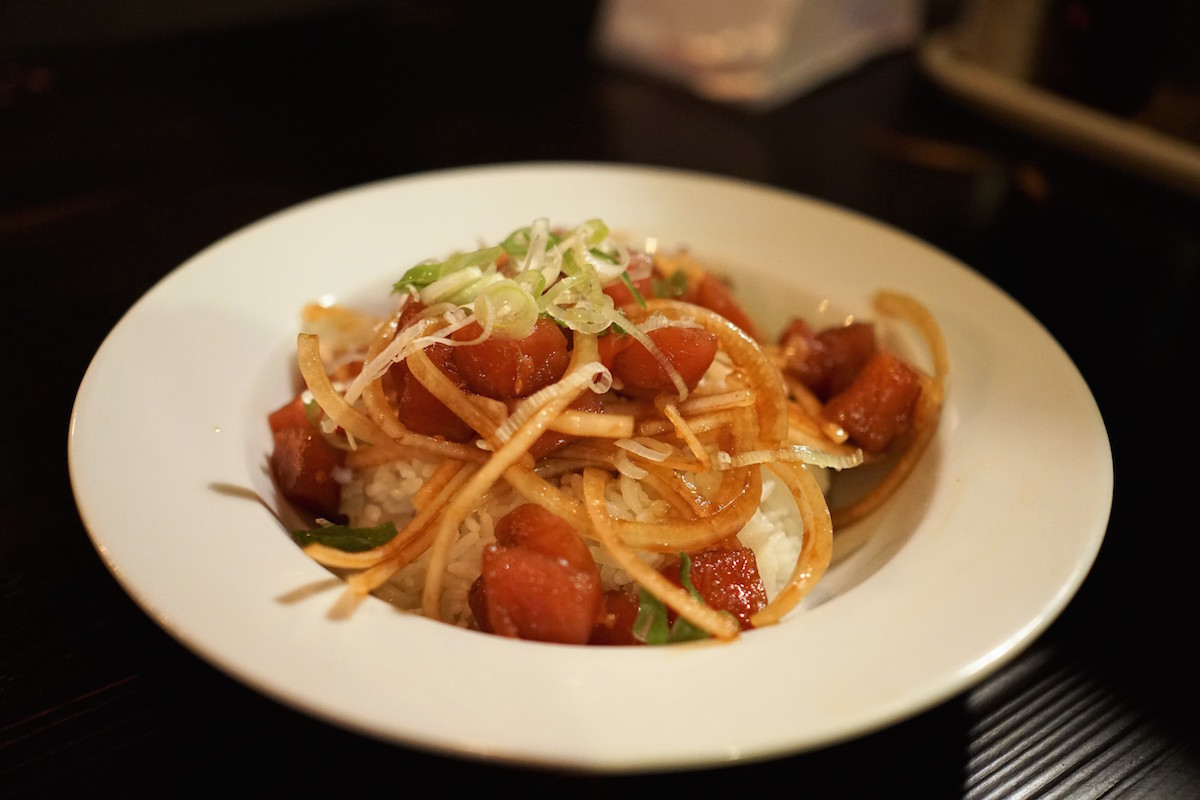 Since poke is another hot trend in Houston by way of Hawaii, and AGU hails from Hawaii, we ordered the ahi tuna poke bowl ($13, photo above). The generous portion of fish pairs well with the onion's crunchy texture, and the soy sauce base has just a smidge of sesame oil. Perhaps not the best poke bowl we've had in Houston, but it is satisfying to see a restaurant offer two of the city's most popular food items on a single menu. Talk about killing two birds with one stone.
There are multiple perks about AGU: hand-made noodles, a large menu and attentive staff. Yet a little tweaking on the noodle texture and broth flavor will help the place gain a stronger footing in Houston's ramen scene.
---
AGU Ramen, 7340 Washington Ave., Houston, TX 77007 (and other locations), aguramen.com
Hours: Mon. to Sun. 11 am to 12 am