A small family getaway was on the drawing board. Tickets had already been booked for a February trip to Mexico for a big family wedding, so we had to keep current extravagancies to a minimum. My parents, sister and I knew we wanted to eat good food and drink plenty of wine, but we also wanted to escape the metropolis. After many hours wasted Googling destinations and accommodations, we finally booked a trip to Fredericksburg, Texas – about an hour west of Austin – with a little hesitation, and I vowed I would never again be in charge of planning a family vacation.
We loaded up the car, headed down Interstate 10 to Texas State Highway 71 and finally hit US 290, which would, at last, lead us to our vino-asis. When we hit the portion of US 290 referred to as Wine Road 290, we oohed and aahed at each winery and vineyard we passed, finally releasing that initial hesitation and tension. We had arrived, and we liked what we saw.
Wine
Let's be honest: The real reason you're heading to Fredericksburg is to drink wine. Lots of wine. But since this is Texas and not Sonoma or Napa, put aside your hopes for a minerally Sauv Blanc or a smooth Pinot Noir. Those grapes don't grow well down here. Instead, open your mind and be ready to sip wines you're unsure of and varietals you might not have ever heard of.
Friday afternoon while the other ladies in my family pampered themselves at the spa, my dad and I pampered our palates at Hilmy Vineyards, the first winery visit of the trip. Hilmy is a newcomer to the Texas Hill Country, producing and bottling wines in small lots from 100 percent Texas-grown fruit. At the counter, we tasted the five wines on offer – three whites and two reds – where we learned that the Viognier white-grape varietal grows well in the Texas heat, which we would see again at the four vineyards the next day. After the tasting we grabbed two glasses of Hilmy's "Naked Viognier," headed to the patio and enjoyed the late afternoon breeze, where we also caught glimpses of the vineyard's flock of working animals that assist in pest management (Intrigued? Visit hilmywine.com/animals).
Saturday morning rolled around, and the crew (now with the addition of two friends) prepped for the day with a hearty breakfast. If you choose a self-guided tour as we did, book a driver and vehicle for the day. You might be surprised what a few tastings of wine can wrought, and, perhaps, you'll want to sip some bubbles (a rarity in Texas wineries) on the road between stops. Our first stop of the day was Becker Vineyards, one of the largest wineries in the Texas Hill Country with 46 acres of acre lavender fields, and, while not in bloom when we visited, we browsed the plethora of lavender products available for purchase.
Next up was Grape Creek Vineyards, the winery described as "Tuscany in Texas." My family isn't one for tours or anything with a guide, but if you visit this vineyard, you really should opt for the cellar tour: You hop on the shuttle with about a dozen other people and head to the tank room where the wine is stored. After a quick – I swear, it really is quick – explanation of the winemaking process, you are directed to the barrel room where you sample wines straight from the barrel. The tour ends in a tasting room where you select six bottled wines to taste. The favorite among our group was the Bellissimo, a Tuscan-style wine with hints of cherries, spice, toasted oak and vanilla. (A few bottles came back to Houston with us.) Note: Becker and Grape Creek are two of the more commercial vineyards in Fredericksburg, so hit these places early to avoid the crowds if visiting on the weekend.
The third stop was 4.0 Cellars, a collaboration of three Texas wineries: Brennan Vineyards (Comanche), Lost Oak Winery (Burleson) and McPherson Cellars (Lubbock). There were three different tasting sheets to choose from – the "light and sweet," the all red tasting or the cellar tasting with three reds and two whites, which is what we opted for. My group's palates are all very similar – we all prefer reds that are smooth and medium-bodied with light tannins and white wines that are crisp with notes of citrus. The wines we tasted here didn't excite us, but that's just one palate speaking.
We ended the day at William Chris Vineyards, as suggested by Mike Kas berg from Texas Hill Country Wine Tours, with whom we booked our car and driver. And thank you, Mike, for this recommendation. We tasted six wines in the tasting room, gazing out the floor-to-ceiling windows to a gorgeous view of the vineyards and patio (and a 1948 Plymouth, which still runs).
Afterward, my group grabbed a table on the patio and sipped a glass of the 2012 Enchanté, a blend of Merlot, Cabernet Sauvignon, Mourvèdre and Malbec – the wine my dad claimed to have been hoping to come across the entire trip. And if the timing is right, maybe Chris Brundrett, wine grower and forager of William Chris, will stop by your table for a little chitchat, as he did with us. With a case of the Enchanté and a delightful wine buzz, we headed back down Wine Road 290 toward Fredericksburg, cheerfully cheers-ing with a glass of bubbles in hand.
Dining
As I said, good food was on the week end's itinerary. We arrived Thursday evening and had enough time for one glass of wine before heading to dinner at the Cabernet Grill, a fine-dining restaurant specializing in Hill Country cuisine and boasting an impressive and exclusive Texas wine list. We ordered a few appetizers, the standout being their take on a caprese salad with farmers' market tomatoes, locally made goat cheese and pesto. The variety and number of entrée options were a bit overwhelming, but my Angus beef tenderloin kabobs were cooked to the perfect medium rare and served with rosemary-scented porcini mushroom sauce. As Fredericksburg is known for its peaches, it was only fitting that we ended our first meal with a fresh peach and lavender tart with vanilla bean ice cream.
Friday early afternoon, we walked up and down the historic Main Street that is lined with some 150 shops, art galleries and boutiques. We peeked inside the Fredericksburg Brewing Company, a restaurant and brewpub, before stopping at Bejas Grill for a brunch on their covered patio. Luckily for us, Fredericksburg had received a cool front the night before, and we were blessed with 80-degree weather the entire weekend. It was an all-around pleasant meal with Texas-sized portions and un-Texas-like cool breezes and low humidity.
Dinner Friday night was at Navajo Grill on their more casual, rustic-style patio. The menu is much smaller than Cabernet Grill's, but the range in cuisine influences – from Southern to Mexico to New Orleans to Caribbean flavors – was impressive. It didn't take us long to realize any dish with the town's local goat cheese would be a standout, so we began with goat cheese medallions drizzled with red chili marinade and pepita flatbread. For my entrée, I ordered the Navajo pappardelle with roasted squash, caramelized shallot, cilantro pesto and firecracker shrimp, which was an unusual and exciting mix of flavors and textures.
The last meal we had in Fredericksburg – besides our Sunday breakfast of ice cream and peaches – was at the Alamo Springs Cafe. We kept hearing about their hamburger, which was rated the third-best burger in the state by Texas Monthly, but we were also warned that the service is, um, subpar, and that they are quite proud of that unflattering fact. It's about a 20-minute drive from Fredericksburg down winding roads, and while the burger on the jalapeño cheese bread was juicy and damn good, I wouldn't make the drive unless you have a few hours to hang on the patio and drink a bucket of beer with friendly faces, which will help ease the annoyance that has surfaced from the intentionally rude service and long wait.
Peaches
I don't like peaches. That's what I said before visiting Fredericksburg. But I guess I had never really had a good fresh peach, because the slice of sun-warmed peach the woman at the Engel Orchard roadside stand handed me was phenomenal. She was kind enough to hand-pick a small basket of ripe peaches for us because we desperately needed some for a breakfast of peaches and Blue Bell.
While peaches aren't in season now, if you plan a trip to Fredericksburg during the next stone fruit season, bring a basket and your reaching arm and plan to stock up on all of the peaches, preserves and jellies you can get your hands on. If visiting sooner, don't worry, as most orchards grow other vegetable and fruit varieties, too.
Farm Fun
There is something about this town that makes you want to stop what you are doing and, quite literally, smell the roses. Driving down Wine Road 290 after our first winery visit Friday afternoon, my dad and I stopped at the Wildseed Wild Flower Farm before heading back into town. Surrounded by more than 200 acres of wildflower fields and enjoying a slight wine buzz, I felt like a deliriously happy Dorothy in a field of poppies. We walked through the nursery and the butterfly garden toward the back of the property that is lined with fields of different flowers. During our visit it was rows of sunflowers, all sorts of colorful zinnias, yellow and purple cosmos and blue mistflowers. (You can check their website for bloom updates.)
Before leaving we stopped by the farm's Brewbonnet Biergarten – a small cafe that offers guests a spot to escape the heat, drink a beer, slurp up peach soft-serve, browse the aisles of jams, jellies and other goodies or, as we did, participate in a wine tasting. Note: Clicking your heels together will not transport you back to your lodging. Another farm that you should visit is the Fredericksburg Herb Farm, only a few blocks away from the town's main road. The farm is home to a few cottages available for reservation, a fine-dining restaurant, a spa and an herb garden. My mom and sister booked spa appointments – ladies, most spas in the Fredericksburg area seem to have only one nail technician working, so start your spa day early – and I wandered the garden snapping photos here and there. No wine was involved at this stop, but I enjoyed it anyway.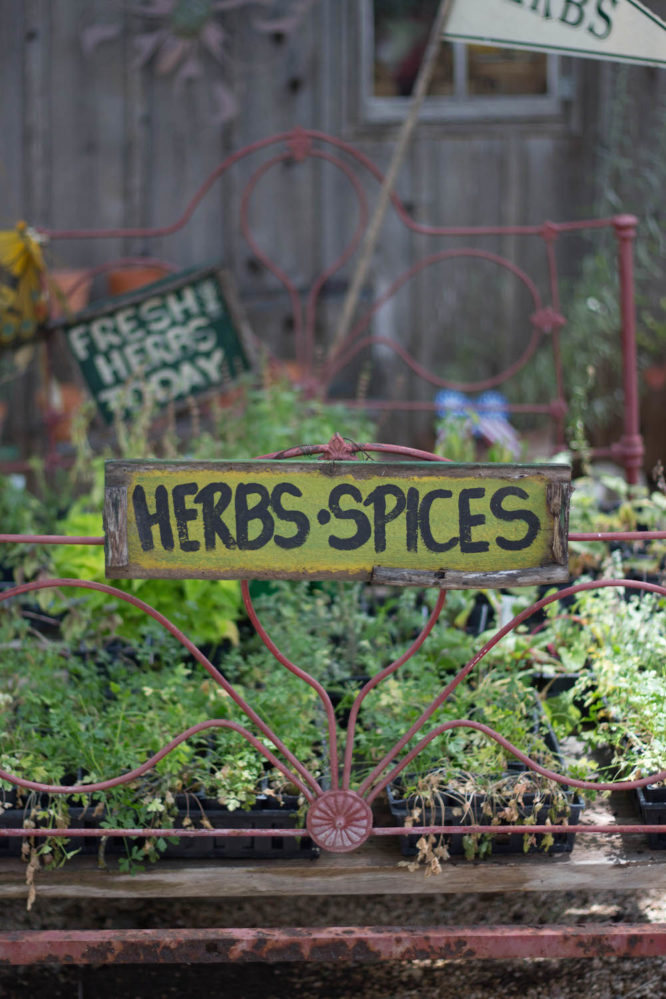 There really is something exquisitely charming about this area. Historic buildings and offbeat architectural details, the friendly faces handing out their locally grown goodies, generous pours of wine and the sight of lush vineyards make Fredericksburg a Texas town worth checking out.
---
This article was originally featured in the October-November 2014 print issue of My Table magazine, #123