Yauatcha, the Michelin-starred Chinese dim sum spot from the international Hakkasan Group, is now open in the standalone "Jewel Box" luxury retail building located just steps outside of The Galleria. It helps to fill the gap in an area of our city's culinary landscape that isn't rich with options – fine Chinese dining.
The dim sum/teahouse concept launched in Soho, London in 2004, and it only took the restaurant a year to receive its first sought-after star. Houston is home to the restaurant chain's second US location (the first opened in Waikiki, Hawaii). Additionally, there are two locations in London (including the Soho spot) and four locations in India. Hakkasan Group is a hospitality company with restaurant, nightlife and soon-to-be hotel concepts across the United States, Europe, Middle East and Asia.
Over at the Houston location, well-known local restaurateur Gigi Huang (she had Gigi's Asian Bistro) is acting as marketing coordinator during the restaurant's opening. She's familiar with our city's dining preferences, and she's helping Yauatcha better serve Houstonians. Yauatcha has had a long "soft opening," and the restaurant's grand opening celebration will be Wednesday, April 26. Be sure to make a reservation if you plan to dine at Yauatcha before then.
At the kitchen's helm is executive chef Ho Chee Boon. The menu is meant to inspire the feeling of a Chinese dim sum house, a place where people can gather any time of the day and enjoy a shared meal and each other's company. Hakkasan Group is in the nightlife business, so its dim sum concept is designed with a modern, sleek touch. The contemporary restaurant even brings in a nightly DJ at 6 pm.
The a la carte menu here is impressive. Categories include: steamed dim sum, cheung fun, baked/fried/pan-seared dim sum, soup, salad, fish and seafood, poultry and meat, tofu, vegetable, rice and noodles. There are also two signature prix-fixe menus that could be shared with the table (minimum of two guests, $118 a person) and include salad, steamed dim sum, a couple of baked/fried dishes, main courses and dessert.
If you come for dim sum only, we've got some recommendations. We stopped in as guests of the restaurant and, thanks to Gigi Huang, we knew just what to order. Start with the venison puff ($9, photo above), as we did, and pop the baked fluffy pastry right into your mouth. Well, you might want to give it a few minutes to cool down. The sticky-sweet venison filling – a riff on the more traditional Chinese barbecued pork – has a subtle savoriness and is topped with sesame seeds for a nutty finish.
For something a bit more delicate, try the scallop shui mai ($10, photo above), steamed dumplings stuffed with a minced prawn mixture and topped with a scallop and garnished with silky orange tobiko caviar. The pork soup dumplings ($7, photo below) at Yauatcha, also a lighter option, have a gossamer-thin wrapper yet a study appearance. The bite of minced pork and slurp of broth inside each dumpling are rich but not as greasy as other variations around town. You won't want this soup to spill on your plate, so use your chopsticks to gently pick up the dumpling using the thicker knot at the top and rest the dumpling in your spoon. Bite off the top, let the steam escape, suck out the liquid and then pop the rest in your mouth.
One of the favorites of the dim sum tasting was the prawn and crispy bean curd cheung fun ($10, photo below). Cheung fun is steamed rice flour noodle rolled around a variety of fillings, usually served with a light soy sauce. This rendition wraps deep fried prawn in bean curd pastry, and then wraps those two items in the silky rice noodle. The flavor, compared to the venison puff, is delicate, and the crunchy-silky textures are intriguing.
If you're still hungry after dim sum and want to explore more of the menu, try the Shantou-style Chilean seabass ($38, photo below) served in a claypot. The moist, flakey fish has absorbed the delicate, garlicky broth. It's quite savory despite its light appearance.
Other standouts include the wild-caught Gulf shrimp with sweet chili sauce ($22), the stir-fry black pepper beef ribeye ($28) and the three mushroom hand-pulled noodles ($12, photo below) that take about two hours each morning to prepare.
Yauatcha is also a teahouse, and its program boasts more than 60 different types of teas, in partnership with Five Mountains Heirloom Organic Tea. Unique to the Houston location is the custom Blue Mountain black tea utilizing Texas red grapefruit rinds.
If you're feeling like something a bit stronger than tea during your visit, the cocktail program at Yauatcha is well-developed – signature and classic cocktails ($14), speciality ($14) and extra special cocktails ($18). Well, we were feeling extra special, so we tried The Savory Minute ($18, photo above) that combines La Niña del Mezcal Bacanora, sesame oil, Calpico (a non-carbonated milk-based beverage), banana, shiso leaf and lime. The milky, tropical cocktail isn't as banana-forward as  you might expect. The smokiness from the agave spirit and slightly butter texture from the sesame oil come together in an unusual, harmonious way. Houston's own Lainey Collum (formerly beverage director at Arthur Ave and before that Prohibition Supperclub) helped us navigate the cocktail menu and is manager at Yauatcha.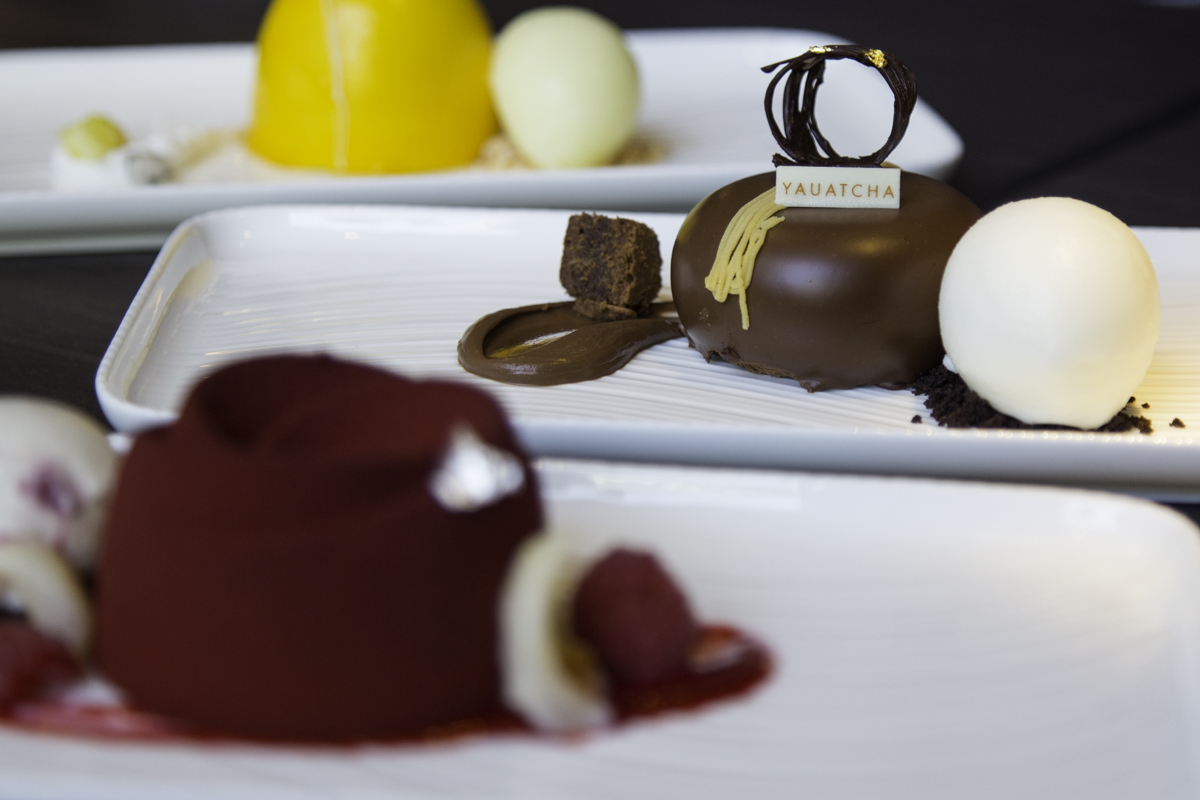 Finally, it's not often you talk about desserts at a Chinese restaurant, but at Yauatcha it's so necessary. The patisserie items on the menu are beautifully crafted and plated. There's a brightly-colored tropical dome ($12) featuring coconut dacquoise, passion fruit and pineapple. The raspberry delice ($12) is a chocolate sponge cake shaped like a rose filled with chocolate/raspberry mousse finished with a spray of velvety cocoa butter. The last we tried, the chocolate pebble ($12, photo above), showcases chocolate in different forms and textures – there's a brownie bite, chocolate crumbs, caramelized white chocolate and chocolate mousse.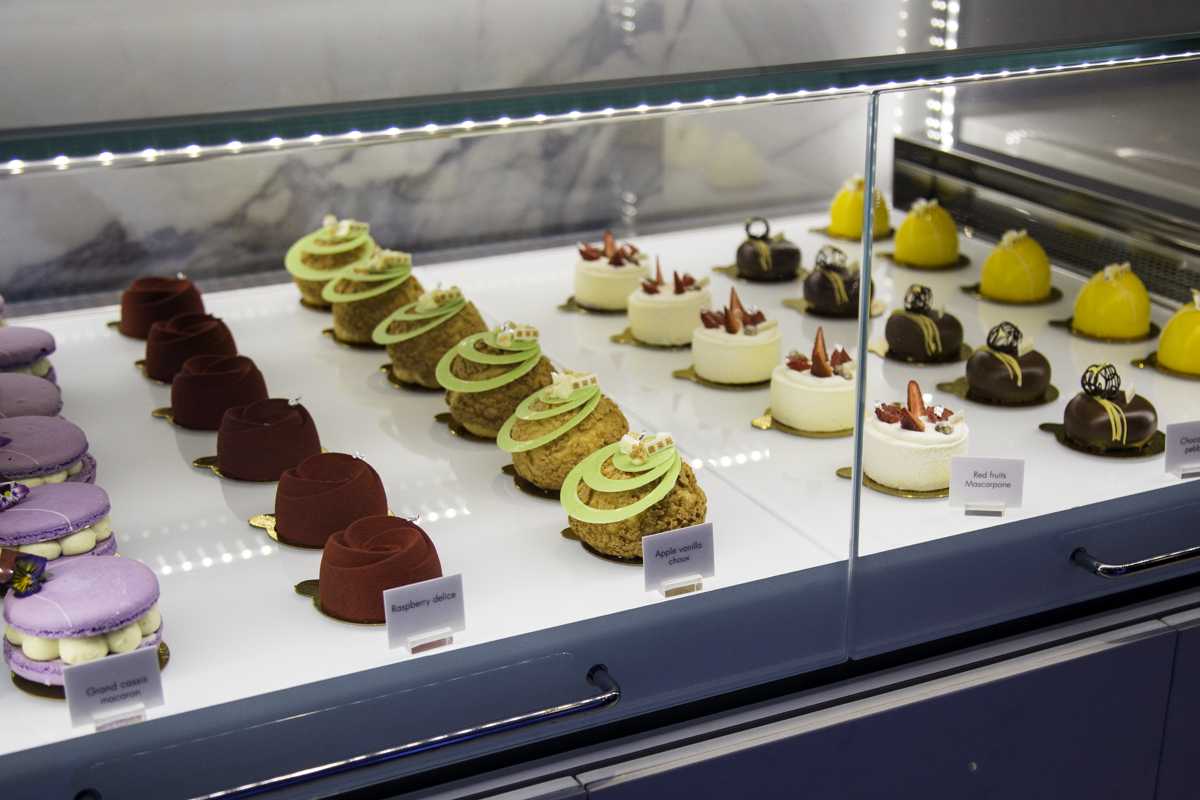 You'll be tempted to take a few of the desserts home with you, as they are also available for retail right at the front of the store – what perfect product placement.
---
Yauatcha, 5045 Westheimer at The Galleria in front of The Cheesecake Factory, 713-357-7588, yauatcha.com/houston
Hours: Sun. to Wed. 11 am-10 pm, Thurs. to Sat. 11 am-11 pm