It's all happening on Richmond Avenue. The stretch between the downtown spur and Kirby Drive has quietly been adding new restaurants, some of them contenders for best in their class.
The renaissance began with Arnaldo Richards' Picos, which left its Bellaire-area home and moved to the corner of Richmond and Kirby in March 2014. More recently, we've seen the arrival of Ono Poke (poke bowls at 607 Richmond), Cane Rosso (pizza, at the corner of Richmond and Yoakum),  The Pit Room (Texas-style barbecue at 1201 Richmond), Oui Banh Mi (drive-thru Vietnamese at 1601 Richmond) and, about a month ago, Rim Tanon, a Thai street food cafe at 2241 Richmond, that is currently in its soft opening.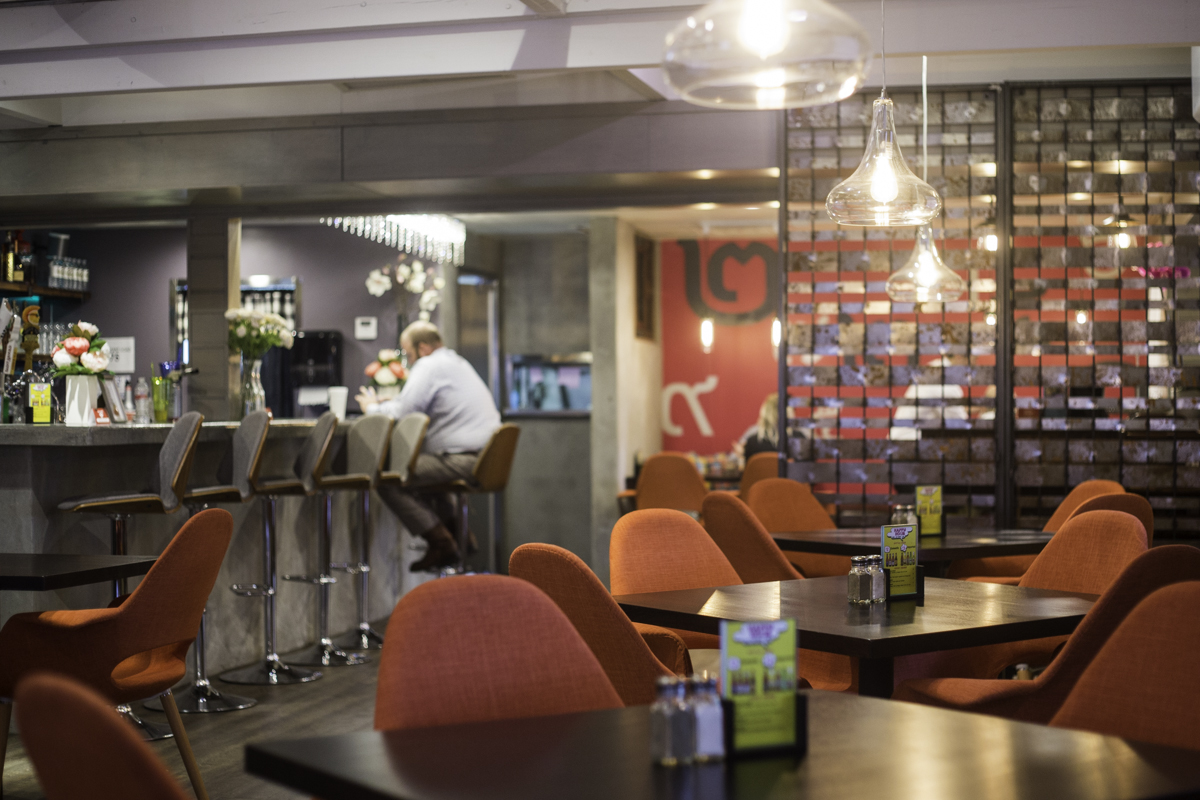 The old Blue Fish House building has been cleaned up, opened up, revamped and made as cute as it can be. We love the combination of dainty white curtains hemmed with Battenberg lace hanging at windows with metal burglar bars. The wood floors and tables and clear glass hanging lights with Edison bulbs don't say "Thai," nor do the oh-so-comfy upholstered orange chairs. But the colorful menu graphics have a youthful Asian styling.
Speaking of the menu, take a look and be awed. Many items will seem familiar, but there's plenty on it that we don't see much of here in Houston. The restaurant's name "Rim Tanon" means "roadside," and the tagline is "Modern Thai Street Food." The food may indeed be dished up by roadside vendors in Bangkok, but the plating here by chef Nunnapat Triwatkhunakon is creative and, sometimes, a little complicated.
Take, for example, som tum ($9, photo above), the green papaya salad many Houstonians are familiar with. Here the spiralized papaya, carrots, chiles and lime dressing are tossed and served in a large-ish wood mortar. It and its companion pestle are delivered on a enameled tray along with a folded banana leaf cone bearing wedges of cabbage, cucumber spears and green beans. Little bowls of peanuts and tiny roasted dried shrimp round out the components for you to mix together yourself. It's a charming presentation and a fun conversation starter.
Larb ($9, photo above), made of minced chicken, chili powder, ground roasted rice, onion, mint leaves and cilantro that are tossed with lime juice and fish sauce, arrives with another folded banana packet, this time containing lettuce strips and cucumber wheels. The menu suggests ordering this with sticky rice ($2), which we did. It comes in the little plastic bag in which the rice is held at the perfect temperature after cooking. Smart! The bag o' rice is presented to the diner in a miniature woven-grass basket.
The menu is divided into appetizers, soup, salad, grills (e.g. Thai-style barbecued chicken, pork skewers), noodles, fried rice, entrees, sides and desserts. From the noodles selection, we ordered kuay teow lord ($12, photo above), a combination of steamed rice noodles topped with ground pork, little domino-sized planks of baked tofu and mushrooms. It is garnished with green onions, fried shrimp and fried garlic; a little bowl of sweet and salty sauce is served alongside for pouring over and tossing the dish.
Finally, as there were just the three of us, we had to wrap up lunch with just one final dish, the pumpkin red curry ($12 with chicken, $14 with beef, photo below). It was exactly right, being sweet and creamy with coconut milk. It is brought to the table in an adorable little lidded pot, a bowl of rice to the side.
That's all we could eat (and we had plenty to take home for another meal). The menu is still in flux and some dishes may yet be added or deleted, says the GM who goes by the name "Earth." His past experience is at a local Japanese restaurant — you might recognize him — but he is proudly Thai.
Rim Tanon is one of our favorite new finds. The prices are reasonable – the most expensive thing on the current menu is $15 – and the quality is genuine. The kitchens in many of our local Thai restaurants have drifted over the years, dumbing-down, if you will, their seasoning and execution. The food here is snappy and inventive. We can't wait to go back.
---
Rim Tanon, 2241 Richmond Avenue bet. Greenbriar & Kirby, 713-529-3100, rim-tanon.com
Hours: Lunch Mon. to Fri. 11 am-3 pm, Sat. noon-3 pm; Dinner Mon. to Thurs. 5-9:30 pm, Fri. & Sat. 5-10:30 pm; Closed Sun.